Artificial Intelligence is getting all the attention of savvy tech investors these days due to the phenomenon known as ChatGPT. And fair enough. AI will definitely change everything. In this article, I will highlight a company using real AI AND adds the element of a megatrend which seems to be forgotten among investors.
A MEGATREND which is already seeing governments, intelligence agencies and corporations shell out big money.
What is this megatrend? CYBERSECURITY.
Many think of the military and war when they think of cybersecurity. Yes there is an element there which will see governments beef up their cyber defenses due to hacks etc (and with geopolitics how they currently are… this will definitely be a catalyst for this sector), but let's take it down to the 'everyday' level.
COVID changed many things. From a workplace perspective, COVID saw a shift from working at the office to working remotely from home. Companies underwent a digital evolution overnight, fighting to stay competitive in the face of the global disruption caused by the COVID-19 pandemic. One of  the biggest challenges was ensuring the security of enterprise networks.
Fast forward post COVID and working remotely, or hybrid work as some call it, is here to stay. This means that cybersecurity is pivotal for companies' business plans.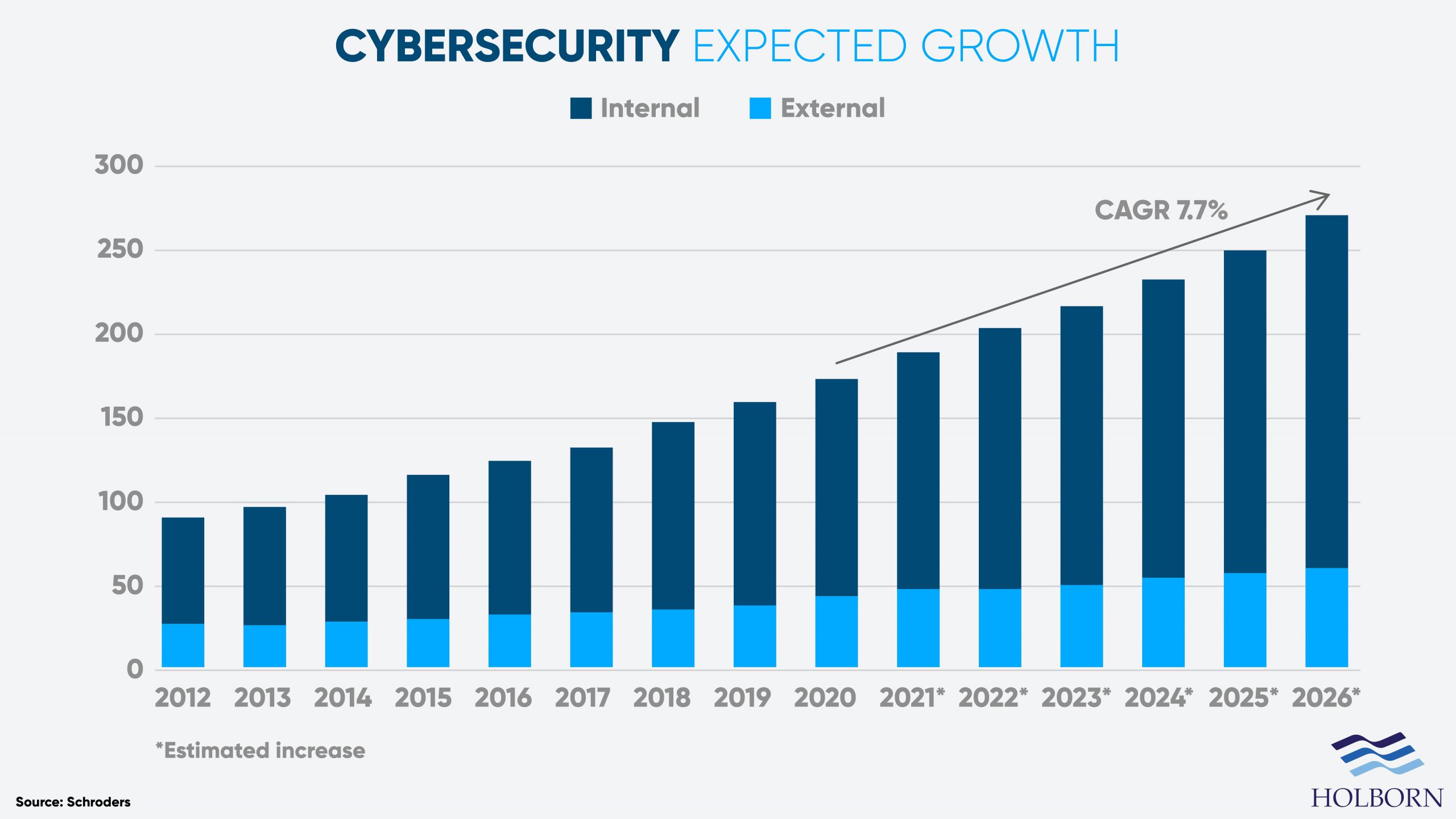 Investment management behemoth Blackrock is bullish cybersecurity. According to them, the sector's growth potential is driven by strong technology adoption globally. Global spending on information security and risk management technology exceeded $150 billion in 2021 which represents a 12% gain from 2020 and 50x more than four years ago.  Online security and digitization issues are already part of companies' growth plans, opening the door to long-term opportunities for investors.
With the digitalization of the world, cybercrime will also proliferate. This means that all companies (small, medium or large) are at risk of cyber attacks. Applying capitalism principles of 'having a product to meet a demand', cyber-attacks means there is a growing demand for cybersecurity services that has resulted in a boom of companies offering this type of services.
I did mention the government so let's talk about the military. With current on-goings in the world, the US is expected to spend big on defense in 2023. For 2023, the proposed US budget is $5.8 trillion (yes, with a t). Most of this will be going to mandatory programs like Social Security and Medicare. The proposed budget for defense spending in 2023 comes in just shy of $800 billion, at $795 billion.
To understand this number, back in 2021, the US spent roughly the same amount on defense. This amount was more than the defense spending of China, India, the UK, Russia, France, Germany, Saudi Arabia, Japan, and South Korea combined.
Defense priorities include supporting NATO allies and modernizing nuclear deterrents. But for cybersecurity bulls, advancing cybersecurity programs is on the list.
With these two catalysts going forward, you can see why cybersecurity will be a megatrend.
What makes this investment more intriguing for me, is what I am seeing on the technicals.
When I look at cybersecurity plays, I see bottoms. These stocks have retraced a significant amount, but when it comes to market structure, nothing moves up or down forever. Instead, markets move in waves. Judging by the charts of companies like Palo Alto Networks (PANW), Datadog (DDOG), and F5 Networks (FFIV) it is time for a new uptrend.
Based and ready for a trend reversal!
But there is another company that we at Equity Guru have been following for years. A Canadian cybersecurity play with a market cap of ~$12 million making splashes with big deals. And guess what? The stock also looks based and ready for a new uptrend. Oh and by the way, this play has both elements of cybersecurity AND AI!
Plurilock Security (PLUR.V)
The guru himself, Chris Parry, is a fan and in the video above, he outlines why investors should be paying attention to Plurilock and its recent business.
Plurilock Security (PLUR.V) is a Canadian identity-centric cybersecurity solutions company. The cybersecurity company provides multi-factor authentication (MFA) solutions using behavioral-biometric, environmental, and contextual technologies.
Machine Learning that reduces or eliminates the need for passwords by measuring the pace, rhythm and cadence of a user's keystrokes to confirm their identity. No more having to remember your first pet's name for a password!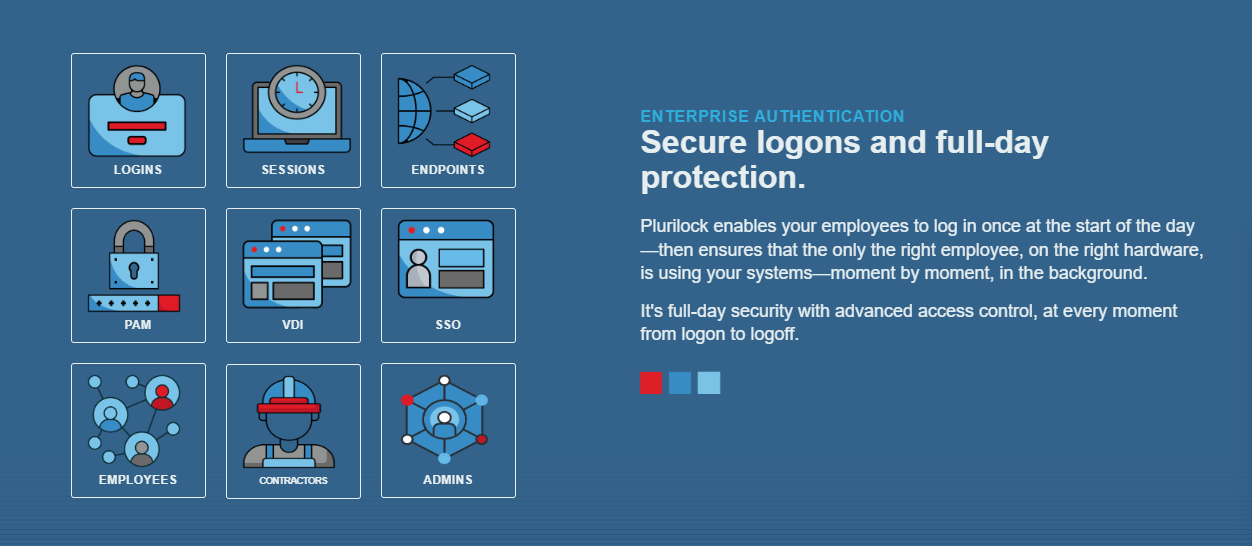 Plurilock's machine learning technology knows when credentials and sessions are compromised—by understanding the imperceptible patterns that mark the intended user's keyboard, pointer, daily commute, and other movements.

This company is making splashes. When you look at their news flow from 2022, you see that Plurilock is signing agreements with companies and federal agencies, including the US Air Force!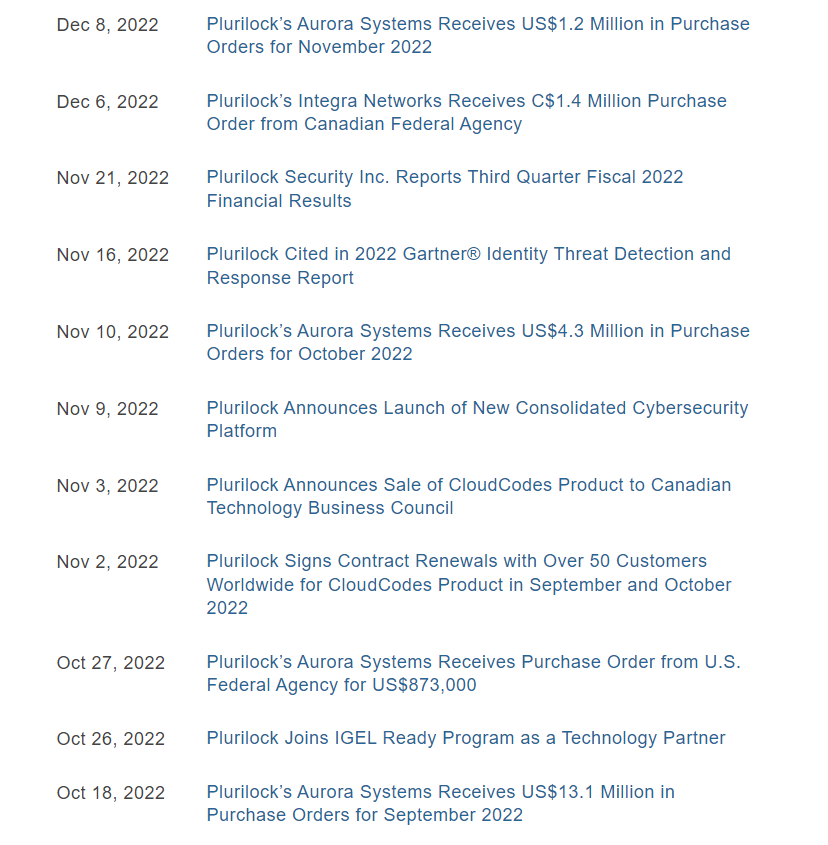 For investors, this means there will be plenty of catalysts for the stock.
Plurilock kicked off 2023 strong with news of a purchase order for the company's flagship cybersecurity platform from a US Credit Union. The Credit Union is selecting Plurilock for its cybersecurity solution as part of its zero trust strategy. The customer will license the continuous identity confirmation functionality of the Plurilock platform.
The first cross-sale following the transaction with Atrion Communications was completed within 5 months whereas the previous initial cross-sale orders were secured approximately 13 and 8 months after the acquisition of Aurora Systems Consulting, Inc. and Integra Networks Corporation.
This track record highlights the Company's ability to expedite the cross-selling process following new acquisitions. The Company aims to continue completing more sales of its high-margin software products and will leverage cross-selling opportunities through existing distribution channels.
"We are pleased to see the expansion of our sales pipeline for our flagship cybersecurity platform with a U.S. credit union," said Ian L. Paterson, CEO of Plurilock. "Financial services firms require a strong cyber defense to protect their employees and database, which we aim to help strengthen with our zero trust technology offerings. Moving forward, we intend to secure additional cross-sale orders for our Technology Division's high-margin software product."
Plurilock also fell with cybersecurity plays after a big pop which saw the stock hit highs of $0.85 in the post pandemic world.
From a technical perspective, we have a potential bottoming in the works. Just as we are seeing in other cybersecurity stocks.
The stock recently made all time record lows hitting $0.12. Since then, the stock has just ranged. The major support zone at $0.14 was taken out which led to the printing of all time record lows. In a way, the stock not sliding down further on the breakdown is a good sign that buyers are in the area.
What was once support, now becomes resistance. Plurilock did close above $0.14 on January 16th 2023. A very nice pop, but the momentum was stalled due to a private placement. More funds to initiate a catalyst isn't a bad thing.
Now once again, Plurilock will need to regain the $0.14 level for further upside momentum. Interestingly enough, a move higher could trigger a reversal pattern. I have drawn a line at $0.165. If Plurilock can close above this level, we would trigger a double bottom pattern. Which just looks like a "W".
If I am correct in my technical analysis, then from now to my initial price target at the $0.25-$0.26 zone is a gain of 82%. Not too shabby.
I hope I have convinced my readers to consider the bottoming here in cybersecurity plays. We are seeing the same technical bottoming on multiple cybersecurity plays. Plurilock Security is a Canadian play which combines great technicals and promising fundamentals. Judging by the flurry of press releases in 2022, 2023 is set to be a pivotal year for the company and its stock price.