Spot uranium kicked off the year heading from $48.66 to over $50/lb in two weeks time. Since then, uranium has pulled back to the $49 zone, setting up an interesting retest on the chart which I will show in this article.
There are many analysts saying that 2023 will be the year for uranium. I tend to agree, and to read my thoughts on uranium in 2023, be sure to check out my popular 2023 uranium outlook article here.
Another bull is managing director of Boss Energy (ASX:BOE) Duncan Craib. They are one of the world's biggest uranium miners, and have plans to restart the Honeymoon uranium mine in South Australia online in Q4 2023.
Mr. Craib has laid out a bullish case for nuclear fuel, which sees a new incentive price of $80. An incentive price that is needed to encourage companies to bring new production online, otherwise there will be a shortage facing Western utilities which could get extreme as the next contracting cycle heats up.
"That inflationary pressure is just saying the incentive for new mines is going to be a lot more difficult and higher, and that bodes really well to increase your uranium price," Craib told Stockhead.

"Currently your uranium price is $US48.5/lb. For us, we're a low-cost producer so we could be producing now and be profitable.

"But, if anything, that uranium price is going higher.

"When we made the final investment decision we'd already factored in a buffer, so to speak, from an all-in cost of $US32/lb to $US48.5/lb, the current spot price.

"It's just set to become more profitable as this uranium price picks up."
Craib's comments are similar to what many uranium analysts have been saying, including Cameco's CFO Grant Isaac who also believes the groundwork is being laid for a uranium boom.
Isaac said inflation-related supply issues, the government supporting nuclear for clean energy, and Russia's ban are all reasons to be bullish on uranium.
Governments which were shutting down nuclear reactors are now bringing them back online.
"A fuel buyer who thought their reactor was being shut down didn't procure any material, so there's near-term demand to deal with this, we're seeing medium-term demand in the form of reactor life extensions.

"Reactors initially built for 40 years, they then get an extension to 60 years and now some to 80 years, but you might be surprised to know not a lot of markets had been considering that, that was really an US industry phenomenon.

"Then you started to see Canada pivot towards extensions … now we're seeing other markets we weren't modelling as extending the life of reactors – France, Japan, all proposing to run their existing fleet for longer.

"On top of that we have … over 50 large reactors being built around the planet and perhaps even more exciting is we're starting to see SMRs (small modular reactors) being built."
Then when it comes to the contracting cycle, Isaac had this to say:
"We're in the early innings of a contracting cycle and we've never started one from this high of a uranium price before," he said.

"If supply was outpacing demand, it wouldn't matter would it? But that is absolutely not the case.

"While I say the demand outlook is the best ever, I'd say the supply outlook is more uncertain than it's ever been.

"On the primary production side, it is absolutely a fact that the existing production assets are facing challenges, supply chain challenges, logistics challenges, anyone following us would know it's very difficult to get central Asian supply out of Kazakhstan right now.

"On the primary side, it turns out markets work. After years of low prices, no one has been meaningfully investing in new supply. There are some projects being promoted but let's be clear, nobody is seriously building a new mine right now.

"And in fact many of these projects you see that look really attractive, remember they're trading on 2019 numbers, nobody has really updated those studies to reflect what's been happening from an inflation and supply chain point of view."
He also talks about Russia and their control of 40% of the global supply of enrichment, 30% of the global supply on conversion, and 13% of the global supply of uranium. Things which I am sure my readers are familiar with and that I have covered in my 2023 uranium outlook article.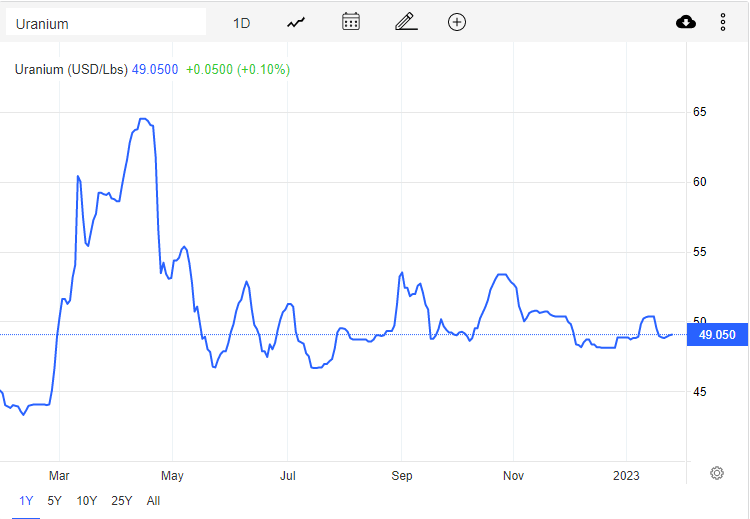 So $80 in the near future? Analysts do make a strong base based on the supply and demand mismatch.
Right now, uranium maintains the range which I have been talking about for months. Technically, uranium still remains in a major range between $46.65 to the downside, and $53.65 to the upside. The latter zone almost saw a breakout in October 2022, but instead, was rejected and caused the drop in the last few months of 2022.
Going forward in 2023, bulls will really want to see a breakout above $53.65. This is what really starts a major technical breakout move which would see uranium test 2022 highs around $65.
We did see a recent breakout above $49 which formed a bit of a cup and handle pattern. We are now retesting this $49 zone which could see a higher low from which would take us above recent highs at $50.45. It looks exciting!
Here is what happened with Athabasca based juniors and miners this week:
Uranium Energy Corp (UEC)
Billion dollar miner Uranium Energy Corp received US $17.85 million from the US Department of Energy for supplying 300,000 lbs of uranium at $59.50/lb to the strategic uranium reserve program. The company announced this contract on December 20th 2022.
Amir Adnani, President and CEO stated: "We are honored and delighted to have supplied 300,000 pounds of U.S. origin uranium concentrates to the NNSA and look forward to the continuation of the Uranium Reserve program and working with the DOE in the coming years."
The stock has still been in a range, but an interim breakout could be on the cards. $4.00 is being tested, and if we close above it, one can argue a mini cup and handle pattern has been formed.
Baselode Energy Corp (FIND.V)
Baselode controls 100% of approximately 238,850 hectares for exploration in the Athabasca Basin area, northern Saskatchewan, Canada. Baselode's Athabasca 2.0 exploration thesis focuses on discovering near-surface, basement-hosted, high-grade uranium orebodies outside the Athabasca Basin.
The Company discovered the ACKIO near-surface, high-grade uranium deposit in September 2021. ACKIO measures greater than 375 m along strike, greater than 150 m wide, comprising at least 5 separate zones, with mineralization starting as shallow as 28 m beneath the surface and down to approximately 300 m depth beneath the surface with the bulk of mineralization occurring in the upper 200 m.
This week the company announced that the diamond drilling crew and equipment have started mobilizing to the Catharsis project. Drilling is anticipated to start within the next 5-7 days.
"We're excited to initiate the first ever drill program on Catharsis. The primary drill target we've identified is prospective for large-scale, near-surface, basement-hosted uranium mineralization with similarities to NexGen Energy Ltd.'s Arrow and Fission Uranium Corp.'s Triple R uranium deposits (see News Release and video dated January 9, 2023). We're targeting a 1 km portion of a 7 km long gravity anomaly trend that has overlapping geophysical anomalies that are characteristic of many Athabasca uranium deposits. We are eager to see what is hidden beneath the surface," said James Sykes, CEO, President and Director of Baselode.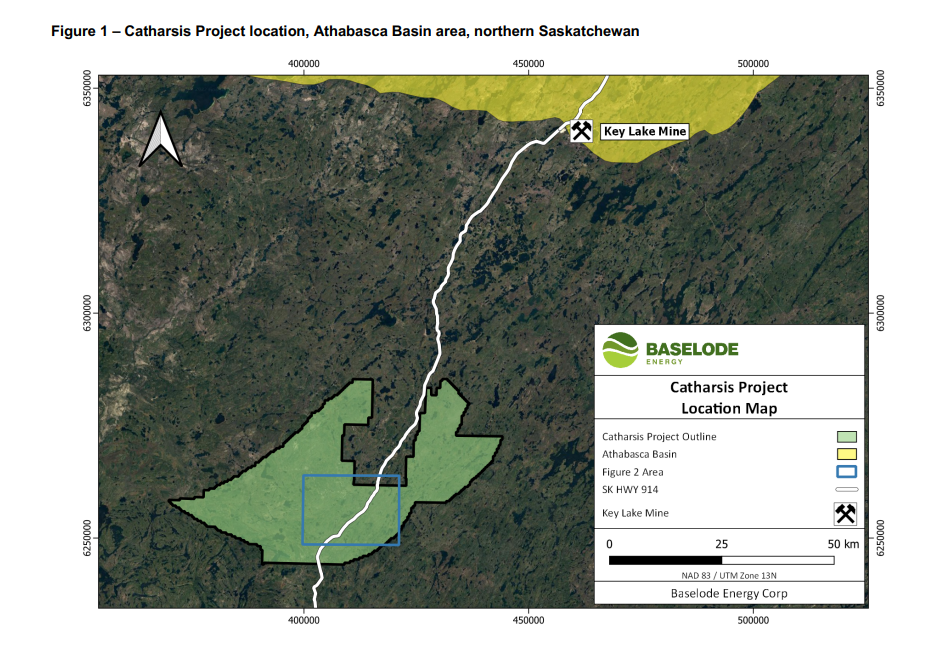 Baselode has planned for 8 drill holes in 4 collar locations for a total of 2,000 metres, with each drill hole ranging from 200 to 300 metres drill hole depth. Camp construction is near completion and the drill trails have been cleared. The drill equipment will be onsite in the next couple of days.
We told readers about the potential bottoming pattern on Baselode. The cup and handle reversal pattern triggered on January 6th 2023. We then gapped up the following day. Now, prices have hit the resistance zone at $0.60. A new uptrend is in play as long as the stock holds above $0.45. Perhaps drilling results will be the catalyst to give us the next breakout.
Skyharbour Resources (SYH.V)
Skyharbour Resources (SYH.V) announced that it has commenced its inaugural winter drill program at the 73,294 hectare Russell Lake Uranium Project strategically located in the central core of the Eastern Athabasca basin. A minimum of 10,000 metres of diamond drilling in 18 to 20 drill holes is planned with the campaign being fully funded and permitted.
The drilling crew and geologists are working out of an exploration camp on the Project located on the highway and within 5 kilometres of Denison Mines' Phoenix deposit.
This project is strategically located between Cameco's Key Lake and McArthur River Projects and adjoining Denison's Wheeler River Project to the west and Skyharbour's Moore Uranium Project to the east.
Skyharbour also announced  that the TSX Venture Exchange has granted conditional acceptance for the option agreement previously entered with Tisdale Clean Energy Corp, Skyharbour's partner company, pursuant to which Tisdale has been granted the right to acquire up to a 75% interest in the South Falcon East Property.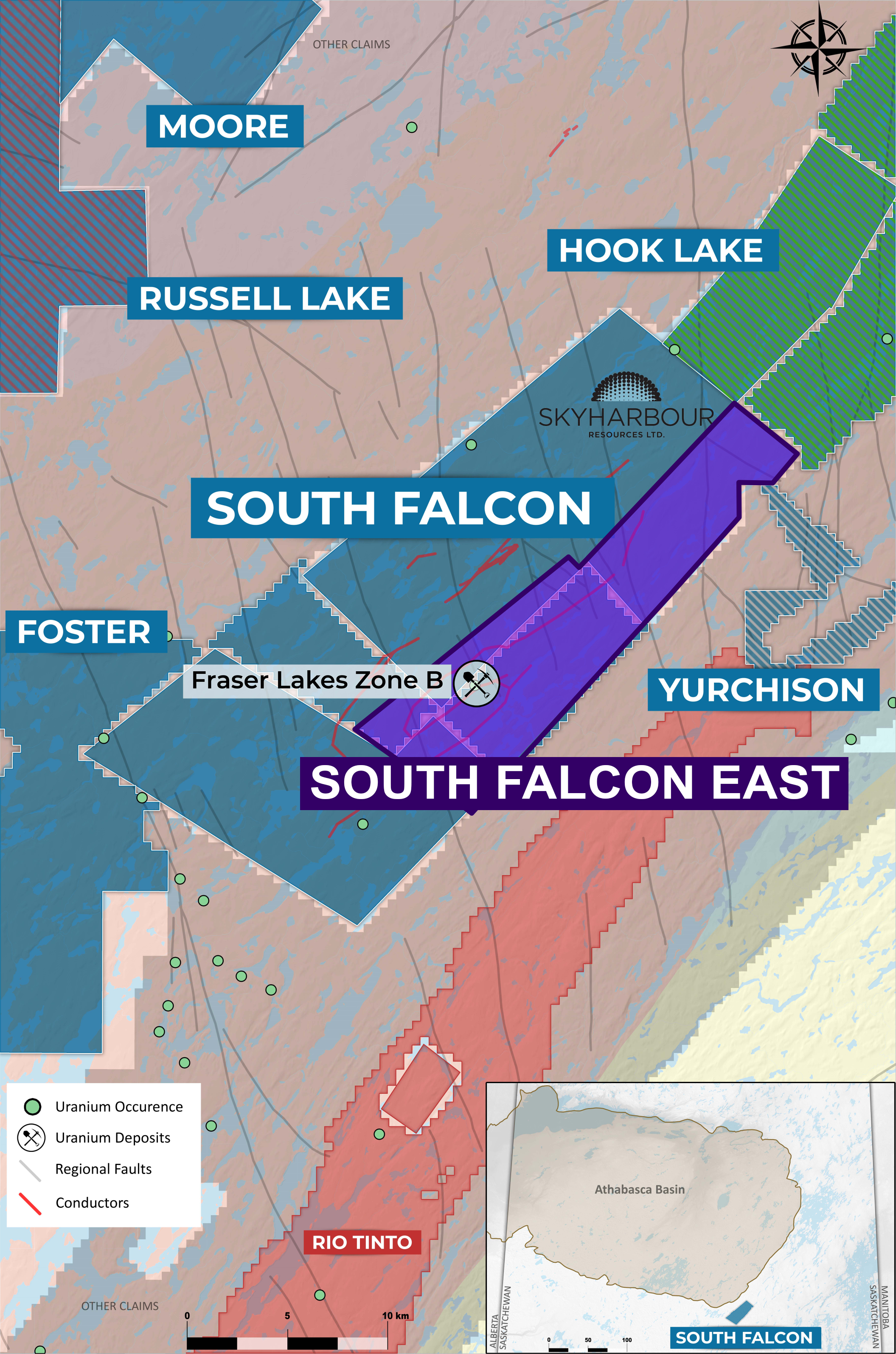 Terms of the option agreement are in two phases. The first allows Tisdale to acquire 51% interest in the property by completing the following payments and incurring the following exploration expenditures on the property:
1.   On the closing date ("Closing"), paying CAD $350,000 (paid) and issuing 1,111,111 Shares to Skyharbour upfront;
2.  By the eighteen-month anniversary of Closing, completing at least $1,250,000 in exploration expenditures, and paying Skyharbour $1,450,000, of which up to $1,000,000 may be paid in Shares based on the 20-day volume-weighted average closing price calculated on the day of issuance ("VWAP"), at the election of Tisdale;
3.  By the second anniversary of Closing, completing an additional $1,750,000 in exploration expenditures, and paying Skyharbour $1,800,000, of which up to $1,000,000 may be paid in Shares based on the VWAP, at the election of Tisdale;
4.  By the third anniversary of Closing, completing an additional $2,500,000 in exploration expenditures, and paying Skyharbour $2,500,000, of which up to $1,500,000 may be paid in Shares based on the VWAP, at the election of Tisdale.
After acquiring 51%, Tisdale can then increase its interest to 75% by:
Completing a payment of $5,000,000 to Skyharbour by the fourth anniversary of Closing, of which up to $3,000,000 may be satisfied in Shares based on the VWAP, at the election of Tisdale, and incurring exploration expenditures on the Property of an additional $2,500,000 in each of the fourth and fifth anniversaries of Closing.
Boom! Breakout. Skyharbour has triggered the double bottom reversal pattern with a close above $0.425 this week. Pullbacks are expected, but as long as we remain above $0.425, new recent highs are expected.
Fission Uranium (FCU.TO)
Fission Uranium this week announced a winter program at its 100% owned PLS property in Canada's Athabasca Basin region. The program will include geotechnical testing of key areas identified for surface infrastructure as identified in the Feasibility Study, including proposed stockpiles and mill locations. Also, 5 drill holes are designed to confirm groundwater modelling of certain sections of the R780E zone. Additionally, the company has staked a new, 11,148-hectare property in the western Athabasca Basin region of northern Saskatchewan.
PLS Project Winter Drill Program Highlights
3 drill holes (

300m

) at each stockpile location
4 drill holes (

300m

) at the mill location
20 test pits for water table data and estimating boulder content for earthworks planning
5 drill holes (

730m

) on the R780E zone to confirm groundwater modelling
Ross McElroy, President and CEO for Fission, commented, "With the superb results of our feasibility study now in hand, we will continue to develop our PLS uranium project at a strong, steady pace. As we move towards the Environmental Impact Statement, we will also be carrying out a number of work programs, including this new round of geotechnical drilling for the mine and mill facilities." 
The stock recently broke out above the $0.90 zone. What comes next? Perhaps a run to get us over the key $1.00 zone. Watch for the stock to remain above $0.90.
Fortune Bay (FOR.V)
Fortune Bay announced analytical results from a prospecting program completed in Fall 2022 at the 100% owned Murmac Uranium Project.
Analytical results from surface rock samples have been received from the laboratory which include highlights of:
8.82% U3O8 from a boulder sample on the Armbruster Corridor providing compelling support for the presence of high-grade, basement-hosted uranium mineralization on the Project.
6.90% U3O8 and 1.69% U3O8 from outcrop samples along the Armbruster Corridor, which validated historical uranium occurrences.
An additional nine (9) outcrop samples which assayed between 0.1% and 0.8% U3O8 from the Armbruster, Howland and Pitchvein Corridors, validating historical uranium occurrences.
Dale Verran, CEO for Fortune Bay, commented "The results from our Fall 2022 prospecting program further validate the significant endowment of uranium at Murmac and support the potential for a high-grade discovery. The results provide a complimentary dataset to the positive results from our 2022 drilling program and have assisted in the prioritization of targets for drill testing."
The stock is showing potential signs of a reversal pattern. I am looking at the potential of a cup and handle pattern triggering. We would require a close above $0.44 to trigger it.