NioCorp Developments (NB.TO) is developing the Elk Creek Critical Minerals Project in Southeast Nebraska. This mine will produce strategic/critical minerals such as niobium, scandium and titanium. Several rare earths will also be produced from this mine. In fact, Elk Creek is the second largest indicated-or-better rare earth resource in the US.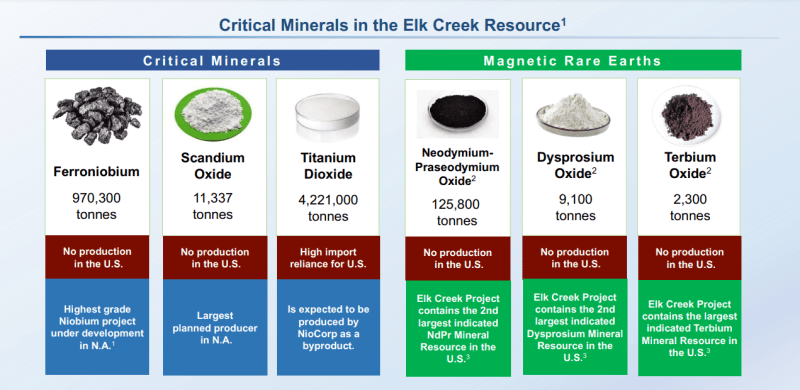 Today, NioCorp announced that its demonstration-scale processing plant in Quebec, Canada has successfully obtained a rare earth dissolution rate of 86-95% from Elk Creek ore through hydrochloric acid leaching. The demonstration plant has achieved a loading rate of rare earths as high as 99% in the follow-on solvent extraction recovery step.
High rates which hint at strong rates of overall recovery of rare earth oxides but will be subject to additional demonstration testing over the coming weeks.
The demonstration plant has further established that the rare earths recovered in the initial solvent extraction step are accompanied by only two impurities of note: iron and a very small amount of nickel.
NioCorp is currently focused on demonstrating its ability to recover three high-purity rare earth products:  (1) neodymium-praseodymium oxide, which is the principal component of neodymium-iron-boron permanent rare earth magnets, (2) Dysprosium oxide, and (3) Terbium oxide.  Both Dysprosium and Terbium oxide are critical to the type of powerful neodymium-iron-boron magnets used in the traction motors of electric vehicles. However, very little of these high-purity separated rare earth products are made outside of Asia.
"These results are in line with our expectations and they show that the ongoing work at the plant is proceeding in a positive direction," said Scott Honan, NioCorp's Chief Operating Officer.  "In the coming weeks, we look forward to seeing the final results from the separations extractions testing that is now underway and to reporting those results to the public."
In a previous press release, NioCorp announced what comes next for the demonstration plant phase process:
Phase 1 is designed to demonstrate a new approach to the initial processing of the ore that NioCorp expects to mine from the Project site, subject to receipt of necessary project funding, including calcination, initial leaching, and rare earth extraction.
Phase 2 is designed to demonstrate an improved process for the second stage of leaching along with Niobium and Titanium separation.
Phase 3 is designed to demonstrate the technical viability of separating high-purity versions of several target magnetic rare earth products from Elk Creek ore samples, as well as confirming previously achieved high recovery rates for high-purity Scandium trioxide. The potential magnetic rare earth products include Neodymium-Praseodymium ("NdPr") oxide, Dysprosium oxide, and Terbium oxide. NioCorp will utilize conventional solvent extraction ("SX") technology to test a rare earth separation approach developed by NioCorp and L3. NioCorp and L3 have years of collective experience in SX technology.
2023 is going to be a huge year for NioCorp. The big upcoming news is the SPAC acquisition which will see NioCorp traded on the Nasdaq and giving NioCorp access to as much as $285 million in net cash which can be used to advance the Elk Creek Critical Minerals Project. A huge catalyst for the stock which will give the company access to US markets and investors and having significant cash.
The stock is at an interesting point. It recently broke below a major support level of $1.06. The stock even dropped to test the psychological important $1.00 zone. A positive thing for bulls is the stock held above $1.00 and has reclaimed the broken support level of $1.06. This means we had a false breakdown, and should expect the stock to continue to rally.
I am watching the long term trendline I have drawn out which has been respected many times. Seeing a close over it will be crucial for further upside momentum.