It was way back in mid September 2022, when I provided some bad news to gold bulls. The weekly chart confirmed a major breakdown below the $1680-$1700 and technicals hinted to lower prices.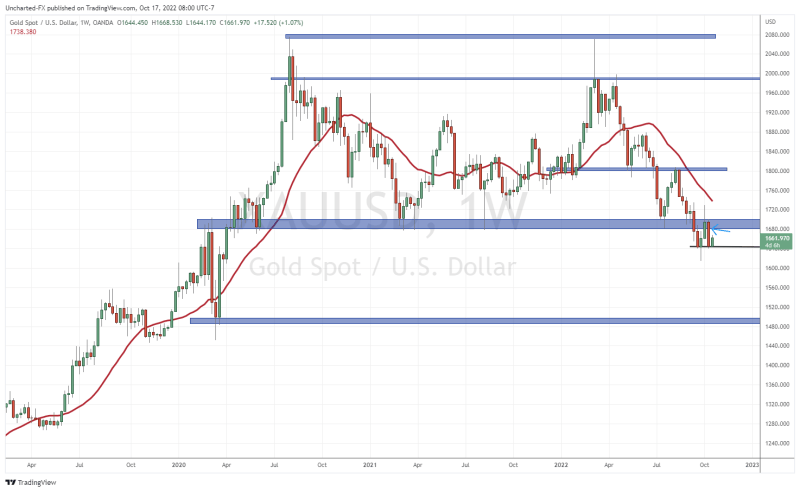 We even had the semi-successful retest of the breakdown zone, but we could not create new weekly chart lows. New lows are our key to confirm a successful retest, not just a big red candle.
However, things have changed. Gold bulls ironically need to be thankful for the lower than expected inflation report. CPI came in lower than expected for the month of October raising hopes that inflation is peaking. More importantly, raising hopes that the Federal Reserve will either lower the pace of rate hikes, or pause rate hikes.
With the US dollar dropping (gold being that anti dollar and having a negative correlation with the dollar) and the 10 year yield dropping, gold is seeing a reversal.
Rejoice gold bulls! A new uptrend has begun.
Let's start with the weekly chart. Our resistance zone (or the breakdown zone) at $1680-$1700 has been nullified. We closed above it with a strong green candle. Going forward, what was once resistance now becomes support.
The daily chart looks even better from a market structure perspective.
The $1700 zone is support and as long as price remains above it, we will continue a new uptrend. So how to get in? I would wait for the first pullback to confirm the first higher low. Ideally, I would like to see prices pullback closer to $1700 to retest the breakout zone. But sometimes that doesn't happen. The second way to enter would be to wait for the current highs to be taken out AFTER gold dips and pulls back a bit. You would in essence be riding the uptrend momentum and a higher low swing.
Resistance right now comes in at $1800 which is another strong psychological number.
What could change this? Well, if the Fed remains hawkish in the next Fed meeting in December, it would cause yields to rise and the dollar to rise. Both would be negative for the gold price.
The financial markets could go through a risk off phase with money leaving stocks and other assets to flow into cash. The US dollar would do well in this environment, and one just needs to look at current event in Ukraine and Poland.