It might be boring being a gold and silver trader right now, but other commodities are on the move. Uranium is really popular with the retail crowd and is gaining some popularity due to a possible (some would say pending!) energy crisis in Europe. You can read all about a potential uranium breakout here.
Following similar macro principles, lithium is also hotter than ever. You all know the fundamentals: high demand from China and the rest of the world due to lithium batteries for electric vehicles(EVs) as the world transitions away from fossil fuels. Nations have already said that they will ban gas cars as a move to combat the climate crisis. In fact, even in the US, states like California and New York have announced gas car bans. Both US States will ban gas cars by 2035, and many analysts believe California could pave the way for other US States to take action.
Here is a list of countries that are banning gas cars:
Norway – 2025
South Korea – 2025
Belgium – 2026
Austria – 2027
Slovenia – 2030
Iceland – 2030
Netherlands – 2030
Denmark – 2030
Ireland – 2030
Israel – 2030
Sweden – 2030
India – 2030
Scotland – 2032
Japan – 2035
United Kingdom – 2035
Canada – 2035/2040
Cape Verde – 2035
China – 2040
Singapore – 2040
Sri Lanka – 2040
Taiwan – 2040
France – 2040
Spain – 2040
Egypt – 2040
Costa Rica – 2050
EVs are going to make a bulk of car sales going forward. Recently, the Biden Administration announced an executive order to achieve 50% EV market share by 2030. The Chinese are on it.
Global plugin vehicle registrations were up 51% in September 2022 compared to September 2021, reaching a record 1,040,000 units. This is the first time ever the world reaches one million plugin vehicle registrations in a month. The US and Europe did not reach these record month levels, but China did. China was also supported by a long list of other markets at record heights, with the highlights being: Australia (8,000 units), South Korea (17,000), and Japan (13,000).
It should be no surprise then that lithium demand will increase as the world moves to EVs:
Prices of lithium carbonate, which is primarily used in batteries that power EVs, are up 191% for the year:
The chart of lithium continues to make record high after record high. Demand is continuing to surpass supply. From an investment perspective, it would be prudent to hold lithium miners/explorers that have an advanced project which are shovel ready.
As the world needs more lithium, we will have a situation develop which holds true for a lot of commodities. More investment in mining and advancing resources. Investment in new supply has not kept up with rising demand.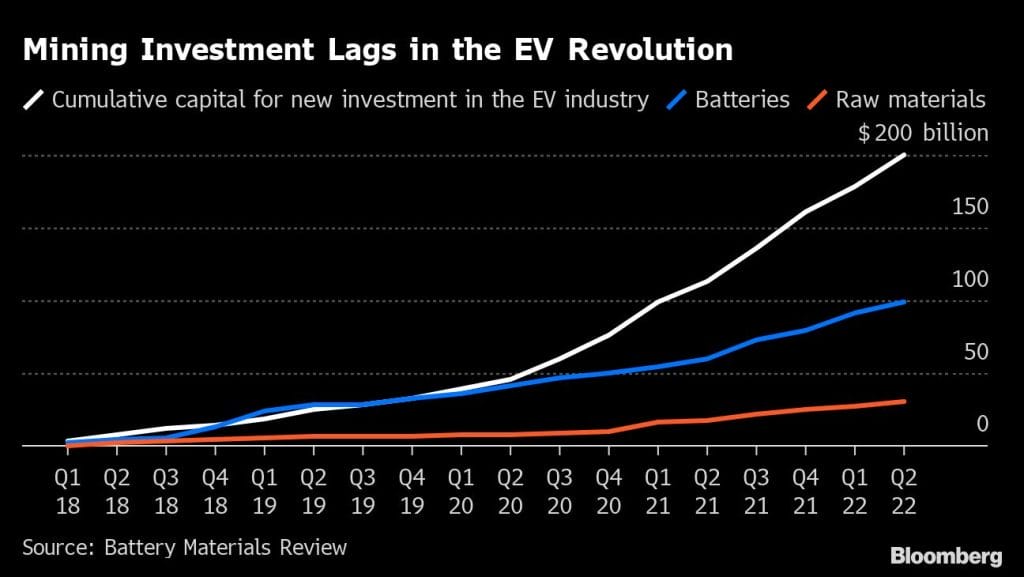 And the big boys are beginning to make their moves.
Commodity houses like Trafigura Group, Traxys SA and Glencore Plc are beginning to wade into the lithium market and impacting lithium contracts. They are also investing in new production sources. Lithium is not a niche market anymore. The biggest buyers are carmakers, and trading firms want to make money increasing the flow of lithium to these auto companies.
"The activity of traders in the lithium market should make this a more transparent and efficient market over time," said Martim Facada, a lithium trader at Traxys. "It's like oil in the 70s when governments would sell to consumers but then traders started providing services and that helped grow and develop the market faster. Lithium's starting to go through that process."
Trafigura's focus so far has been finding deals with early stage mining and refining projects. Traxys is scouring the globe for new sources of supply and helping to nudge them into production. A very interesting development is Glencore investing in recycling startup Li-Cycle Holdings Corp. I believe the real money opportunity in this space will be how we deal with old lithium batteries. My mechanic friends have told me that currently, you just store them away. It seems that the technology to recycle the lithium in these batteries has been developed and this will be a real game changer.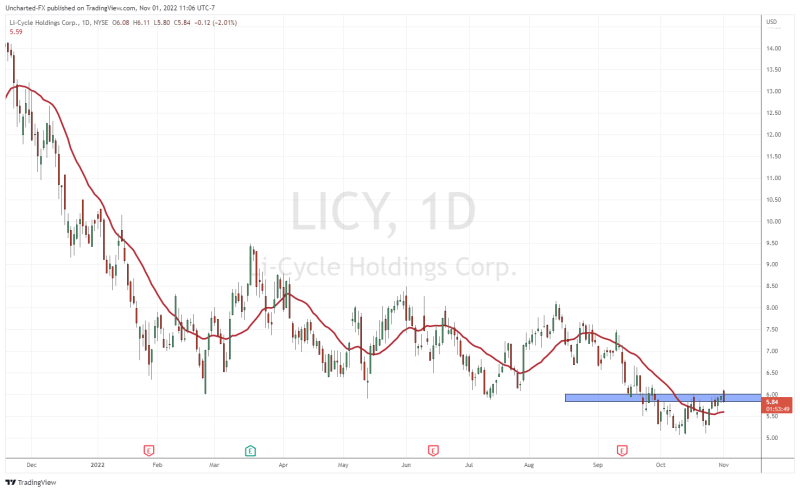 And yes folks, you can invest in Li-Cycle just like Glencore. The stock is traded on the NYSE under the ticker LICY. The company is recycling lithium batteries in order to create a circular battery economy.
From a technical perspective, I love what I am seeing. A downtrend is about to finish with a double bottom pattern about to trigger. A daily close above $6.00 with a nice strong green candle is the trigger for the breakout. Have this stock at the top of your lithium watchlist.
For people looking for an overall long term hold in lithium, then I would look at the Lithium & Battery Tech ETF LIT. This ETF  invests in the full lithium cycle, from mining and refining the metal, through battery production. Here are its top holdings: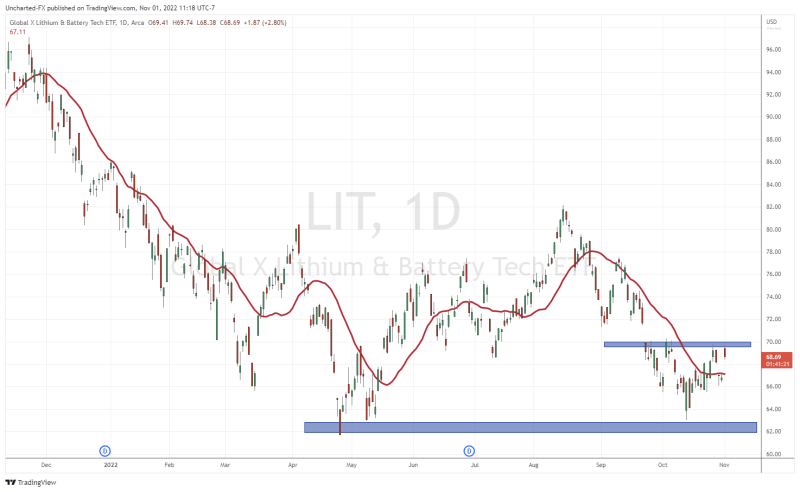 The ETF isn't looking too shabby. Yes, I understand it is in a downtrend, but my readers know I look for reversal set ups. This stock has had multiple lower highs and lower lows (or simply put, multiple down legs), is near a major support, and showing signs of a reversal pattern. For my technical traders: an inverse head and shoulders seems to be developing. The trigger for the breakout though is a green candle close over $70.
If your goal is a long term investment, then LIT would be one to accumulate from a dollar cost averaging perspective betting on the EV boom.
As a trader, it isn't easy to play the lithium spot market. Just like uranium and diamonds and other commodities, there aren't easy future contracts or CFDs to trade such as trading gold, silver, copper, oil, natural gas, wheat, soybeans, palladium, platinum etc. But due to lithium's popularity, things might be about to change. Exchanges from Chicago and Singapore are experimenting with new futures contracts, which will make trading spot lithium more accessible to traders like me.
They say a picture is worth a thousand words, and the image above speaks volumes. This is the real reason for investing in lithium right now. We are still in the early stages with the annual mined lithium market valued at $30 billion. Copper is put up as a comparison.
I don't know about you all, but I think one can make a strong case that lithium will be more important than monetary metals and base metals in the future.
Are you bullish lithium? Let me know by reaching out on Twitter.
Happy investing.