Faraday Copper Corp. (FDY.CN) announced today that it has received conditional approval to list its common shares on the Toronto Stock Exchange (TSX).
Final approval of the TSX listing is subject to Faraday Copper meeting certain requirements of the TSX including receipt of all required documentation. Once the TSX confirms the first day of trading, Faraday Copper will issue a press release announcing and confirming the date when Faraday shares commence trading on the TSX.
At the same time, Faraday's common shares will concurrently delist from the Canadian Securities Exchange (CSE). Current shareholders are not required to exchange shares in connection with the TSX listing. There will be no change in the trading symbol or CUSIP for the common shares.
Faraday Copper is an exploration company which is developing and advancing two 100% owned untapped North American deposits. The Copper Creek project is located in Arizona, and is one of the largest undeveloped copper projects in North America with open pit and bulk underground mining potential. The Contact Copper project is located in Nevada, and provides potential for a low cost open pit, heap leach, oxide project.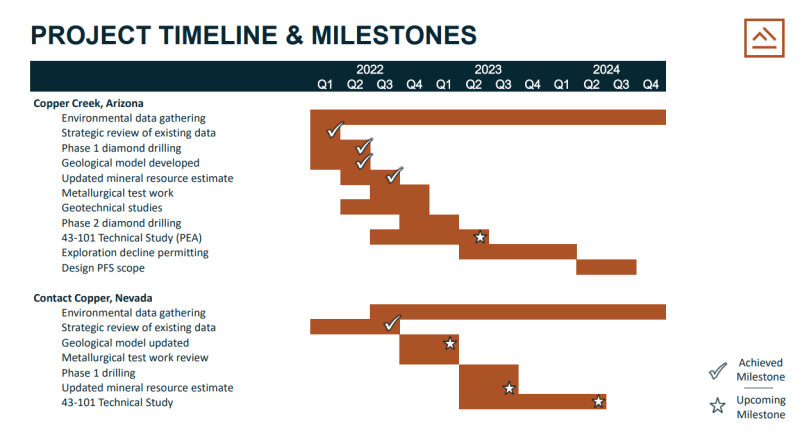 For more information on the copper market, and why domestic supply will be important (something Faraday Copper is focusing on!), please read my article regarding why one should be investing in copper.
Recently, Faraday Copper announced drill results at its Copper Creek project. Here are the results:
Highlights
Intersected significantly higher-grade mineralization in the underground footprint at the Keel zone compared to the Mineral Resource Estimate ("MRE") in drill hole FCD-22-007

Intercepted 361.7 metres ("m") at 0.87% copper and 6.63 grams per tonne ("g/t") silver from 928.0 m, including 117.6 m at 1.13% copper and 8.94 g/t silver from 1,100.0 m and 36.0 m at 3.02 % copper and 23.20 g/t silver from 1,253.8 m.
19.3 m at 4.37% copper of the above intercept from 1,270.5 m occurs below the underground footprint used for the MRE reported on July 6, 2022 and demonstrates the potential to increase the mineral resource at depth.
The first 90.0 m of the mineralized 361.7-metre intercept occur outside and to the northwest of the current underground resource footprint, thus providing the potential for further resource expansion with additional drilling.
Mineralization remains open at Keel with planned follow up drilling.
Paul Harbidge, President and CEO commented "I am excited to see these high-grade intercepts, which remain open and confirm significant exploration upside in proximity to the current mineral resource. Copper Creek is a large mineralized system with the potential to be one of the next generation U.S. copper mines supporting the clean energy transition. We are targeting the delivery of an updated Mineral Resource Estimate and related Preliminary Economic Assessment in Q2 2023."
What really gets me interested in Faraday Copper is the chart. Fundamentals are of course important, but the combination of good fundamentals and technicals is the winning combination and increases your probabilities in this business of probabilities.
On the fundamental side, the company has good news, a TSX upgrade, good drill results, and the cash to create more catalysts.
The technicals show a stock which is breaking out of its consolidation or range phase. Yes, Faraday Copper has been in a long downtrend, but this changed when the stock began to range beginning in September 2022. A range occurs near the bottom because it generally points to the exhaustion of selling pressure. Once the range is broken, a new uptrend begins.
With today's TSX  news, the stock is confirming a breakout. Currently the stock is up over 24% with over 111,000 shares traded. But the key is the stock must close above $0.40 to confirm the breakout.
With today's strong price action, it is very likely to do so. Going forward, the stock may pullback to retest $0.40 as some investors and traders take profits after a big move. As long as $0.40 is held, more highs are in store for the stock. I have a major resistance zone at $0.50 which is also an important psychological level for stocks priced under $1.00. If Faraday Copper can close above this zone, then we can make a nice run up to the $0.70 zone, recovering most of the 2022 losses.
Copper itself is still holding above major support at $3.20, but prices remain ranged between these two trendlines. All we require is a break to give us the next direction. Two things are weighing in. First would be the stronger US dollar, and second would be the calls of a global recession. Copper is an industrial metal and is referred to as "Dr Copper" as price can tell us about the strength of the global economy. Let us not forget that China's economy is weak and much of copper's demand comes from China.
However, I do believe that governments will spend big to get the economy out of recession. It will likely be a major project such as green infrastructure. Copper will have a large part to play and demand will increase relative to supply. In this scenario, copper has a very bright future.