Kezar Life Sciences Inc.
$561.261M Market Capitalization
Between 2020 and 2021, year-over-year (YoY) funding in the biotech market increased by an impressive 39.6%. Currently, some of the biggest trends in this market include personalized medicine, drug research, artificial intelligence, big data, and synthetic biology. In total, the biotech market is expected to increase from USD$852.88 billion in 2020, to USD$3.44 trillion by 2030. Let's look at some companies in this space.
Kezar Life Sciences Inc. (KZR.Q) is a biotechnology company developing small molecule therapies. The Company's therapies inhibit disease-driving cellular pathways by targeting key intracellular proteins. In particular, Kezar is advancing two therapeutic approaches, namely Selective Immunoproteasome Inhibition and Protein Secretion Inhibition. These therapies are intended to combat various chronic diseases.
Kezar's Selective Immunoproteasome Inhibition therapy utilizes the Company's selective immunoproteasome inhibitor, zetomipzomib (KZR-616). It should be noted that the pathways regulated by immunoproteasomes are involved in the pathogenesis of numerous autoimmune diseases. In other words, immunoproteasomes are associated with the development of autoimmune diseases.
With this in mind, traditional methods of treating autoimmune diseases involve suppressing the immune system via steroids or targeting a single immune signal. On the other hand, zetomipzomib is capable of broadly modulating the immune system when it is dysregulated. For context, dysregulation occurs when the body is unable to control or restrain an immune response.
Kezar's Protein Secretion Inhibition refers to its in-house drug discovery engine used to develop small molecule therapeutics. These therapeutics are then used to block proteins involved in multiple diseases. In doing so, the Company's candidates have the potential to stop the secretion of disease-driving proteins across a variety of indications, including oncology, immun0-oncology, and autoimmunity.
Kezar's KZR-261 represents the Company's first candidate developed using the Protein Secretion Inhibition platform. Kezar's KZR-261 is intended to inhibit Sec61 translocon, a previously undruggable target, for the treatment of advanced solid tumors. In Q3 2021, the Company's Investigational New Drug (IND) application for KZR-261 was accepted.
Latest News
On June 27, 2022, Kezar announced positive topline results from its MISSION Phase II clinical trial evaluating the Company's zetomipzomib in patients with active lupus nephritis (LN), which causes kidney inflammation. This can result in high blood pressure, blood and protein in the urine, impaired kidney function, or even kidney failure.
 Zetomipzomib appears to be immunomodulatory, well-tolerated, and steroid-sparing – all important attributes for patients with autoimmune disease who are often young and active…we plan to continue developing zetomipzomib for patients with lupus nephritis, as well as evaluate development opportunities for systemic lupus erythematosus," said Noreen R. Henig, M.D., Kezar's Chief.
To summarize Kezar's positive topline data, zetomipzomib was well tolerated over the course of the treatment period, with adverse events being generally mild to moderate. Of the 21 patients enrolled in the study, 17 completed treatment. Of this group, 11 achieved an overall renal response (ORR) and 6 achieved a complete renal response (CRR).
Put simply, zetomipzomib demonstrated improvements in disease activity related to systemic lupus erythematosus (SLE). Patients showed a mean reduction in key SLE disease activity scores and normalization in biomarkers consistent with a reduction in SLE disease activity. For more information, check out the Company's audio webcast and presentation here.
Kezar's share price opened at $8.21 on July 1, 2022, down from a previous close of $8.27. The Company's shares were up 12.33% and were trading at $9.29 as of 4:00 PM EDT on July 1, 2022.
BioMarin Pharmaceutical Inc.
$15.721B Market Capitalization
BioMarin Pharmaceutical Inc. (BMRN.Q) is a biotechnology company developing therapies for rare genetic diseases. The Company already has numerous available products under its belt, including VOXZOGO, PALYNZIQ, Brineura, and Kuvan, among others. The Company specializes in enzyme replacement therapies (ERTs) and is recognized as the first company to provide therapeutics for mucopolysaccharidosis Type I and phenylketonuria.
However, given its size, BioMarin is not free from controversy. Back in 2010, BioMarin was granted exclusive licensing rights to Firdapse for a ten-year period. Keep in mind that Firdapse is a modified version of 3,4 Diaminopyridine (DAP). At the time, 3,4 DAP was an unlicensed drug used for the treatment of a wide range of diseases.
While Firdapse was an officially licensed version of 3,4 DAP, it was vastly more expensive than its unlicensed counterpart. To put things into perspective, the annual course of 3,4 DAP has an approximate cost of $1,280 and $3,200, however, BioMarin's Firdapse was priced at more than $64,000 a year. Needless to say, BioMarin took advantage of its position as the only licensed provider of 3.4 DAP to slap a hefty price tag on Firdapse.
Latest News
On June 24, 2022, BioMarin announced that the Committee for Medicinal Products for Human Use (CHMP) has adopted a positive opinion recommending conditional marketing authorization (CMA). The CHMP's recommendation is for BioMarin's investigational gene therapy, valoctocogene roxaparvovec, for adults with severe hemophilia A.
"Today's positive CHMP opinion for Roctavian has the potential to address the unmet medical needs in severe hemophilia A by providing a treatment option that has been shown in clinical studies to maintain effective levels of endogenously produced coagulation Factor VIII over multiple years with a single intravenous administration," said Hank Fuchs, M.D., President of Worldwide Research and Development at BioMarin.
With this in mind, valoctocogene roxaparvovec, which is planned to be marketed under the brand name ROCTAVIAN, is the first gene therapy to be recommended for approval in Europe for hemophilia A. ROCTAVIAN works by delivering a functional gene designed to enable the body to produce FVIII, an essential blood-clotting protein, on its own.
That being said, a deficiency of FVIII causes hemophilia A, a hereditary bleeding disorder that can result in potentially life-threatening bleeding from even modest injuries. To date, the Company's ROCTAVIAN has been well tolerated with no delayed onset treatment-related adverse events. On May 31, 2022, BioMarin announced updated results from its ongoing open-label Phase I/II study of ROCTAVIAN.
Some highlights include a 95% reduction in Mean Annualized Bleed Rate (ABR) and a 96% reduction in Mean Annualized FVIII Usage from baseline through Year 6 in the 6e13 vg/kg dose cohort. Similarly, the 4e13 vg/kg dose cohort demonstrated a 91% reduction in mean ABR and a 93% reduction in Mean Annualized FVIII Usage from baseline through Year 5.
Unsurprisingly, this study represents the longest duration of clinical observation for the Company's ROCTAVIAN. Looking forward, BioMarin intends to resubmit its Biologics License Application (BLA), which was originally rejected in August 2020, by the end of September 2022. If you would like to know more about the results, BioMarin will share its data at the ISTH from July 9th to July 13th.
BioMarin's share price opened at $82.92 on July 1, 2022, up from a previous close of $82.87. The Company's shares were up 2.55% and were trading at $84.98 as of 4:00 PM EDT on July 1, 2022.
Viridian Therapeutics Inc.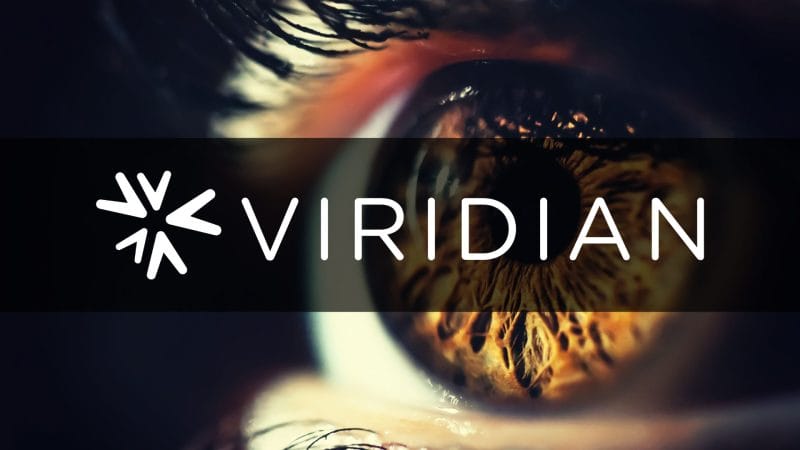 Viridian Therapeutics Inc. (VRDN.Q) is a biotechnology company developing treatments for serious diseases that are largely underserved by current therapies. The Company's most advanced program included VRDN-001, a "differentiated monoclonal antibody targeting insulin-like growth factor-1 receptor (IGF-1R)." For context, IGF-1R is a clinically and commercially accepted target for the treatment of thyroid eye disease (TED).
The Company's ongoing first clinical trial for VRD-001 is a Phase I/II proof of concept study involving TED patients. This clinical trial is intended to assess the potential of VRDN-001 to provide rapid improvements in signs and symptoms of TED, including proptosis. It should be noted that TED is the most common cause of proptosis, which refers to the bulging of one or both of the eyes from their natural position.
Latest News
In addition to VRDN-001, Viridian is developing VRDN-002, a distinct IGF-1R monoclonal antibody incorporating half-life extension technology. In summary, VRDN-002 is designed to be a convenient, low volume, subcutaneous injection for the treatment of TED, similar to VRDN-001. Recently, on March 21, 2022, the Company announced it had dosed the first subject in a Phase I clinical trial evaluating VRDN-002.
"With VRDN-001 and VRDN-002, we are focused on developing a portfolio approach to advance patient care for TED patients. The initiation of this first-in-human trial of VRDN-002 delivers a key milestone as we execute our development strategy for VRDN-002 and ramp up clinical activity across our pipeline," stated Jonathan Violin, Ph.D., Viridian Therapeutics' President and CEO.
This study will evaluate the safety, tolerability, pharmacokinetics, and pharmacodynamics of intravenously administered VRDN-002. Viridian expects to submit topline data from the trial mid-year. Most recently, on June 23, 2022, the Company announced that it has appointed Carrie Melvin as Viridian's Chief Operating Officer, a newly created position.
"As we prepare for late-stage clinical development for our TED programs, we are excited to add Carrie to the Viridian team. Carrie's extensive experience in a wide range of operational activities supporting product development and approval will be tremendously valuable to our expanding efforts on VRDN-001 and VRDN-002," commented Jonathan Violin.
In terms of market value, the Global TED Treatment Market was estimated at USD$228.81 million in 2020. This market is expected to reach USD$391.12 million by 2026, expanding at a compound annual growth rate (CAGR) of 9.43%. Currently, the only FDA-approved treatment for TED is TEPEZZA, which was approved back in January 2022.
Viridian's share price opened at $11.60 on July 1, 2022, up from a previous close of $11.57. The Company's shares were down -7.52% and were trading at $10.70 as of 4:00 PM EDT on July 1, 2022.