How things have changed for crypto's! The crypto market has went from a high of $3 Trillion in November 2021 to now under $1 Trillion! Bitcoin itself has fallen nearly 70% from its all-time high in November 2021. Some are saying this is crypto's "Long Term Capital Management" moment. A highly leveraged hedge fund that blew up in the late 1990s. It took the markets by surprise because this fund had some of the smartest and brightest people.
"We are going through what feels to me a little bit like a Long Term Capital Management moment in crypto," Mike Novogratz CEO of Galaxy Digital said on CNBC's "Squawk Box." "It was the big hedge fund with all the leverage, and when it started unwinding, there was repercussions everywhere. We are seeing that in the crypto space right now."
Michael Saylor, the CEO of MicroStrategy (MSTR) is close to feeling the pinch.
Saylor is leveraged. Microstrategy borrowed $2.4 billion to buy over 128,000 bitcoins with an average price of $30,700. Their software business is not enough to service the debt so the company is relying on the appreciating price of bitcoin. If bitcoin falls below $21,000, MicroStrategy will be met with a margin call from one of its loans. That would force the company to either put up more collateral to the loan or sell some of its bitcoin holdings, according to comments from MicroStrategy CFO Phone Le on the company's most recent earnings call.
Even though Saylor has been adamant that he won't sell a single bitcoin… he might just have to liquidate in order to stay afloat. Currently, MicroStrategy is sitting on a $1 Billion loss on bitcoin.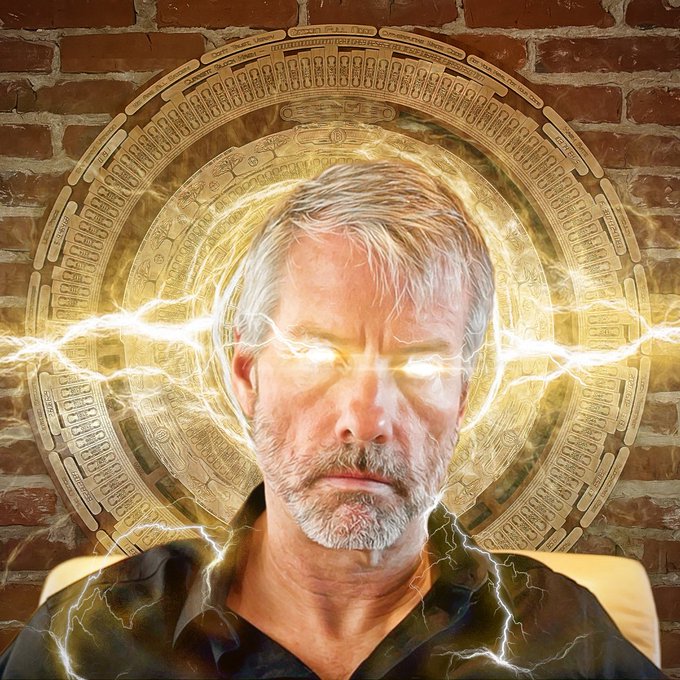 But judging by Michael Saylor's new Twitter profile picture posted above… he remains bullish on bitcoin.
The drop is also affecting exchanges. There was news that withdrawals were not working for some time. People could not get their money out.
Now, we have heard that Coinbase (COIN) will cut 18% of full-time jobs. Translating to a headcount reduction of around 1,100 people. CEO Brian Armstrong pointed to a possible recession, a need to manage costs and growing "too quickly" during a bull market.
"We appear to be entering a recession after a 10+ year economic boom," Armstrong says. "While it's hard to predict the economy or the markets, we always plan for the worst so we can operate the business through any environment."
Crypto bulls might not like what I have to say, but I have been sounding the alarm bells since early May of this year. Crypto bulls just do not understand that bitcoin and other crypto's act as risk on assets, and not risk off. Meaning that they will fall with risk on assets such as stock markets. Bitcoin is positively correlated with stocks.
In May, I spoke about this weekly chart. The $30,000 zone on the weekly was super important. We held above this on the weekly timeframe since December 2020. We briefly dipped below $30,000 in the week of May 9th 2022, however bulls stepped in and bid up, preventing a weekly candle close below this support. That all changed last week. We got a confirmation close and thus a breakdown.
In May, I said the next targets would be $20,000 and $12,000. The first level comes in at $20,000. It is the highest bitcoin printed back in 2017. However, as a technical analyst, I look for areas which have acted as multiple support and resistance. To me, the better level describing this on bitcoin comes in lower. I have a major support level down at just under $12,000.
On the daily chart, bitcoin could bounce before continuing its sell off. Typical breakdown price action where the price of an asset pulls back to retest the price level it broke. In this case, we could pop back up to the $29,000-$30,000 zone before continuing the downtrend. If bitcoin manages to close above $30,000 on the WEEKLY chart, then we can begin to think of reversal.
Bitcoin acting as a risk on asset means there is still some room to fall if the stock markets drop lower. My levels on the S&P 500 come in much lower at around 3600 (360 on SPY). Could this coincide with $12,000 bitcoin? I wouldn't be surprised.