My love for silver is legendary among Equity Guru readers and Youtube viewers. In my pre-Vancouver Resource Investment Conference (VRIC) write up, I told my fellow silver bulls (or apes as per WSB Silver) that I would particularly be focusing on looking for great silver plays. The first company I want to discuss as I continue my VRIC observations is Kuya Silver (ticker KUYA.CN).
We have something really special here and I think astute investors can take advantage here at these prices, while everyone is focused on the falling stock market. But first, a quick update on silver.
I have kept my readers in the loop regarding silver prices. The break below $22 isn't too positive because this was a major support zone which has held since 2020 and has seen a bounce five times in recent years. We could not bounce for a sixth time. Silver closed below $22 triggering a breakdown. Now it is all about that retest. I am personally watching for a weekly candle close above $22, but the daily chart can give us signs of what is to come.
Simple put, if silver can close above $22 on the weekly, we have a false breakdown. Great news for silver bulls! If we reject $22 and sellers jump in, we can see silver drop down to $18 as we continue the downtrend. Seeing some positive signs that the bulls are beating out the bears as we test $22. Looks great so far, but those candle closes are what we need to confirm. Fingers crossed.
One positive thing is the fact that the US Dollar Index (DXY) confirmed a breakdown that I have been waiting for. This means the Dollar is likely to slide down further, providing a relief for fiat currencies which have been smashed by the rising US Dollar, and yes, it will provide a relief for the precious metals.
Kuya Silver
Market Cap ~ $34 million
Kuya Silver is building the next high margin silver mining company. I spoke with the gentlemen at the Kuya booth, and even showed them my global silver collection. They were impressed and suggested I show it to the WallStreet Silver crowd! We had a great chat about the current silver market and the fact that silver is the best of both worlds being a monetary and industrial metal. Of course, many bulls are excited about silver's industrial applications. Particularly on solar panels and wind turbines, which will require more silver if they want to handle base load power.
Demand for silver will be steadily increasing, and mining.com recently put out a piece on silver demand reaching its highest on record in 2022!
Silver demand will climb to a record level this year thanks to increasing use of solar panels as governments boost renewable energy to meet climate goals, setting the stage for years of supply deficits. Global silver demand is expected to rise to 1.1 billion ounces this year, up 5% from 2021, consultants Metals Focus said in an annual report compiled for the Silver Institute. This sizzling demand will push the silver market into a deficit of 71.5 million ounces this year after a shortfall of 51.8 million ounces in 2021.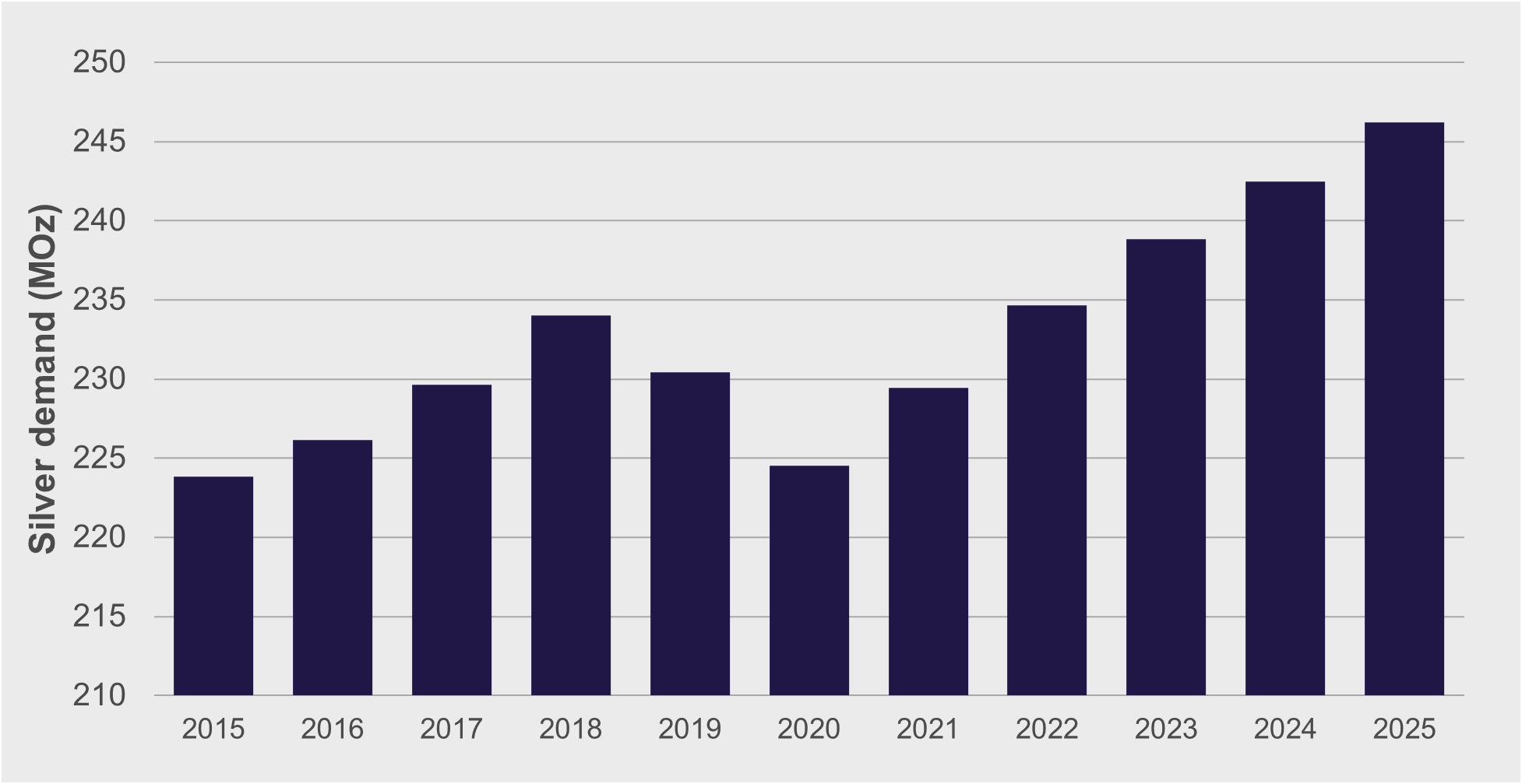 With silver demand rocketing, we need to focus on supply. As many of you silver bulls know, we have not seen many primary silver mines come into production. If the world needs more silver, we will need more primary silver mines coming into production. This is why I am excited for silver in the long term. And I am not even mentioning the monetary aspect with central banks stuck and a confidence crisis in governments, central banks and the fiat currencies beginning to brew.
Enter Kuya Silver. The company is expanding and restarting the high grade Bethania project in Central Peru.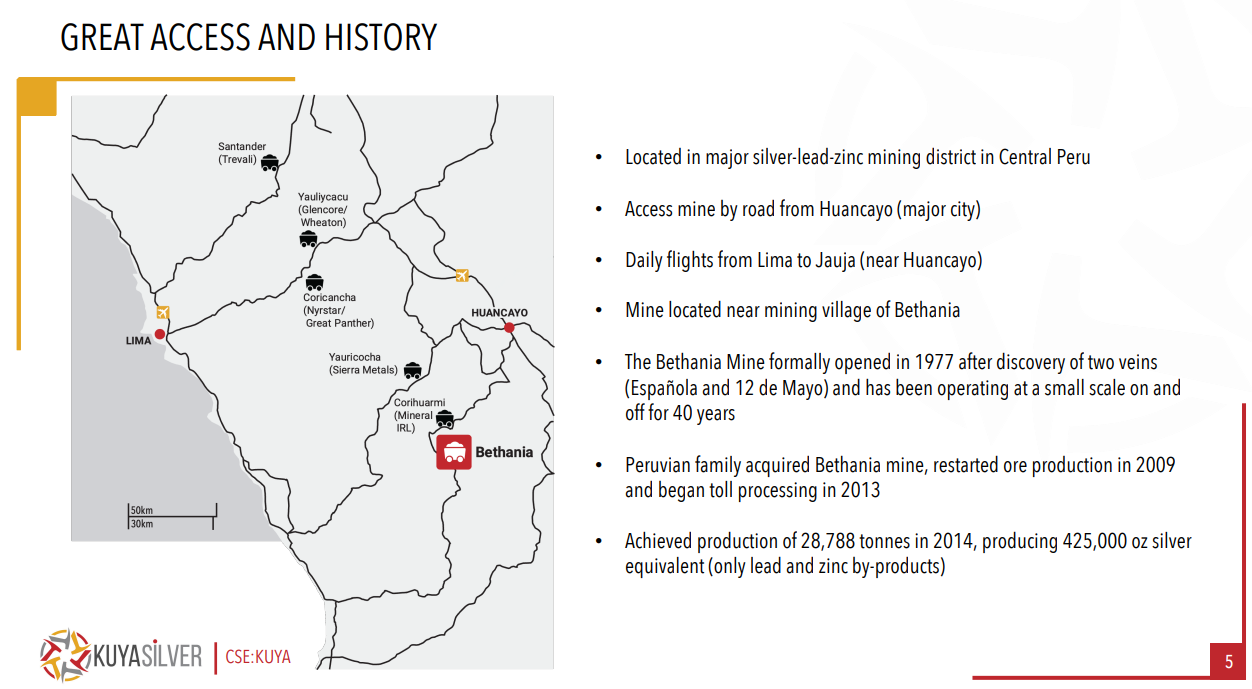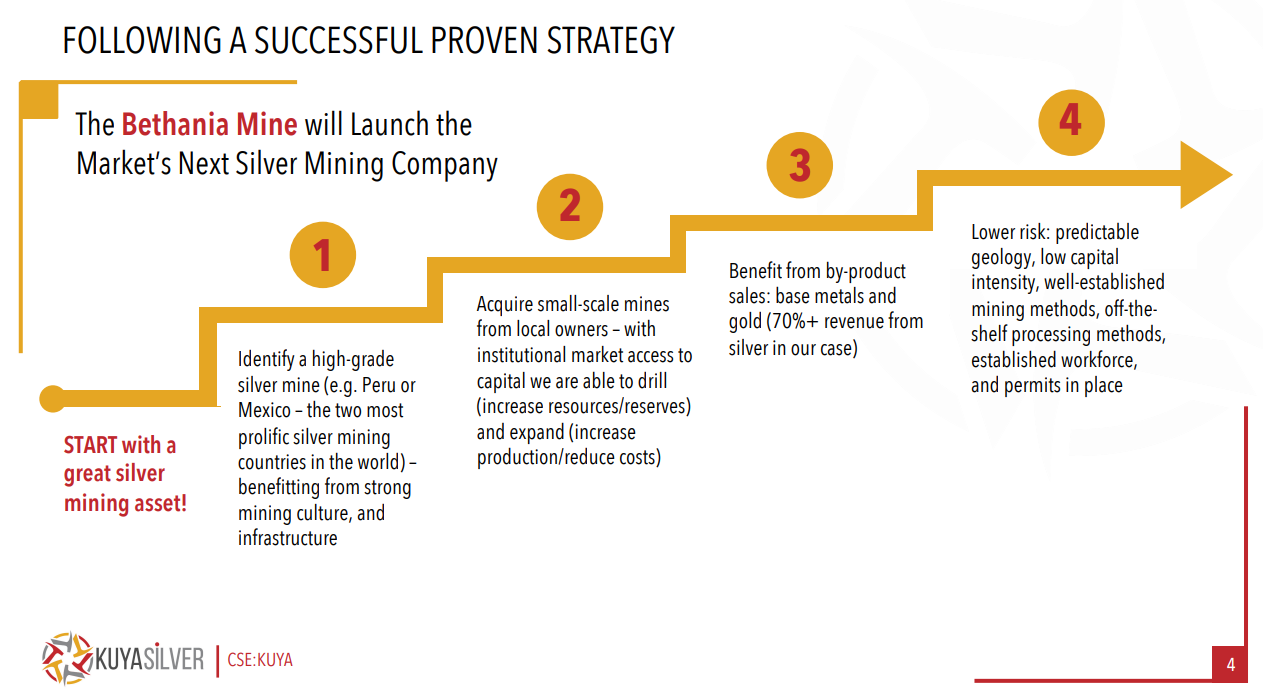 High grade silver? Check. A Past producer? Check. Experienced management with a track record of success? Check. What gets me really excited is this one: a low capex to start the mine.
On May 4th 2022, Kuya Silver announced the results of an independent preliminary economic assessment. Here are the highlights:
Base case ($25.40/oz silver price) Pre-Tax NPV (5%) of $77.8 Million and IRR of 227%
Base case ($25.40/oz silver price) After-Tax NPV (5%) of $54.7 Million and IRR of 188%
Pre-production toll milling option would generate gross margin of $9.5 Million during construction at base case, would accelerate after-tax payback period to 0.50 years
After-tax cash flow of $18.04 Million in first full year of production (base case)
Life of Mine ("LOM") after-tax free cash flow of $65.3 Million (base case)
Initial Capital Cost Estimated at $14.2 Million plus 25% contingency of $3.6 Million
All-In Sustaining Costs of $10.48/oz silver eq. in first year, $12.15/oz silver eq. over LOM
Silver production of 1.37 Million oz eq. in first year, 8.68 Million oz eq. over LOM
Production (head) grade of 13.8 oz/t (or 429 g/t) silver eq. in pre-production year, 10.1 oz/t (or 315 g/t) silver eq. over LOM
A cap ex of under $15 million for an IRR of 227% pre-tax. We are definitely talking about the next low-cost producer in the future with a manageable cap ex and quick payback! Low costs and high margins.
The project is ready to go and will commence full scale production in 2023. This project is 100% owned with no royalties or streams. In terms of finding a partner or a joint venture, I don't think Kuya Silver will have any problems.
There is a chance of further discovery and expansion of the resource as well! There was a new discovery of 91.1 oz/t Ag at the new Santa Elena vein. I like to call this the Gold Mountain model. We have talked about Gold Mountain (GMTN.TO) a lot on Equity Guru. We love the model of getting production started and then using the profits for further drilling and expansion. Kuya Silver will achieve this by expanding and constructing a 350 tpd concentrate plant at site before the restart of operations.
When it comes to the chart of Kuya Silver, I must say that it appears as if we are on the verge of a new uptrend. The stock has been in an obvious downtrend after hitting prices of $1,31 this year. I have drawn out a trendline connecting all the lower highs. As you can see, this trendline broke on May 19th 2022. Currently, the retest of the trendline is occurring. If we are to start a new uptrend, we should expect to see buyers step in here. If Kuya Silver can build momentum and then close above $0.91, that's when things really get going.
The chart looks very promising. What comes next will largely depend on the price of silver. As noted above, we are retesting the $22 zone as resistance. If silver manages a strong close above $22 with sustained momentum, Kuya Silver takes off from here.
When it comes to share structure we only have 49 million shares fully diluted. Eric Sprott and Crescat capital are involved, and management holds 21.6% of the shares.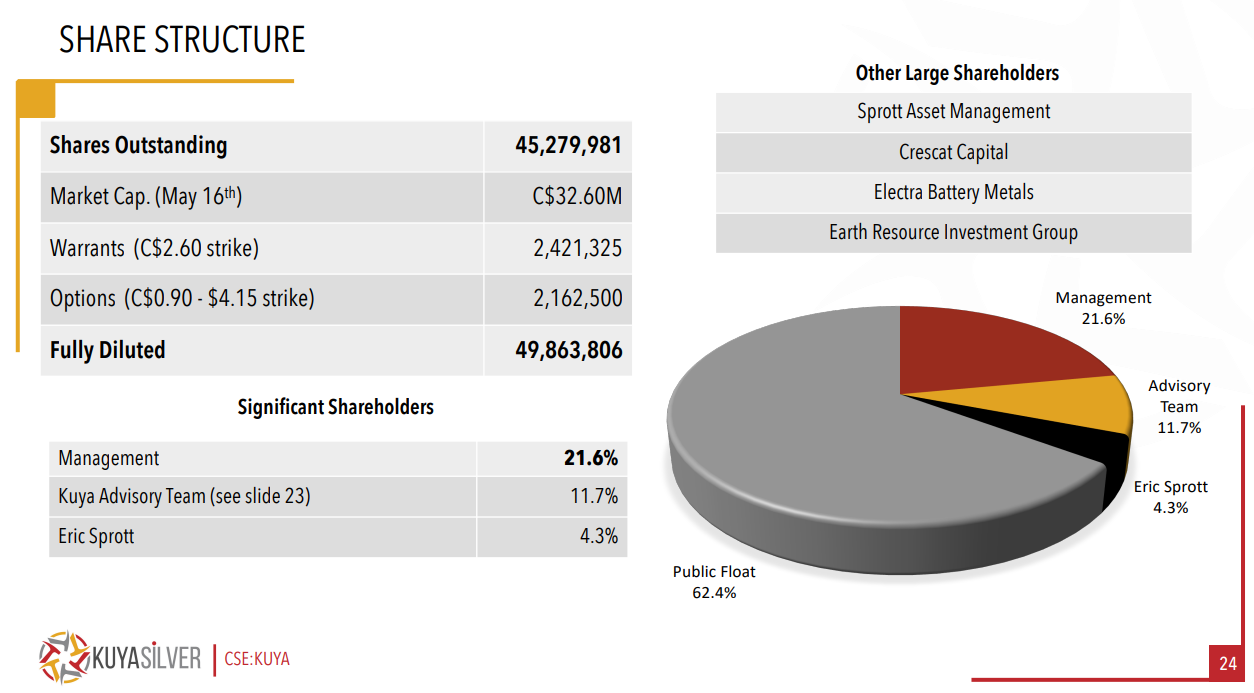 This opportunity really gets me excited. From the asset to the cap ex to the share structure. There is so much to like given the silver market fundamentals. Kuya Silver was one of the most exciting silver companies I got to speak with at VRIC. Keep them on your watchlist. This could very well be the next high margin silver mining company!
–Vishal Toora