Perimeter Medical Imaging (PINK.V) has had quite the recent few months. The cherry on top was Chamath Palihapitaya's Social Capital investment of $43.4 Million CAD. The fund is known for investing in transformational technology, and Chamath is very popular among the new retail crowd entering markets. In previous articles, I have explained why this is big and exciting news but that should be obvious.
Recently, Perimeter Medical tweeted out Mr. Palihapitaya checking out Perimeter Medical's technology: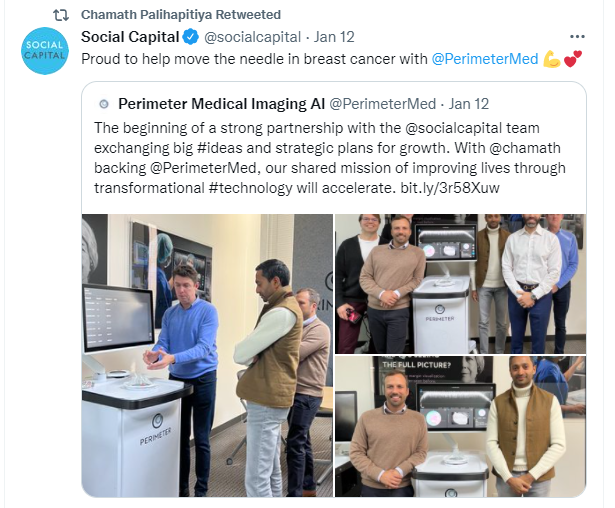 The company is a medical technology company that is driven to transform cancer surgery with ultra-high-resolution, real-time, advanced imaging tools to address areas of high unmet medical need. Now they have huge backing. The stock and the company has been a favorite of ours here at Equity Guru. I think it is safe to say that PINK was our biggest winner of 2021. On our Investor Roundtable shows, our panel suggested investing in the stock pre Social Capital rip. The technicals were great, and indicated a new uptrend.
Recent news saw Perimeter Medical Imaging AI announce the initiation of an additional clinical trial site at Baylor College of Medicine in Houston, Texas. With backing from Social Capital, we can expect more of these types of announcements to come down the pipeline.
Perimeter's pivotal study will assess the Company's Perimeter B-Series OCT imaging platform combined with ImgAssist AI and its impact on positive margin rates during breast conservation surgery.
"We are proud to partner with leading cancer centers like Baylor to enable the late-stage clinical development of our breakthrough-device-designated Perimeter B-Series OCT platform that includes AI-assisted software…

We are also grateful for the grant funding that we received from the Cancer Prevention and Research Institute of Texas (CPRIT), which has supported our ATLAS AI project across multiple stages, culminating in this important pivotal study now underway," commented Jeremy Sobotta, Perimeter's Chief Executive Officer.
Perimeter's AI technology, dubbed ImgAssist, is a powerful tool intended to aid physicians with real-time margin visualization. For context, a margin refers to the edge or border of the tissue removed in cancer surgery. This margin is defined as negative or clean when the pathologist finds no cancer cells at the edge of the tissue, suggesting that all of the cancer has been removed. On the contrary, if cancer cells were to be found at the edge of the tissue, this margin would be referred to as positive.
Before we jump into the charts, I want to remind you all of the numbers in Social Capital's investment:
Social Capital has agreed to subscribe, on a non-brokered private placement basis  for C$43.4 million in units of Perimeter at a price of C$3.00 per unit, with each Unit consisting of one common share  and a total of one warrant  to purchase an additional Common Share . 80% of the Warrants issued in the Private Placement will have a strike price of C$3.99 and 20% of the Warrants in the Private Placement will have a strike price of C$4.50. Half of the Warrants at each strike price will be subject to accelerated expiry if the 60-day volume weighted average trading price of Perimeter's Common Shares is greater than the strike price during the applicable period. The other half of the Warrants will not be subject to accelerated expiry, and instead they may be exercised for cash or exercised using a cashless exercise feature at any time prior to expiry. Subject to the accelerated expiry clause described above, all Warrants will expire five years following the closing of the Private Placement.
This is my thinking, but it looks likely that the warrants have been executed. Why not make a profit upfront for Social Capital?
$3.00 is the big zone since that is Social Capital's entry point. Picking up shares as we get closer to $3.00 is a prudent approach. My chart above still has all the bullish signals I have talked about in 2021's coverage of Perimeter Medical. The trendline breakout back in October 2021, and the reversal pattern confirmation after we took out $2.60.
Now, the price approaches yet another key support zone. When the Social Capital investment news came out, we had a gap up. The gap is between $3.20-$3.40. Gaps tend to be major support or resistance zones. In this case, support. We should expect to see buyers enter here, and we already are seeing evidence of that. Friday's candle close had a large wick right at $3.40 indicating buyers stepping in.
I would like to see some more basing here, or a candle close above Friday's candle. Currently, stock markets are under some pressure, but if we can get a rebound, then Perimeter Medical will likely hold this gap support. In order to make a move to retest previous record highs again, I would like to see a close above $4.20.
With backing from social capital, and plenty of cash in the bank to progress catalysts, the company is in great shape for the long term. At current prices, it makes the stock attractive since you are entering quite close to Social Capital's $3.00 position.