Plurilock Security (PLUR.V) is our favorite identity-centric cybersecurity solutions play. Cybersecurity is once again making headlines as Russia-Ukraine tensions increase. Headlines of Russian cyber attacks on Ukraine, and Poland raising its cybersecurity terror threat. This is a space which will be attracting major investor dollars. In my opinion, a financial cyber attack is very possible, and could be the big catalyst to get the majority of the market to start paying attention to this sector.
Plurilock Security (PLUR.V) is an identity-centric cybersecurity company that provides multi-factor authentication (MFA) solutions using behavioral-biometric, environmental, and contextual technologies. What does all that mean? Machine Learning that reduces or eliminates the need for passwords by measuring the pace, rhythm and cadence of a user's keystrokes to confirm their identity. No more having to remember your first pet's name for a password.
It is no secret that Chris Parry and Equity Guru are fans of the company and management. They do exactly what they say they are going to do. Tons of press releases detailing contracts with big government agencies. This is great because government contracts help build Plurilock's reputation. Very important because the company can leverage the technology as a product for everyday consumers and corporations. A future catalyst for sure.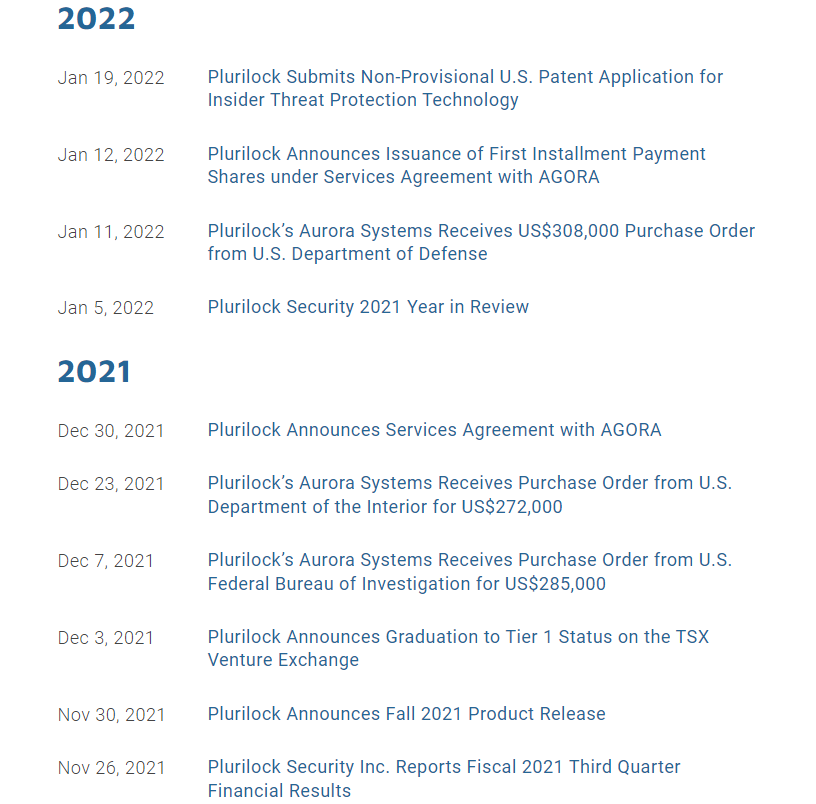 I mentioned press releases, but do me a favor, go check out all the past press releases here. You will see deals with NASA, the FBI, the US Department of the Interior, plenty with the US Department of Defense, with the Navy, and even with the US Treasury.
The most recent headlines include a $308,000 order for the US Department of Defense. Plurilock Security Inc announced that Aurora Systems Consulting Inc. has received a USD$308,000 order from the United States Department of Defense as part of the National Aeronautics and Space Administration's (NASA) solution for enterprise-wide procurement (SEWP) program, a U.S. government-wide acquisition contract vehicle (GWAC).
Yesterday, Plurilock put out news regarding a US patent application for insider threat protection technology. The patent application, titled "Forensics Analysis for Malicious Insider Attack Attribution based on Activity Monitoring and Behavioral Biometrics Profiling", documents the Company's forensic attribution technology, which when paired with its continuous authentication solution Plurilock DEFENDTM, assists organizations in assessing user data and narrowing down individuals that could have been involved in an insider threat attack, based on their behavioral biometrics profile.
Plurilock stock is definitely at a crossroad. The stock began ranging after a long downtrend. This is good. A range after a downtrend tends to indicate that selling pressure has subsided. Especially if it happens at a major support zone. Plurilock Systems meets this criteria.
The breakout happened at the end of the year, on December 30th 2021. The break and momentum the day after happened with 300,000 plus shares traded on each day. The large green candle with big volume is what we want to see on a breakout.
We peaked at around $0.50, a major psychological zone, before retracing. The fall has taken us back to retest our breakout zone. We should see some bulls here…under normal market conditions. But I think with the major support breakdowns in stock markets, Plurilock Security and many other stocks both small and large cap, are finding a tough time to hold and sustain bullish momentum. If overall stock markets reverse and close back above our break down zones, we would then confirm a fakeout or a false breakout, and these breakout continuations will continue.
So a very big zone here right now. We have actually closed below $0.40 which isn't the best sign. We now will watch to see if the stock can close back above $0.40, or if we fall to $0.37, the bottom portion of the range, where we can find buyers jump in once again. If this zone breaks, then we are looking at lows around $0.31.