InPlay Oil (IPO.TO) is a junior oil and gas exploration and production company with operations in Alberta focused on light oil production. The Company operates long-lived, low-decline properties with drilling development and enhanced oil recovery potential as well as undeveloped lands with exploration possibilities.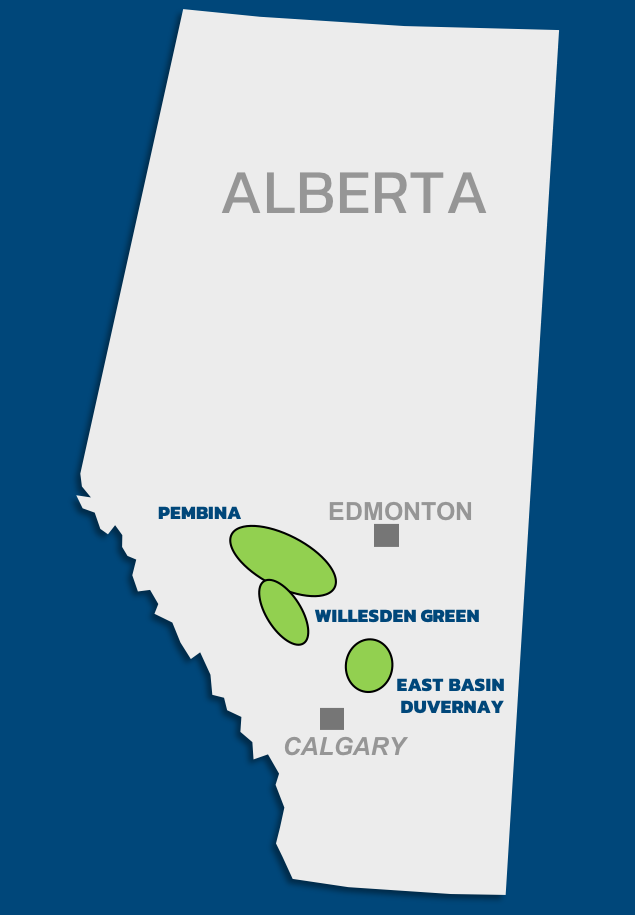 Recent news details InPlay's acquisition of Prairie Storm Resources to increase their holdings in the Cardium formation. InPlay acquired all of the issued and outstanding common shares of Prairie Storm on the basis of $0.2514 in cash and 0.0524 of a common share of InPlay.
The Acquisition is representative of the Company's continued Cardium consolidation and sustainability strategy, positioning InPlay as a sizable producer and acreage holder with significant drilling inventory in the light oil window of Central Alberta's Cardium fairway. Willesden Green will be a focus area for continued development and growth as the wells drilled to date are some of the most prolific Cardium oil wells in Alberta. The production profile characteristics of Prairie Storm's assets complement InPlay's current suite of assets in its core areas.
You can hear all our thoughts on Oil and InPlay in today's Investor Roundtable on Youtube. I really want to highlight a very exciting chart.
Before we look at the weekly chart, I want to highlight some things on the daily. I hope some of you took up some Oil positions when we saw Oil hit negative prices back in early 2020. Wild. I still remember where I was and what I was doing when Oil hit negative. In fact, I was recording a live stream of Oil charts at the time so that helps. What a comeback. In plenty of Market Moment articles, I have spoken about Oil giving us bottoming patterns back in 2020. I have been bullish Oil, and still am going forward. More on that a bit later.
But InPlay hit lows of $0.05! Yes, 5 cents! It would have been awesome to pick shares up then, but alas, I played the ETF XLE which bagged me a nice return.
The second thing I want to point out here are the flag patterns. Been seeing this pattern on plenty of charts. The most recent being Tesla, which unfortunately failed the retest of the flag pattern. A flag pattern is my favorite continuation pattern, and is one you should add to your tool kit. Two great examples of flag patterns on InPlay. Study them as they are beauty textbook examples. When a stock is in an uptrend, a flag pattern indicates a pause. Instead of a rectangular range, we get a sloped down slanted range, which creates the rectangular shape of a flag. The uptrend is the flag pole, the range is the flag. As per usual with all our trades, we wait for the breakout and close.
I want to take you all out to the weekly chart, because here is where things get very interesting. Last week, we confirmed a weekly candle close above a major resistance of $2.25. How major was this? We haven't seen these price levels since 2017. A very significant technical breakout with a nice strong green candle.
As with all breakout patterns, we should expect a retest of what was once resistance to now be support. Price pulled back to retest $2.25 and we saw buyers jump in. What I want to see is a weekly candle close above $2.25. As long as this occurs, we remain bullish on the stock.
If we hold this support, where is the next price target? Honestly folks, I do not see any resistance until $3.50. That is my target for the longer term. A lot of room to the upside. We then need to deal with a gap from $3.50 to $5.00. Gaps tend to act as major support and in this case, a resistance level.
This article wouldn't be complete without talking about Oil. InPlay correlates with the Oil prices, so if Oil keeps moving higher, InPlay will follow. Oil took a drop in November 2021, but in the following month, we found some support and have crossed back over my moving average. Looking bullish above $75.
I have been bullish Oil. The last I spoke about Oil was when I discussed President Biden's battle with OPEC+. The US and an alliance of countries dumped reserves to try and bring down Oil prices. Clearly it did not work. OPEC+ did not budge, and you can understand why nations like Russia and Iran don't want to do the US a favor. Geopolitically, I think Oil continues higher as both Russia and Saudi Arabia want higher prices. Mohammed Bin Salman and Putin have been getting quite close. If there was to be a drop in Oil prices, it would be the Saudi's either trying to disrupt US shale, or to deal with an OPEC member that isn't complying a la Venezuela.
I remain bullish on Oil because it is a commodity trade. I still think money will run into commodities for the inflation trade. Most of my portfolio is geared towards this, and I think it is prudent to have an Oil stock or two in it. As inflation persists, money will run into 'hard assets' and commodities are the best. Some still remain cheap compared to everything else in the markets. Even big banks like JP Morgan have come out with $100 and $125 price targets by the end of 2022. Technically, we just need a breakout of $84.50 to make that a reality. I think this will be a great year for Oil investors and InPlay Oil shareholders.