$79.325M Market Capitalization
NEXE Innovations Inc. (NEXE.V) is a leader in plant-based compostable technology and an advanced materials manufacturer based in British Columbia (BC), Canada. In order to combat this plastic predicament, NEXE has developed one of the only patented, fully-compostable, plant-based, single-serve coffee pods for use in leading single-serve coffee machines, including Keurig coffee makers. The Company's proprietary pods are designed to reduce the significant environmental impact caused by single-serve pods.
With this in mind, NEXE has raised over $60 million from equity and government funding. Additionally, the Company has more than six years of R&D experience. As a result, the Company is well-positioned to capitalize on the lucrative Global Coffee Market, which was valued at USD$102.15 billion in 2019. Fueled by caffeine addicts like myself, this market is expected to reach a valuation of USD$155.64 billion by 2026, expanding at a compound annual growth rate (CAGR) of 6.2% between 2020 and 2026. If you're looking for a closer look at NEXE, feel free to check out this article.
What's Next for NEXE?
On November 8, 2021, NEXE announced that it has engaged Crew Marketing Partners ("Crew Marketing") to create and implement targeted digital awareness campaigns to drive online sales for the Company's patented fully compostable NEXE Coffee products, which are compatible with Keurig single-serve brewing systems.
Crew Marketing is a leading marketing and creative agency specializing in the North American Food & Beverage industry. Founded in 2007, Crew Marketing has developed marketing strategies for food companies that enable growth. By bringing together corporate social responsibility, culture, and brand, Crew Marketing is on a mission to create impactful impact strategies for its clients. Through the agency's Good Day, Crew Marketing has developed numerous campaigns, including The Green Apron Project with the John Deere dealership, PrairieCoast Equipment, to support community food programs at local schools.
"We are excited to work with Crew Marketing Partners and believe that their integrated approach to digital and traditional media will fit perfectly with NEXE's unique position in the market…We spent considerable time identifying the ideal team to drive our consumer marketing to ensure a successful launch. Crew Marketing will be instrumental in helping NEXE expand its brand and marketing presence both online and eventually with bricks and mortar retailers through curated ad content specifically aimed at our various demographics," commented Ash Guglani, President of NEXE.
Additionally, on November 15, 2021, NEXE announced retail distribution for three of its XOMA Superfoods beverages at 78 London Drugs locations in Canada. The January 2022 launch will mark an important step forward in expanding the Company's offering beyond eCommerce and providing retailers with sustainable options for single-serve beverages. If you're looking for more details, check out this article.
"Entering London Drugs is a major milestone in our distribution goals as we aim to work with quality retailers highlighting the benefits of the superfoods category," said Ash Guglani.
It is worth noting that London Drugs has stores in 35 major markets in Canada that serve more than 45 million customers annually. With this in mind, XOMA Superfoods will be a leading product in London Drugs' 'Veganuary', an annual challenge that promotes health and educates about veganism by encouraging people to follow a vegan lifestyle. The three XOMA Superfoods selected for Veganuary include:
XOMA Keto Cocoa: A rich and dark keto hot chocolate made with quality fats from organic cocoa powder, vegan cocoa butter, and chocolate MCT powder. XOMA Keto Cocoa delivers the same taste and health benefits as cocoa while supporting a ketogenic diet
XOMA Matcha Latte: Made from finely-ground, shade-grown Japanese green tea leaves and packed with antioxidants, XOMA Matcha features a rich umami flavor that can help to decrease stress and increase alertness
XOMA Turmeric Golden Milk: a dairy-free, thick, yellow, and spicy traditional health food drink that contains curcumin, ginger, cinnamon, and other ingredients. Turmeric has been a key component of traditional medicine and has been regarded as an anti-inflammatory and antioxidant for thousands of years
Most recently, on November 22, 2021, NEXE announced that its XOMA Superfoods product line is now approved for listing with leading Canadian eCommerce retailer, Walmart.ca. Keep in mind, Walmart's eCommerce presence has grown substantially following the onset of COVID-19. In fact, during the pandemic, Walmart's eCommerce sales increased by 74%, surpassing eBay in retail eCommerce sales by 0.6%.
According to Walmart's Q3 2022 Financial Results, the company reported total revenue of $140.5 billion, up 4.3%. In particular, Walmart's eCommerce sales grew 8% for the quarter and 87% on a two-year stack. It's not just Walmart. According to Digital Commerce 360, US eCommerce sales increased 6.8% in Q3 2021. More specifically, online sales hit an impressive $204.62 billion in the third quarter, up 6.8% from $191.57 billion year-over-year (YOY).
"We are thrilled at this exciting opportunity to leverage Walmart.ca as a distribution vehicle to reach more consumers across Canada and pursue our phased retail rollout. XOMA Superfoods makes it easy to enjoy plant-based superfoods at home. The brand offers a line of five nutrient-dense, convenient, functional beverages, all of which are packaged exclusively in NEXE's made-in-North America, fully-compostable, plant-based NEXE pods…

As we continue to increase our capacity and grow our distribution channels, the insights gained from Xoma will provide valuable data to guide the successful retail strategy for Nexe Coffee as well as our potential partners," said Scott Naccarato, Director of Retail Sales for NEXE.
eCommerce sales aside, the Global Coffee Pods Market is expected to grow from $11.19 billion in 2020 to $13.22 billion in 2021, expanding at a CAGR of 18.1%. That being said, this market is expected to reach a value of $19.14 billion in 2025. That's some pretty impressive growth and NEXE has a unique stake in this lucrative market via its compostable coffee pods.
Currently, the launch of compostable pods is a leading trend in the coffee pods market. With this in mind, the growth of this market is expected to be hindered by single-use plastic bans in some regions. For example, Canada's single-use plastic ban intends to achieve zero plastic waste by 2030. As a result, many companies functioning in the coffee pods market are scrabbling with product development in order to meet environmental requirements. On the contrary, NEXE is well ahead of its competitors and could very well realize the fruits of its labor, assuming the Company's sales can keep up with its retail expansion.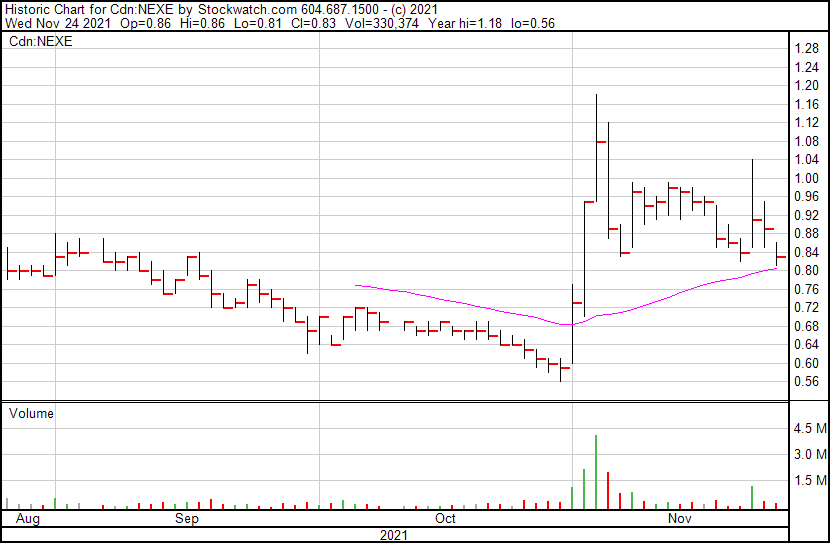 NEXE's share price opened at $0.86, down from a previous close of $0.89. The Company's shares are down -7.86% and were trading at $0.82 as of 1:09 PM ET.
Full Disclosure: the author of this article owns stock in NEXE Innovations Inc.