Mineworx Technologies (MWX.V) is a company positioned for growth in the catalytic converter and mining sectors through the development and commercialization of its environmentally friendly processing technologies for the recovery of precious metals. Initial focus is the extraction of platinum and palladium from diesel catalytic converters with its partner Davis Recycling. The Company is also furthering the development of its legacy iron ore concession in which it holds a 100% interest in South-Eastern Spain.
Part of our cyclical economy sector roundup. Mineworx is actually a company I have been following for quite some time. For two reasons. I am bullish Platinum and Palladium, and include both alongside Gold and Silver for my metal plays. Secondly, my mechanic friends have told me about catalytic converters.

For those of you that do not know, Platinum and Palladium are used interchangeably (depending on the price of the commodity) in catalytic converters to lessen exhaust pollution emissions. I guess you can say they are green metals in a way. When prices of both metals were increasing, my mechanic friends told me of situations where they came back to their garage only to see people under vehicles trying to steal the catalytic converters. Even at night, homeless people would be stealing converters in order to sell the platinum or palladium within. Now many mechanic shops have put up fences and camera's in their lots to protect the old vehicles they have just sitting there.
When I heard this from my mechanic friends, I understood the real value in recovering platinum and palladium from catalytic converters ethically. That's how I came across Mineworx technologies.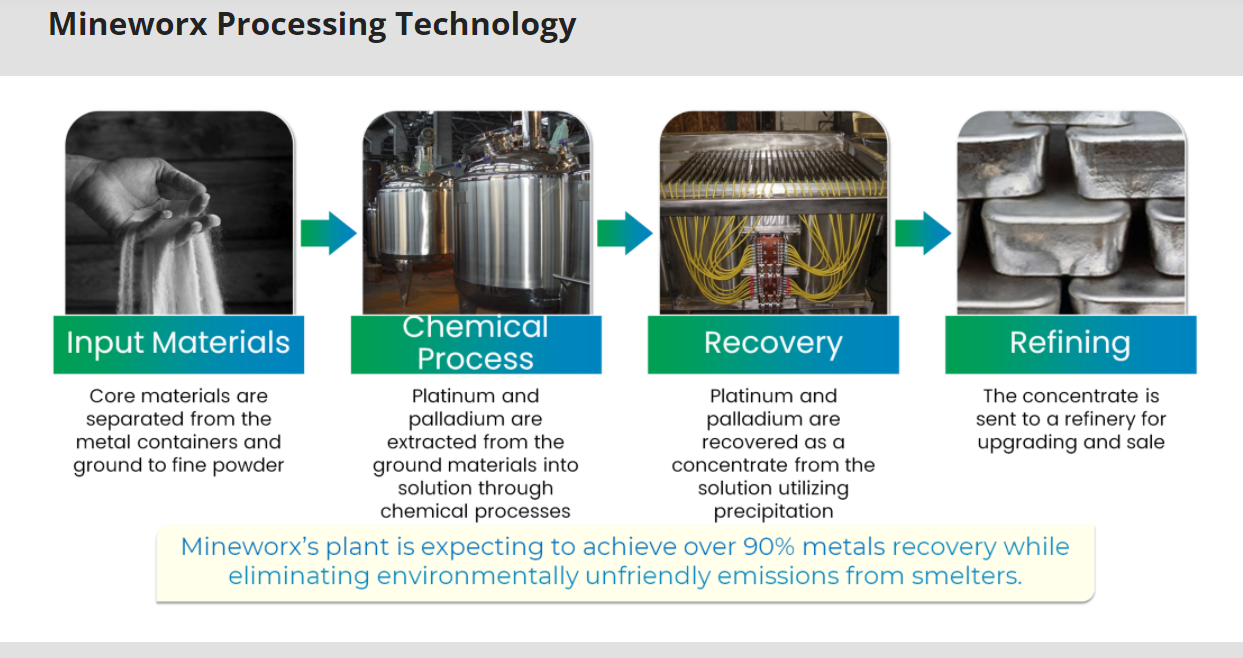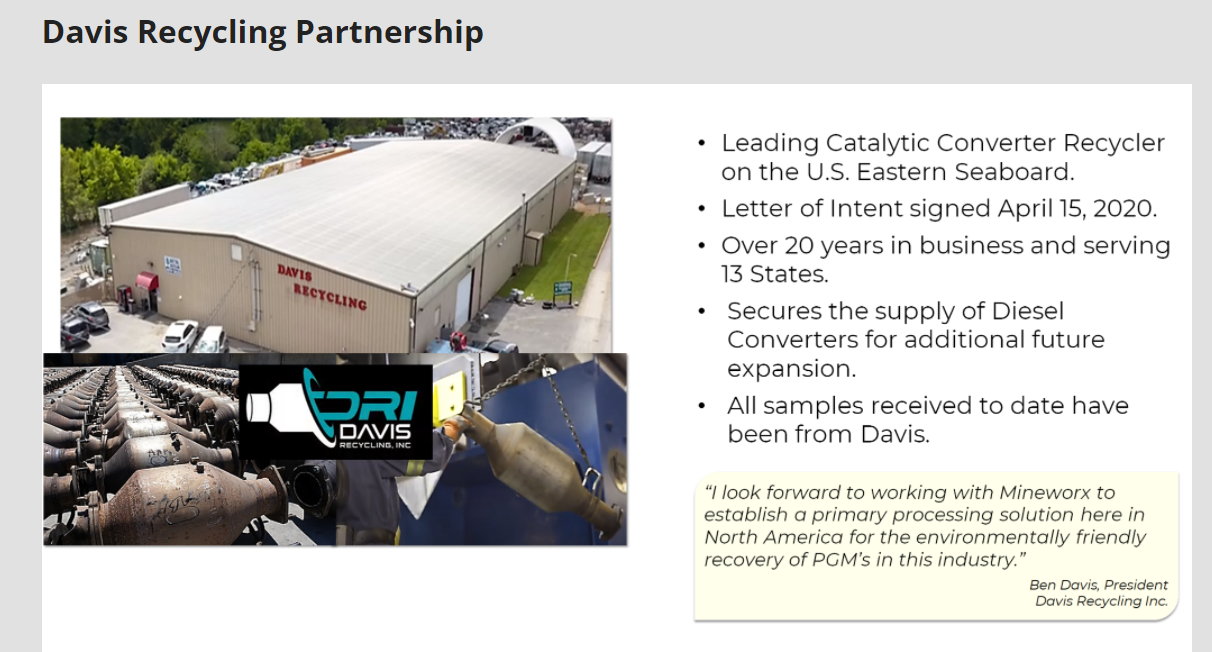 Current news regards Mineworx's pilot plant in Tennessee which is scheduled to begin stage 4 testing this month.
The Mineworx team has successfully completed Stage 3 (Baseline) of the testing plan. During this testing phase all system processes were tested with the full chemistry and various feedstocks containing platinum and palladium and the results were consistent with anticipated expectations. The goal of Stage 4 is to review the current design under increasing thru put volumes to identify operational issues and system bottlenecks that could result in inefficiencies in a commercial scale plant. This testing will provide information on design modifications that will need to be incorporated into the final design of the commercial scale plant. It is expected that Stage 4 testing will commence at the beginning of November 2021. In addition to providing design information for the commercial scale plant the pilot plant will be utilized as a testing platform from which the Company can continue its work on optimizing the technology through various chemistries and processes. It is anticipated in the role of a testing platform the pilot plant will continue to add value to the Company even after the commercial plant has been constructed and commissioned.

Greg Pendura, Mineworx President and CEO stated, "the entire company is pleased that we have successfully achieved this crucial development milestone and look forward to the successful completion of our pre commercial phase of testing protocols in Tennessee. The opportunity to become a leader in this industry is an exciting opportunity for our stakeholders."
Platinum and Palladium become even more important on the supply side of things geopolitically. The two top producers of both metals? Russia and South Africa. Not quite the best jurisdictions in people's minds. I have been following some junior miner plays in North America which focus on Platinum and Palladium, but they are still in the early stages, and quite frankly, the grade is better from Russia and South Africa. If in the future, mining gets disrupted, or both nations do not play ball, then the technology of Mineworx gets even more interesting.
The cyclical economy fits in the with ESG investing trend. More and more new money from the millennials and younger generations really want to invest to make the world a better place. Sort of been tough to sell the whole mining side of things due to environmental concerns. But we need metals and commodities. There are companies in the cyclical economy that take electronics and strip the metals out that way. This might be the new way of mining that younger generations support as we keep replacing electronic products every year…or like my brother…every time a new phone or laptop comes out.
My readers know I love Gold and Silver on the inflation play. Well let's take a look at Platinum and Palladium for a second:
Breakout on Platinum. I like what I am seeing as long as we remain above $1000-$1025. Looks very bullish, and I am looking to pick up some contracts to add to my Gold and Silver longs.
Palladium looks even better. Bit of a cup and handle reversal pattern here. Technically, we got the breakout on Monday. I would prefer to see a bit of a stronger green body candle before entering Palladium contracts. On watch, but one could enter a small first position here and then add on a better green candle. Nestle your stop loss below $1950 and ride.
Both of these charts could cause Mineworx to pop since traders and investors would look for stocks exposed to these metals. Oh and this too:
Mineworx looks very similar to my Palladium set up. Structure wise, we have a cup and handle forming. What we need however is a break above $0.105 to trigger the reversal pattern. Price is also remaining above my small uptrend line here which is a positive. The overall positive picture though is the stock seems to be based. We have been in a LONG downtrend, and hit record lows of $0.05. Building a base here, and the next step would be a new uptrend.
In summary, Platinum and Palladium are looking great, and a move in those metals could trigger the breakout on Mineworx. Finally, we do expect news from the company regarding stage 4 trials of their pilot plant this month. That could be another catalyst to trigger the breakout.