Lot of traders and investors have been keeping their tabs on Tesla stock. On November 6th 2021, Elon Musk conducted a poll on Twitter. He proposed selling 10% of his Tesla stock.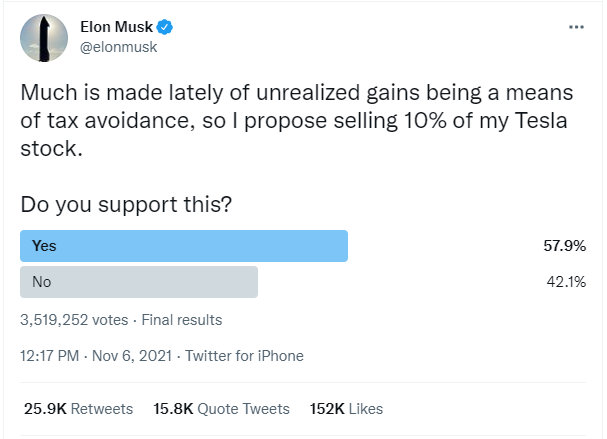 Yup, I voted yes. I mean it makes sense. Billionaires don't necessarily hold cash. In fact, I don't think people realize how difficult it would be to fly 1 Billion in cash around the world. Most Billionaires have their wealth in assets. With the recent price spike in Tesla stock, it would make sense for Elon Musk to take some profits. In a Vishal & Co show months ago, we tackled this idea of how Elon Musk would go about selling shares. If he did it under the radar and then CNBC or some financial media picked it up in a recent filing, the stock could drop quickly given the large retail and meme crowd interest in the stock. Perhaps Musk would do it through a black pool or offshore account? Honestly, this poll is literally the best way he could have done it, letting the market before hand and WHY he is selling 10%.
Before we get to the why, and all the drama that goes with it, I should mention Elon Musk's brother. Kimbal Musk sold nearly $110 million worth of Tesla stock ahead of Elon Musk's Twitter poll.
Kimbal Musk — who serves on Tesla's board of directors — exercised his option Friday to buy 25,000 Tesla shares at $74.17 apiece. He immediately sold those shares, along with 63,500 others, in tranches ranging from $1,223 a share to $1,236 a share, to make about $108.8 million. Kimbal Musk still holds more than 511,000 Tesla shares. Some say this is trading on insider information, knowing Elon was going to sell some shares beforehand with a Twitter poll. Make of it as you will.
In terms of why Elon Musk is selling shares, the Billionaire claims it is for a potential tax bill of more than $10 Billion on stock options he was granted in 2012. In this story from CNBC, apparently according to accountants, most of his sales don't appear to be connected with taxes — which could mean he will unload far more stock than expected. Here are his sales so far:
Musk started exercising the options Nov. 8. He exercised $2.5 billion in shares and sold $1.1 billion of those exercised options to pay the taxes.

Then on Monday, Musk sold another $930 million in shares to pay taxes on options that he exercised on 2.1 million shares. That brings his total options exercises to about $4.6 billion and shares sold to meet tax withholding obligations to $2 billion.

The $5.7 billion and whatever additional non-option shares he sells are straight cash-outs. While he does owe federal capital gains taxes on the sales, he likely won't have to pay state taxes on the gains, since he is likely now a Texas tax resident. The same rule doesn't apply to his options taxes, though, since those are considered employee benefits and earned while he was in California.
I recommend reading that CNBC article as they discuss tax implications of selling options versus shares. With the selling of shares, accountants are saying this is not just for taxes. In fact, Musk risks paying more taxes selling his existing shares.
Perhaps he is selling just for the heck of it. To make profits, knowing the share price of Tesla could be overvalued. Or maybe, he is selling to raise funds to throw into Space X. CNBC says that it is likely Musk will likely be selling far more than the $10 billion to $15 billion he needs for taxes.
Let's add some more drama to the mix. Enter Dr. Michael Burry, and Bernie Sanders.
Dr. Michael Burry from the Big Short fame, is notoriously known for shorting. He has warned about current bubble conditions in the stock market and really everything in general. And yes, he says the same for Tesla. He was a Tesla shorter, but he has closed his position after the recent spike. Burry, who activates then deactivates his Twitter account, came on Twitter to say Musk is selling shares to cover personal debts.
"Regarding what @elonmusk NEEDS to sell because of the proposed unrealized gains tax, or to #solveworldhunger, or … well, there is the matter of the tax-free cash he took out in the form of personal loans backed by 88.3 million of his shares at June 30th," 
This tweet has now been deleted. But wait, there is more. Then this happened: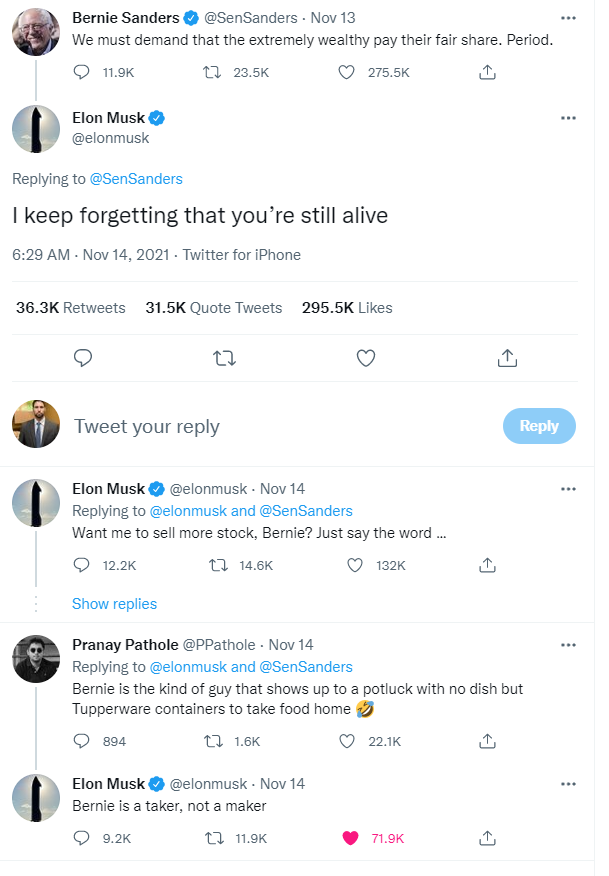 Elon Musk all of a sudden trolled Bernie Sanders on Twitter. And Dr Michael Burry came out again on Twitter to share his opinion:
Given the recent CNBC article claiming Musk is selling shares for non-tax reasons, perhaps Dr. Burry might be onto something. If so, then we should expect more shares to be sold by Musk.
Tesla stock entered a bear market yesterday. The share price briefly went under $1000, and in a sec, you will see why this zone is so important.
We have a clean and crisp stock chart. The major support levels are apparent. To be fair, it looks like a pullback BUT Musk selling more shares could change the tide very quickly. If he was going to sell more, you would think it would be soon and at these levels. Obviously wanting to sell more at higher prices.
I have marked three zones. Let's begin with the first one which we are testing right now. In fact, we are bouncing quite nicely from it today. This is the $1000 zone. This is a psychologically important number. Last week, prices came down and bounced at $1000. Yesterday saw the price do the same. Notice the large wick candles indicating buyers stepping in. We have buyers at $1000. What would quickly flip the switch to bearish, would be a daily candle close below $1000. So far a strong green candle, but we have a lot of time in the trading day. Let's see how this candle loses today, and if we can build some momentum tomorrow. Building a nice base before take off is what I prefer to see in order to call a bottom.
The zone I prefer pulling back to would be the $880-$900 zone. Oddly enough, many analysts believe that this would be the fair price for Tesla stock. I just like it because then Tesla stock would adhere to typical breakout price action. This zone used to be previous record highs. We broke out above it on October 21st, and haven't looked back since. Whenever a breakout occurs, we tend to pullback to retest it, giving an opportunity for buyers who missed out on the move. This retest could happen a few days after the breakout, or after a large momentum rally. This would be a case of the latter. The final support zone is at $760, but that is only in play if Tesla fails to hold above the retest of $880.
So in summary, let's watch today's price action. Ideally I want to see a few more basing green candles here. If we run on momentum, then a close above $1100 would seal the deal for me. Musk may sell more shares which could take us below the major $1000. Let's also keep these charts in mind:
Both the S&P 500 and the Nasdaq are at the upper portion of their channels. A further pullback would weigh in on Tesla stock. However, if we breakout above on markets, then it is likely Tesla has found a bottom at $1000.