Travel stocks are going wild. On the day I write this post, the US-Canada land border has re-opened (for us Canadians). Canadians can now take advantage of the appreciated Loonie and head down South. I live near the city of Bellingham, and Bellis Fair Mall is where we Canadians go shopping. I am curious to find out whether stores there are still open since their largest customers, us Canadians, have not been able to venture down for over a year. Should be a fun trip. Tulalip outlets here I come!
With vaccination rates climbing in most countries, and alternate pill treatments being approved, travel is being re-opened. There still is some confusion over details, mostly regarding negative tests even when vaccinated, but progress is being made. Of course I am talking about international travel, domestic travel is alive and well. For us Vancouverites, Banff has become the pandemic vacation hot spot.
Last week we had a round of travel stock earnings. All indicating that people are ready to begin travelling again. This led to some big moves in stocks. You all know I am a technical guy, so I have spotted an opportunity in a stock that still has to 'catch up'. I am referring to Trivago stock (TRVG). But first, let's break down some other fundamentals and technicals.
Airbnb was one of the top performers last week. They had an amazing earnings rally. Here are some highlights:
The company reported 79.7 million nights and experiences booked in the third quarter, a slight decrease from the second quarter. That was still up 29% year over year, when Covid-19 battered the travel industry.
The company also saw its highest-ever revenue and net income in the third quarter, even though urban and cross-border travel have not returned to pre-pandemic levels, said CFO Dave Stephenson on a call with analysts. Revenue came in at $2.24 billion, up 67% year over year. Net income surged 280% to $834 million on a year-over-year basis.
Airbnb expects revenue between $1.39 billion and $1.48 billion in the fourth quarter, in line with analyst expectations.
Gross booking value — which the company uses to track host earnings, service fees, cleaning fees and taxes — totaled $11.89 billion in the third quarter. That was up about 48% year over year but fell slightly below a StreetAccount forecast of $12.31 billion.
Average daily rates for the company dropped to $149 from roughly $161 in the last quarter. That's up about 15% from the same period last year.
Runner. ABNB is looking ready to test previous record highs in the upcoming weeks and months. If you are a member of our Equity Guru Free Discord group, you were given the heads up on the break above $152. It met all our criteria for a reversal trade. Long downtrend, turning into basing, and then a confirmation of a double bottom breakout. There was so much to like on this stock technically. The stock was definitely leading many of the travel stocks higher.
Expedia was another stock whose earnings indicated that travel is back. Here are some highlights from their numbers:
posted revenue of $2.96 billion, up 97% from a year ago, and well ahead of the Wall Street analyst consensus at $2.73 billion. Gross bookings were $18.7 billion, up 117%, while adjusted Ebitda, or earnings before interest, taxes, depreciation, and amortization was $855 million, up 181% from a year ago. Non-GAAP profits were $553 million, or $3.53 a share, more than twice the Street consensus forecast of $1.65 a share.
Under generally accepted accounting principles, the company earned $362 million, or $2.26 a share.
Expedia said lodging revenue was $2.3 billion, up 87%, while air revenue was $61 million, up 128%, and advertising and media revenue was $202 million, up 116%.
Expedia was a gapper…and actually printed new record all time highs today! We have plenty of hours left in trading, so we shall see if EXPE can get a daily close above this resistance zone. The market was surprised by the earnings. Look at the candle before earnings. A fat red candle breaking below $160. It looked very bearish. Earnings can change things on the flip of a dime. Travel is roaring back.
Just as a bonus, I have the chart of JETS, or the Airline ETF. Airlines have performed well. Take a look at individual stocks and you will see the same thing, nice gap ups. More evidence indeed on the travel trade.
Let's end with Trivago, a stock I think still has a lot of room to the upside if this travel trade continues!
They had earnings too, indicating the company is still in recovery mode. Here are some numbers:
Revenue in the quarter jumped 129.6% year over year to 138.6 million euros, but that was still down by nearly 50% from Q3 2019 levels.
 adjusted EBITDA came in at 15.5 million euros, Trivago's best performance on that metric in more than two years, and its EBITDA margin was 11.1%, one of its best ever. The strong EBITDA result points to a company that's emerging from the pandemic as a more profitable entity than it was before.
Return on advertising spending — a key metric for the company since most of its spending goes to advertising — was up from 123% in Q3 2019 to 139% in the just-reported period, also helping to drive profitability.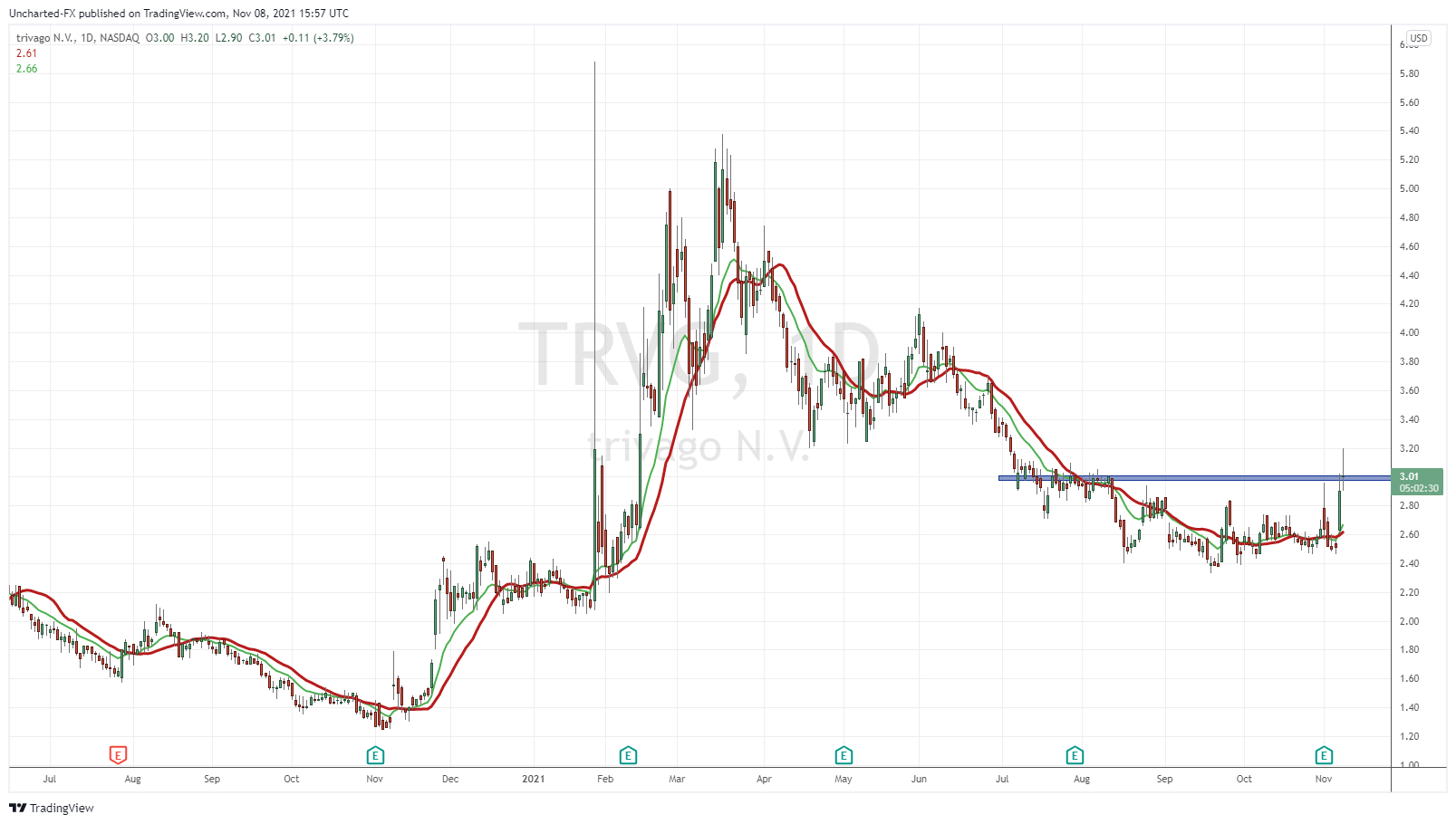 A nice and simple chart set up. First let's discuss earnings. The stock sold off on earnings. It wasn't as sexy as Expedia or Airbnb, but Trivago is beginning to turn around. The market clearly believes it otherwise they would not have bid it up. November 5th saw a PHAT green candle higher, and honestly, I like the breakout above $2.80. I would say that triggered a breakout, however, $3.00 is an important resistance number here. Currently we are testing that zone right now. This is where things get really spicy.
If we can confirm a nice daily candle close above $3.00, the momentum continues. As I said before, I already liked the $2.80 break. I know some of our Discord members got in on that break. That's fine. We can add some more with the $3.00 break.
In terms of market structure, it really does not get any better than Trivago stock. A downtrend that found some support at a major flip zone at $2.40. We then began to range, and now the range could be broken. With the break of the range, a new uptrend initiates. Our first target is around $3.80-$4.00. And then depending on how price reacts there, the next zone to the upside would be $5.00. As long as the price of Trivago remains above $2.60, I remain bullish on the stock.