Gold Mountain Mining (GMTN.V) is a BC based exploration and development company focused on the 100% owned Elk Gold project. This project was once owned by Equinox, and Gold Mountain acquired it back in 2019 when Gold prices were down. The asset was a past producer with 97 g/t average.
Go to their main site, and you will get a nice aerial view of the mine. Yes folks, I said mine. Gold Mountain had a big past week, where they announced a conditional approval to list on the TSX. But the news that everyone is talking about regards Gold Mountain receiving its mining permit from the Ministry of Energy, Mines & Low Carbon Innovation Communications Office (EMLI) here in British Columbia. Yes, that's right. British Columbia. A province which I call my home, and is well endowed with minerals and resources. You have probably heard from the area called the Golden Triangle. The thing is, I don't ever recall a BC mine being permitted since I began following mining and the Gold markets in 2014. The Provincial government has been quite cautious since the Mount Polley mine…and we have the NDP here so yea…
Back in the day, we would rather hold mining projects in parts of West Africa than BC because the government was more mining friendly over there. So I cannot stress how important this mining permit is. It seems like a watershed moment here in BC. Congratulations to the team!
Here are some highlights from the press release:
After 18 months of regulatory and permitting advancements, Gold Mountain has received its Mining Permit from EMLI.
The Company will immediately begin mining the 1100 and 1300 vein systems in historical pit 2.
Mineralized material will be delivered to the Company's Ore Purchase Partner, New Gold Inc.
The Company anticipates achieving commercial production in November.
Year 1 of Gold Mountain's mine plan contemplates mining the highest grade mineralization, resulting in an expected annual after-tax profit of $10,000,000.
Commercial production beginning this month, and an annual after-tax profit of $10,000,000. If this doesn't make you excited, then I want you to read our mining guru Greg Nolan's piece on Gold Mountain and this mining permit. A few things I want to highlight from his article:
The Elk Project's ounce-count currently stands at 651,000 oz at 6.1 g/t Au Measured & Indicated and 159,000 oz at 4.8 g/t Au Inferred. The last time we checked in, the Company's exploration contractor, HEG Explorations Services Inc, was in the midst of an aggressive Phase-2 drill campaign. In targeting the 1300, 2500, and 2600 veins along the Siwash North zone, recent results continue to demonstrate good (vein) continuity downdip, at depth:
1.0 meter grading 17.3g/t Au including 0.73 meters of 24.4g/t Au;
1.3 meters grading 13.9g/t Au including 0.30 meters of 60.4g/t Au;
1.12 meters grading 6.4g/t Au including 0.30 meters of 24.0g/t Au.
This resource appears destined to grow.

Amongst a flurry of news events in H2 of 2021—while the Company was picking off one key milestone after another—management dropped a revised mine plan for the Elk project, one that sidelined any notion of building a mill on-site for production years 4 thru 11. The new mine plan involves broadening an ore purchase agreement that was already in place with New Gold, by scaling the volume of ore delivered to the New Afton mill from 70k tonnes to 350k tonnes per annum.

Aside from a reduced CapEx, putting the kibosh on plans to build a mill on-site will serve to drive down Elk's all-in sustaining costs (AISC), from $735/ounce to $554/ounce.
The last highlighted part gets me excited. An AISC down from $735 to $554. If you are someone bullish on Gold prices for the near and long term, then this means big profits. Gold Mountain is beginning to produce, while expanding on their resource which according to the geology, appears destined to grow. You get both with this play, a miner in production, and the discovery.
Greg ends his article by listing the next steps (and catalysts) for the company:
Continue to engage directly with surrounding Indigenous communities to adhere to each Nation's independent review process;
Begin mining operations, targeting the Elk's high-grade 1100 and 1300 vein systems;
Deliver material to New Gold's New Afton mine in Kamloops, located 133km away from the Elk Gold Project;
Begin revenue generation and receive payment from its first mineralized material delivery.
When I look to invest my hard earned money into mining stocks, I look at a few things. Good management, current cash position, safe jurisdiction, and good location. Gold Mountain meets all my criteria. Important to highlight the infrastructure in the image above. The mine is near a highway, an airport, and the city of Merritt, as well as near Kelowna's international airport.
Before we look at the technical chart of Gold Mountain, a few things about Gold.
We have been seeing commodities rise as a whole. Some say this is because of supply chain disruptions. Others think it is the inflation trade playing out. Gold is known as an inflation hedge, but money tends to run into commodities and hard assets. It helps that commodities seem cheap compared to everything else in the markets. From a risk vs reward perspective, it is the space you want to be in.
My readers know my opinion on Gold is bullish. I like them all actually. Gold, Silver, Platinum, and Palladium. Going back through economic history, Gold tends to do well during a confidence crisis. A period of time when the people are losing faith and confidence in governments and central banks (which means a loss of confidence in fiat money). To me, this type of scenario is playing out right now. Governments keep on spending, while the central banks are telling us inflation is transitory. If they are wrong, and inflation continues to pick up…well we get a confidence crisis. Last week, headlines on the Bank of England's (BoE) rate decision hinted towards this. The market was expecting the BoE to raise rates by 15 basis points, but they did not do so even when inflation levels are rising. Markets Insider said the BoE is risking its credibility with markets for not doing what they were supposed to do. And that's just a tame title compared to others I have seen.
If you follow my Market Moment work here on Equity Guru, or are a part of Equity Guru's Discord group, you have seen my Gold chart multiple times last week. We have been watching this flag pattern. We had the breakout, but prices did not shoot higher. Understandable as the Fed Rate Decision was a big market moving event. After the rate decision, Gold fell and broke back below our flag. Once markets digested what the Fed had said, Gold recovered back over our flag, and ended off the week with a bang, taking out recent highs of $1808.
A very bullish sign. Things look good for the precious metal, and this week, I want to see how price reacts at the $1832 zone. It has been resistance three times this year. A break and close above would be super bullish, and we are then looking at over $1900 Gold.
The last time I looked at the chart of Gold Mountain was back on August 19th 2021. In that post, I highlighted a major support zone we were testing: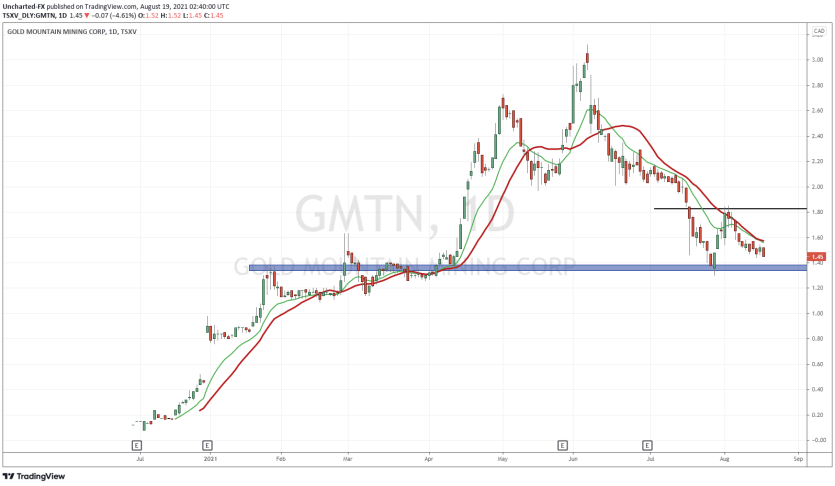 Above is the before chart, and here is the current chart:
The support zone I mentioned back in August held. We had two further retests there before breaking above the $1.30 resistance. The mining permit news came out on November 1st 2021, which saw the stock pop above $2.00 per share with a volume of 1,307,630 shares. The candle closed red, and I am suspecting profit taking.
This week will be another major week for Gold Mountain, but this time, on the technical side. We are heading back to retest the major support (price floor) of $1.80-$1.90. We want to see buyers enter here to keep the momentum going. Any daily close above $2.20 this week sets us up for a move back to previous record highs and above. Note my uptrend line that I have drawn too. Connecting the current higher lows which is the skeleton for an uptrend. A close below this trendline would negate the uptrend. We possibly range back to $1.40.
To be honest, I am optimistic on Gold Mountain price action because of what I see on the Gold chart. We climb and break across the $1830 zone, the market starts paying attention to miners. The inflation trade fear becomes real. As they say about miners and small cap miners: when Gold moves, miners move like Gold but on steroids. Some big gains to be made in this Gold bull market, and a company like Gold Mountain should be near the top of your list.