NEXE Innovations (NEXE.V) had provided shareholders with an update of operational highlights since its go-public transactions on December 18, 2020, including the closure of a CAD$34.5M bought-deal financing. Additionally, on September 29, 2021, the Company released its Financial Results for the Year Ended on May 31, 2021.
"We are in discussions with top-tier marketing firms and aligning this with our in-house expertise to develop an integrated digital media strategy to drive new product trials, brand awareness, and brand loyalty…A key component of this messaging will be educating consumers on the environmental realities of single-serve coffee pods, and the benefit of how a product like NEXE can solve these issues," commented Ash Guglani, President of NEXE.
If I am not mistaken, NEXE was the first-ever plant-based company I covered on Equity Guru. For a guy who is obsessed with video games, electronics, and innovative technology, I never would have thought I would become so enthralled by the plant-based sector. Whenever someone told me they lived a plant-based lifestyle, I immediately assumed they lived in a van, hugged trees, brushed their teeth once a month, and smoked a lot of weed. In reality, most of the plant-based enthusiasts I know today are living in luxury condos in Toronto, commuting to work on their bikes, and drinking fancy espressos from their Keurigs. Meanwhile, I am sitting here writing this exceptional piece of literature while doing very little to live a plant-based lifestyle. Thankfully for me, NEXE makes it easy for people like me to minimize their environmental impact.
NEXE Innovations
If you're new here, NEXE is a world leader in sustainable, plant-based material manufacturing based in Surrey, British Columbia. Through its NEXE Coffee brand, the Company produces and distributes high-quality coffee packaged in single-serve, fully compostable, plant-based Nespresso and Keurig compatible pods. According to NEXE's latest press release, the Company was able to raise in excess of CAD$50,000,000 of capital since its initial public offering (IPO). Additionally, NEXE also received support and validation from the federal and provincial governments in the form of grants and awards including CAD$1,000,000 from Innovative Solutions Canada and CAD$300,000 from Innovate BC. Before we dig too deep into the Company's numbers, let's talk about NEXE's plans for the future.
With regards to the Company's Xoma Superfoods brand, NEXE plans to launch additional SKUs this quarter. Additionally, the Company intends to offer its NEXE Coffee through various grocery retail and e-retail stores across North America. NEXE has also provided a manufacturing and operational update, whereby the Company announced that it has allocated the necessary capital to bring its equipment needs in-house with the objective of providing it with full control over the design, manufacture, timelines, and operations functions of NEXE's pod product lineup. In doing so, this is expected to accelerate ongoing R&D initiatives while simultaneously reducing operational costs and bottlenecks related to delivery times.
"We are working toward receiving the first of two customized and automated filter forming, dosing, and sealing lines for the Keurig® capsules. Nexe Coffee will launch its new coffee in the Nexe Pod that enables the highest grammage and extraction in the space…This line will open up opportunities to significantly scale our business not just with our own proprietary brands but to launch new brand partnerships," said CEO Darren Footz.
Each scaled manufacturing line will be designed to add a capacity of approximately 50,000,000 pods per year. NEXE has also filed 6 Utility Patent Applications and an additional 16 Provisional Patent Applications in order to protect its growing IP portfolio. Additions to the Company's team have also been made, including Mark Holman, VP Operations, Scott Naccarato, Director of Retail Sales, and Joe Canning, Plant Manager.
Things to Consider + Financials
This is all fine and dandy, but why does any of this actually matter? Sure, the Company's financials are mighty attractive, however, the global plastic crisis is equally as staggering. According to National Geographic, we produce more than 365 tons of plastic year-over-year, with less than 9% being recycled. Furthermore, 79% of plastic ends up in the environment, including our land and oceans. Keep in mind, it can take anywhere between 500 and 10,000 years for conventional plastic coffee pods to break down. To make matters worse, more than 56,000,000,000 single-serve coffee pods end up in landfills every year. For a problem with a simple solution, these results are devastating.
Now that I've pulled on your heartstrings, let me appeal to the calculated heart of an investor. According to NEXE's Annual 2021 Financial Results, the Company was able to significantly improve its cash position from CAD$3,311,463 on May 31, 2020, to CAD$50,526,731 on May 31, 2021. Similarly, on May 31, 2021, NEXE's total assets and total liabilities increased to CAD$57,675,600 and CAD$5,339,027, respectively. In total, the Company had working capital of CAD$49,501,770 in the same period. With a tiny market capitalization of 63.415M and a share price of $0.65, NEXE looks like a promising investment opportunity for investors looking to reduce their environmental footprint while making a pretty penny. The Company's average trade volume may be pretty low, however, NEXE will likely start turning heads in the near future as Canada remains focused on its goal to eliminate single-use plastics by 2030. If you're not convinced, then consider how fast the coffee pods market is expanding. Valued at USD$25.07 billion in 2020, this market is expected to grow at a CAGR of 7.07% between 2021 and 2026. With this in mind, as single-use plastics are slowly phased out globally, it might be wise to put some skin in the game now. Ideally, NEXE should improve its media presence to attract some eyeballs, however, I believe the Company will receive the attention it deserves in due time.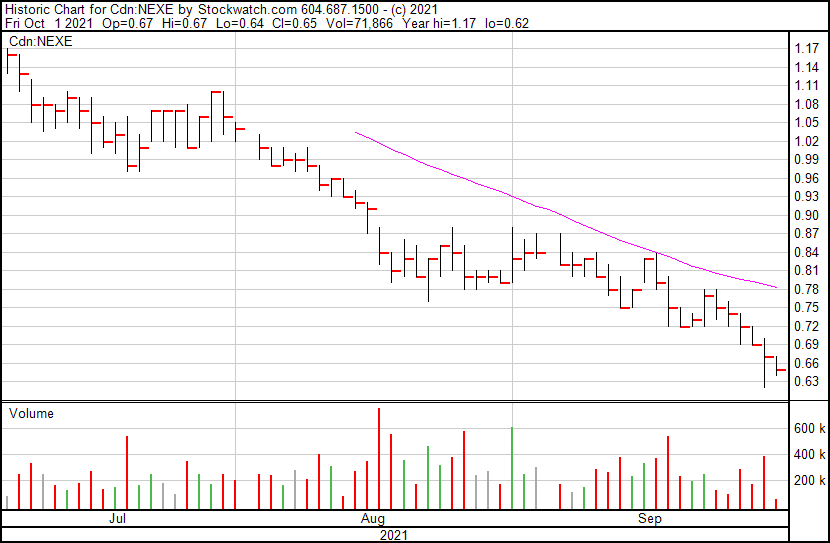 NEXE's share price opened at $0.67. The Company's shares are down -2.98% and were trading at $0.65 as of 10:40 AM ET.