Brew yourself a cup of coffee before diving into this weeks Agriculture sector round up. No seriously. Brew that cup of coffee. I am changing things around this week. A special caffeinated edition! This weeks round up is all about coffee!
Most of us drink (or are addicted to?) a cup of joe each morning…or multiple cups a day. Caffeine keeps us ticking. I have always tried to cut down on coffee. Even grabbing some packets of green tea and some matcha. But now, I find myself with a Keurig machine, a Nespresso Vertuo machine, Hario pour overs with a manual hand grinder, and Nescafe instant coffee. And I don't think I am alone. And I don't care if some Doctor on TikTok with over 4 million followers has told people to not have a cup of coffee in the morning. I will do as I please.
Coffee is taking off. The second wave of coffee as they call it, is making splashes across the Western world. Each cup being brewed by pour over, and even connoisseurs talk about flavor profiles of berries, tangerines and such. My palette isn't on that level, but I know good coffee when I drink one. Premium stuff has always fetched a higher price. Jamaica's Blue Mountain Coffee, supposedly the coffee the Queen of England drinks, fetches a high price. And most of it is exported to Japan. There's even this coffee called Kuwak coffee, where partially digested coffee beans are pooped out by civets, a catlike creature, which can fetch a price of $80 a cup in the US! The most 'high end' I have had is pure Kona coffee. Not the blend stuff, but the real deal. Paid around $15 for a cup a few years ago at Honolulu cafe in Downtown Vancouver. Good stuff. Especially when you are chowing down on an Acai bowl.
Totally not market related, but coffee lovers need to check out this near $1000 a cup 22 year old barrel aged coffee from Japan. Served in a Gold cup of course. Insane!
Coffee has been in the news recently because of one thing: consumers should expect to spend more on a cup of coffee. Consuming coffee is almost an everyday stable for millions of people. Some even say it should make a larger portion of consumer spending data, and others say it is a consumer stable rather than a consumer discretionary. Now I am not saying it will have a HUGE inflation data impact, but it will affect it for sure. Funnily enough, last weekend one of my friends posted an Instagram story with the hashtag #inflation with a picture of her morning coffee she purchased from Blenz Coffee. Now I don't know the type of coffee it was, but her receipt showed a price tag of $8.00. Damn.
Prices of coffee like all agriculture, depends on supply and demand. Robusta coffee prices continue to climb after concerns from Brazil, the world's top producer.
"Cheaper robusta-coffee beans, used widely in instant-coffee beverages such as Nestle SA's Nescafe brands, are sold out in Brazil. After drought and frost ruined crops of the higher-end arabica variety favored by cafes like Starbucks Corp., local roasters are racing for robusta replacements and driving prices to new records each day," Bloomberg wrote.
Much of the price appreciation came after a freak cold snap decimated Brazil's coffee-growing regions in July/August. The unexpected weather was compounded by massive droughts, destroyed arabica crops, hence why robusta is being bought up in droves. Weather changes has been one of our top reasons for going bullish on agriculture.
But we also have issues with the second top coffee exporter. Covid lockdowns in Vietnam are imposing constraints on the world's coffee supply.
In August, Vietnamese coffee exports fell 8.7% from July to 111,697 tonnes, Reuters reported, citing customs data. Between January and August, Vietnam exported 1.1 million tonnes of coffee — 6.4% lower than a year ago, but coffee export revenue rose 2% to around $2 billion.
With coffee prices rising, I thought it would be great to look at how to invest in coffee. A constant theme will be inflation and these big names raising prices. If you are someone who buys a daily coffee before work…expect to be paying more. Maybe try the Kevin O'Leary approach. Don't spend that money on coffee, instead brew it at home which costs an average $0.10 per cup (okay maybe more now due to inflation) and then invest the rest. Heck you could probably even use the money you would have spent on coffee to buy a hard asset like a silver bullion!
Anyways let's get down to it! And before we look at individual names, because Coffee is pretty much a stable, you can invest in ETFs which either track consumer stables (XLP) or consumer discretionary (XLY).
Starbucks (SBUX)
We start of with the big boys and why not. When you think coffee, Starbucks is usually what comes to mind. Some might think their stuff is overpriced, some might not like the coffee, Zerohedge troll comments call it a commie joint where people only go for the free wifi. Whatever floats your boat, the stock is seen as one of those safe value plays. They pay a dividend, have quite the standing with the youth, and its something people will buy on a daily basis. Definitely a consumer stable.
We bounced at the support at $110. A good level to buy the dip. But really, I would like to see SBUX jump over $120 to nullify the possibility of a broader head and shoulders pattern.
Oh and by the way…we are approaching pumpkin spice latte season. I think the brand power is so big, that even a price increase wouldn't deter regular customers. Maybe it changes what they buy, but they will buy nonetheless.
Luckin Coffee (LKNCY)
Who remembers the tragedy of Luckin Coffee? Odd accounting practices (okay downright fraud) saw the company be delisted on the major exchange and down to pink sheets. Where it still trades at $15 per share.
Honestly, just covering Luckin allows me to talk about how spectacular of a job Starbucks has done over in China. The Chinese market has been tough for American corporations to get a hold on due to different consumer trends. I was reading a book on the Stone of Heaven, Jade, and the author brings up Starbucks. When he began carving Jade as a westerner in China, Starbucks had no line up. In fact, they didn't have many locations. Now Chinese consumers gobble up Starbucks specialty coffee's on a daily basis. Starbucks is thriving in China.
Not so much for Luckin in America. Obviously the financial statement issue has weakened their image, but Luckin still has 2,000 more locations in China than Starbucks. The real showdown will be in the East. If you want to play Coffee in China, this is the stock you want to look at. Consumer wise, Asians are beginning to shift away from Tea to Coffee. We have already seen this in Japan and South Korea. China seems to be following judging by my readings.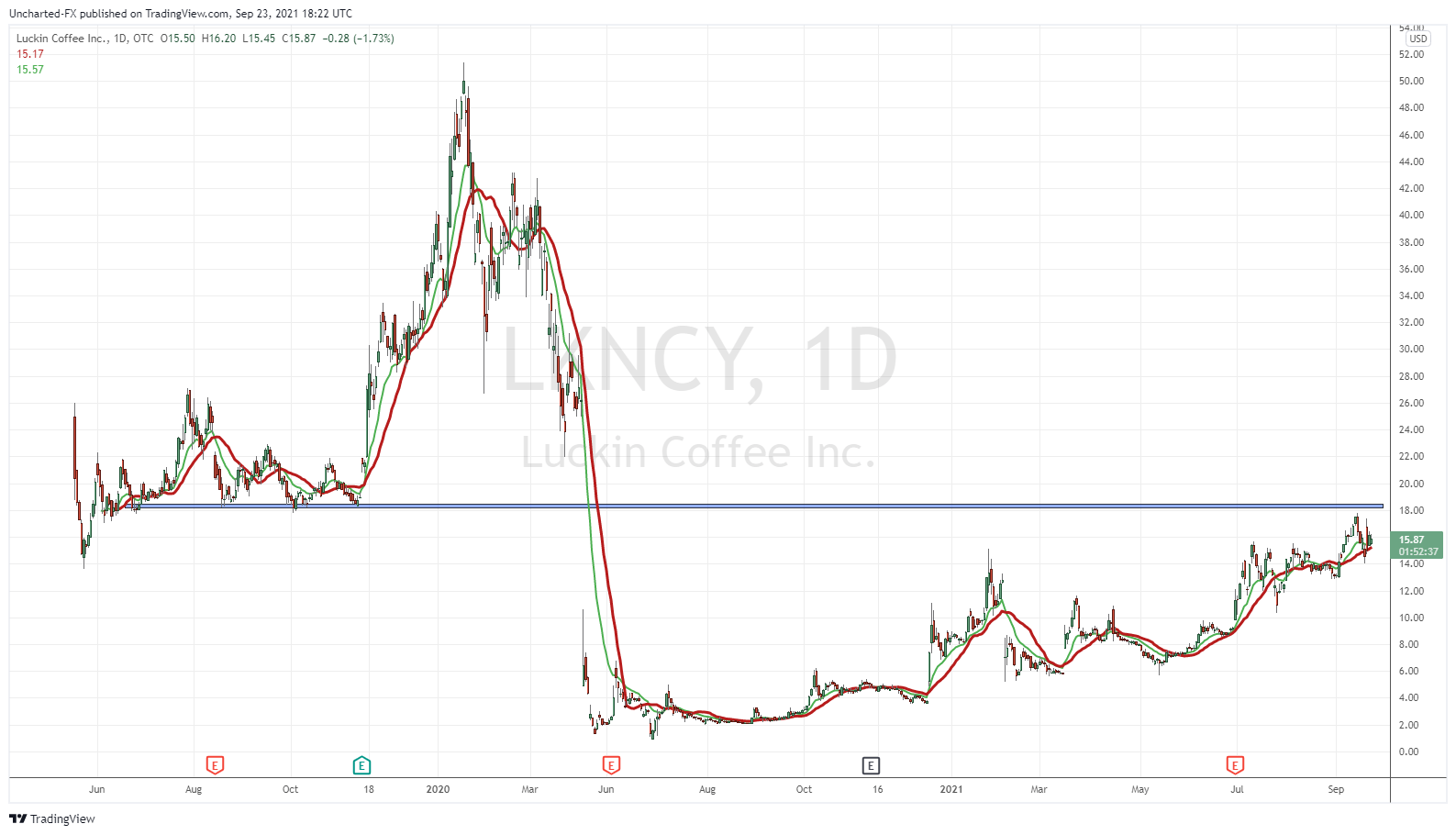 J.M Smucker (SJM)
When you think Smuckers, the first thing that comes to mind is probably Jam. I was today years old when I found out Smuckers owns a bunch of coffee brands that we buy and drink on a daily basis:
Profits are increasing, and the company did mention raising prices due to global supply chain issues. Again, my readers aren't surprised. It is one of our reasons for going all in on agriculture.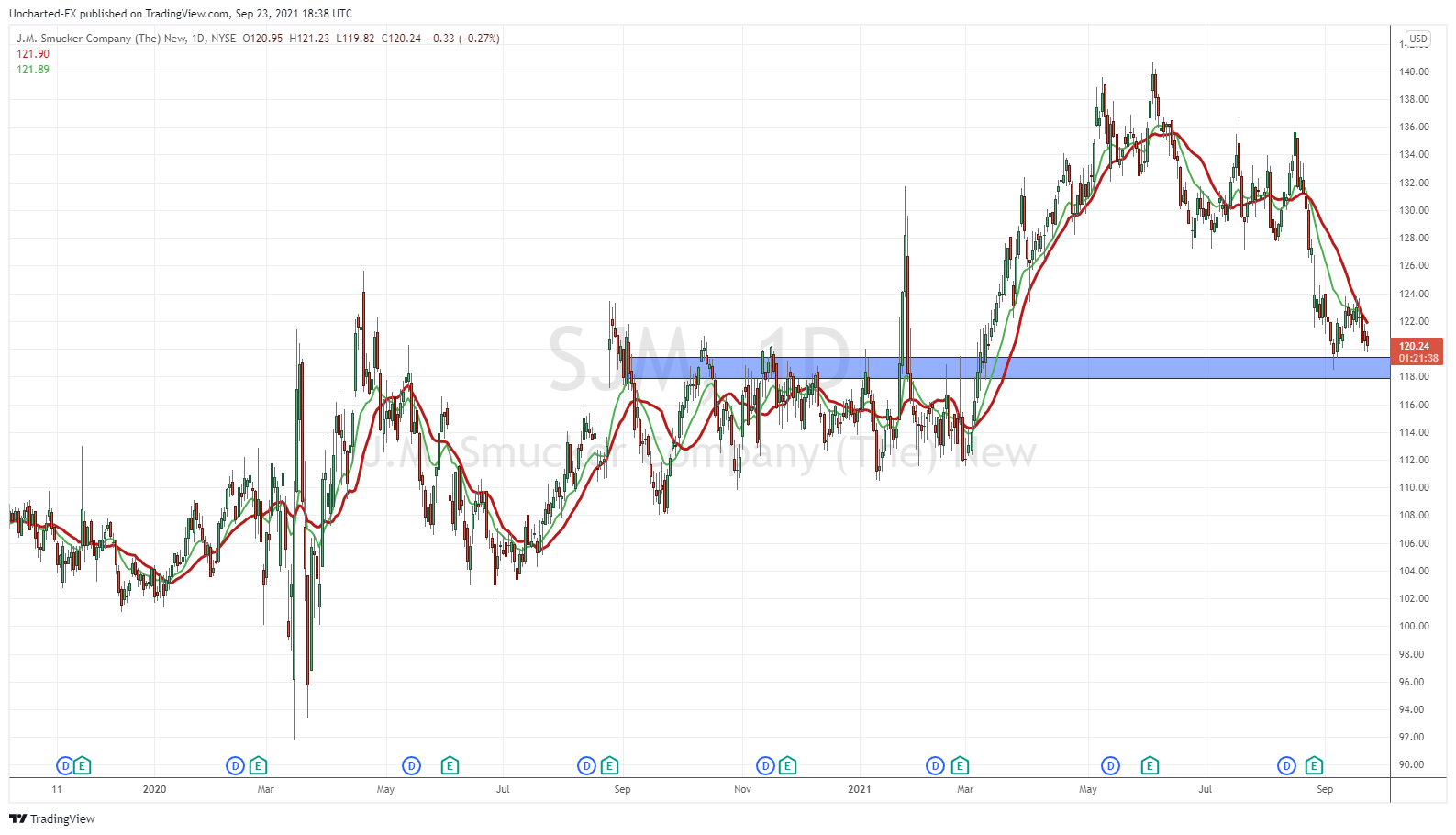 Technically, we are approaching a major support zone. The $118 area. It will provide a good area for entry especially if we get a nice wick or green candle indicating buyers are stepping. For a bit more confluence, watch the breakout above $124.
Restaurant Brands (QSR)
Team Timmies instead of Team Starbucks? Or maybe you feel like it's your patriotic duty as a Canadian to buy a double-double from Tim Hortons instead of Starbucks. I got you covered. I have to say I prefer my coffee dark. And Tim Horton's dark roast, when freshly brewed, is one I enjoy sipping on.
Restaurant Brands is a stock traded on the US and Canadian exchange. Not only do they own Tim Horton's, but also Burger King and Popeyes Chicken.
Another one of those safety value plays with dividends and well…people need to eat. We had a bounce at support, but I would watch for a strong close above $66.
Keurig (KDP)
Keurig is traded! Or the actual name of the company: Keurig Dr Pepper Inc. I wonder if they sell a soft drink that is sometimes difficult to find in Canada? Not much needs to be said about Keurig and their role in coffee. It seems most people and/or offices have some sort of Keurig machine with capsules.
The chart itself is pretty explanatory. We are at a nice support zone, and we may create a triple bottom here. If we can climb above the trendline, that is a pattern breakout.
How about a few 'smaller' companies? I hear you.
Swiss Decaffeinated Water (SWP.TO)
Formerly known as Ten Peaks Coffee Company, Swiss Decaffeinated Water owns all the interest in the innovative, chemical free decaffeination method Swiss Water process. The company has a bunch of options on their online store. All of which seem delightful! I haven't tried their coffee, if any of my readers have, I would love to hear your thoughts in the comments below!
Consumer trends are shifting, and people will spend extra cash on organic and ethically sourced products. Coffee included.
Swiss Water's revenues are increasing with a strong Q2 report, and a few months ago they announced a $25 million financing for the construction of its second line of production. One too watch on this coffee rise.
Another one approaching a major support zone. Watch price action here for a bounce. We will watch for signs of buying such as a wick or green engulfing candle. We cross $3.10 and break above the trendline, then this one can move back above $3.40.
SPoT Coffee (SPP.V)
SPoT Coffee is another retailer with their own brew and specialty coffees. Here is their online store. The company released some financial information today. Highlights are:
The working capital of the Company has risen by

$1,751,764

 since 

December 31, 2020

, mainly due to the closing of the Company's non-brokered private placement, which provided SPoT with 

$455,030

 in equity financing as previously announced in its news release of 

May 14, 2021

. Furthermore, the Company's receipt of 

$940,137

 (US 

$758,542

) from the US Small Business Administration under its Restaurant Revitalization Fund (RRF) program also contributed to the rise in its working capital. The Company anticipates further funding under the RRF program in accordance with its pending application if the ENTRÉE Act, which provides for a US 

$60 billion

 replenishment of the RRF, passes.
The Company's liabilities have decreased by 

$1,374,675

.
In the 6-month period ending 

June 30, 2021

, as compared to the same period in 2020, initial efforts by SPoT's management to reduce operating costs as part of the Company's drive to control spending and allocate its resources more efficiently, have resulted in a total savings of 

$129,504

.
Subsequent to 

June 30, 2021

, the Company received confirmation of loan forgiveness of 

$792,855

 (US 

$639,709

) from the US Small Business Administration under the Paycheck Protection Program, which was first reported by the Company in its news release on 

April 21, 2020

.
The Company's accounts payable and accrued liabilities decreased by 

$626,146

 as of 

December 31, 2020

 to 

$1,508,352

 as of 

June 30, 2021

.
SPP is thinly traded, but is basing. If coffee futures do take off, then the resistance can break and lead to a higher move.
Aegis Brands (AEG.TO)
Aegis Brands is a company with a portfolio of Cannabis and coffee. Bridgehead is the coffeehouse under Aegis' umbrella. Again, not a coffee I have tried, but maybe my readers in Ottawa have. Let me know in the comments below!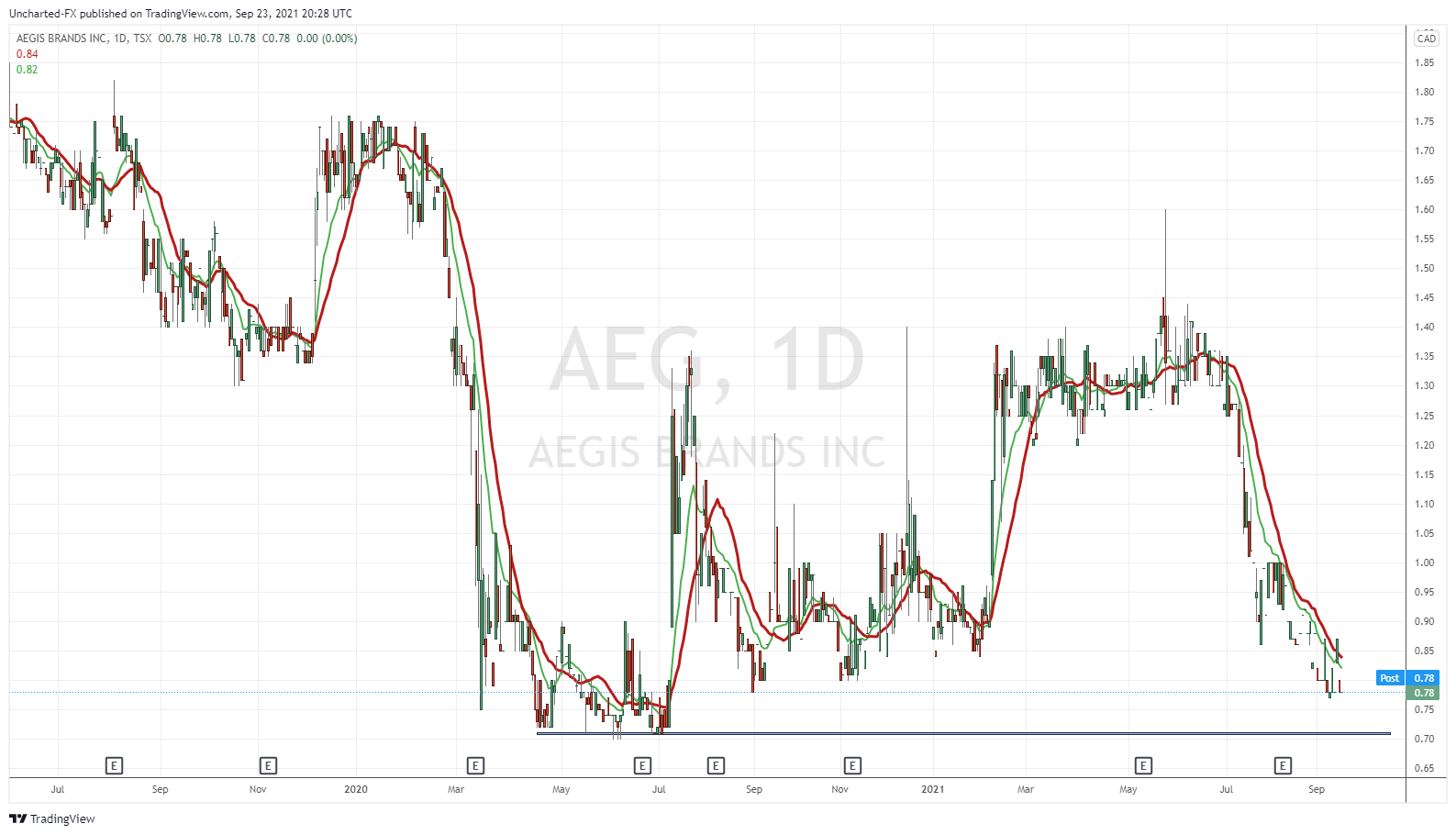 Aegis Brands is on a downwards move but is likely to find some support here at the $0.70 zone. One to watch when the support comes into play. Hopefully we can see some sort of basing pattern there.
Coffee Holding Company (JVA)
Coffee Holding Company Inc. has been a family run business for three generations serving specialty and institutional roasters, wholesalers, and retailers for more than 47 years. Organic, Fairtrade and Rainforest Alliance coffee included.
Recently, the company put out operating results for 3 and 9 months ended July 31st 2021. Highlights include:
Net sales Net sales totaled $13,634,313 for the three months ended July 31, 2021, a decrease of $3,709,696, or 21.3%, from $17,344,009 for the three months ended July 31, 2020. Net sales totaled $56,725,386 for the nine months ended July 31, 2020, a decrease of $9,219,197, or 14%, from $65,944,583 for the nine months ended July 31, 2019. The decrease in net sales was due to a 35% decline in cases shipped from the Company's largest production facility in Colorado, $2,500,000 decrease in sales from the Company's Generations/Steep N Brew subsidiary, a decline in sales of green coffee during the first half of the year as many customers remained closed or impaired by continued COVID-19 restrictions.
Cost of sales Cost of sales for the three months ended July 31, 2021 was $10,708,461, or 78.5% of net sales, as compared to $13,517,482, or 77.9% of net sales, for the three months July 31, 2020. Cost of sales for the nine months ended July 31, 2021 was $35,061,947, or 75.8% of net sales, as compared to $45,287,198, or 79.8% of net sales, for the nine months July 31, 2020. The decrease in cost of sales was due to the Company's decreased sales partially offset by higher packaging costs due to increases in materials, most notably steel for cans.
Gross profit Gross profit for the three months ended July 31, 2021 amounted to $2,925,852 or 21.5% of net sales, as compared to $3,826,527 or 22.1% of net sales, for the three months ended July 31, 2020. Gross profit for the nine months ended July 31, 2021 amounted to $11,174,761 or 24.2% of net sales, as compared to $11,438,188 or 20.2% of net sales, for the nine months ended July 31, 2020. The decrease in gross profit percentage during the first three months was attributable to decreased margins on roasted and branded products due to higher packaging and green coffee costs. The increase in gross profit percentage during the first nine months was attributable to increased margins on roasted and branded products and green coffee sales in the last quarter.
This company has been around, so we have price levels to work with. You can see that $4.60 is a big resistance zone. I would like to see prices climb back above before turning bullish. If we continue to weaken, then I would look at the $4.00 zone for some basing and support.
NEXE Innovations (NEXE.V)
NEXE innovations are the inventor of the Nexe pod. Nespresso and Keurig compatible single serve pods. Plant-based. Fully compostable. No compromise.
Interesting play as recycling pods becomes a bigger story. Recently, Nespresso launched a service where you bring in your used pods in a black bag (or a red bag by post) and they take care of the rest in their recycling facility. I don't live near a Nespresso boutique, nor do I want to venture to drop coffee pods in a mailbox.
There are reusable metal pods available which fit Keurig and Nespresso machines. A pod you continue to use and you can grind your own coffee to put into them. But NEXE's pod here might be one to attract the eyes of Keurig and Nespresso. With pods in heavy use, the idea of recycling them properly will be a big deal. For some reason I feel like making a comparison with the issue of face mask disposable now a days. It helps us, but sucks for the environment. A pod that is full compostable could do much in reducing waste.
Addressing the 50 billion+ plastic pods dumped into landfills each year, the company is targeting the USD$30B single-serve pod market (growing at 8.5% YOY), with its first commercial product the NEXE POD, one of the only fully compostable (in as little as 35 days) plant-based solutions.

Backed by 5 years of scientific research ($17M invested and $14M+ recent financing), NEXE Innovations is well positioned at the forefront of advanced material manufacturing and automation.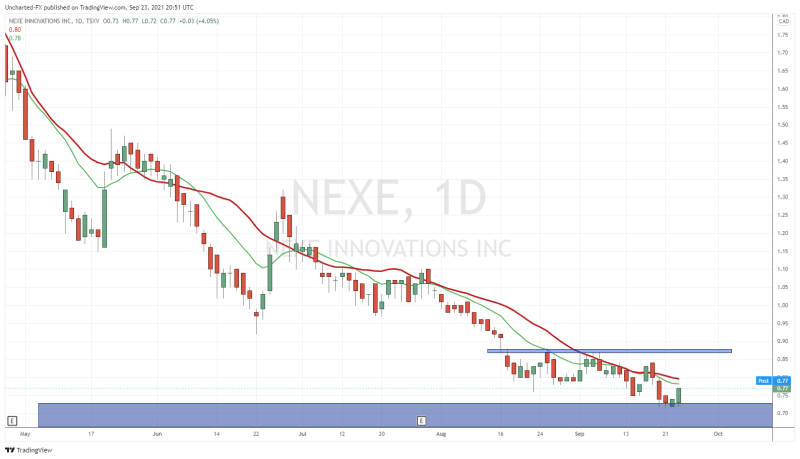 I had to zoom into the chart here, but NEXE is in a downtrend. Now I am watching for a bottoming pattern. Potentially an inverse head and shoulders set up in play. Personally, I would await the breakout above $0.88. This nullifies the downtrend and confirms the beginning of a new uptrend.
The Good Shroom (MUSH.V)
Want a little bit more spice to your coffee? No, I am not talking about adding cinnamon. By the way, do that. Good stuff for your stomach and other health benefits. I am talking about adding shrooms to your coffee. As someone who just began microdosing, and feeling the great effects on mood, productivity and creativity, I am looking to give their product a go. Most people suggest dosing through liquid form (tea). So why not coffee? Good Shroom possesses a functional mushroom beverage range serving the wellness market.
Check out their Teonan products here. Also a play for those who believe shrooms are going to be what Cannabis was supposed to be.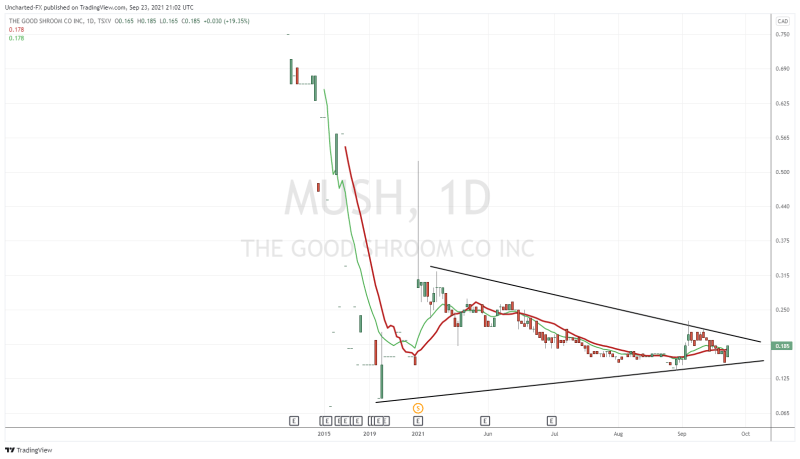 The chart is ranging in a triangle and is just looking for a breakout in either direction. For bulls, hopefully to the upside. Typical approach to triangles: await the breakout.