Just a few days ago, I discussed my experience buying a NFT for the first time. I highlighted the Ethereum ecosystem. Being able to do and purchase certain things in the ecosystem will increase the demand for Ethereum.
Two things come to mind of course: NFTs and DeFi.
Both are seeing surging demand.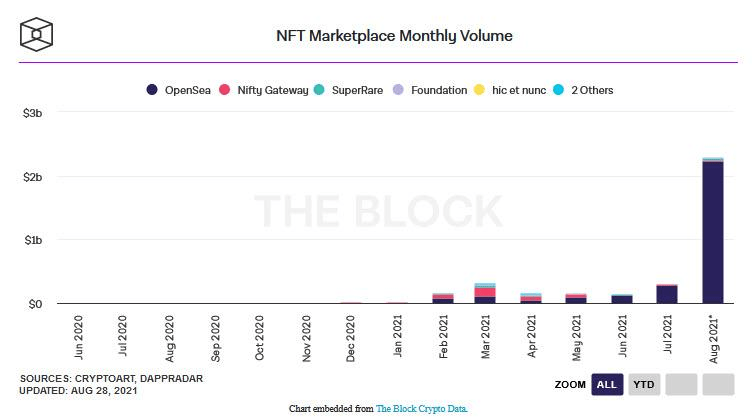 NFTs are more popular than ever. A frenzy! Look at the demand on Opensea! Wow!. Remember how crazy things were when NFTs first came out? Well, you will see people regularly bidding amounts more than 40k for NFTs. Go to Opensea.io and take a look for yourself.
DeFi (Decentralized Finance) is going to become even more popular. My regular readers will recall my bullish outlook on DeFi. DeFi is setting up to become what Bitcoin and other crypto's were supposed to be. Crypto purists remember that the original purpose for Bitcoin and other coins was to be decentralized, and away from the hands of government, big banks and big funds. IF we get regulations (honestly it's more when not if), then we will see Wall Street move in. They will play their games. Manipulate the prices etc. 
OG Crypto purists are frontrunning this. They have been moving to Decentralized Finance. The average trader/investor jumping into crypto's really don't understand the original intention of Bitcoin. Heck, I still have some of these people telling me there's no difference between Bitcoin and government central bank digital currencies! That's a whole different topic, but if we go down the digital currency path, what do you think Central Banks and government will say about Bitcoin? It won't be too pleasant I can tell you that.
So we have established that the DEMAND for Ethereum is rising as money runs to NFTs and DeFi. Ethereum is being used as money. People are using it for transactions and purchases on the Ethereum ecosystem.
Now for the big news. Ethereum seems to have broken away from the pull that is the Bitcoin correlation. A decoupling. Oh and Zerohedge mentions a giant gamma squeeze potentially incoming! 
What do I mean by decoupling? Crypto's tend to move when Bitcoin moves. A lot of traders watch Bitcoin. Sure, when Bitcoin ranges, there are times when the alt coins rip, but the major crypto's move with Bitcoin.
This may have changed. And it is getting exciting for holders of Ethereum like me.
The technicals are even more exciting! Weeks ago, I talked about the double bottom set up. The break was confirmed above $2400. We ran. We ripped.
Ethereum began to range around the $3350 zone. For 25 days. This kind of action is not to worrying for me AS LONG as this came from a breakout, because I expect to see a higher low form. This happened. The breakout above $3350 gave us our first higher low in the new uptrend. And folks according to principles of market structure…there should be another one. If this is the case, we will print all time record highs. Zerohedge in their article gave a target of $6000.
So how do we play this? Well going forward, $3350 becomes new support. If we hold above, we are gucci.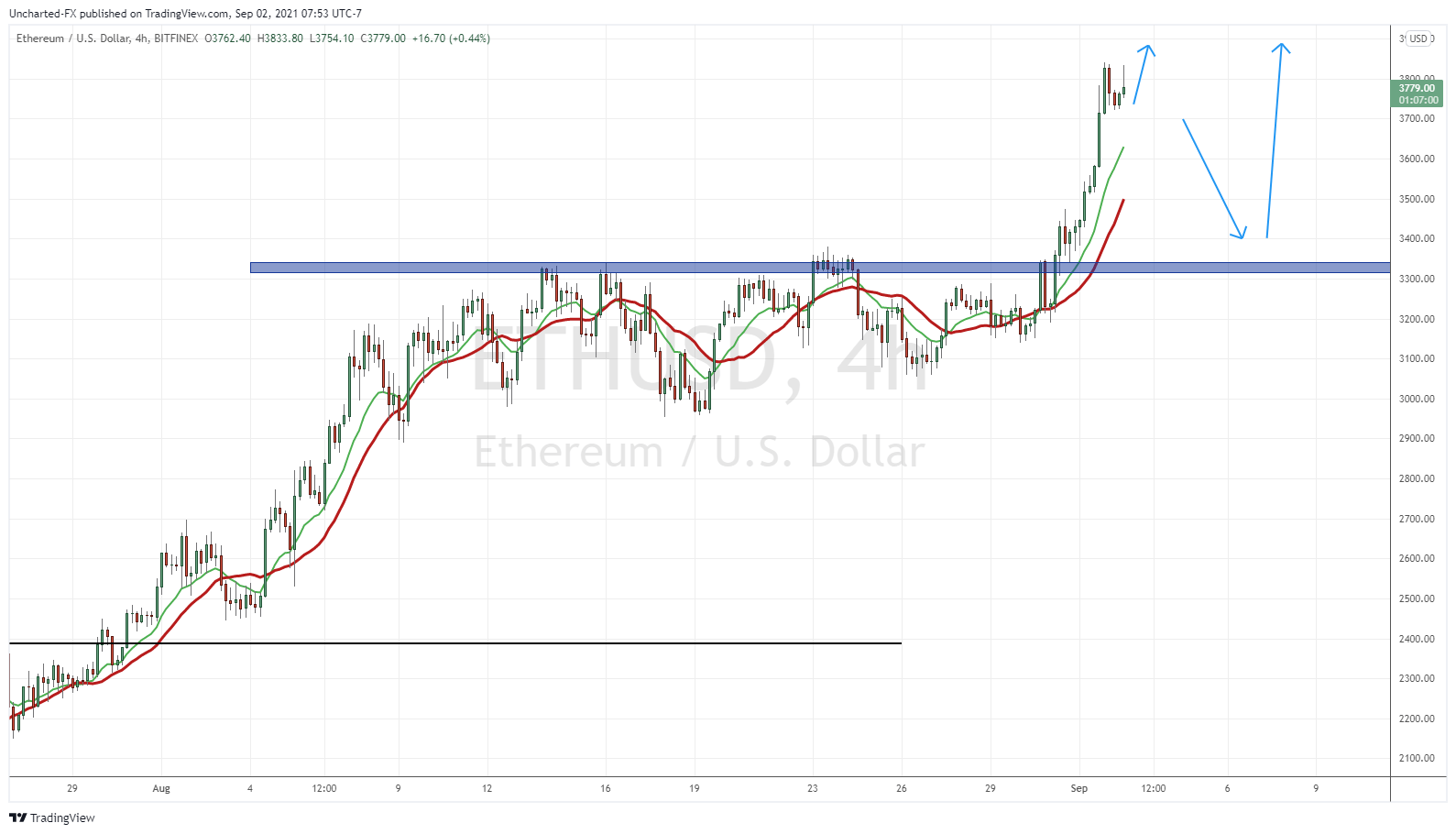 Let's go down to the 4 hour chart. Two scenario's here. In scenario number 1, the momentum is so strong, that we make a higher low right here. This would mean arrow number 1. We just take off after this brief pullback.
Scenario 2 is a full pullback to retest the $3350 area. We see buyers step in and then move higher. Typical breakout and retest action.
The structure looks great, and it is likely we see another pop to previous record highs. If we make new highs…we'll just have to wait and see how price reacts at resistance. But I think there is a good chance we do. NFTs and DeFi are getting more popular. Also those looking to invest in Ethereum think it has a lot of upside. Maybe pulling off a Bitcoin.
Now I must end by saying one thing. The fees, or gas light fees, for using Ethereum. In the past, I have always said I want to see the fees lower. The London Fork supposedly fixed this, and Ethereum 2.0 is supposed to fix fees once and for all. Well yesterday when Ethereum was popping, I was looking to purchase some NFTs with the gains. Guess how much gas light fees were? $320 bucks for a $400 dollar transaction! This sucks, and must be fixed if Ethereum wants to be the money of the internet. Others say that if Ethereum 2.0 doesn't fix this, Cardano and other projects might be looked at for the quick and cheap fees.