Silver has printed a reversal pattern as Fedchair Powell provided no taper timeline at Jackson Hole. The markets were expecting some sort of concrete timeline on tapering and rate hikes, but we didn't get too much. Sort of disappointing, and traders on Twitter tweeted how this speech was a waste time. But we have seen moves in the Stock Markets and the US Dollar. The latter plays a role in dictating Silver prices.
Speaking about the white metal, I picked up some more coins to complete my epic project: A Silver Coin collection from every country in the world. All coins to have more than 90% of Silver content because you know…the older coins from countries are not 99.99% but 92.5% or 90%. Picked up coins issued for St. Helena and the Democratic Republic of the Congo. If you are a member of our Discord channel, I will post pics of these beautiful coins.
I just thought I would let you guys know because this is my first physical Silver purchase for months. I like the price zone we are at currently.
If you recall, the last time I wrote about Silver, I discussed the major monthly chart area we retested. Or just about retested. After a large wick, we know that bulls are looking at this same area. Provides more confluence on this reversal trade. Before I begin, I should note that our Lukas Kane puts out weekly Silver updates. If you are bullish Silver, and want to invest in Silver miners, then this is essential reading for you! Read his latest piece here.
Now let's talk about the Fed.
Not much really to say. However, one key point is the Fed is saying they will taper in some form by the end of the year, but interest rate hikes are still far away. A taper does not necessarily mean a rate hike is coming, nor is it a prelude to a hike. This had a few people scratching their heads because of the inflation data. The Fed is still saying this is temporary and inflation will die down, but did say if inflation starts making its way into other sectors, it will be a cause for concern. Watch those supply chains folks!
It just always comes back to inflation. For a good reason. In monetary policy, you hike rates when inflation is getting out of control. But the question needs to be asked: can the Fed even hike rates? With the US government spending Trillions of dollars. A new $4.5 Trillion is set to be released sometime in the next few months. Not just my observation, but it seems like the Fed is kicking the can down the road, or moving the goal posts farther.
Technical Tactics
With no rate hikes for awhile, the US Dollar was down last week. This is important because it closed back below the major weekly support. The Dollar breakout has failed. Now we know the Dollar was rising on interest rate expectations, not fear. The currency war continues!
If we can break below 92 in the upcoming weeks, the Dollar tanks further, and this will bode well for precious metals.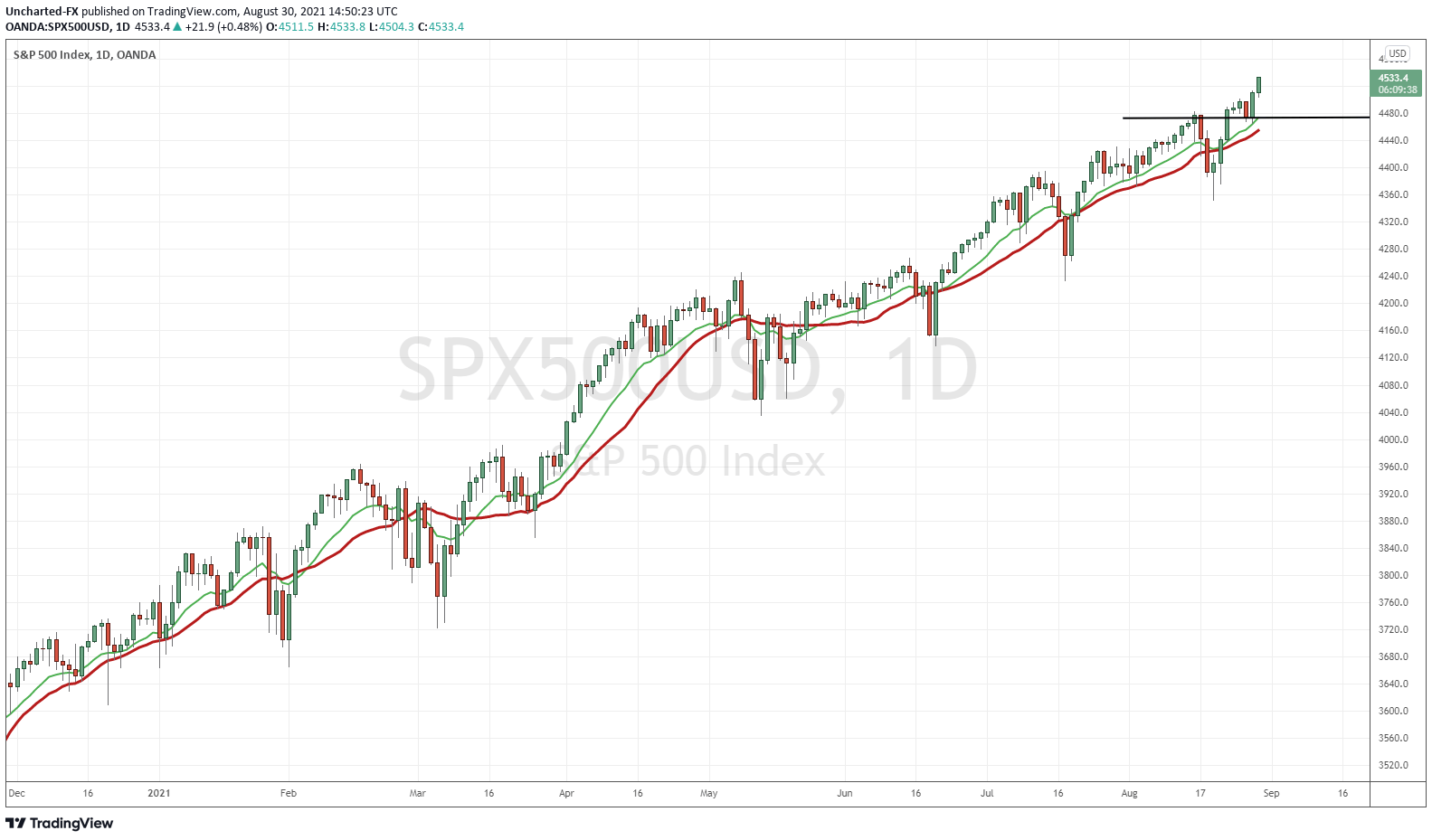 Stock markets keep printing record highs. Especially the S&P 500 and the Nasdaq. The taper tantrum still is the big theme. If the Fed does taper it is likely they taper by a small amount to see how markets react and then go from there. That is if they DO taper. Maybe Delta variant makes the Fed reconsider. But for now, the cheap money continues.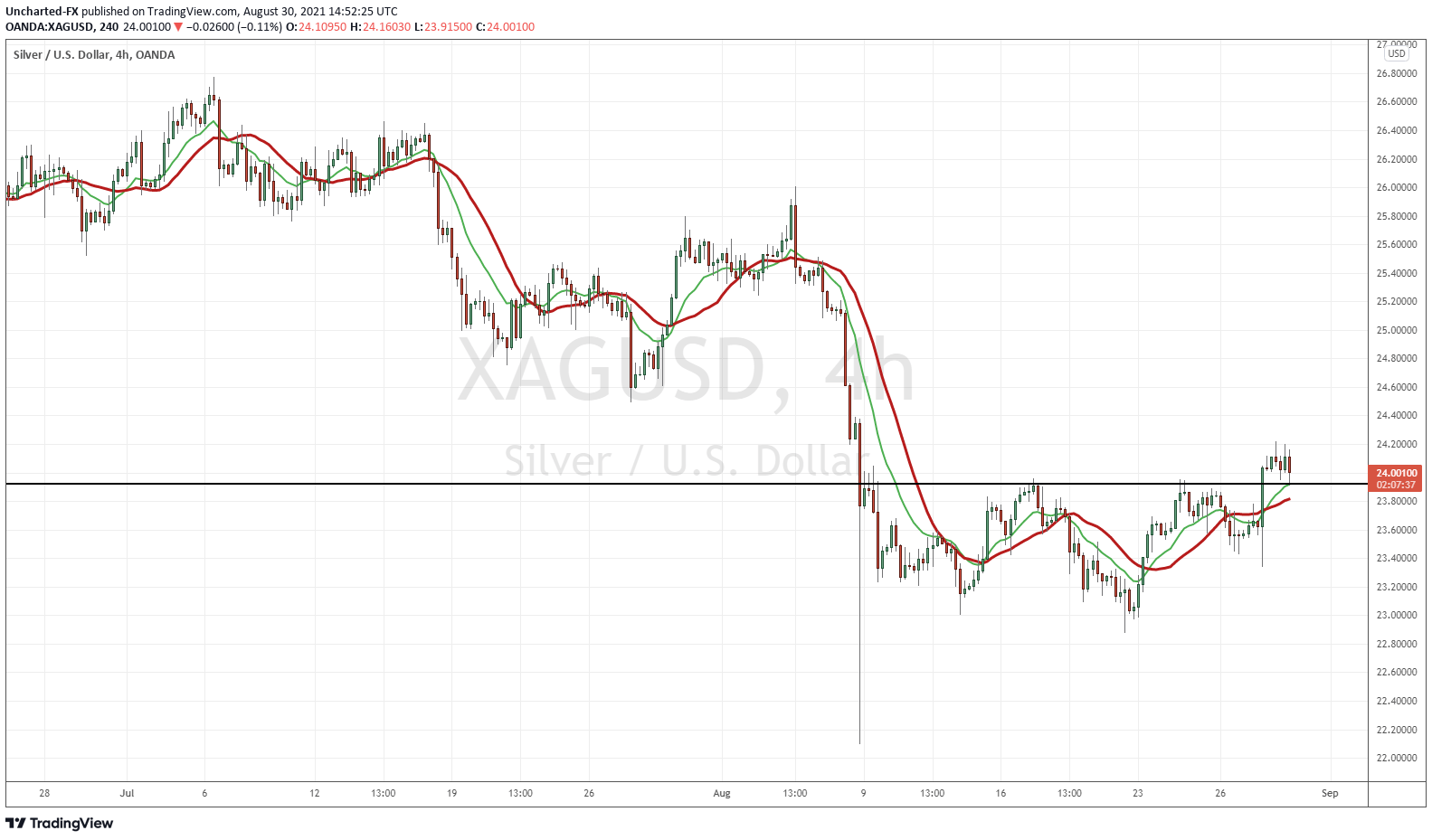 Which then leads us to Silver. Do those with technical and chart experience eyes see it? The inverse head and shoulders pattern.
The breakout occurred on Friday, just before markets closed. It was a strong breakout candle as well. Now, we wait for the momentum. Yes, there are a few 4 hour candles already, but because they were printed on Sunday overnight, I don't rely on them too much, as I want to see how Silver trades with US markets open.
As you can see, we are now retesting support at the $24 zone. Or the neckline of the head and shoulders pattern. Let's hope buyers defend. If we do close below, and it's a big red candle, then we have a fake out.
If you are not already in the trade, you can enter a position now, but I would wait for recent highs of $24.20 to be taken out. Watch that Dollar. Current price action on Gold and Silver remains flat.