#AMCDay #AMCStrong #AMCSqueeze #AMCNOTLEAVING are some hashtags that I have seen trending over on Twitter recently. The apes who are aping into AMC have a huge hurdle today. The same can be said for GameStop (GME). Shares of AMC fell 15% while shares of GME fell 6.9% in yesterday's bloodbath. Today is a different story. At time of writing, AMC is up nearly 10% (9.78%) while GME is only up 0.04%. Seems like the apes are piling in on AMC, but in this Market Moment, I will dish out the IMPORTANT TECHNICAL LEVELS.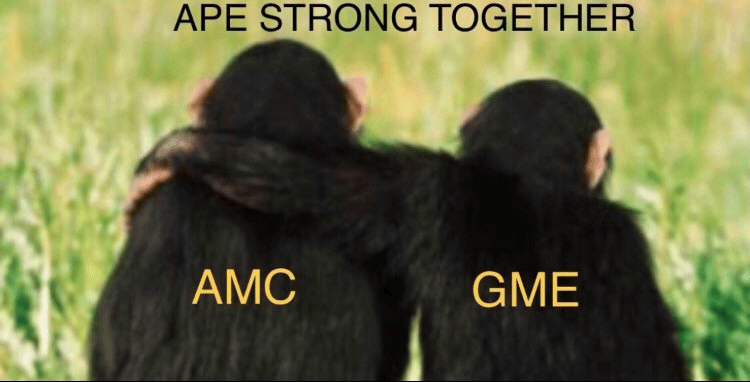 First things first. The Stock Markets. Pre-market all major indices were red. They are still red but have recovered nicely, with the Dow only a few points to flip green on the day.
Above is the 4 hour chart of the S&P 500. Regular readers and members of Equity Guru's Discord Trading Room see what's happening. This set up is meeting our requirements for a reversal but the key is a close below support (my black line). The charts of the Nasdaq and the Dow look similar.
Support zones are seen as price floor, so a break and close below is a big deal. It means the sellers have overcome the buyers. But of course, buying the f***ing dip (BTFD) is the trading mantra now a days. Support levels are seen as great places to enter and BTFD. This is why we should expect a large amount of buyers at support, and once again, why it is a big deal if support breaks. If that were the case, a lot of buyers would have to close their positions.
Currently all three major US indices are getting a nice bid at this support. Today's trading action will be key to see if buyers continue momentum into record highs, or do we indeed roll over and get a pullback/relief.
For the apes trading GME and AMC, this is the index you need to be wary of. The Russell 2000, or the US Small Cap Index. Small caps have not been having a great time recently. The weakness in this index also coincides with the weakness we  have been seeing with the majority of the meme stocks.
And to be honest, it isn't looking too good. On a broader (or wider thanks to the Wide Putin meme) view, the Russell has been ranging between 2100-2350 since the beginning of this year. It has not been ripping into record high after record high like the S&P 500, the Nasdaq and to some extent, the Dow Jones.
Technically there was some interim support at 2225 (the black line we just closed below). We closed below this yesterday, break this technical support zone. If sellers continue to sell, we can test the bottom of the range at 2100. To nullify this, and to turn the ship around, we would need to close back above 2225. Watch this if you are trading GME and AMC.
Technical Tactics
Let's take a look at the big support zones on GME and AMC.
Let's begin with AMC. Back in June, I highlighted AMC breaking above a MAJOR resistance zone. We took out the highs of 2015 and 2017 at the $36.00 zone. What was once resistance (price ceiling) now becomes support (price floor), hence why I have been looking forward for AMC to retest $36.00 once again as support. This is happening right now.
The weekly chart shows you how important this zone is. Apes need to hold the line here!
The weekly candle close for Friday becomes a pivotal event. We want to see prices climb back above $36 by the end of Friday to see further upside move. If not, chances are the stock falls further lower. Perhaps even back to $24.
Going lower to the Daily chart. Yesterday we broke and closed below $36.00, which was a worrying sign, and today we have pulled back. We are retesting $36.00, but look at how sellers jumped in. The wick I am pointing out signals sellers defending $36.00. This is a classic breakdown and retest. Now it is all about observing the battle between the bulls and the bears. We have the rest of today's trading hours, and tomorrow's trading session to see who wins.
On the Gamestop side, things have taken a drastic turn.
The stock really hasn't been doing much. We had a pop to $340, but then sold off just as the Russell 2000 topped. A major breakdown was confirmed yesterday. We closed below support of $180. I want you to look at 5 candles back. Notice the green candle we had right at support of $180. Gave some hope that the buyers were stepping in and defending, but instead, the sellers piled back in. A dead cat bounce. A relief after a long downtrend, only to continue the downtrend again. In technical terms we call this a Lower High.
Back in June, I discussed the major support areas for GME. When we broke the support at $280, that was a warning sign especially since the break off candle was a PHAT red one. $180 was the next support mentioned.
With this break of support, we are in no man's land. We either continue lower and hit the $140 zone, and then assess if it is time to buy, or we pullback up to $180. If the latter happens, we have two paths. We either see sellers pile in on the retest of $180, seeing a nice risk vs reward short targeting $140. Or we see a bulls regain the upper hand, with a close above $180, indicating a fakeout downtrend. This would be bullish and puts us in a path for crazy price action back to the 200 levels.
If I had to choose between the two, I would say AMC has the better potential of a near term trade. The weekly support level is huge. I guess you can say there is a fundamental reason too with theatres re-opening, and new films coming out exclusively for theatres.
In summary, watch for the AMC close by the end of the week to set up a trade for next week. Watch for the Russell 2000 to climb back above interim support. And finally, watch to see what overall markets do. If the sell off continues, and we head into a risk off environment, seeing money head for bonds and the US Dollar, the meme stocks can see significantly more clappage.