Organic Garage (OG.V) announced that they have signed an exclusive partnership agreement to utilize Instacart for the online ordering and delivery of their groceries.
The deal with Instacart will apply to all of OG's locations and a data-sharing agreement between the two parties will ensure that prices on Instacart's platform will reflect Organic Garage's regularly priced on-shelf and flyer products.
The agreement will extend their delivery range into new areas of the Greater Toronto Area (GTA), reaching Mississauga, Milton, Brampton, Newmarket, Scarborough, and Pickering, for example. Organic Garage says the deal expands their reach to 2.11 million households in the Ontario market.
Organic Garage says the deal expands their reach to 2.11 million households in the Ontario market.
"I am very excited to finalize this agreement with Instacart and significantly increase the potential customer base of Organic Garage. Extending our delivery range by partnering with North America's largest online grocery platform further evolves our e-commerce business, providing additional safe shopping options for our existing customers in addition to finding innovative ways of increasing our customer base going forward," commented Matt Lurie, CEO of Organic Garage.
Instacart has had a very strong year as the pandemic has led many to turn to the service, whether it be for people's regular groceries or for food during quarantines, such as the mandatory two weeks at home after entering Canada or quarantining after testing positive for coronavirus. A climate of agoraphobia and germaphobia is not good for many businesses, but Instacart has certainly benefitted, surpassing their 2022 goals by May of last year.
This is not Instacart's first venture into the organic foods market. In 2016, Instacart became the exclusive delivery carrier for Whole Foods, a deal that became complicated when Amazon bought the grocery chain. Amazon eventually terminated the deal, as they wanted to handle Whole Foods delivery themselves.
Instacart surpassed their 2022 goals by May of last year.
Because Organic Garage only has a handful of locations, it was not feasible for them to deliver across the GTA themselves. Instacart already runs deliveries across the GTA, and so adding Organic Garage to their existing routes is much easier for OG than trying to perform deliveries to these areas themselves.
Instacart is planning an IPO for this year, with reported valuations as high as $30 billion USD. Instacart does not believe that the pandemic will just be a phase, and many expect people to continue through shopping a hybrid-consumer model, where people shop both in person and online.
Instacart will be providing OG customers with same-day delivery, so it's not hard to see why people would continue to use grocery delivery even we move past the pandemic (eventually).
"We're thrilled to partner with Organic Garage to provide customers same-day delivery of the organic goods they love while keeping affordability in mind," said Nick Gajewski, Retail Partnerships at Instacart. "We know that independent grocers like Organic Garage are central to building the character of their neighborhoods and we're proud to work with this beloved local retailer. We look forward to helping them bring their incredible selection of organic and all-natural products online."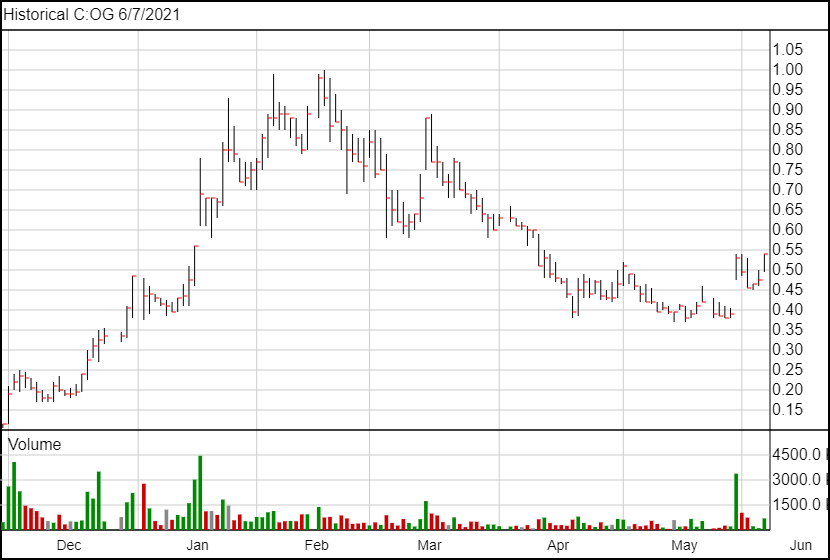 Following the news, Organic Garage's share price opened up 8 cents, trading at $0.53, representing a 15% increase in price.
Full disclosure: Organic Garage is an Equity Guru marketing client.
Tags: