A different approach to MDD
I'm big on companies having a unique approach to whatever they are doing. Many psychedelics companies are targetting depression but from a psychedelic-assisted therapy angle. MYND Life Sciences, a Vancouver-based psychedelics company is going in a different direction.
Rather than talk therapy, MYND is targeting the body itself.
I think this a smart move and I have honestly been waiting to hear something like this for months as I have been covering this sector. I have previously written about the limitations of talk therapy in dealing with hard cases like childhood trauma and PTSD.
The gut-brain and emotions have been linked in numerous studies, and the company is banking on psilocybin's natural anti-inflammatory properties to aid in gut micobiome issues. The company is in the pre-clinical stage of its trials and are fresh off a recent capital raise before their public listing on the CSE today.
MYND also boasts about its research agreement with UBC where it gets to use UBC's licenses, but keep its IP.
MYND Life Sciences is a life science-based, neuro-pharmaceutical drug development company, advancing medicines based on neuro-anti-inflammatory substances through rigorous science with an initial focus on Major Depressive Disorder ("MDD"). Earlier today the company went public on the CSE after completing its final prospectus earlier this month.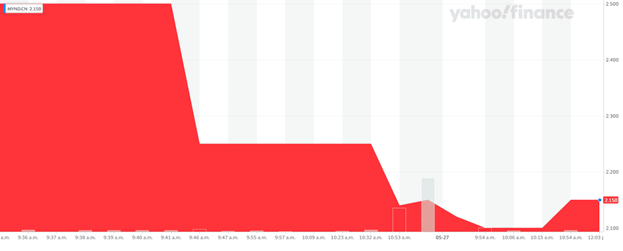 The company's Chief Scientific Officer, Dr. Wilfred Jefferies, holds a Health Canada Authorization to research psilocybin at the Michael Smith Laboratories located in Vancouver, Canada at the University of British Columbia.
Through its affiliation with Dr. Jefferies, MYND is granted access to the Michael Smith Laboratory and team of scientists at the University of British Columbia. The lab holds a valid Health Canada Authorization to perform in vivo and in vitro testing, a lab certification and process which is a prerequisite to advancing to human clinical trials in Canada. The Company also holds the exclusive right to any inventions and intellectual property discovered pursuant to his contract with MYND.
MDD is a substantial public health concern, affecting more than 300 million individuals worldwide. Depression is the number one cause of disability, and the relative risk of all-cause mortality for those with depression is 1.7 times greater than the risk for the general public.
MYND's primary research is being performed at the Michael Smith Laboratories at the University of British Columbia under the direct supervision of Dr. Wilfred Jefferies MYND's Chief Scientific Officer.
MYND intends to use psilocybin to modulate Human Mycogene and expects to complete the initial drug research phase by identifying the specific compounds to use in the second stage of pre-clinical studies. With the receipt of the Health Canada Authorization to research psilocybin, the company is completing preclinical in vitro research to identify the lead psilocybin analog, gathering detailed data on dosing and potential toxicity, and performing bioanalytical method development and validation.
The company is in the pre-clinical research stage right now. The following four stages have been identified by the company to move to an Investigational New Drug ("IND") program for a psilocybin based MDD drug to start doing clinical trials.
Stage 1 – Identify a lead analog and a number of backup candidates. The Company is currently
screening various psilocybin analogs using Human Mycogene as a target to identify selected
analogs for optimization.
Stage 2 – Manufacture a sufficient quantity of drugs for IND-enabling. Commencement of
Chemistry, manufacturing and control ("CMC") activities of the lead psilocybin analog
Stage 3 – Demonstrate the lead analog is safe and suitable for oral https://e4njohordzs.exactdn.com/wp-content/uploads/2021/10/tnw8sVO3j-2.pngistration in first in
human studies and then the drug product is ready for Phase I clinical trials.
Stage 4 – File IND application. The Company will prepare an IND application for Health Canada
and the Food and Drug Administration ("FDA") with the intent of starting human clinical trials
Gut Microbiome
MYND's upcoming clinical studies seek to establish a novel relationship between Human Mycogene, the microbiota and inflammation-triggered forms of MDD.
The gut microbiome and the brain have implications for psychiatric disorders and the microbiota-gut-brain axis is drawing more interest by those seeking to understand the association between inflammation and depression. According to the company, 'clinical translation of these results will likely be profound, resulting in state-of-the-art interventions and therapies to treat MDD, and perhaps treatment-resistant depression and inflammation.'
MYND is developing MYND-604 as an oral dosage form of psilocybin for the treatment of MDD. Recent studies have linked MDD to higher levels of inflammatory markers compared to those without clinical depression
Psilocybin-based compounds have been shown to act as anti-inflammatories by dampening the inflammatory response leading to a cessation of inflammatory based MDD, blunting of inflammation in RA and decreasing symptoms in Crohn's and other inflammatory diseases.
The company is also developing MYND-778 as an oral dosage form of psilocybin for the treatment of Sepsis. Sepsis is a a bi-phasic inflammatory disease characterized by an initial hyper-inflammatory phase called systemic inflammatory response syndrome (SIRS), which is followed by an anti-inflammatory phase called endotoxin tolerance (ET).
Sepsis is the body's extreme response to an infection. It is a life-threatening medical emergency. Sepsis happens when an infection you already have —in your skin, lungs, urinary tract, or somewhere else—triggers a chain reaction throughout your body. Without timely treatment, sepsis can rapidly lead to tissue damage, organ failure, and death.