In surveying the sentiment surrounding a select group of junior exploration stocks I follow—some of the higher-quality Cos making headlines in recent sessions—there appears to be a large contingent of traders playing things fast and loose, rather than holding on for a (potential) endgame.
There's nothing wrong with playing the short-term swings, but I'm a big believer in holding with a longer-term bias, especially when the trend in the underlying metal is up.
Take Arizona Metals (AMC.V) for example. When we began covering the stock last fall, the shares were changing hands at roughly $0.65.
Yesterday, the stock tagged an all-time high of $4.56 in the wake of a weighty headline (we'll examine said headline a bit further down)…
Sure, there were ample opportunities to play the swings, but being right and sitting tight cinched this marvelous (multi-bagger) outcome.
Management – a critical component
In my maiden AMC piece—Arizona Metals (AMC.V) homes in on gold-copper-rich VMS targets in mining-friendly Arizona—I offered the following insight regarding the critical role management plays in the value creation process…
Let's face it, management is everything in the junior exploration arena (okay, nearly everything). You can have a great, company-maker of a project in the friendliest jurisdiction, but without the right team in place—a combination of gifted rock kickers and enterprising business types— things can fly apart at the seams.

Operational inefficiencies often create a processional effect that can lead to an erosion in shareholder value via reckless spending and an endless cycle of heavily dilutive raises (PPs).
From the get, AMC shareholders benefited from a strong level of engagement from the BoD—the cap structure kept tight while the flagship asset gets an aggressive push along the curve.
The flagship asset
We're big fans of Volcanic Massive Sulphide (VMS) settings here at Equity Guru. Spawned by volcanic hydrothermal events in submarine environments, they almost always occur in clusters—where there's one deposit (or lens)… there are often others. And though they can vary in scale—ranging from one million all the way to 100 million tons—these polymetallic orebodies can hold huge concentrations of metals due to their rich nature.
AMC's flagship—the Kay Mine Project—is located in Arizona, currently ranked #2 by the venerable Fraser Institute.
This region, host to 60 past-producing underground Cu-Au-Zn VMS mines, all within a 150-kilometer radius of Kay, has a production history of ~4 billion pounds of copper over its century-long run.
There is a historic resource at Kay. In the early 1980s, Exxon Minerals delineated 5.8 million tonnes grading 2.2% Cu, 3.03% Zn, 55 g/t Ag, and 2.8 g/t Au for a CuEq grade of 5.8% ***
Note the precious metals component of this historic resource (higher than most VMS deposits).
AMC couldn't be better positioned, with its equal weighting (percentage-wise) in both Gold and Copper.
Gold has taken out its 200 SMA and a downtrend line that has been in effect since the summer of 2020. A weekly close above this important breakout zone will (likely) draw the interest of a whole universe of technical traders…
After smashing through all-time highs, Copper—the malleable, red-orange metal with superior thermal and electrical conductivity properties—is consolidating near that historic breakout level.
The Company is in an enviable position with these two highly sought-after commodities forming the foundation of their resource base, especially after yesterday's headline…
Arizona Metals Corp Announces Discovery of New Gold-Zinc Zone at the Kay Mine: Hole 25 intersects 79 m of 7.0 g/t AuEq (incl. 9 m of 18.1 g/t AuEq and 11 m of 14.7 g/t AuEq)
The highlighted (headline) intervals in this press release are simply outstanding. All seven of the holes reported in this press release intersected significant massive sulphide mineralization.
These numbers represent the discovery of a new gold-rich zone of open-ended mineralization in an area previously untested by historic drilling.
Hole 25 intersected 79 meters of 7.0 g/t AuEq, including two separate higher-grade intervals of 9 meters grading 18.1 g/t AuEq and 11 meters grading 14.7 g/t AuEq (from a vertical depth of 638 meters).
Hole 24 intersected 91 meters of 4.7 g/t AuEq, including two separate higher-grade intervals of 20 meters grading 9.2 g/t AuEq and 16 meters grading 6.8 g/t AuEq (from a vertical depth of 470 meters). This hole also intersected a high-grade interval of 0.8 meters grading 33.4 g/t AuEq.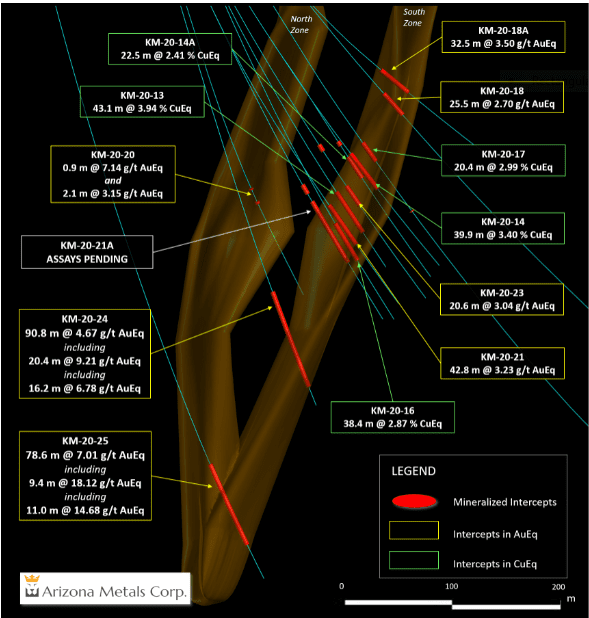 The bulk of the mineralized intervals in holes 25 and 24 are located between the North and South Zones (map above), outside of the area defined in the historic resource estimate by Exxon.
Historical records show very little exploration in this area by Exxon, or other previous operators. Hole 24 was drilled 104 m deeper than hole 21A which also intersected a broad zone of 65 metres of semi- to massive sulphides (assays pending), and hole 25 is 276 m deeper than 21A. These newly defined, wide, high-grade intervals demonstrate the potential to add a significant tonnage of gold-zinc mineralization outside of the historic resource, which is predominantly copper-gold in composition.
Additionally, holes 17, 18, 18A, 21, and 23 returned wide intervals of copper-gold mineralization in the South Zone area, extending the plunge of the hinge zone defined by Phase 1 drilling (the geological model at Kay is that of an isoclinal folded VMS deposit).
Highlights include:
Hole 18A, which intersected 32.5 meters of 3.5 g/t AuEq;
Hole 21, which intersected 42.8 meters of 3.2 g/t Au Eq, including 4.8 meters grading 6.7 g/t AuEq;
Hole KM-21-17, which intersected 20 meters of 3.0% CuEq (incl. 4.6 meters of 6.4% CuEq). This hole is located 41 meters above hole KM-20-13 drilled in 2020, which intersected 43 meters grading 3.9% CuEq, including 15 meters at a grade of 6.7% CuEq.
AMC's CEO, Marc Pais, had a lot say regarding these initial results from this Phase-2 multiple rig campaign:
"It is very common in VMS districts for deposits to show distinct zonation of copper-rich mineralization, alternating with gold-zinc mineralization. The historical record of the Kay Mine shows an almost exclusive focus by previous operators on the copper-rich mineralization, with exploration focused on depths above 450 m.
The new broad intervals of high-grade gold-zinc mineralization reported today, of 79 m in hole 25 and 91 m in hole 24, define 276 m of vertical plunge below hole 21A (for which assays are pending), in an area between the North and South Zones that make up the historic resource. This area was not historically explored and is open for expansion at depths below 450 m.
These discovery holes demonstrate the potential to define a significant tonnage of gold-rich zinc VMS mineralization, outside of the historic resource defined by Exxon in 1982. Drilling at Kay continues to confirm that the deposit was historically underexplored, despite being part of a rich mineralized system. Based on copper prices of under US$1.00/lb during the 1970s and 1980s, Exxon's exploration work employed a cut-off grade of 2.5% CuEq.
We believe that as a result, historic exploration overlooked large areas of mineralization in the immediate vicinity of both the Kay historic estimate and surroundings. This will become even more important as we move the drills north and south on strike, to recently completed pads. On completion of the strike testing, the drills will move west to the Central and Western targets, to test for new satellite deposits in previously undrilled areas."
This press release also reported results from hole KM-21-18—25.5 meters of 2.7 g/t AuEq from a depth of 255 meters.
Additionally…
In the North Zone, hole KM-21-19 intersected an interval of 0.5 m at a grade of 17 g/t AuEq, from a vertical depth of 337 m. Hole KM-21-20 intersected 0.9 m of 7.1 g/t AuEq and 2.1 m of 3.1 g/t AuEq, from a vertical depth of 362 m. Drilling is currently underway to target an area laterally between holes 19 and 20, which the Company believes has the potential to host a North Zone hinge, similar to the thick hinge encountered in recent South Zone drilling.

Holes KM-21-21A, KM-21-25A, KM-21-25B, KM-21-26, and KM-21-27 have been completed and submitted to ALS Laboratories of Tucson, Arizona for assaying. These holes were drilled to test for the down-plunge and lateral extensions of the broad intervals of gold-zinc mineralization encountered in the holes announced today.
There's an added element of intrigue here with the exploration upside offered by high-priority drill targets to the West of where the drills are currently turning—the Central Target and the Western Target. Note the scale on the map below (bottom left).
The Central Target is characterized by a strong geophysical anomaly (EM) over 40 meters thick with a coincident soil anomaly covering 600 meters of strike. Eight holes are planned for this Phase-2 campaign.
The Western Target is characterized by a strong geophysical anomaly (EM) over 70 meters thick with a coincident soil anomaly covering 1,000 meters of strike. Ten holes are planned for Phase-2.
A third drill rig is on its way to the project to accelerate this Phase-2 campaign.
Permitting and bonding for Kay Mine strike extension pads 4, 5, 6 were completed in March 2021, and pad construction was recently completed. Permitting for pad and road construction to test the Central and Western Targets was subject to Covid-19 related delays, but is now progressing well again, with drilling expected at these targets later this year. A third drill rig is scheduled to arrive at site later this month, and will start drilling at pad 4, located 500m north of the Kay Mine.
This next slide is a pic of the high-grade interval in hole 24  (0.8 meters grading 33.4 g/t AuEq)…
The question now becomes… how big will Kay get? With the discovery of a new zone, the (historic) resource open in multiple directions, and highly prospective exploration targets further to the West (also to the north and south of the Kay deposit itself), this could turn into a world-class VMS setting, one that could attract the interest of one or more resource-hungry Producers.
My best guess: the Kay Mine Project gets taken out at a fat premium.
We stand to watch.
END
—Greg Nolan
Full disclosure: Arizona Metals is not currently an Equity Guru marketing client.
*** The Kay Mine historic estimate has not been verified as a current mineral resource. None of the key assumptions, parameters, and methods used to prepare the historic estimate were reported, and no resource categories were used. Significant data compilation, re-drilling and data verification may be required by a Qualified Person before the historic estimate can be verified and upgraded to be a current mineral resource. A Qualified Person has not done sufficient work to classify it as a current mineral resource, and Arizona Metals is not treating the historic estimate as a current mineral resource.