Wealthsimple, one of Canada's leading online investment management services, announced today that it has signed a CAD $750 million financing round at a post-money valuation of CAD $5 billion.
"The financial services industry is in the midst of a massive transformation, and our continued growth, and the interest from some of the world's leading investors, proves that Wealthsimple is poised at the leading edge of that transformation in Canada…More than two million Canadians use Wealthsimple to grow their money, file their taxes, pay their friends, and make their financial lives better. This investment will fuel our growth so we can reach millions more and ensure that everyone has access to the simplest, most powerful financial products and services, no matter who they are or where they are in their financial lives," said Mike Katchen, co-founder and CEO, Wealthsimple.
By some weird coincidence, I now find myself writing about Wealthsimple, the company that saved me from the cold and unforgiving grasp of the Canadian Revenue Agency (CRA). Being the socially responsible young adult that I am, I decided to try filing my own taxes for 2020 despite having zero experience. However, after one quick look at my T4, arguably the easiest tax form to submit, I began sweating. While pulling my hair out trying to navigate the CRA's convoluted website, I realized that maybe the solitary confines of a prison cell wouldn't be so bad.
When all hope was lost, after crawling through the internet's barren expanse, I stumbled across the fruitful oasis that is Wealthsimple. Hyperbole aside, Wealthsimple is a truly revolutionary platform that managed to help out someone as inept as me. Through its portfolio of simplistic and accessible online financial products, the Company offers a variety of services to Canadians including tax filing, stock-trading, money transfer and cryptocurrency asset management. Keep in mind, many of Wealthsimple's financial products are free, including its tax filing services and Wealthsimple Trade, which represents Canada's first and only commission-free stock trading platform.
According to Wealthsimple's latest announcement, the Company has secured CAD $750 million in financing at a post-money valuation of CAD $5 billion. For context, post-money valuation refers to the value of a company after an investment has been made. The financial round itself was led by Meritech and Greylock, two globally leading venture capital firms. Furthermore, the extensive lists of participants included DST Global, Sagard, Iconiq, Dragoneer, TCV, iNovia, Allianz X, Base 10, Redpoint, STEADFAST, Alkeon, TSV, Plus Capital and more, as well as notable celebrities like Drake, Michael J. Fox, Ryan Reynolds, Kelly Olynyk, Dwight Powell, and Patrick Marleau.
With this in mind, many investors have their eyes on Wealthsimple which has performed exceptionally following the success of its various online financial services. In particular, the Company's Wealthsimple Trade has seen incredible growth in the last 14 months as Canadians have become increasingly interested in the stock market. Moreover, Wealthsimple's latest post-money valuation has more than doubled since its previous financing round in October 2020 which raised CAD $114 million at a $1.5 billion post-money valuation.
"We invest in companies with the potential to revolutionize industries and become enduring market leaders…Wealthsimple has been able to capture a generation of financial consumers in Canada with financial products that are markedly different than anything offered by the incumbents — simpler, more human, and built with the kind of technology that delivers an experience consumers want," said Max Motschwiller, General Partner, Meritech.
In order to compete on the same playing field as industry titans like Questrade, Betterment and Robinhood, the Company plans to use its latest financing to expand its market position and grow its product suite. Additionally, Meritech will appoint Max Max Motschwiller to Wealthsimple's board of directors. Mr. Motschwiller brings his experience in growth equity investments to the table and has worked with recognizable brands like Duolingo, Uber, and MyFitnessPal.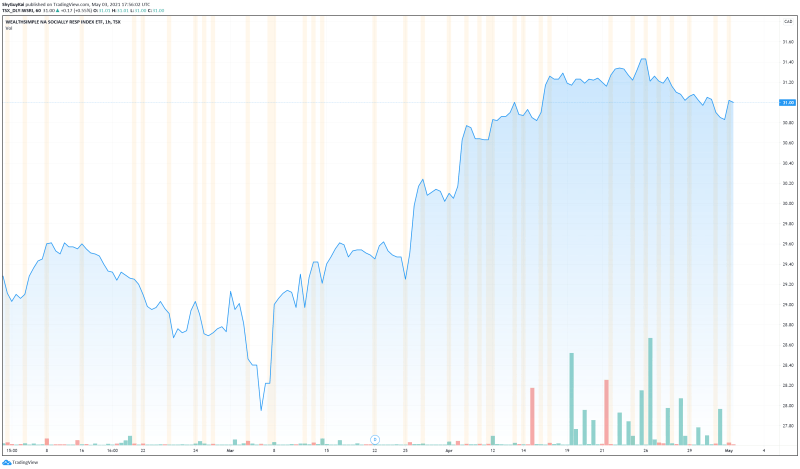 Wealthsimple's share price opened at $31.18 today, up from a previous close of $30.83. The Company's shares are currently sitting at $31.00 following the news. This indicates that there has been some change following the news.
Note: Wealthsimple is not currently a public traded company.