FansUnite Entertainment (FANS.C) announced that they have been shortlisted for two 2021 EGR North America Awards, the Full-Service Platform Provider and the Sportsbook Platform Provider awards.
In their press release, FansUnite said that the EGR North America Awards are considered the "gold standard in the industry". The EGR awards recognize leading online gaming and sports betting companies across North America.
In the "Full-Service Platform Provider" category (a new addition to the awards ceremony), FansUnite is one of only two nominees, the other being GAN Limited. In the category of Sportsbook Platform Provider, FANS will be against some stiff competition, such as IGT PlaySports, Kambi and Scientific Games, who won the award last year.
"Widely regarded as one of the premier gaming awards in North America, the EGR Awards celebrates the accomplishments of leading gaming companies in North America," remarked Scott Burton, CEO of FansUnite. "Given the growing demand for online gambling, our committed team remains focused on our vision of providing innovative B2B software while enabling growth across our entire ecosystem of assets. We are proud to see that our efforts are being recognized for the second straight year at the EGR Awards alongside well-established North American operators who are collectively improving, innovating, and leading the global gaming market."
Winning an EGR award would put FansUnite in good company. Since winning the Sportsbook Platform Provider award last October, Scientific Games has seen its share price increase over 70%.
FansUnite's McBookie sports betting site has been increasing in prestige and popularity; it saw a 136% increase in revenue in the first quarter over the previous year. With over $28 million in betting volume in Q1 2021, McBookie is working well for FANS.
The winners of the EGR North America Awards will be announced at a virtual ceremony later this month on May 26, 2021.
FansUnite also announced they were retaining the services of the communications firm KCSA Strategic Communications. KCSA and FANS will work together to create a communications program for FansUnite's public and investor relations program. The deal will cost FANS $15,000 USD/month, for a minimum of six months.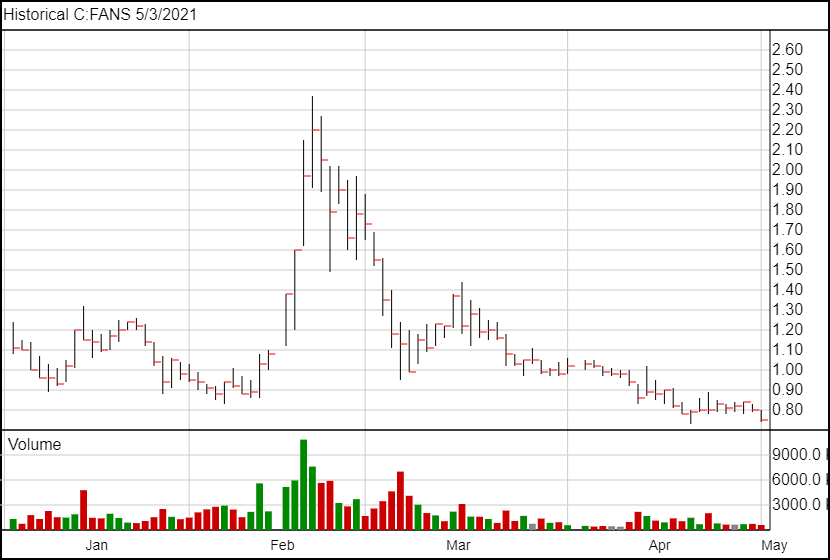 Following the news, FansUnite stock is down 5 cents and is currently trading at $0.75.
Full disclosure: FansUnite Entertainment is an Equity Guru marketing client.