KWESST Micro Systems (KWE.V) announced the closure of their oversubscribed private placement, raising $4,420,071.25.
The offer brought in $420,071.25 more than expected after KWESST had already upsized the placement. The offering had originally been intended to raise $2.5 million, but after high demand, they decided to increase the placement to $4 million.
The private placement sold units consisting of one KWE share and one purchase warrant, exercisable at $1.75 for 24 months, for $1.25.
KWE also announced they had closed a previously announced agreement to acquire a proprietary non-lethal munitions technology system referred to as the Low Energy Cartridge (LEC) technology from DEFSEC. DEFSEC will receive 1,000,000 shares of KWESST and 500,000 share purchase warrants of KWESST at a price of $0.70 per share.
The LEC technology is a proprietary non-lethal cartridge-based ordnance system with various payloads that can be used for maintaining public order, training, personal defense, or high-action gaming.
"The proceeds from the Offering will be used to accelerate our go-to-market initiatives of KWESST's various products," stated Jeffrey MacLeod, KWESST's President and CEO. "With the acquisition of the LEC Technology now completed, we will begin the commercialization of this product with an accelerated plan in response to market interest and high growth across all segments of the non-lethal market, where a strong preference is being expressed for a safer, cartridge-based system over traditional systems, such as taser, beanbag shotgun shells and rubber bullets, which can and do result in fatalities. Other corporate priorities to be financed with the proceeds from the Offering also include the productization of the GreyGhost microdrone missile, ramping up the Company's ATAK Centre of Excellence business and accelerating the productization of the PhantomTM electronic decoy."
The private placement must have garnered serious interest if they were able to upsize and still be oversubscribed. And it's not surprising why. The offering was below KWE's current share price, and the stock price was as high as $2.50 in February, giving the warrants significant upside.
KWESST plans to put the cash to work commercializing its products. Earlier this month, they hired Rick Bowes to be their Vice President of Operations. The role was created specifically to accelerate the introduction of KWESST's Digitization and Tactical Products. They now have the cash and personnel in place to get their products out into the market.
The LEC technology is just the latest addition to KWESST's arsenal. They recently received a patent for their Phantom electronic decoy, which was selected in defense and innovation programs for evaluation and was prequalified for government funding estimated at $1 million. They also recently signed an amended license agreement with ArielX for their portable autonomous anti-drone missile system, GreyGhost.
KWESST has the cash, the products, and the people needed to succeed. It will be interesting to see what they do next.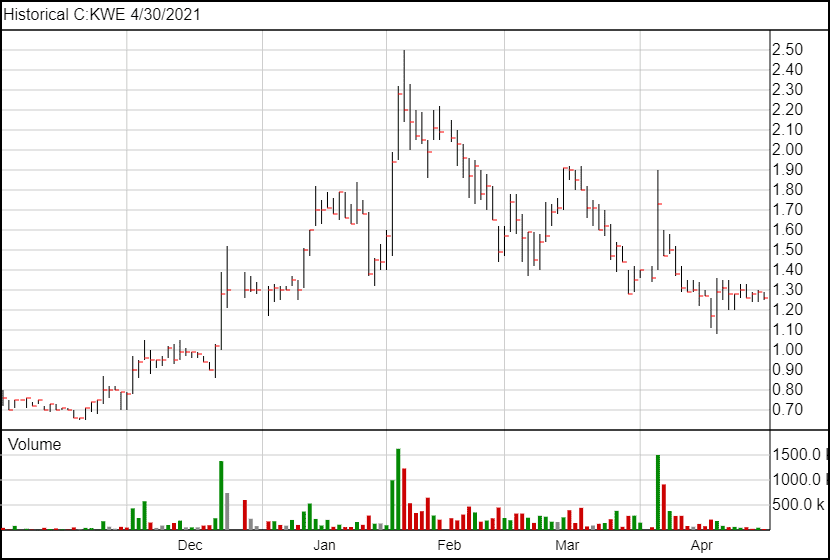 KWESST is currently trading at $1.26.
Full disclosure: KWESST Micro Systems is an Equity Guru marketing client.