InMed Pharmaceutical's (IN.T) IntegraSyn™ cannabinoid manufacturing approach has achieved a level of 2 grams per liter (g/L), marking a significant milestone for the commercialization of IntegraSyn™.
"We are very pleased to have achieved this high yield at this stage and are looking forward to applying the IntegraSyn™ approach to large-scale production. As this scale-up progresses, we will also seek to further optimize our manufacturing and purification processes and further enhance the enzyme design. These ongoing improvements will focus on achieving even higher yields, beyond the already impressive 2g/L…I would also like to acknowledge the Almac Group, our collaborator and contract manufacturing partner, for bringing their extensive knowledge and expertise to the program as we reached this important milestone," commented Eric Hsu, Senior Vice President, Preclinical R&D.
InMed's IntegraSyn™ utilizes an enzymatic biotransformation process as part of an overall integrated cannabinoid manufacturing approach to overcome certain natural yield limitations of biosynthesis for full cannabinoid assembly. If any of that made sense to you then congratulations, you're a genius. InMed may not have a way with words, however, the usefulness of the Company's IntegraSyn™ system speaks for itself. Put simply, IntegraSyn™ is an integrated cannabinoid synthesis system used to manufacture pharmaceutical-grade cannabinoids, the psychoactive compounds found in cannabis. The manufactured cannabinoids can then be used as a finished product or they can be used as a starting material to create other cannabinoids.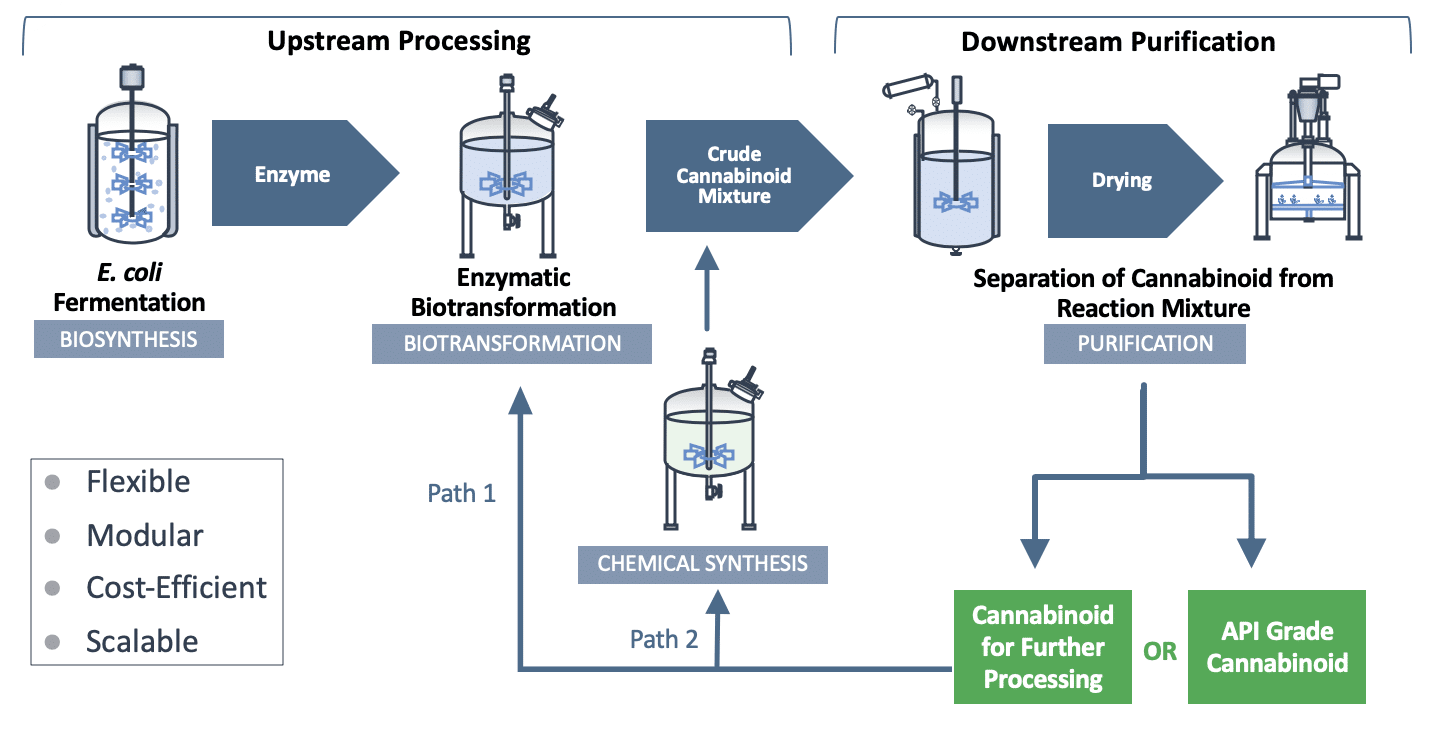 Ultimately, InMed's IntegraSyn™ is intended to achieve an efficient, scalable, flexible and economical solution to produce cannabinoids identical to those found in nature. With this in mind, for its first application using IntegraSyn™ approach, the Company set two primary objectives to enable a cost-effective solution to cannabinoid production. These two goals included achieving a commercially viable yield higher than industry standards and a lower overall manufacturing cost through process optimization.
"In addition to achieving a commercially viable cannabinoid yield level, we have focused on utilizing cost-competitive starting materials to enable a cost-effective solution to pharmaceutical-grade cannabinoid production with IntegraSyn™. We believe this is especially important in accessing rare cannabinoids," added Michael Woudenberg, Vice President of Chemistry, Manufacturing and Controls.
Having completed its two objectives, InMed now plans to focus on scaling its manufacturing approach to support larger batch sizes. In the second half of 2021, the Company hopes to produce a large-scale batch with a target output of 1 kg. Additionally, the Company continues to prepare its manufacturing process to be Good Manufacturing Practice (GMP)-ready for pharmaceutical quality production. Following its latest milestone, InMed is inches away from commercializing its IntegraSyn™ manufacturing system. Overall, InMed is worth keeping an eye on as the Company pursues its GMP certification and proceeds to its next stage of large-scale production.
InMed's share price opened at $3.71, up from a previous close of $3.50. Following the news, the InMed is up 10.86% and is currently trading at $3.88 as of 12:03PM ET. This indicates that there has been notable change following the news.