Mind Cure (MCUR.C) has partnered with Lucid Inc. to design custom psychedelic music experiences for the Company's iSTRYM technology.
"We are building first-of-its-kind functionality by pairing AI-driven music scapes with a therapist's art of directing the experience for patients in psychedelic-assisted therapy sessions…Integrating Lucid will further enhance iSTRYM's capabilities and its potential as the validated backbone of the roll-out of psychedelic therapy and trusted wingman for therapists and patients who want a digital therapeutic partner that allows for quantified medicine with personalization at scale," said Kelsey Ramsden, Mind Cure President and CEO.
Lucid's mission is to help people optimize their mental wellness through music by offering personalized music sessions. Music has proven to be effective in helping people manage their stress and anxiety. According to Harvard Health, people who listened to music before their medical procedures had less anxiety. Additionally, music has shown efficacy for diverse outcomes, including chronic and acute pain. Music therapy assists patients in increasing their pain perception, giving them a better sense of control over their pain. For a company focused on mental health like Mind Cure, Lucid is the perfect partner.
Mind Cure continues to integrate world-class technologies into iSTRYM, the Company's psychedelics digital therapeutics platform. Prior to Mind Cure's latest partnership with Lucid, the Company announced a collaboration with Speak Ai. While Speak Ai adds transcription services to iSTRYM, Lucid is intended to enable therapists to alter the music within a therapy session based on real-time feedback and data collected from the patient. With this in mind, Mind Cure's iSTRYM platform is rapidly evolving into an incredible piece of technology that will innovate the mental health sector.
"We look forward to working with Mind Cure's team and bringing our expertise to psychedelic-assisted therapies…Our team will be researching and taking into consideration the therapeutic targets and mechanisms of action associated with each psychedelic while leveraging our machine learning systems to optimize the music experiences in iSTRYM for personalization and efficacy," said Zach McMahon, Lucid CEO and Co-Founder.
Mind Cure's iSTRYM platform has become a beautiful amalgamation of various artificial intelligence (AI) technologies. The Company is committed to creating a platform that is easily accessible and is capable of providing as many resources as possible to assist in combating the ongoing mental health crisis. In doing so, Mind Cure hopes to reinvent the mental health care model for patients and practitioners to allow psychedelics to advance into mainstream care. As the psychedelic medicine market continues to grow, Mind Cure is worth keeping an eye on.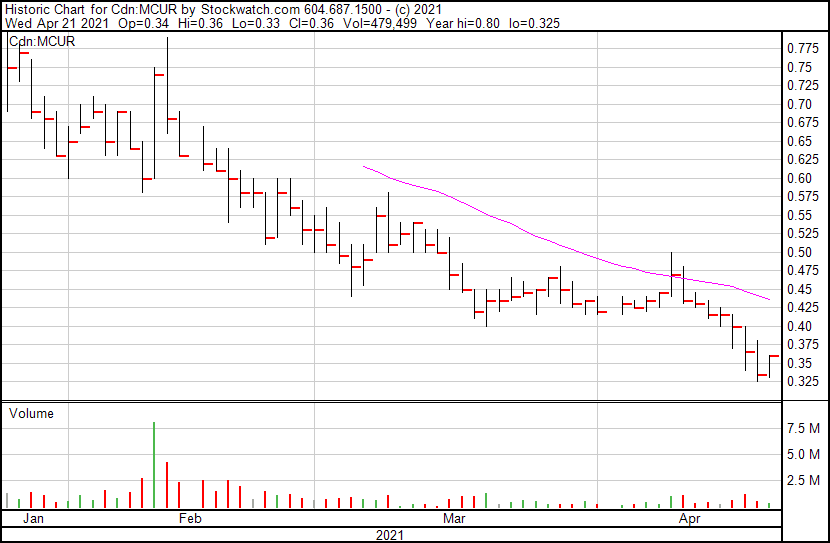 Mind Cure's share price opened at $0.34 and reached a high of $0.36 at 11:00AM ET following the news. The Company's share price is currently sitting at $0.35 as of 12:07PM ET.