Dogecoin is seen as the Gamestop of Cryptocurrency. A meme coin with a large retail following which drove prices higher. Even being dubbed by the Doge traders online as the real threat to the US Dollar, and the next world reserve currency. No joke.
What is Doge I hear you ask?
[youtube https://www.youtube.com/watch?v=AMuL0wA_q6o&w=560&h=315]
From the folks over at CNBC:
Dogecoin, a cryptocurrency that started as a joke, is now a top-six digital currency by market cap

Created as a parody in 2013, dogecoin is based on the "Doge" meme, which portrays a Shiba Inu dog.
But this meme coin based on a Shiba Inu Dog is up 8,000% for the year, and an investment of $1000 at the start of 2021 would have netted you around $60,000 at $0.35 or $80,000 if you managed to hold it at all time highs around $0.43. Not too shabby. At the highs, Doge topped the market cap of Ford and Kraft Heinz. Not too shabby indeed.
Doge was up over 400% in the last 7 days leading up to April 20th, 2021 or 4/20. This date known for being the stoner holiday, is now being dubbed Dogeday by Doge fans. The aim was to get Doge to hit $0.69 on 4/20.
But unfortunately, Dogecoin dumped 22% on Dogeday instead. More on the charts under Technical Tactics.
Now I wouldn't recommend holding Dogecoin for the long term, betting it to combat the US Dollar and become a World Reserve Currency because there really is no fundamental value. But trading it is absolutely fine. The interest around it is palpable. Factor in the new retail crowd using sitting home and using stimulus checks to play crypto's, you get another Wall Street Bets like situation (Crypto's are not mentioned on WSB because it is one of the rules: no crypto's).
Celebrities like Gene Simmons, Soulja Boy, and Snoop Dogg have tweeted about Dogecoin playing a part in pumping the crypto. But no post about Dogecoin is complete without talking about Elon Musk.
Elon Musk is now being called the "King of Doge". The CEO of Tesla made headlines in the crypto space when his company bought $1.5 Billion Dollars worth of Bitcoin. Spending more on this purchase than their R&D for 2020. Musk then began tweeting memes about Dogecoin and how it will be going to the Moon, and Mars. He calls it the "people's crypto". Just check out his twitter and you will see some tweet about Doge, and tons of comments from his followers about Doge.
One thing that people should know is that Elon Musk's Dogecoin position is likely not too large. In fact, he said he only bought some for his 9 month old son so he can become a "Hodler" at a young age.
This is the world we live in. Speculation is running rampant, and many people are saving their money or trying to get ahead through trading the stock markets. It is great to see new money enter and people making the decision to improve their financial conditions. However, with social media and the meme culture, I have seen many new traders end up buying at the tops and becoming bag holders.
Technical Tactics
DOGE daily chart shows the rocket move in the past few weeks. Readers of Market Moment and member of our Discord Trading Room know how breakouts work. When we get one, we expect to see some sort of pullback to retest the breakout zone before moving higher. Some bad news for the Doge hodlers, but that would mean a pullback to $0.08.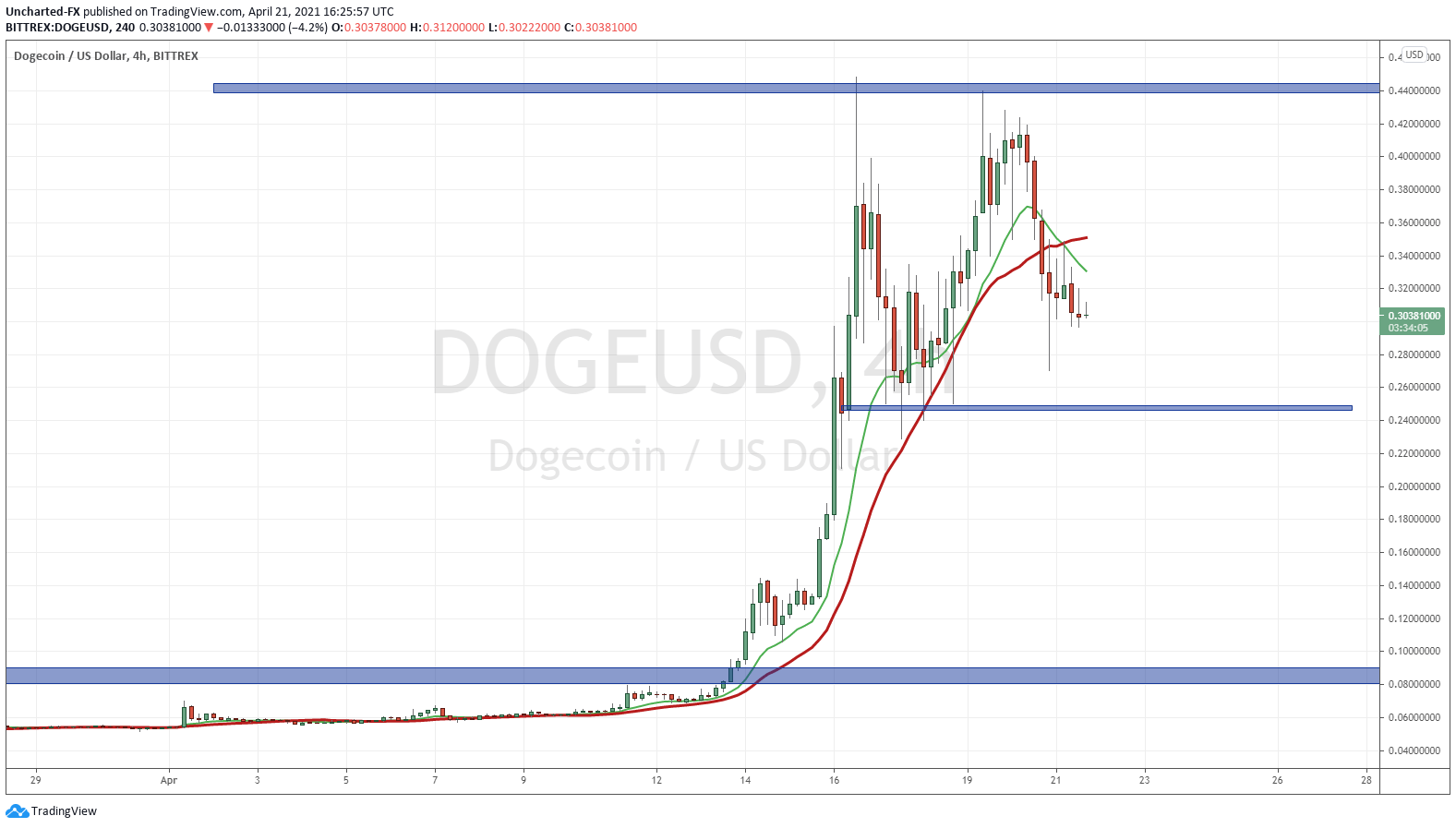 To solidify a pullback to $0.08, watch for the breakdown below $0.24-0.25. Above I have posted the 4 hour chart, and you can see there has been signs of buyers stepping in at the aforementioned zone before. We take this out, and the drop to $0.08 becomes more likely.
Alternatively, we can take out the recent highs at $0.44 to make new record highs. A pullback retest doesn't need to necessarily occur right now. The interest in the crypto market is still high, meaning the momentum for more waves higher is very possible. Bitcoin and Ethereum, which we will look at in just a sec, are also pointing to some more crypto gains.
If Doge takes out $0.44, then $0.50 becomes the next major resistance level. And then yes…we would be targeting $1.00 Doge. Speaking with my crypto trader friends, they hate to admit it, but they think Doge hits $1.00 this year due to the momentum still behind cryptocurrencies. No Crypto winter just yet.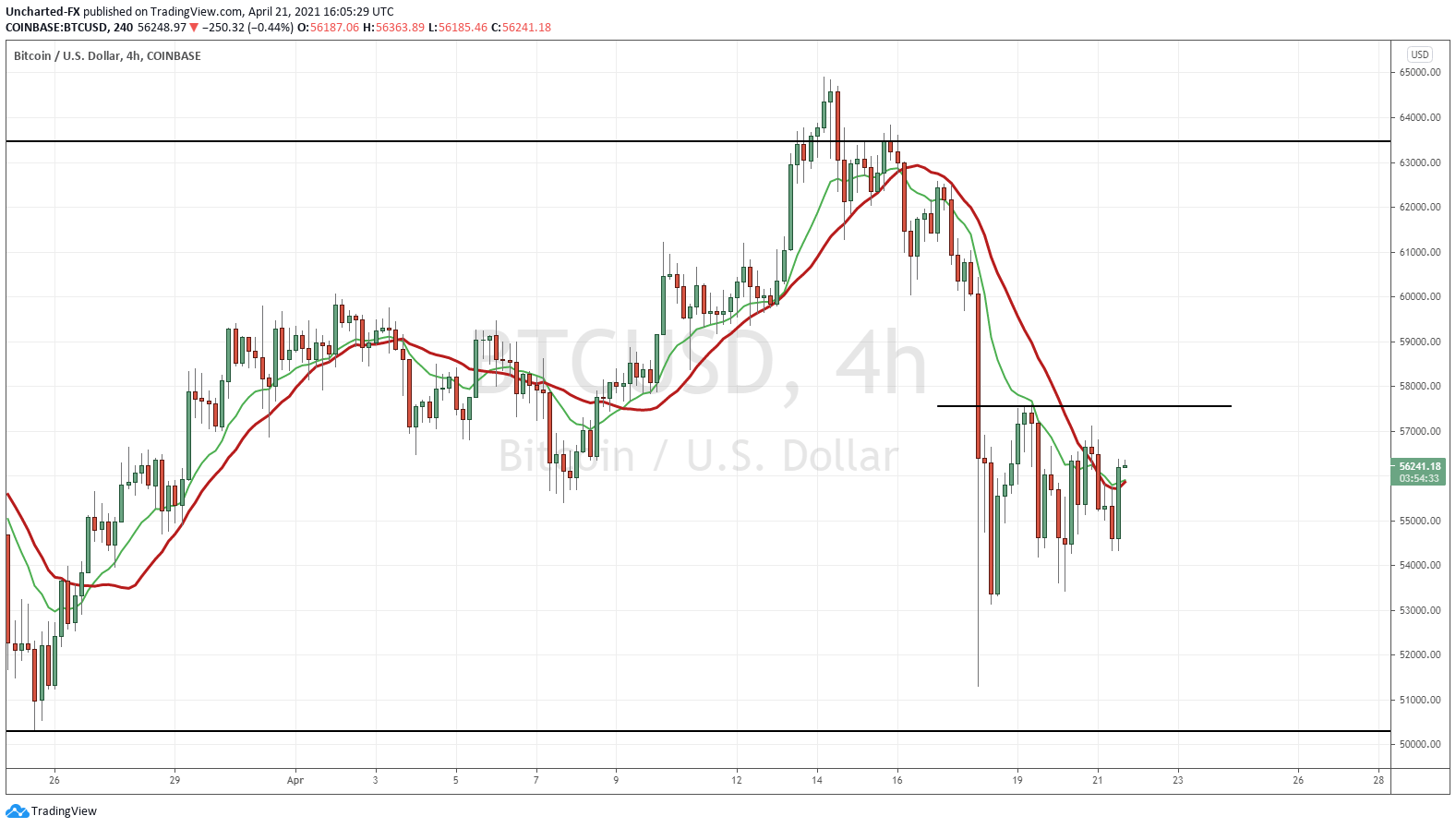 Above I have posted the 4 hour charts of Bitcoin and Ethereum. Both cryptos pulled back to retest major support levels, $50,000 for Bitcoin and $2000 for Ethereum.
Most crypto's look like the Bitcoin chart. Consolidating and just waiting for the breakout to give us the next directional move. For Bitcoin, I am awaiting the close above $57600 for more upside momentum and new record highs.
Ethereum is has already done so. And it has retested the breakout zone before moving higher. It is likely due to the interest in DeFi and NFTs which require Ether, but it tells us that the mania is not over just yet.