"I want you to arrange a meeting, with the heads of the five families" – Don Corleone, The Godfather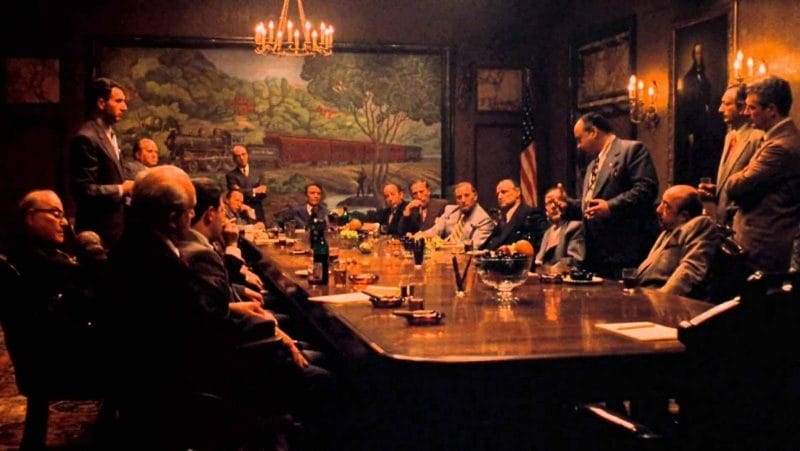 Boiling point
News broke yesterday that football (soccer), the world's biggest sport has reached a boiling point. At least 12 of the top Premier League teams announced a plan to break away, creating a new European super league.
Governments are pledging to try and block the deal, players are protesting, managers are divided, and UEFA is banning players who join the new league from playing in international competitions like the World Cup – a tournament which around half the world views.
The media and fans largely stand united against the proposed new league. Of YouTube's current top twelve trending videos at the time of writing this article, three are super league-related. All of which use words like 'disgusting' and 'disgrace' to describe the situation with around 95-98% thumbs up. Other teams not involved are also being outspoken,  as their futures hang in the balance.
Although this move could shake up the sport globally, the teams looking to form the new league all hail from three countries.
England
Manchester United
Liverpool
Manchester City
Chelsea
Arsenal
Tottenham
Spain
Barcelona
Real Madrid
Atletico Madrid
Italy
AC Milan
Inter Milan
Juventus
Market reacts
The teams reportedly expected the backlash and aren't phased. Part of the cost of doing business. And this is all about business.
The super league, financed by U.S. bank JP Morgan, brings the hope of bigger and more stable revenue streams for the club's billionaire owners. They believe the new league will attract more viewership as there will be an increase in high-profile matchups. This will increase viewership, merchandise sales, and a future increase in ticket prices and stadium attendance.
Two teams looking to join the super league Manchester United and Juventus saw big jumps in share price today. Juventus (JUVE.MI) is up 19% today as shareholders cheered the move to break away. Shares in Manchester United (MANU.NYSE) rose 7% after opening on the NYSE.
Shares in soccer clubs Ajax (AJAX.AS), Olympique Lyon (OLG.PA) AS Roma (ASR.MI), which are not part of the Super League, rose marginally or were down slightly.
The leaders of the breakaway group have been trying to get other top teams, like Germany's Bayern Munich and Borussia Dortmund and the French champion Paris St.-Germain, to join. So far those clubs and others have declined. It's also been reported that teams Chelsea and Manchester City joined the movement late and begrudgingly, fearing there wouldn't be enough talent left in the Premier League after the top teams had moved on.
Smaller teams rely on the bigger teams to bring attention to the league. The top teams know this and are tired of having to play lesser competition so frequently. Their vision of a super league means banger matchups every week. Without the top teams, leagues would face demands for millions of dollars in refunds from the broadcasters who pay billions for television rights to air their tournaments
But it's not just individuals coming out against the proposed move. UEFA announced today players will be banned from participating in the World Cup if they play on a team in the proposed super league.
[youtube https://www.youtube.com/watch?v=oViHkgvzBlw]
If the super league were to go through and UEAFA imposes a ban, the event would be greatly compromised. No Ronaldo for Portugal,  or Messi for Argentina, or Kroos for Spain, or Salah for Egypt, or Ibrahimovic for Sweden, or Pogba for France – the list goes on.
Removing that much star power would mean a massive hit for international football. The  World Cup gets upwards of 3.5 billion viewers, about half the world's population.
This was apparently foreseen by the owners and was actually a feature rather than a bug. The owners want their players to play less football, not more football. They especially don't want their players playing in international games that don't directly benefit the team. If their players are forced to sit out these tournaments that means fewer injuries, fatigue, and wear and tear for when they play for the big bucks.
American exports
Three of England's top six teams looking to break away are American-owned.
American businessman Joel Glazer is one of the owners leading the charge to breakaway. Glazer is part of the Glazer family who co-owns Manchester United, one of the highest-profile breakaway teams, as well as the American football team The Tampa Bay Buccaneers who just won the Superbowl. Liverpool and Arsenal are also US-owned.
The super league is looking to create a system where there are 12 teams who have a slot no matter what, mimicking an American-style sports league. European fans like the Premier League system which allows for small teams like Leicester to win it all as they did famously in 2015.
For basketball fans who don't follow European soccer, think of the Premier League like the NCAA's March Madness tournament.
Every team has to earn their slot in their tournament, which allows for big upsets and cinderella stories which a team like the 11th seeded UCLA Bruins almost accomplished in this year's tournament. They didn't even crack the top 64 either they had to win a play-in game. These storylines, these random runs teams go on adds to the variability which makes sports must-watch TV. In a league with 12 of the best teams, sure, there will be tons of individual highlights, but will any season truly be remarkable or memorable? Will initial hype be huge, only to be worn off over time as people see the same matchups over and over again?
The situation has put the super league teams in a very awkward position.
In an interview from earlier today Liverpool FC manager Jurgen Klopp bravely says he does not support the newly proposed super league his boss just signed up for. Klopp has been credited with helping build Liverpool into the billion-dollar club that it is today, his voice carries a lot of weight.
[youtube https://www.youtube.com/watch?v=Q5MiAl2Zo4A]
Saying he does not agree with the new league, and that he and his players had no idea any of it happened shows the disconnect between owners and everyone else, even managers. His players came out to their game earlier today in warm-up shirts condemning the move.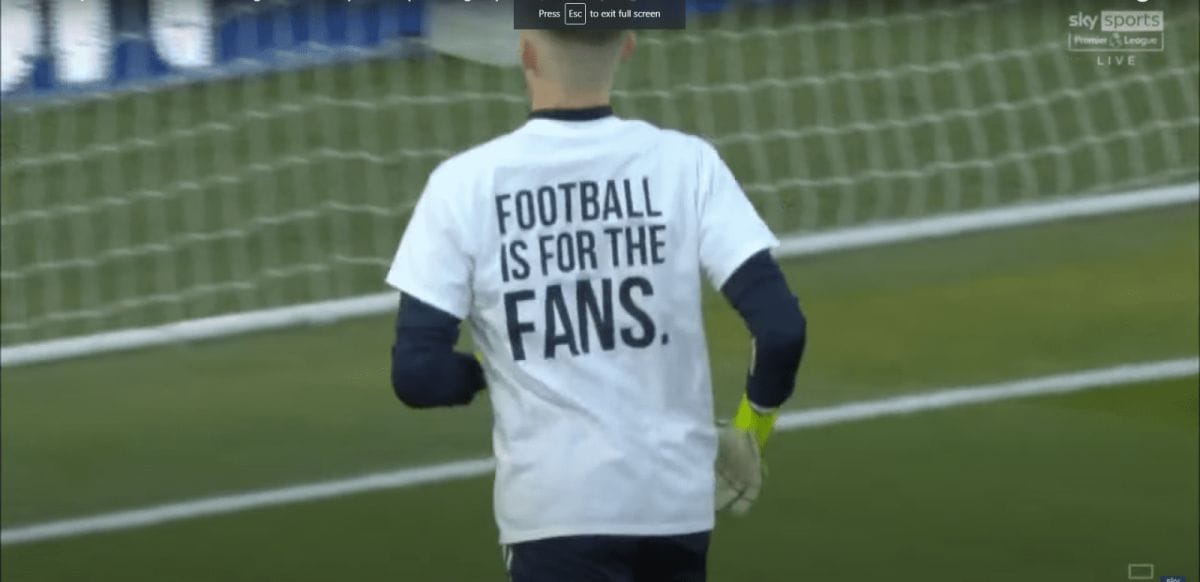 Many fans in attendance for the game against Leeds today wore the same shirts in support of the Premier League. On the front of the shirt, it says 'earn it' as teams are required to earn their spot in the Premier League. This adds more suspense as teams can be knocked out if they don't get enough wins.
Overplaying their hand?
Crystal Palace chairman Steve Parish condemned the super league. His team is staying put in the Premier League. He said this move was a long time coming, and that as of this week 'the owners have overplayed their hand'. He said behind the scenes the owners had been 'chipping away at things', but now going public means they have mobilized the football world before anything has been set in stone. Parish said this may go down as a great day for the sport as the world has come together united against the move.
In several long and passionate segments over the last day or so Sky News broadcaster Gary Neville echoes his feelings of embarrassment and disgrace toward the clubs. He doesn't believe the new league will happen, there will be too much backlash, and governments will get involved to block it. Neville was correct, several leaders have voiced their opinions.
Breaking: Oliver Dowden says the govt will do "whatever it takes to protect our national game" and announces formal launch of a fan-led review of football chaired by former sports minister @tracey_crouch

— Martyn Ziegler (@martynziegler) April 19, 2021
France's federation added its voice to the growing opposition inside key European soccer circles. Politicians, including Britain's prime minister, Boris Johnson, and the French president, Emmanuel Macron, also weighed in to denounce the plan.
Analysts believe that in a situation where the super league happens, and the teams are able to remain in the Premier League the teams will play their best lineups midweek in the super league, and then a backup squad for the Premier League on the weekends. If they are banned from the Premier League I guess they will be forced into their super league.