FansUnite Entertainment (FANS.C) provided their corporate update yesterday for Q1 of 2021, announcing record-high revenue.
FansUnite saw what they are calling exceptional growth on their McBookie website. Their McBookie site saw betting volume surpass $28 million for the quarter. This increased betting led to $982,000 in revenue, an increase of 136% over the same quarter last year. They also saw their gross margins increase 138% over the same quarter in the previous year.
At their peak, McBookie had over 1,000 unique customers on the casino alone, and saw 23,000 bets placed in a single week.
In the update, FansUnite also touched on their application for a UK gambling license, a topic previously covered by Equity Guru.
FANS also provided an update on their subsidiary Askott Gaming, which has completed testing on their first four RNG games and sent them out for integration.
"The first quarter of 2021 represents a key inflection point for us as we continue to hit new milestones," said Scott Burton, CEO of FansUnite. "We are delighted to announce McBookie's strong performance as well as the rapid expansion of our B2B operations in the North American and European market. Obtaining the U.K. gambling licenses, coupled with the completion of our esports wagering platform in Colorado and the full integration of Askott Games' iGaming solutions will allow us to solidify our position as a leading global online betting company."
Obviously, FansUnite is probably pretty happy to be setting record revenue. Next quarter will likely see numbers much higher than Q2 of 2020, when most sports leagues stopped competing due to coronavirus. Belarussian football is just not going to bring as much betting as the Premier League.
With many marquee sports events upcoming in the next quarter, such as the Champions League Final and the beginning of the NBA playoffs, McBookie can hope to see their increased activity continue.
The online gambling industry is expected to grow at a CAGR of 11.5% over the next 6 years. As online gambling becomes more popular and becomes legal in more jurisdictions, many online betting sites could see increased activity.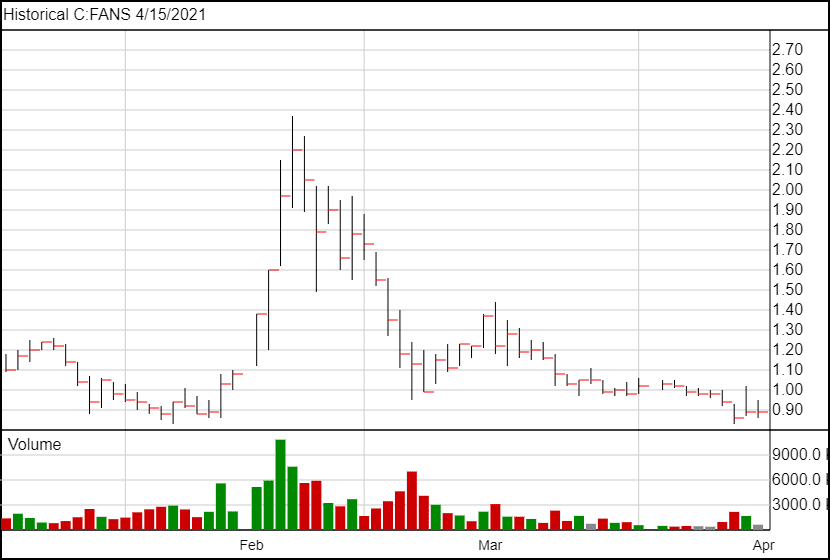 Following the news, the price of FANS has rise slightly to $0.88 a share.
Full disclosure: FansUnite Entertainment is an Equity Guru marketing client.