Huntsman Exploration (HMAN.V) have completed the final requirements under their option agreement with Trafalgar Resources on the Canegrass Mineral Exploration Treatment, which Huntsman now owns a 100% of, with no royalty stakes on the property.
Huntsman are currently awaiting the results of their final three diamond core drilling at Canegrass and are close to finishing the downhole electromagnetic (EM) and surface moving loop electromagnetic (MLEM) surveys. These surveys are an important step for mapping out a project.
Once they've completed these explorations and other final assays, Huntsman can work on detailed planning for their Phase II drilling.
In their press releases, Huntsman touted a history of success when they combine EM geophysics and drill hole assay results from neighbouring mineralized lenses.
"I look forward to discussing the recently announced results from our drilling at Canegrass.  We are very pleased with the assays, in particular when correlated with the results from 2018.  Together, the results of both programs are confirming our belief in the potential of this asset.  Our exercising of the option, providing a 100% ownership, not subject to Royalties, will allow certainty moving forward as we continue to develop this project," commented Peter Dickie, President and CEO for Huntsman.
Prior EM surveys had identified 9 areas that HMAN felt warranted further drill testing, and served as the focus of Phase I drilling.
The highlights of the drilling were as follows:
From prior EM surveys a total of 9 targets warranted drill testing and were the focus of the Phase I drilling campaign (Figure 2).
Phase I included 16 holes, 12 RC and 4 diamond were drilled.
Phase I 2021 Diamond Drillhole BBDD009 at Tulloch was designed to test the mineralized zone at depth and was collared 55 m west of 2018 drillhole BBDD002, which intersected: 9 m of 1.33% Ni, 1.26% Cu and 0.1% Co.Drillhole BBDD009 results confirm 41.1 m of favourable host rock with 2 distinct mineralized horizons. (Figure 4).
The first intercept started at 278.9 m and included higher-grade intervals of

1 m @ 2.8% Ni, 0.1% Cu, 0.15% Co 0.11 g/t Pt and 0.21 g/t Pd,
7 m @ 2.3 % Cu, 0.5% Ni, 0.04% Co, 0.33 g/t Pt and 0.04 g/t Pd
2 m @ 1.8% Ni, 0.5% Cu, 0.11% Co, 0.22 g/t Pt and 0.17 g/t Pd.

The second mineralized horizon occurs at 307.5 m downhole and intersected 2 higher grade intersections of

1 m @ 2.2% Ni, 0.2% Cu, 0.15% C, 0.15 g/t Pt and 0.21 g/t Pd, and
m @ 0.9%Ni, 5.7% Cu, .07% Co, 0.11 g/t Pt and 0.05 g/t Pd
Phase I 2021 RC results from the Tulloch zone include:

3 m @ 0.88% Ni, 0.4% Cu and 0.07% Co from 91 m downhole in BBRC013
3 m @ 1.0% Ni, 0.58% Cu and 0.09% Co from 139 m downhole in BBRC014
This extends the Tulloch zone 100 m East for a total distance of 200 m and open in all directions.

Successful follow up of the 2018 drill program with multiple Ni-Cu-Co-Pt-Pd intercepts in step out holes at the Tulloch and Sunline targets.

Notable 2018 intercepts:

(Tulloch BBDD002) 4.9 m @ 1.33% Ni, 1.26% Cu and 0.1% Co.
(Winx BBRC001) 14 m @ 1.17% Ni, 0.88% Cu and 0.05 Co from 65 m, including 1 m of 2.7% Ni, 0.23% Cu and 0.12% Co.
(Sunline BBDD001) 0.57 m @ 3.07% Ni, 0.62% Cu and 0.24% Co from 144.1m
Also of note is that the Tulloch Ni-Cu zone, which can be seen in the bottom left of Figure 1 above, has five drill holes along an east-west fence of drilling. Each hole has had differing grades of mineralization. This has prompted Huntsman to begin step out drilling, which is when they begin at a fixed point and expand outward. This will help Huntsman learn more about the nature and size of the strike length. The drilling undertaken so far is pictured below, in Figure 2.
Hunstman's Canegrass nickel project is located in Western Australia, the country with the second-most mining production in the world. Australia is among the top nickel producers globally and has an estimated 20 million metric tons of nickel reserves. In their 2020 report, the Fraser Institute ranked Western Australia as the 4th best jurisdiction on their Investment Attractiveness Index. In the same report, 100% of respondents said they were confident they would receive their permits.
As my colleague Greg Nolan has noted, nickel has become a bit of a hot commodity recently, hitting multi-year highs in February. When you hear nickel, what probably pops into your head are those annoying five-cent coins that fill up your pockets that you can't buy anything with. But nickel is increasingly playing an important role in electric vehicle (EV) batteries. Because nickel batteries are among the cheapest EV batteries, wide adoption of EVs means nickel demand could keep increasing.
Because they now have a 100% stake in the Canegrass and there are no royalties on the project, they could end up with big profit margins if they can get the mine to production, especially if nickel continues its general rise.
Huntsman also provided minor updates on their Baxter Springs Gold Project in Nevada and their Flint Gold-Silver Project in Idaho. HMAN said they are compiling data on both projects and expect an Aeromag and Radiometric survey of the Flint project in Q2 of 2021.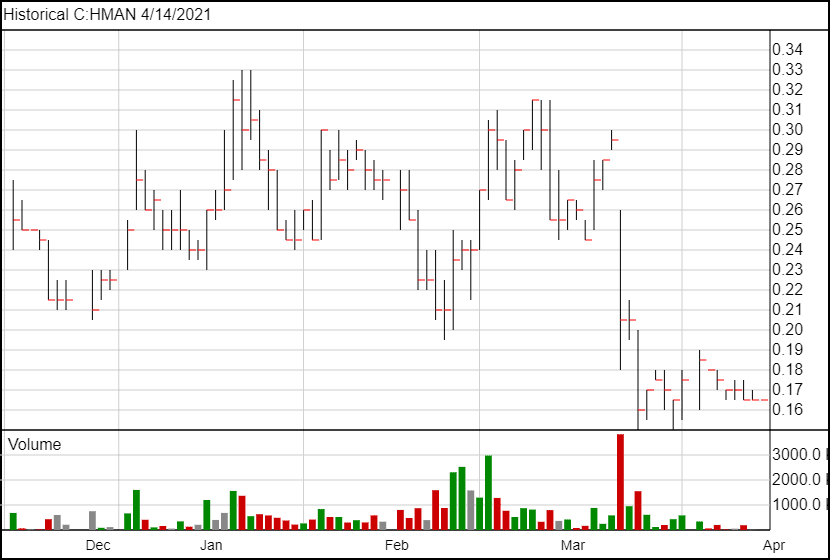 Following the news, Huntsman's share price has not moved significantly.
Full disclosure: Huntsman Exploration is an Equity Guru marketing client.