Carl Data Solutions' (CRL.C) recent partnership with Smart IoT Technologies will provide high value environmental monitoring as a service (EmaaS) to customers.
Smart IoT Technologies builds custom sensors for long range data collection. Their partnership with Carl Data will combine these sensors with Carl's data collection technology and networks, and provide options for expansion into new markets. The partnership will work on business development in the EmaaS space.
"This partnership bodes well for the future; we see significant opportunities in fusing our IoT device manufacturing and engineering with their time-series, real-time data analytics and AI capabilities. It is an end-to-end enabler for not only EMaaS but across multiple markets," said Jimmy Jin, VP of operations from Smart IoT Technologies.
The broad base sensor technology that encompasses what tech industry mavens have called the Internet of Things is functionally useless without a means to store, collate and make sense of the data received. It's this confluence of technological systems that marks the difference between a regular city and a
"smart" city.
The way the smart city movement has been marketed, we tend to think of the trains running on time with appropriate information on where to stand for maximum efficiency of onloading and offloading. Maybe something like schools and information systems or crime detection all automated by internal processes to create an essential set-it-and-forget-it city dedicated to stomping out inefficiencies. But none of the marketing ever approaches the un-sexy tasks of waste management and environmental monitoring.
But arguably, that's where the strongest impacts of the smart city movement will be found. Nobody dreams about being a trash collector when they're a kid. They kind of fall into it as an adult, and stay because it's a rather lucrative position once you get it. (Don't believe me? Look it up. Trash collectors make bank. You could do worse.) Similarly, nobody aims to grow up to do environmental monitoring gruntwork, but both of these positions are completely necessary to keep any city operating—smart or otherwise.
Environmental monitoring comes in three different broad categories: air, soil, and water monitoring. These break down to various subcategories including such things as soil salinity, contamination and plenty of others, each with their own level of detail and required expertise. And they're all necessary. Chemistry experts look for specific chemicals or chemical changes, both natural an artificial. A biologist may look for microorganisms and bacteria (think e. coli or listeria) to discover the cause of an outbreak of an illness in a human or animal population.
"Demand for Environmental Monitoring as a Service constantly increases; as part of our ecosystem for air and water monitoring, we see the partnership with Smart IoT as a much-needed step up in the EMaaS value chain. Their device expertise combined with our time-series and AI/Machine Learning is a winning synthesis," said Yves Salembier, product manager for Carl Data.
Even beyond environmental monitoring, the market for long range sensor technology and its relationship with Carl's specific brand of technology is strong and growing. Beyond EmaaS, there is a call from developers and integrators in many different Smart city market segments.
Like robots. There's always room for more robots.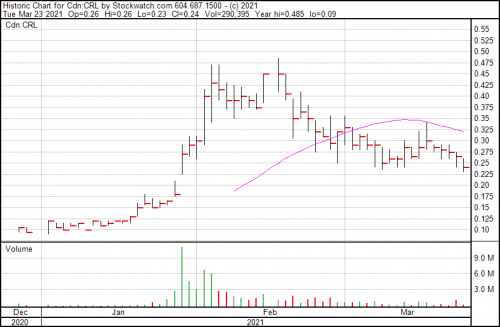 Source: stockwatch.comFor Carl and its supporters, though, it means value. It's a company offering a technology that's going to be in high demand in the future as more cities develop smart-city capacity, which by all indications, looks like the trend. This company is presently down a penny today, trading at $0.24, and with a market cap of $31 million.
This may be one of those days you regret five years from now.
—Joseph Morton
Full disclosure: Carl Data Solutions is an equity guru marketing client.