Nomad Royalty (NSR.TO) is a Canadian royalty and streaming company with an international portfolio of 14 royalty stream and gold loan assets, six of which are currently producing mines. A diversified risk profile, best in class dividends and an experienced management team are just a few aspects of what drive Nomad's attractive valuation as it grows its low-cost production profile through the acquisition of additional streams and royalties.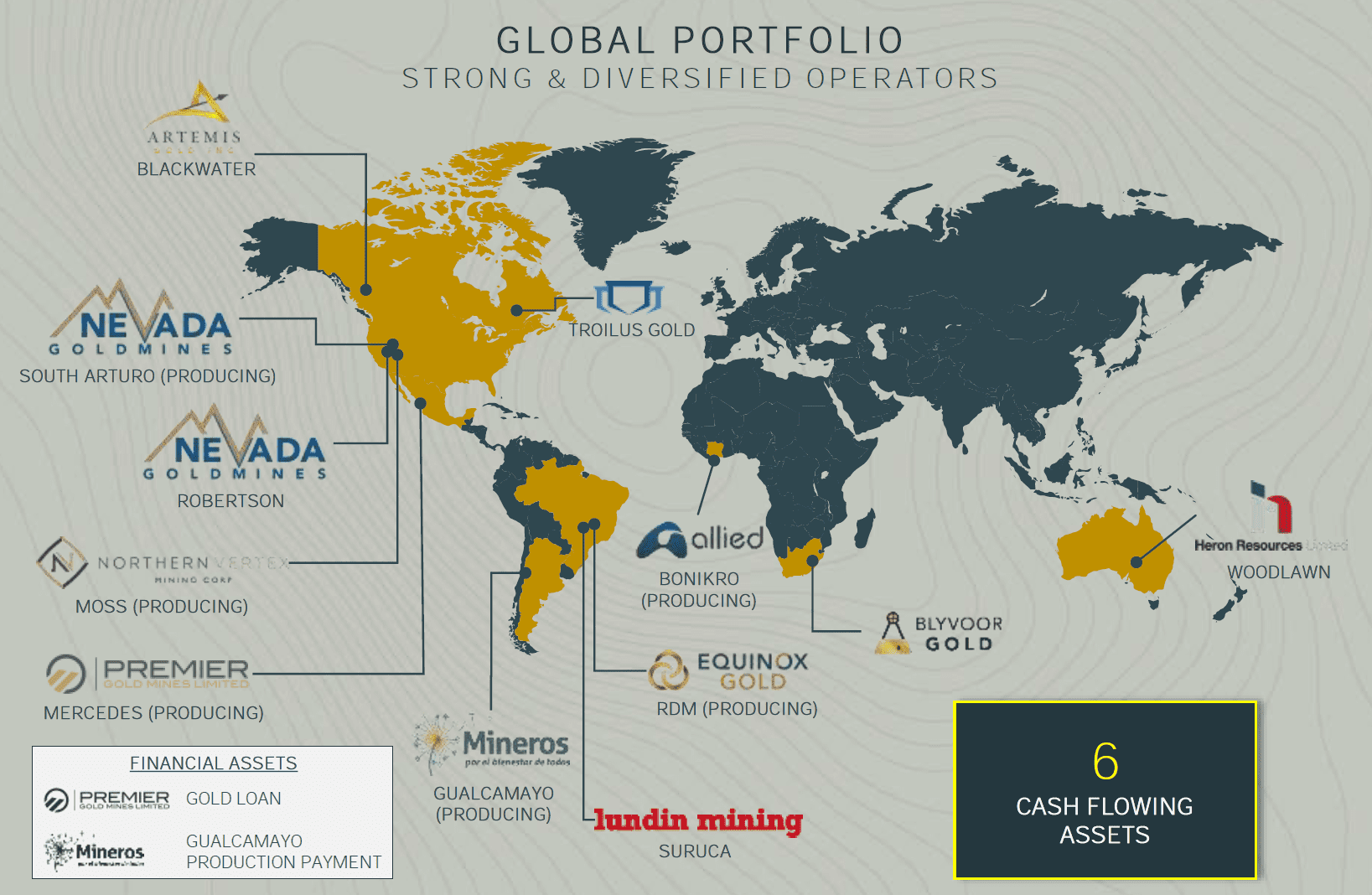 Gold stocks are now being seen as the best value in the marketplace (again), and I personally still believe the run is going to be out of fiat and into hard assets. Just looking at the longer term charts of Commodity Indices like the Bloomberg Commodity Index, we are just in the beginning phases of a commodity super cycle.
My readers know me as the technical guy, breaking down charts and forecasting price action. I promise I do not have a crystal ball. All I have done is utilize market structure. This technique, backed by future catalysts and fundamentals, has served me and my readers well.
Nomad Royalty is a stock that I have had my eyes on the technical side. Really loving the set up as it meets all the technical criteria that I look for. However, the fundamentals are also a reason to be excited for the stock.
As someone who holds and invests in the precious metals space, I really do like the royalty and streamers. I think they are the best and safest way to invest in the precious metals space. Why? For many reasons.
It boils down to capital costs and also the operating costs. Versus a traditional mining operator, the Royalty and Streamer comes out on top. Another thing to consider is the benefits (and dangers) of being leveraged to the Gold price. We are happy when Gold moves up. Both benefit. But in the case Gold drops, the Royalty and Streamer has the best chance of having better catalysts. Good management can create and acquire new royalty deals when the price of Gold goes down. The dividend payout is also great, and you do not need to worry about certain risks such as governments increasing taxes on the mining operators etc.
Speaking about Dividends and fundamentals, it should be noted that Nomad Royalty, with its producing streams, earned $20.11 Million USD for 2020.
Equity Guru's Lukas Kane broke down Nomad's Q4 and year end results here. I highly recommend those interested to read Mr. Kane's work as he also looks at the value proposition. Great stuff.
Some highlights from earnings include:
Gold ounces earned of 2,746 for Q4 2020 (2,450 for Q4 2019) and 11,475 for the year 2020 (9,800 for 2019).

Silver ounces earned of 64,568 for Q4 2020 (138,209 for Q4 2019) and 217,401 for the year 2020 (292,861 for 2019).

Revenues of $6.8 million for Q4 2020 ($4.6 million for Q4 2019) and $26.8 million for the year 2020 ($17.4 million for 2019).

Net income of $11.3 million for Q4 2020 ($1.5 million for Q4 2019) and $20.1 million for the year 2020 ($2.0 million for 2019).

Adjusted net income(1) of $1.3 million for Q4 2020 ($3.2 million for Q4 2019) and $9.7 million for the year 2020 ($11.7 million for 2019).

Gross profit of $1.7 million for Q4 2020 ($0.05 million for Q4 2019) and $4.5 million for the year 2020 ($0.1 million for 2019).

$22.5 million of cash as at December 31, 2020.
Technical Tactics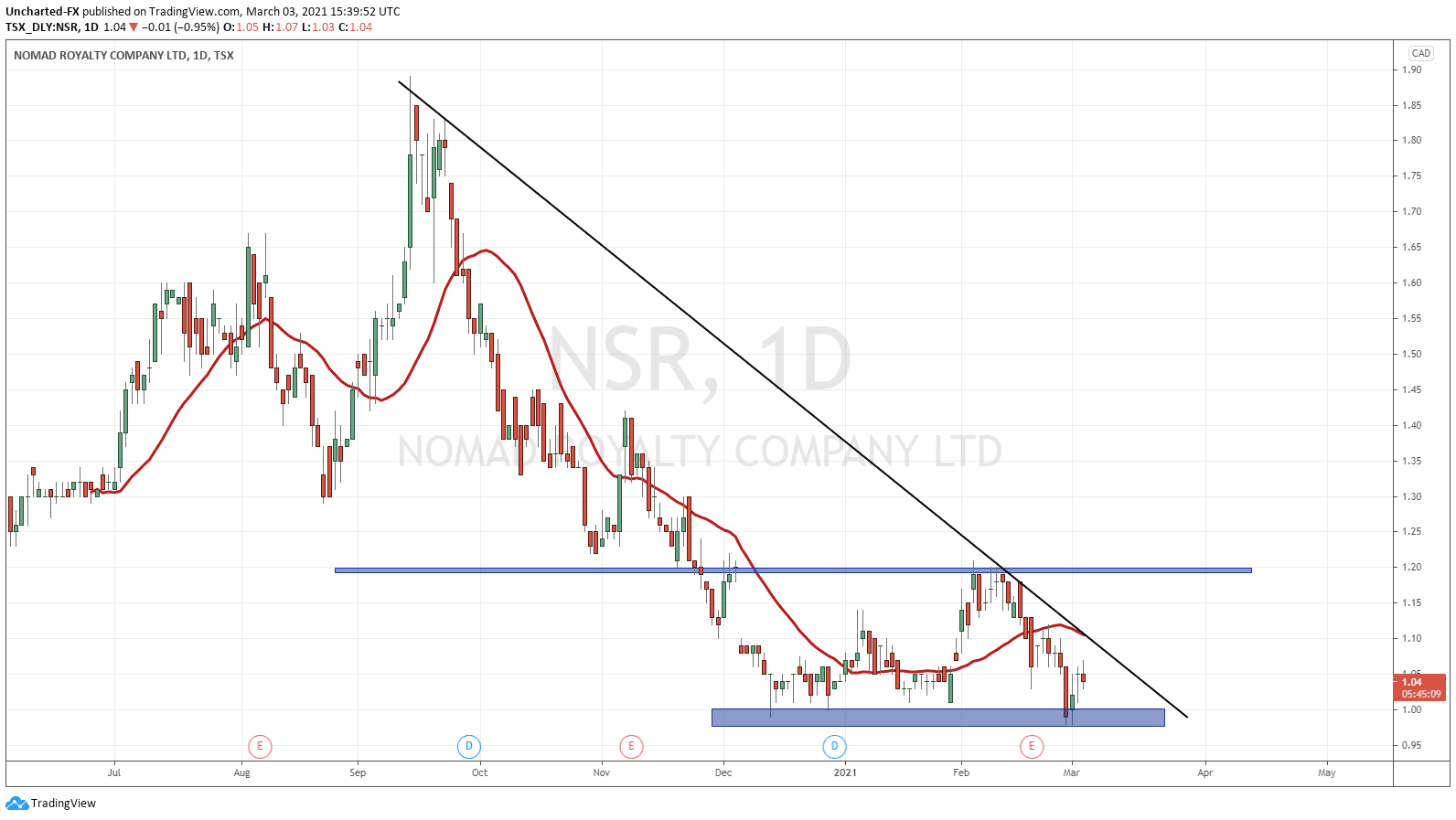 As a technical analyst, Nomad Royalty's chart sure does get me excited.
Adhering the the market structure principles, we know there are only three ways all markets move: downtrend, range and an uptrend. Nomad Royalty is displaying 2/3 of those structures.
I have a trendline displaying the downwards slope of the downtrend. But I want to focus your attention on the price action from December 2020 to present day.
Price has been ranging between $1.00-$1.20. When price tested the psychological and major support at $1.00 previously, I got excited that a double bottom reversal pattern was going to print. That did not turn out to be the case.
But perhaps third time will be the charm. Some like to use the term triple bottom, but I just like to say that price is ranging. $1.00 MUST be held on the daily chart for this range to hold, and increases the probability for an eventual reversal and new uptrend.
Price needs to break above $1.20 for the range to be broken, but if price breaks over our trendline above $1.10, that could be considered a technical breakout. I just prefer the range break than the trendline from past experiences trading markets.
A lot of what happens next will depend on Gold, so in summary, let's look at Gold.
I covered the technicals of Gold this week, and discussed the rising rates and its impact on Gold prices. A lot of what I said, and the levels that I am watching still are relevant. We want to see a close back above $1760. If this does not happen, my next to targets to the downside are given in that post.
Going down to the 4 hour charts, Gold is showing a positive sign. There is the chance of a potential reversal pattern. Yes you guessed it. A Double bottom. Gold must hold above $1706 for a reversal pattern to play out, and currently, we are seeing buyers stepping in, indicated with our wick.
Full Disclosure: Nomad Royalty is an Equity Guru marketing client.