Bigg Digital Assets (BIGG.C) bought 24.3 bitcoin at a cost of $41,164, spending $1 million, which they intend to use for Netcoins' operational float and also as part of Bigg's long-term treasury holdings, according to a press release.
The purchase brings Bigg's existing bitcoin number to 239.3, which comes in at a value of approximately $10.3 million, or roughly USD$8 million as of 3 p.m. PST on January 28. The company intends to expand their holdings by investing up to $5 million in the five weeks in order to expand Netcoins operational float and meet increased trading volumes.
"Bigg's subsidiary Netcoins continues to experience significant monthly increases in trading volume, and, with immediate settlement to customers, we require a larger crypto float to meet daily customer buying demands. To meet this demand, we have expanded our bitcoin holdings and will continue to do so over the coming weeks. We also believe our bitcoin holdings can act as a source of self-financing and value creation over time as we continue to expand our core cryptotrading and blockchain forensic software businesses." said Mark Binns, CEO of BIGG.
Bigg Digital contends that the future of cryptocurrency is in the development and maintenance of a safe, complaint and regulated environment. They're invested in products and companies to support this vision, including Netcoins, and Blockchain Intelligence Group.
Netcoins is essentially a digital broker and exchange to buy and sell cryptocurrency. It's easily accessible to the consumer and investor and focuses on compliance and safety. Netcoins uses BitRank Verified software and facilitates trading through a self-serve crypto brokerage portal at the exchange's website.
Blockchain Intelligence Group has developed a blockchain search and analytics engine called Qlue, that gives law enforcement, regtech, regulators and government agencies the ability to to track, trace and monitor transactions happening on various blockchains at a forensic level. The company's product, BitRank Verified, gives a risk score for cryptocurrencies, enabling regtech, banks, ATMs, exchanges and retailers to meet regulatory and compliance requirements and standards.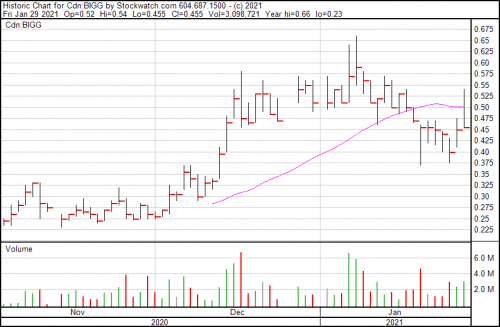 BIGG Digital is presently trading at $0.455.
—Joseph Morton