Manganese X gave us our breakout trigger last week on January 14th 2021. And it was so worth it. A strong breakout with 8.33 million shares traded and a double digit percentage gain (81.48% according to my chart!). The breakout was what I was expecting as Manganese X begins a new uptrend.
For a complete look at how one could front run this breakout, read my previous Market Moment. On December 30th 2020, I told my readers that our market structure pattern is setting up, and Manganese X is ready to reverse and start a new uptrend. Last weeks pop and breakout confirmed my technical outlook.
So what was the fundamental news which caused the trigger?
On the 14th, Manganese X published favourable metallurgical results from the Battery Hill Phase 2 Program, which demonstrated "greater efficiency and improved economics".
I highly recommend Lukas Kane's article on this news release. It can be read here.
Lukas presents the info for us in layman's terms, and gets down to the point, also tying in an upcoming catalyst which is the Biden https://e4njohordzs.exactdn.com/wp-content/uploads/2021/10/tnw8sVO3j-2.pngistrations green energy plan.
But this geeky stuff is important because unfavorable metallurgy can kill an exploration project.

Favorable metallurgy indicates you can profitably separate the target minerals from the crap.

At Battery Hill, if manganese is the meal, metallurgy is the recipe.
If you have been following the stock markets (or if you haven't, you probably have still heard about this) electric vehicle stocks are hot. And I mean hot. Tesla continues running hitting record highs of 884.49, but now showing signs of a range. Chinese electric vehicle company NIO has had a spectacular 1,104.93% one year gain, and the stock just recently made all time highs before pulling back to retest a previous support zone. Have no fear, NIO's technicals will be tomorrow's Market Moment post.
Now let us look at the technicals and where we go from here.
A lot of this are the same levels I mentioned in my pre-breakout post. 0.315 was our key resistance, or price ceiling, zone. Thursday's move gave us the strong close above this zone.
As we have seen many times on Market Moment, what was once a price ceiling becomes the new price floor. Or what was once resistance becomes new support in trader jargon. We tend to see price pullback to retest the breakout zone before continuing higher.
Friday was a red day, but nothing to panic about when looking at the whole picture (well…chart). We technical traders and market structure followers expected price to pullback to retest the 0.315 zone.
Today's price action is exciting because we are seeing buyers step in near the 0.315 zone. One can deduce traders are defending the breakout and placing their stop losses below.
As long as price remains above 0.315, the new uptrend is still valid. I want to remind readers that price gapped up on Thursday. We did technically confirm the inverse head and shoulders reversal pattern, but when price gaps up, the gap becomes support as well. Meaning price would need to close back below 0.26 to nullify the uptrend. The trader term is called 'filling the gap'.
Targets to the upside? Well we have a major resistance zone at around the 0.60 zone. People who are holding Manganese X as a trade would be considering taking profits at that zone.
If we get a candle close above 0.60, well it becomes our new price floor as we continue the uptrend higher, retesting the 0.875 zone and then eventually the psychologically important 1.00 zone.
The technicals are showing momentum. On the fundamental side we have the Democrat green energy spending, and Electric Vehicle stocks being the hot play. Many people associate Lithium with EV's, but Manganese has an important role too.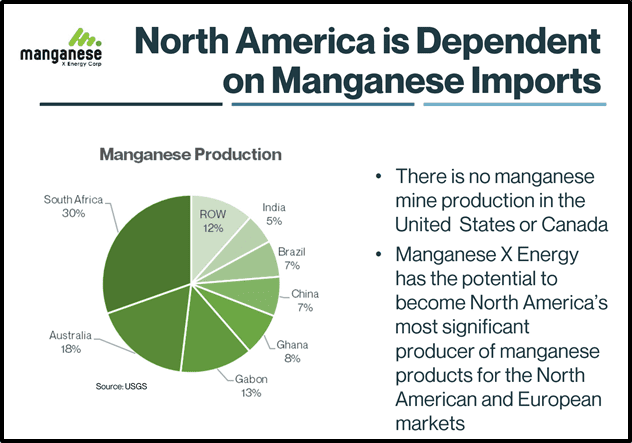 Full Disclosure: Manganese X is an Equity Guru marketing client.