Pharmadrug (BUZZ.C) signed a binding letter of intent yesterday to acquire biotech firm, Sairiyo Therapeutics, according to a press release.
At present, Sairiyo is working on pushing their lead drug candidate, Cepharanthine, through clinical development. The prospective medication is a naturally-derived compound, especially reformulated as a potential fighter of cancer, neurological, inflammatory and infectious diseases.
"The proposed acquisition of Sairiyo Therapeutics builds on our foundation of developing and commercializing controlled substances and naturally-derived medicines in Europe while expanding our opportunities with an FDA focused strategy and leveraging Sairiyo's expertise in the discovery and development of novel uses and reformations of naturally-derived compounds for significant clinical unmet needs, thus paving the way for PharmaDrug to become a fully-integrated specialty pharmaceutical company," said Daniel Cohen, chairman and CEO of PharmaDrug.
Cepharanthine has been approved and in use for more than seven decades in Japan for the treatment of a number of both acute and chronic illnesses. It shows multiple properties in clinical research, including anti-oxidative, anti-inflammatory, immuno-regulatory, anti-cancer and anti-parasitic properties.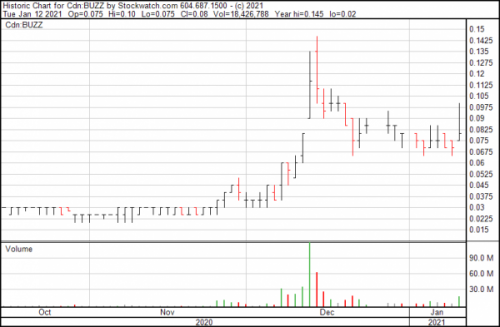 Today's boost for BUZZ isn't much: a paltry penny and a half. But it adds to an overall trajectory that's seen PharmaDrug's fortunes develop to a little under 300% since the pandemic sent us all scurrying back to our homes for months on end. They were trading in the $0.03 range in October and are now resting at $0.085.
—Joseph Morton