Biotech companies are notorious for publishing dense technical jargon.
Legend Biotech (LEDN.Q) is developing "LCAR-B38M/JNJ-4528, an autologous CAR-T cell therapy."
Relay Therapeutics (RLAY.Q) is working on "an inhibitor of the protein tyrosine phosphatase Src homology region 2 domain-containing phosphatase-2 (SHP20).
Vir Biotech (VIR.Q) is launching "VIR-2218 and VIR-3434."
At Equity Guru, it's our job to turn science-speak into a retail investor friendly message.
If we do our jobs well – that message can be caught in one hand, and passed to another hand, with nothing slipping between the knuckles.
Perimeter Medical Imaging AI (PINK.V) makes our job easy.
According to its corporate literature, PINK is developing "imaging tools that allow surgeons, radiologists, and pathologists to visualize microscopic tissue structures during a clinical procedure."
In 25% of Breast Lumpectomy surgeries, cancerous material is left behind.
With current technology, the surgeon needs to wait about a week, to see if he's got all the cancerous material.
PINK has invented a machine – driven by A.I. – that can get that information in real time.
No need to cut the patient open again later. The surgeon can make adjustments on the fly.
That reduces patient-trauma and healthcare costs.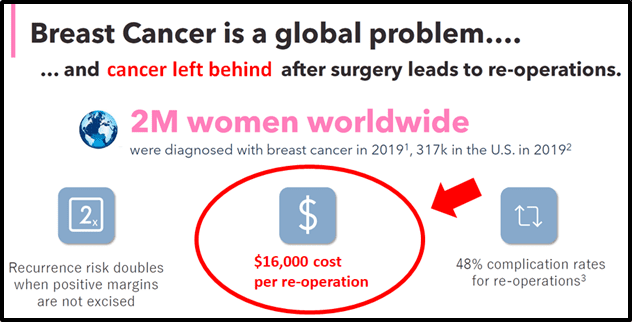 In the capital markets, the adjectives "game-changing" and "disruptive" are horrendously over-used.
So I'm not gonna say it.
"Rarely do you get to invest in a technology that's actually pegged as a cancer treatment, that has been taken seriously enough by four of the top five cancer hospitals in North America that they've been involved in trials, and where a body as noted as the Cancer Prevention and Research Institute of Texas (CPRIT) have granted the company over $7 million in non-dilutive research grants," writes Equity Guru's Chris Parry on October 21, 2020.
"One of the big problems in breast cancer surgery is that in about one in four women on whom we do a lumpectomy to remove cancer, we fail to get clear margins," explains Alastair Thompson, Professor, Section Chief of Breast Surgery, and Chair of Surgery at Baylor College of Medicine, "That in turn leads to a need for re-operation to avoid high recurrence rates. Hence the need for a good, effective and user-friendly tool to help us better identify if we have adequately removed the breast cancer from a woman's breast, to get it right the first time."
"Perimeter Medical Imaging gives the doctor real time feedback to allow them to get more of what they want, and less of what they don't," added Parry.
"We remain committed to bringing our novel medical imaging technology to market, with the goal of creating better long-term outcomes for patients and lower costs to the healthcare system," stated Jeremy Sobotta, Perimeter's CEO, "In addition, with the support of grant funding received from the Cancer Prevention and Research Institute of Texas (CPRIT), we are advancing artificial intelligence and machine learning tools through clinical development."
Perimeter was recognized as one of the "10 Most Promising Companies" at the 2020 Texas Life Science Forum co-hosted by the Rice Alliance for Technology and Entrepreneurship and BioHouston.
Backed by a CPRIT grant, Perimeter continues to advance its ATLAS AI Project with installations of its proprietary, ultra-high resolution imaging platform at leading cancer center sites in Texas, including University of Texas MD Anderson Cancer Center, Baylor College of Medicine, and UT Health San Antonio.
The first stage of the project, which is currently underway, will collect images of breast tumors from up to 400 patients for the purpose of training and testing Perimeter's "ImgAssist" AI technology.
You can learn more about ATLAS AI project here:
"If PINK puts their device in 1000 hospitals over the next five years, that'll bring them $150 million in upfront sales," reports Parry, "That's nice, but at Equity Guru we generally don't get attracted to up-front revenue models, because the moment you sell one device, you're back to square one in the hunt for the next. We want monthly contracts, maintenance, or consumables into the bargain.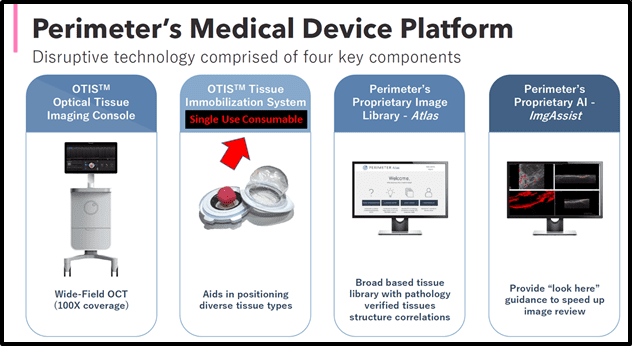 Bingo.
The device on the right is the OTIS Tissue Immobilization System – a single use consumable used when checking tissue during surgery, that costs US$750 and a high gross margin for Perimeter.
Yeah, I know, high margins seems awkward to discuss when you're dealing with cancer patients, but it also helps achieve a 100x clearer image than those achieved with an MRI, and a 10x clearer image than an ultrasound and xray, and if you've had any of those imaging procedures applied to a medical bill, you know Perimeter's option is more than fair, considering.
That single-use consumable projects as US$100k of income for each installed machine, per year, or $100 million annually if they hit that 1000 hospital mark talked about earlier." – End of Parry.
PINK is accelerating toward the commercialisation of the OTIS platform. It has already received a $7.4 million grant (non-dilutive capital) from the Cancer Prevention and Research Institute of Texas (CPRIT) to fund the ATLAS AI Project.
The CEO, Mr. Sobotta has been a part of the deployment of over $4 billion in capital over his career in acquisitions. Prior roles included Head of Finance for the Stryker business unit responsible for surgical equipment and women's health.
"According to an article posted in Future Healthcare Journal in June 2019: 'AI has an important role to play in the healthcare offerings of the future," reports Equity Guru's resident scientist Ehsan Agahi, 'In the form of machine learning, it is the primary capability behind the development of precision medicine, widely agreed to be a sorely needed advance in care.'
"Given the rapid advances in AI for imaging analysis," continued Future Healthcare, "it seems likely that most radiology and pathology images will be examined at some point by a machine".
The OTIS platform is a double-pronged value proposition: saves the patient physical and mental trauma, saves the bill-payer money.
That is a simple powerful story.
Full Disclosure: Perimeter Medical Imaging AI is an Equity Guru marketing client.
Tags: