Back in the day (2019) diligent shareholders used to attend investment conferences at physical locations.
Truthfully, they weren't all that great.
"Going to a mining conference looking for investing tips is like walking into a strip club hoping to find a soul mate," we reported in 2018, "The ambience and the clientele conspire against you".
"Many companies recruit 'booth babes' (curvy young women) to sit in front of the display – in the hope that the old white men in suits will be drawn to them.  While the gender-politics is retrograde – the psychology is rock solid.
Just as a mortally wounded black bear is still attracted to honey (though it has no hope of metabolising it) most older men are enslaved by de-fanged archival urges".
On Thursday, December 17th, 2020 the Virtual Life Sciences Investor Forum (VLSIF) presents a six biotech companies.
Xphyto (XPHY.C), Theralase (TLT.V), Caladrius (CLBS.Q), Volition Rx (VNRX.NYSE), Kane Biotech (KNE.V) and Bionexus (BGLC.OTC) will all give virtual presentations, followed by an interactive Q&A.
Unlike a conventional conference, where – after a few hours giving out free fridge magnets – the CEOs will typically retreat to the bar in a funk – CEOs at VLSIF will be available to answer questions from regular investors like you and me.
Xphyto (XPHY.C) is "a next-generation bioscience accelerator based in Vancouver with operations in Germany".
A month ago, Xphyto announced that its 100% owned German subsidiary, Vektor Pharma, has signed a research agreement with a leading German university for "the exclusive development of a proprietary biotechnology process for the industrial manufacture of psilocybin as a certified active pharmaceutical ingredient (API)".
Psilocybin is a natural psychedelic compound produced by 200 species of fungus. The fungal mushrooms have hallucinogenic effects when eaten.
"Psychedelic agents are a promising new class of therapeutic drug," stated Hugh Rogers, CEO and Director of Xphyto, "We see a natural opportunity to apply XPhyto's drug formulation expertise and Vektor's proven drug delivery platforms to these emerging APIs."
Xphyto has identified a number of psychedelic compounds that are emerging as strong potential candidates for the treatment of mental health related medical indications such as depression, anxiety, addiction, anorexia and post-traumatic stress disorder.
The US Food and Drug Administration (FDA) has twice designated psilocybin as a "breakthrough therapy" for the treatment of severe and treatment-resistant depression.
The global antidepressant drugs market is predicted to reach approximately USD $16 billion by 2023, with an estimated CAGR of 2.1% from 2017 to 2023 according to Allied Market Research.
On October 22, 2020, Xphyto announced that Vektor Pharma is advancing two sublingual Oral Dissolvable Film (ODF) development programs to deliver cannabidiol (CBD) and tetrahydrocannabinol (THC).
Oral Dissolvable Film (ODF) sub-lingual (oral) strips are known to increase bioavailability. It's an upstream medical technology that can be applied to a wide array of different drugs.
Meanwhile this summer, Xphyto announced that its exclusive diagnostic partner, 3a-Diagnostics took a major step towards the development of an affordable, portable screening tool that will disrupt the fight against pandemic threats.
3a is a German research-based biotech that specializes in point-of-care test systems.
The July 6, 2020 news confirmed successful function of 3a's proprietary coronavirus RNA probes, though prototype Lateral Flow Assay (LFA) testing.
"LFAs are designed for use at point of care/need: the physician's examination room, emergency ward in general hospitals," explains the Analytical and Bioanalytical Chemistry Journal.
"Especially in third-world countries these tests are used for biomedical purposes, since there is no need to refrigerate the strips," continues the Journal, "Owing to their extended shelf life, large batches can be prepared, diminishing the variation between batches".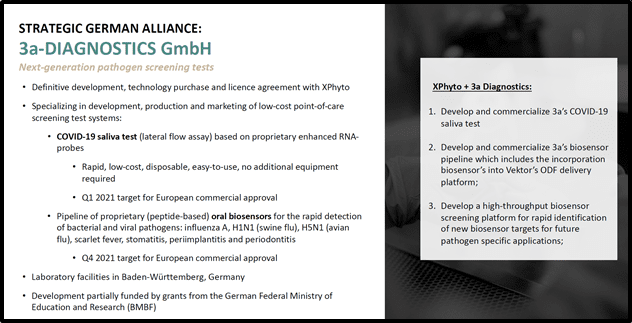 Other VLSIF attendees:
Theralase (TLT.V) is a $38 million clinical stage pharmaceutical company dedicated to the research and development of light activated Photo Dynamic Compounds and their associated drug formulations intended to safely and effectively destroy various cancers, bacteria and viruses.
Operational Highlights:
FDA Fast Track. On November 23, 2020, the FDA granted Theralase® Fast Track Designation for Study II.
COVID-19 Pandemic Update. In the ACT division, all Canadian Clinical Study Sites have re-commenced new patient enrollment and treatment in Study II as of September 24, 2020.
Clinical study site status. Successfully launched four CSSs and is preparing to launch a fifth Canadian CSS later in the year.
Additional cancer indications. Demonstrated significant anti-cancer efficacy of Rutherrin, when activated by laser light or radiation treatment across numerous preclinical models; including: Glio Blastoma Multiforme and Non-Small Cell Lung Cancer.
COVID-19 Research Update. PDC technology was proven to be effective in the destruction of Influenza H1N1 and Zika viruses at low nanomolar concentrations.
Caladrius (CLBS.Q) is a $31 million clinical-stage biopharmaceutical company dedicated to the development of cellular therapies designed to reverse, not manage, disease.
Product Development Highlights
HONEDRA (formerly CLBS12) development in Japan continues to progress
Open-label, registration-eligible study in Japan of HONEDRA® (formerly CLBS12), continues to progress toward enrollment completion, although enrollment has been slowed by the impact of the COVID-19 pandemic in Japan.
CLBS14 remains poised to enter a single confirmatory phase 3 clinical trial
Phase 3 protocol for its RMAT-designated product candidate, CLBS14, for the treatment of no-option refractory angina ("NORDA") remains ready to initiate pending sufficient funding to run the program to completion.
CLBS16 to be studied in Phase 2b trial for the treatment of coronary microvascular dysfunction 
Caladrius recently completed and announced the results of its ESCaPE-CMD Phase 2a study of CLBS16 for the treatment of coronary microvascular dysfunction ("CMD"), a disease that continues to be underdiagnosed and potentially afflicts millions annually – a vast majority of whom are female – with no current treatment options.
CLBS119 for the repair of COVID-19-induced lung damage in COVID-19 survivors
Leveraging its proprietary CD34+ cell technology to potentially repair COVID-19-induced lung damage. COVID-19 appears to damage the vasculature of the lungs and Caladrius believes the repair of that vasculature will prove necessary for patients to achieve a full recovery.
Volition Rx (VNRX.NYSE) is a $165 million epigenetics company developing simple, easy to use, cost effective blood tests to help diagnose a range of cancers and other diseases.
It has a modest monthly burn rate of $1.6 million and cash and $17 million cas as of December 31, 2020.
Company Highlights
Nu.Q™ Vet Cancer Screening Test Commercial Launch
Launch date of Nu.Q Vet Cancer Screening Test planned for November 30, 2020.
This test will initially be positioned for use in the annual health check of older dogs (those that are seven years and older) and for cases where there is a high suspicion of cancer.
Nu.Q™ Vet Cancer Screening Test: Clinical Data
The Nu.Q™ Vet Cancer Screening Test is a simple, low-cost, easy to use ELISA based screening blood test which will help streamline the screening process for up to 1/3 of cancers in dogs including common malignancies such as lymphoma and hemangiosarcoma.
Clinical – New US Regulatory Study
Engaged Diagnostic Oncology CRO LLC, the largest U.S. Contract Research Organization specializing in oncology purposed in-vitro diagnostic device clinical trials, to conduct a U.S. clinical trial for Non-Hodgkin's Lymphoma (NHL).
The trial is designed to obtain multiple FDA-approved adjunct tests to aid in the diagnosis of the five most common and aggressive forms of NHL.
Clinical – NETosis including COVID-19
Progress on the research program for the use of our Nu.Q™ technology in NETosis and in particular in monitoring disease progression of COVID-19.
Several studies have either been collected or are being negotiated in Europe and we anticipate the next results will be reported before the end of this year.
Expansion
Final paperwork stages for "Silver One" the production hub for our products and components close to our Lab in Belgium.
Bionexus (BGLC.OTC) is a $256 million company an emerging molecular diagnostics company focused on the application of functional genomics to enable early diagnosis and personalized health management.
BGLC focuses on developing and marketing safe, effective and non-invasive blood tests for early detection of diseases. The company's non-invasive blood tests analyze changes in ribonucleic acid (or RNA) to detect the potentiality of 11 different diseases.
These diseases include eight cancers (nasopharyngeal, lung, liver, stomach, breast, cervical, prostate and colon), two bowel diseases (colitis and Crohn) and osteoarthritis.
This unique blood based genomic biomarker approach is based on the scientific observation that circulating blood reflects, in a detectable way, what is occurring throughout the body in real time.
BGLC markets its blood based genomic screening process to health care providers, such as doctors, laboratories and hospitals, which began in July 2017.
During the 3rd fiscal quarter of 2020, it began testing for COVID 19 using our RNA platform.
This company has thin news flow and little outward-facing investor relations.
Kane Biotech (KNE.V) is a $15 million company engaged in the research, development and commercialization of technologies and products that prevent and remove microbial biofilms
Corporate Highlights:
Q3 2020 revenues were 26% higher than Q3 2019 with a notable increase of 48% from product sales in the current quarter despite the impact of the COVID-19 pandemic.
On September 28, 2020 – announced that it has entered into an agreement with UK-based veterinary products company, Animalcare Group PLC under which the parties formed STEM Animal Health Inc., a company dedicated to treating biofilm-related ailments in animals.
On October 13, 2020 – announced that Kevin Cole will assume the role of President and CEO of STEM Animal Health Inc.
On October 28, 2020 – launch of a larger consumer product test to further prove the efficacy of the Company's shampoo on dermatitis and dandruff began on October 14, 2020. This large-scale, multi-product test will focus on US consumers and has a similar design to the consumer trial that was launched earlier this year in Canada.
On November 5, 2020 – a one year credit agreement with Pivot Financial Inc. for a non-revolving term loan in the aggregate amount of $1,480,000. The credit facility will be used by Kane Biotech for: (i) funding research and development relating to eligible government reimbursable expenditures; (ii) expenses related to STEM Animal Health Inc; and (iii) general working capital purposes. Conference Call Details
Few people would be cynical enough to suggest the current pandemic has improved our over-all quality of life.
But there have collateral benefits (does anyone miss commuting? Attending children's birthday parties? Listening to strangers chew popcorn?)
The shift from brick & mortar to on-line investor conferences may be a "collateral benefit".
Want to learn more about Xphyto (XPHY.C), Theralase (TLT.V), Caladrius (CLBS.Q), Volition Rx (VNRX.NYSE), Kane Biotech (KNE.V) and Bionexus (BGLC.OTC)?
Date: Thursday, December 17th
Time: 1:00 – 1:30 pm ET (10:00-10:30 am PT)
Link: https://bit.ly/3mPSVkO
This will be a live, interactive online event where investors are invited to ask the company questions in real-time.
If attendees are not able to join the event live on the day of the conference, an archived webcast will also be made available after the event.
Full Disclosure:  XPhyto is an Equity Guru marketing client.