The last time Airlines made an appearance here on Market Moment was back in August. Jet Blue was our favorite chart idea along with the JETS ETF. Both have hit their target resistance zones as predicted in that article. It took some time, with the airlines ranging above their breakout zones, but we got there in the end. Airline stocks are a good example of the opportunity cost in trading or investing. As a trader, we want a move to happen ideally within a few weeks. If you are in a trade which meets all of your criteria, but has not moved with momentum for months, you are missing out on other stock moves. And in this type of market, you are missing out on tons of moves in other sectors.
In previous posts I spoke about some funds looking for deals. The four sectors I have mentioned were cruise ships, airlines, energy, and financials. Energy makes a case since these companies will still be pumping and can make some profit…even though they have bad balance sheets. Banks are making more money on the investment business side rather than their traditional business of lending money. Airlines and Cruise Ships have taken a large hit for obvious reasons.
We have seen Airline bailouts. Another one could be on the way as Airlines want to do another round of lay offs. Yesterday it came out that Treasury Secretary Steve Mnuchin supports a $20 Billion Government payroll support for the Airlines. In Canada, the airlines are disappointed with the lack of government bailouts for the industry in the latest Liberal fiscal update.
I have said that Oil is the real vaccine play, but boy, the Airline charts are looking good, and with Vaccines less than two weeks away, will the markets begin pricing in a return to normal travel sometime next year? Just quickly on the Vaccine front, the UK is the first Western nation to approve a Covid Vaccine. It will be the Pfizer Vaccine, and the Vaccine will be available across the UK starting next week.
The JETS ETF was a trade idea back in June with the breakout above the $16.00 zone. As you can see, on the retest we never broke back below support, but there really was no momentum until November. Just a few days we took out June highs. Today, JETS is confirming another breakout. Technically, $22.00 is now the new support. As long as we remain above this zone, we are in an uptrend. Honestly, zooming out and look at the chart, there is no resistance until we hit the $27.00 zone.
Other Airline Charts are breaking out. Just for simplicity sake, I am not going to comment on every single chart, but you will see the breakout zone and the next resistance zone highlighted in blue.
United Airlines, UAL, is one that can confirm a breakout with a daily candle close above this zone today! It is also near the important psychological resistance zone of $50.00, so it would be prudent to see that level break first.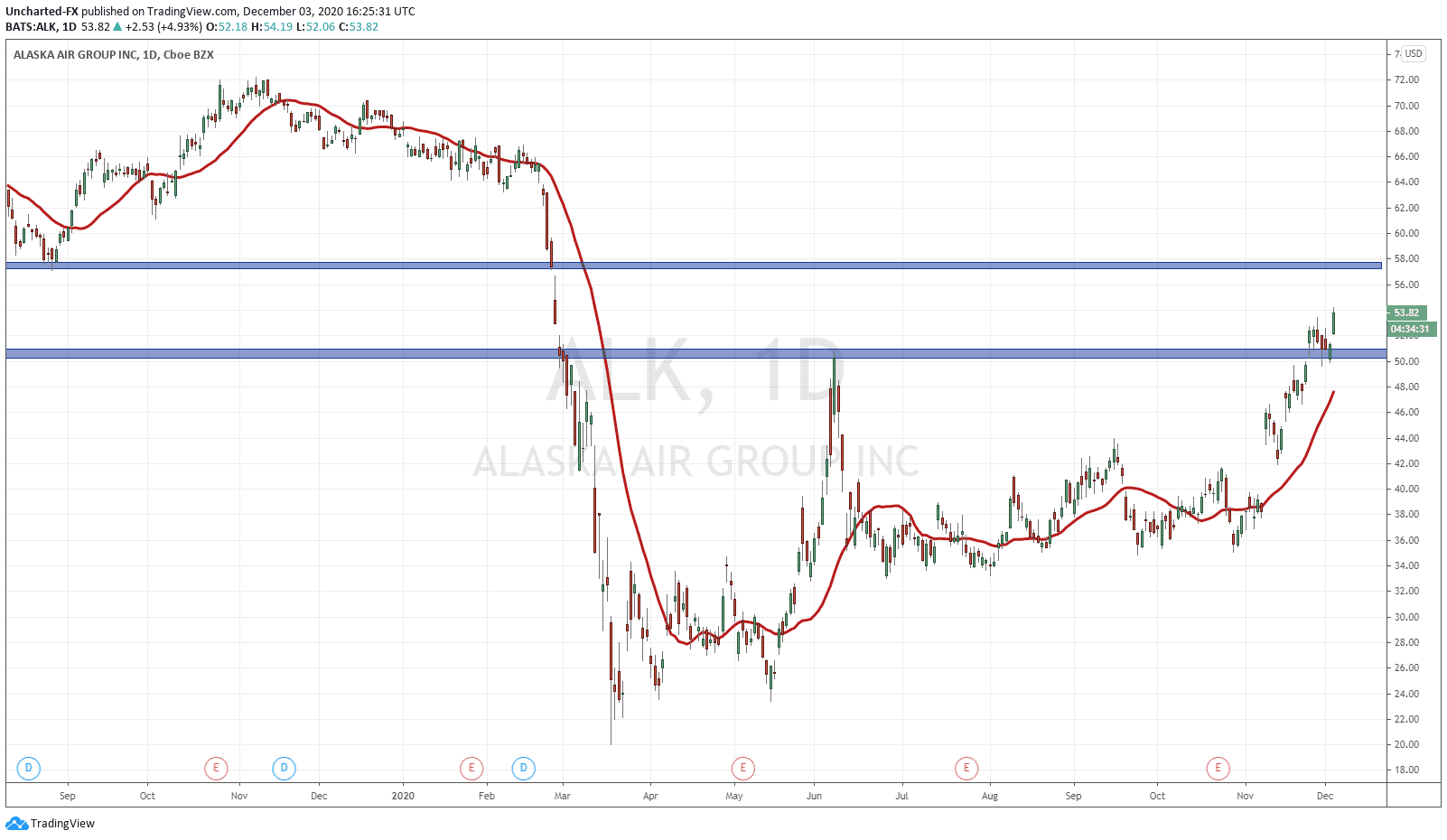 Alaska displays the power of the $50.00 zone. We broke above it then pulled back to retest it before making new recent highs. The breakout pop today is strong backed by momentum!
American Airlines is one of the cheaper stocks of the bunch. A very strong breakout over $15.00, but we want to see the daily close above today. $20.00 is in sight if we get the close above $15.00.
Delta is always associated with a loss for Warren Buffett and him getting rekt, but he might be kicking himself for selling now. In the past, I spoke about the reversal pattern on Delta Airlines, and the price has moved higher ever since. A very important breakout and retest is confirming today and $50.00 is the target.
So in summary, the airline stocks are popping on the promise of Vaccine approval. The UK is first, and the US will likely see a FDA approval any day now. Airline charts are pricing this in just like Oil has. Market structure remains intact, and larger funds could be looking at airlines as cheap and undervalued compared to some large tech stocks out there. Airline stocks did not carry much momentum on their breakout months ago, but this time, there is a fundamental catalyst for momentum.