On December 1, 2020 Canntab Therapeutics (PILL.C) announced that it has completed the first delivery of two of the five SKU's ordered by MediPharm Labs (LABS.T).
The total purchase order is worth $1.3 Million.
PILL is developing solid oral dose formulations of cannabis with a product line of cannabinoid (THC & CBD) and terpenoid blends in multiple doses and timed-release combinations.
The company has a full-scale pill manufacturing facility in Markham, Ontario.
In an era when you can by THC pizza, weed-oil vape cartridges, cannabis Nutella and CBD penis-cream – pill-form THC and CBD may seem fuddy-duddy – but pills have health, cultural and therapeutic advantages over trendier delivery systems.
Realising that many consumers prefer medications in pill form, Amazon (AMZN.Q) recently purchased PillPack for USD $753 million. PillPack provides custom packaging, along with automatic refills.
"Cannabis capsules offer one of the easiest ways to treat a variety of ailments with cannabis," confirms the Vancouver Island retailer Original Farm, "Unlike edibles, you don't need to be able to bake or cook, or be concerned that an ingredient could exacerbate an allergy or intolerance".
"We believe Canntab's tablets are a superior solution to capsules," stated company founder and CFO Richard Goldstein in a communication to Equity Guru.
To get hard bioavailability data, Canntab has commissioned a blood level study by a 3rd party Clinical Research Organization (CRO). Canntab's technology provides extended release formulations making it the clear delivery choice for doctors, patients or the average consumer.
"Oral tablets provide you with far more control about the amount of THC and CBD you put into your body," confirms The Marijuana Doctor.
Hard pill CBD/THC advantages:
True pharmaceutical grades
Superior ingredient stability
Enhanced bioavailability
Customizable formulations
Precise dosing
Long shelf life
"Our first commercial production and delivery of this initial portion of our order from MediPharm Labs is a major milestone event for our company for three important reasons," stated Canntab CEO Larry Latowsky.
"First, this is evidence our science, quality assurance programs and production can be executed with the required standards to reflect our unique patented product of pressed tablets and caplets.
Second, Canntab's wide range of products will finally be available to all Canadians through a variety of retail and wholesale channels.
Finally, Canntab will be able to recognize revenue from its core product that will have a strong distribution base which will result in continuous sales through further expansion".
PILL is developing solid oral dose formulations of cannabis with a product line of cannabinoid (THC & CBD) and terpenoid blends in exacting dosages.
The company has a full-scale manufacturing facility in Markham, Ontario.
Unlike many cannabis CEOs, who are "deal-guys" "pot-advocates" or "entrepreneurial budtenders" Canntab's CEO, Larry Latowsky has his roots in Pharma's mean streets.
Latowsky is the former CEO of Drug Trading Company and President and CEO of Katz Group Canada overseeing the largest network of pharmacy retailers in Canada operating as Rexall, Pharmaplus, IDA and Guardian Drugstores."
Latowsky's Pharma background includes bricks & mortar outlets, distribution, manufacturing and e commerce/internet-based marketing and sales.
In the Proactive Investors video below, Latowsky talks about his leadership background and the biz objectives of PILL.
Good technology needs intellectual protection.
On September 21, 2020 Canntab announced that the U.S. Patent and Trademark Office has issued PILL an 18-year patent titled "Modified Release Multi-Layer Tablet Cannabinoid Formulations".
"The patent granted is for Canntab's bi-layer or multi-layer tablets consisting of both Instant Release ("IR") and Extended Release ('XR") formulations with THC, CBD and a variety of Terpenes and other Cannabinoids found in full spectrum Cannabis and Hemp oil resin," stated PILL.
"This major milestone confirms our proprietary formulations are unique and differentiated from other product offerings in the global marketplace," stated Latowsky.
"This will support a faster revenue stream as we begin production and distribution in the immediate future," added Latowsky.
This is the first patent out of the 13 PILL has applied for.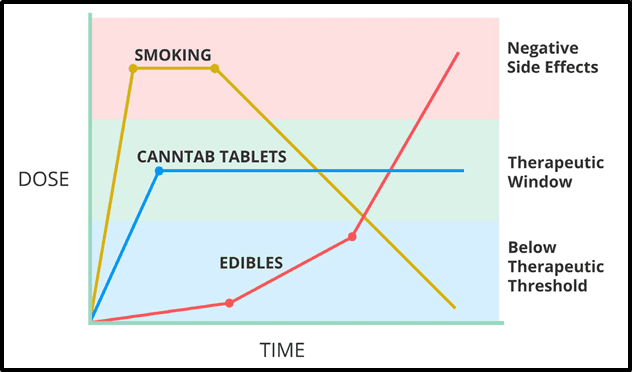 PILL is also making moves internationally.
A month ago, PILL announced the coming launch of its suite of hard pill cannabinoid formulations in Australia with its partner CANN Global. The Australian company has received an import permit and have placed an initial order for Canntab's products.
Canntab is now applying for an export permit with Health Canada, which will allow it to fulfill this purchase order.
CANN intends to ship its suite of Patented and Patent Pending products, including THC, CBD and THC/CBD combination hard pill formulations to CANN Global before the end of 2020. The products will be distributed throughout Australia to medical distributors, including Doctors, Pharmacies, and Hospitals.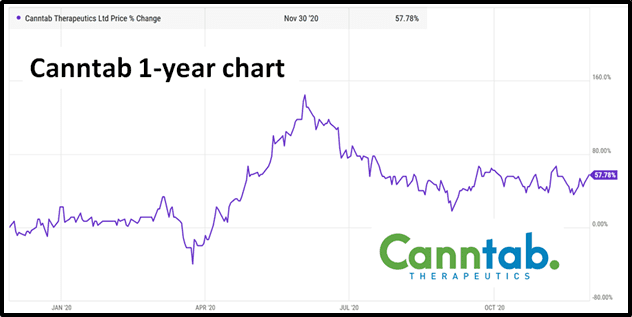 "If discretion is a primary concern for you, capsules allow you to medicate wherever you are, with no concern about smells from plants, smoke, or vapor," stated Original Farms.
"In the case of edibles, even with careful measuring you can never be 100% certain how much THC or CBD you'll be getting," continued Original Farm, "but a single capsule contains exactly the amount of cannabinoid listed on the bottle".
Canntab Licenses:
Cannabis Standard Processing & Sales for Medical Purposes License
Cannabis Research License
Industrial Hemp License from Health Canada.
"Canntab will continue to enhance shareholder value by growing revenue through its domestic channels and expanding sales to international customers." stated Latowsky on December 1, 2020 after initial delivery of 2 SKUs to LABS.
Canntab intends to deliver the entire $1.3 million order in the next month.
Lukas Kane
Full Disclosure: Equity Guru currently has no financial relationship with Canntab.