Most Canadians assumed Joe Biden was going to thump Donald Trump yesterday.
That didn't happen.
This morning, at 8 a.m. Vancouver time, Trump appeared to have a viable path to victory.
My Inbox exploded with dramatic emails from extended Canadian family.
The sentiment was split along age lines.
Family members over 40 saw the sky falling: "America as we knew it, no longer exists" "I'll never get over this". "It's unfathomable that so many people would prefer Trump and his sycophants." "Why? Why? Why?" "I'm crying" etc.
Family members under 40 saw the post-election mayhem as a poetic symbol of a decaying empire:
"Trump is a pig. But Joe Biden is a war criminal. Six-hundred-thousand lives lost in an illegal war."
"The 1994 crime bill Biden co-authored caused mass incarceration in the US, which is what Jim Crow looks like in the 21st century."
"Take your pick: a sleazy, racist used-car salesman or a spineless hypocrite with bleached teeth. Great job, America!"
The cynicism of my young Canadian family members is defensible.
If the U.S. cared about the integrity of its democracy, there would be a 15-year minimum prison sentence for walking into a congressman's office with a cheque book.
The little people in Georgia who lined up for hours at polling stations believe their vote "counts".  But the elected politicians work for the corporate interests who cut them cheques, not the voters.
There are 986 registered lobbyists in Georgia who funnelled $609 million into the 2020 federal election.
Today, gold fell $15, The Dow Jones Industrial Average rose 367.63 points (1.3%), ending at 27,847.66. The S&P 500 added 74.42 points (2.2%), closing at 3,443.44, while the Nasdaq Composite gained 430.21 points (3.9%), finishing at 11,590.78.
Sick democracy – sick people – big profits.
Those were the cogitative connections that most investors seemed to make.
On Wednesday, Healthcare stocks went ballistic.
Athira Pharma (ATHA.Q) stock rose 25% to $24.97.
Biogen (BIIB.Q) increased by 43%.
Cassava Sciences (SAVA.Q) shares moved up 29%
Digirad (DRAD.Q) increased by 20%
Supernus Pharmaceuticals (SUPN.Q) rose 24%.
Meanwhile the Health Care Select SPDR ETF (XLV.NYSE) gained $900 million (to $23 billion) rising 4.5%.
"Ahead of the U.S. election, President Donald Trump pledged to protect preexisting conditions by way of executive order even as the Republican Party tries to dismantle the Affordable Care Act through the courts," reports CNBC.
"Democratic nominee Joe Biden is looking to expand Medicaid and Medicare while protecting the ACA.
Presuming a Republican win, "the GOP is determined to weaken the Affordable Care Act. The winners out of that are going to be the drugmakers and the insurers," Chantico Global wealthfund CEO Gina Sanchez told CNBC's "Trading Nation".
"However, on the other side of the spectrum," continued Sanchez, "You see a Biden determination to increase equipment manufacturing, to increase testing and tracing, and sort of all of the elements that go with Covid-19, including novel therapies, and that would hugely benefit biotech. It would also benefit the equipment makers."
According to this logic, a Trump win might benefit the IHE pharmaceuticals ETF and IHF health-care providers ETF.
A Biden win could benefit the IHI medical devices ETF and IBB biotech ETF and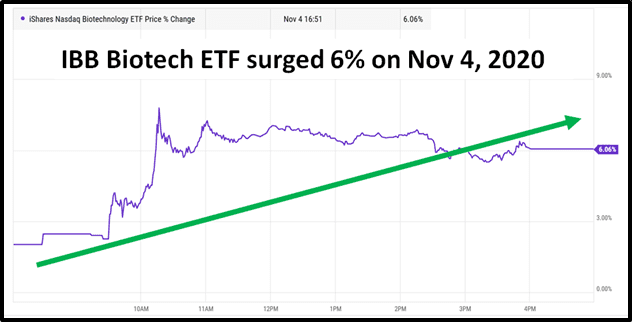 By 6 p.m., Vancouver time on Nov 4, 2020, the electoral map was looking more positive for supporters of Joe Biden.
With Trump and Pence projected to be exiting the White House, Republican sycophants are finally clearing their throats and finding their squeaky little voices.
"A source close to the White House said it's becoming apparent that GOP officials are beginning to lose patience with some of President Trump's behavior as he baselessly claims fraud is robbing him of the presidency," reports CNN.
"Trump is 'bleeding GOP support,' said the source, who described the President's complaints as an 'ambulance chasing routine'."
At 8 p.m., Democratic presidential nominee Joe Biden is leading the race with 253 electoral votes. President Trump has 213 electoral votes.
Based on these projections, Joe Biden will probably win the White House.
The election of Joe Biden puts a friendly face on a broken system.
A Bowen Island, BC academic, Wade Davis wrote a dead-pan viral article for the Rolling Stone that puts the U.S. financial, intellectual and spiritual decline in historical context.
In the meantime, investors are piling into healthcare stocks.
That makes sense.
In many ways not connected to Covid-19 – America is sick.
Full Disclosure: The writer has no position in the healthcare stocks mentioned in this article.