On November 2, 2020 Manganese X (MN.V) announced that The TSX Venture Exchange has processed documentation with respect to a non-brokered private placement first announced Oct. 13, 2020.
Number of shares:  six million
Purchase price:  25.5 cents per share
Warrants:  six million share purchase warrants to purchase six million shares
Warrant initial exercise price:  40 cents
Warrant term to expiry:  two years
According to the Oct 13, 2020 news release MN "intends to use the net proceeds of the offering to fund and accelerate development of its patented HVAC air management solution to combat bacteria and viruses."
In addition, funding will be used for other technological initiatives under contemplation through the subsidiary, Disruptive Battery Corp. and for working capital.
No finder's fees were paid in connection with the offering.
From August 16, 2020 to September 16, 2020 (30 days), MN ran hard from .09 to .96.
Since mid-October, the MN stock price has flat-lined in the mid .30s.
The below-current-market-price PP, combined with the pivot into HVAC Delivery Systems raised a few eyebrows.
According to its latest press release, MN currently has two missions:
to acquire and advance high potential manganese mining prospects located in North America with the intent of supplying value added materials to the lithium ion battery and other alternative energy industries.
to achieve new methodologies emanating from environmentally and geographically ethical and friendly green/zero emissions technologies, while processing manganese at a lower competitive cost.
On Thursday, October 29, 2020 MN announced that its subsidiary Disruptive Battery Corp. "confirms a Definitive Agreement is being finalized for a USA patented PureBiotics HVAC Delivery System for virus and bacteria mitigation".
In parallel, the ongoing process also involves a protocols-based testing agreement with a recognized US based University.
MN believes that the PureBiotics HVAC Delivery System offers a safe and effective biological solution for air and surface environmental control for healthier homes and buildings.
"We are diligently assembling all the moving pieces in our air quality management solution as current global circumstances call for hyper action in this regard," stated Martin Kepman, CEO Manganese X, "Breathing virus free air in a contained environment has taken on greater meaning."
For environmental engineers, it's well known that building ventilation systems are efficient disseminators of viruses and other pathogens.
This tech offers risk mitigation for air quality in a contained environment using those same ventilation systems for beneficial purposes. Further, this technology offers the potential for global scalability.
According to the CDC: Some infections can be spread by exposure to virus in small droplets and particles that can linger in the air for minutes to hours.
These viruses may be able to infect people who are further than 6 feet away from the person who is infected or after that person has left the space.
Airborne transmission and is one way that infections like Covid-19, tuberculosis, measles, and chicken pox are spread.
With 24.5 million confirmed cases of coronavirus globally, and 840,000 dead, the total economic damage caused by the virus is projected to be between $8.1 and $15.8 trillion.
If this HVAC tech can provide medical safety in office environments, that could have a significant global economic impact.
To be clear, neither MN nor Disruptive Battery Corp is currently touting this new technology as a Covid-19 solution.
Meanwhile, back at the ranch, there is Canadian manganese project to advance.
A month ago, MN announced that drilling activity has started on its 100%-owned Battery Hill property in New Brunswick, Canada.
Previous holes on that property intercepted significant grades and widths of manganese such as 10.75% Mn over 52.6 meters (core length), 12.96% Mn over 32.85 meters (core length) and 9.39% Mn over 74.0 meters.
Manganese has the following demand drivers.
A critical component of the cathode material in modern alkaline, lithium, and sodium batteries
Green/clean energy credentials – weening off fossil fuels.
Likely to remain the preferred energy material for the future.
Well suited for cathode mix in bulk energy storage & energy management.
Ideal for portable power
Key material for integrating solar and wind renewable energy.
On October 20, 2020 MN announced that an additional drill rig is now on site which will expedite the drilling program and shorten the timeline for final assay results.
"We continue to be forward-looking with respect to the advancement and de-risking of the Battery Hill project as we progress towards a Preliminary Economic Assessment (PEA)," stated Kepman, "We are accelerating our drilling agenda to take advantage of the higher profile on manganese for EV battery usage".
Upon successful completion of the drill program and ongoing metallurgical studies recommended in the June 2020 NI 43-101 technical report, work will be initiated toward the completion of a Preliminary Economic Assessment (PEA).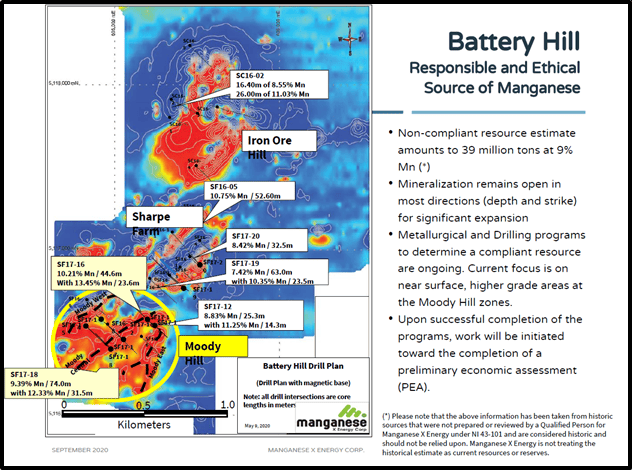 A PEA answers the question, "How best can this deposit be exploited to maximize its profits for investors?" Unlike more advanced studies, a PEA can use inferred resources for its operational and financial modeling.
At Tesla's Battery Day in September, Musk said Tesla's next generation EV batteries will contain 1/3 manganese.
Being close to the US border gives the MN property a strategic advantage as Tesla has stated unequivocally their intent to source energy metals from the North American chain."
MN is drilling approximated 25 holes totaling at least 3,400 meters with the intent of expanding and upgrading the current classification of mineralization to inferred or higher resource status.
The drill program is focusing on near-surface, higher grade areas of the deposit such as the Moody Hill zones.
To date, 6 holes have been completed with 2 holes in progress with approximately1000 metres drilled.
The environmental baseline work is beginning now.
Full Disclosure: Manganese X is an Equity Guru marketing client