Gold continues to consolidate. The uncertainty surrounding the U.S. election appears to be stemming the flow of funds into the sector.
But the market is still rewarding success with the drill bit—note the price trajectory of New Found Gold (NFG.V)…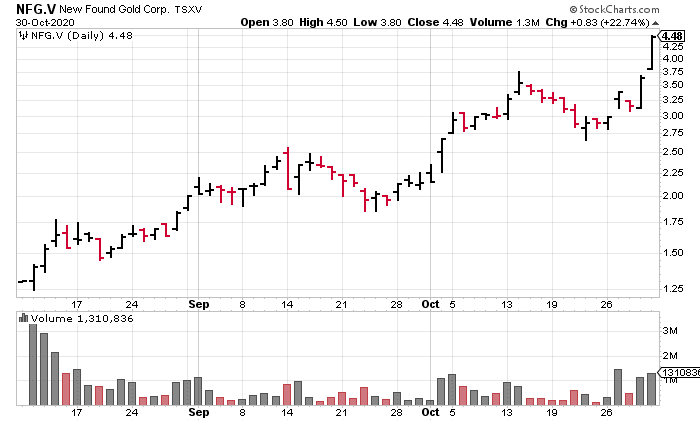 The catalyst underpinning this bit of chart drama…
New Found Intercepts 22.3 g/t Au over 41.35m and 31.2 g/t Au over 18.85m in Initial Step-Out Drilling at Keats Zone, Queensway Project, Newfoundland
Those are two incredibly fat stepouts. And the market responded with appropriate enthusiasm. But I can't help wonder where NFG would have settled at weeks end had the metal been carving out higher ground.
With any luck, one or more of the ExplorerCos featured in this four-part roundup will do an NFG. That's what we're here for.
Continuing where we left off a few days back, part 4 of our sub-$20M shortlist (I pushed 6k words on this one, plz scuse the typos, of which I am sure there are meny)…
21.12 million shares outstanding
$11.61M market cap based on its recent $0.55 close
After completing a 10-old for 1-new rollback on August 20th, the Company stoked its treasury to the tune of $1,773,475 via a PP priced at $0.70 per unit (each unit consisted of one common share and one-half of a 2-year warrant with a $1.00 strike).
QuestEx's 19,269 hectare Castle property in the Red Chris mining district of B.C.'s prolific Golden Triangle currently bears flagship status.
The target at Castle is porphyry copper-gold with the added potential of high-grade veins.
Castle's subsurface layers are underlain by Upper Triassic, Stuhini Group volcanic and volcanoclastic rocks intruded by numerous Late Triassic to Early Jurassic aged stocks.
The newly interpreted Castle-Saddle trend crosses from west to east for 6.5 kilometers, across the Castle property and onto GT Gold's (GTT.V) Tatogga property.
The company's 30,504-hectare KSP Project lies roughly 15 kilometers southeast of the past-producing Snip Mine.
KSP hosts dozens of mineral occurrences, and like Snip and Pretium's Brucejack Mine, the target is high-grade gold.
Historical exploration on the property generated the Inel discovery, a showing that yielded numerous high-grade hits including 41.04 g/t gold over 7.50 meters (Hole DDHU171) and 1,670.51 g/t Au over 1.40 meters (Hole INDDH17-081).
KSP also holds the potential for bulk tonnage Cu-Au, similar to Seabridge's (SEA.T) KSM Project.
The company's 21.18K hectare North ROK Property lies 15 kilometers northwest of Newcrest's (NCM.T) Red Chris Mine. (Welcome to the TSX Newcrest)
Inferred resources at North ROK currently stand at 142.3 million tonnes averaging 0.22% copper and 0.26 g/t gold for 690.3 million lbs of Cu and 1.189 million ounces of Au.
Since we last check in three months back, the Company offered an update concerning its Sofia property.
September 3rd news: Colorado Resources Provides Exploration Update on Their 100% Owned Sofia Property, Toodoggone District, British Columbia
The objective of this 2020 exploration program at Sofia is to home-in on targets for a 2021 drilling campaign.
The current exploration program includes:
10.4 line-kilometres of new induced polarization (IP) geophysical surveys;
Soil sampling (approximately 850 samples to be collected);
Geological and alteration mapping with the aid of a TerraSpec hyperspectral survey instrument.
Tony Barresi, QuestEx President: "Our technical team is very encouraged by the exploration opportunities being identified on the Sofia Property.
"Sofia was last drilled in 2007, and since then 510 line-km of airborne magnetics and 16.4 line-km of new IP survey data, including 10.4 km that were completed earlier this season, have been collected. These geophysical data are critical to targeting near-surface epithermal gold, and often related, underlying porphyry copper-gold systems. Our experienced field crew has been deployed to Sofia and will be conducting follow-up geological and geochemical work necessary to better interpret the new geophysics and to plan a thoroughly geologically justified drill program for 2021."
On September 16th, the Company threw some geophysics at its KSP property.
Colorado Resources Commences LiDAR Survey at the KSP Property in the Golden Triangle, British Columbia
According to the Company, an aggressive drill campaign is planned for 2021—the current LiDAR survey is critical to deciphering the structural controls of the subsurface mineralization at KSP.
"The survey is in-line with our objective of enhancing shareholder value through methodical and staged exploration of our large property portfolio."
Earlier this summer, the Company embarked on a field campaign at its flagship Castle property.
July 14th news: Colorado Resources Commences Exploration at Castle
The 2020 field program will be comprised of surface sampling, mapping, and an induced polarization ("IP") survey at the highly prospective Castle Property where past exploration discovered two porphyry copper-gold systems. The two systems, Castle East and Castle Main, are located five and eight kilometres, respectively, along trend to the west of GT Gold Corp.'s Saddle North copper-gold deposit where GT Gold announced a maiden resource on July 7, 2020, which includes an Indicated Resource* of 1,809 million pounds ("Mlb") copper ("Cu"), 3.47 million ounces ("Moz") gold ("Au") and 7.58 Moz silver ("Ag"), and an Inferred Resource of 2,982 Mlb Cu, 5.46 Moz Au and 11.64 Moz Ag.

The intent of the 2020 field program at Castle will be to define drill targets in anticipation of a 2021 drill campaign with the goal of discovering additional porphyry and high-grade gold deposits along the Castle-Saddle trend.
18.6 million shares outstanding
$11.53M market cap based on its recent $0.62 close
After announcing the appointment of a seasoned technical team of project hunters to its lineup, Sentinel dropped a number of headlines announcing strategic acquisitions in both Peru and Australia.
Headline #1:
Sentinel Resources Acquires Salama Gold Project, Peru
Consisting of 2,700 hectares of western Peru, the Salama acquisition is highlighted by the following:
Potential for high and low sulfidation epithermal gold mineralization and breccia pipe stock-work style gold-silver deposits;
Situated within the prolific gold-polymetallic Miocene skarn and porphyry belt — one of several coast-parallel metallogenic belts that host the larger and more significant deposits of Peru (above map). This includes Lagunas Norte Gold Mine, Rasario De Belen Gold Mine, La Arena Gold Mine, and La Virgen Mine that together host over 20 Moz gold within a 45 kilometer radius of the Salama Concessions;
A highly experienced national and expatriate exploration team capable of carrying out exploration work on Salama

are ready to go

;
A first reconnaissance visit is planned for the week of October 14, 2020. First pass mapping and sampling will concentrate on areas of alteration hosting quartz veins and silicified breccias;
Previous work by artisanal and small-scale miners provides additional vectors to areas of higher-grade mineralization.
The next headline, on October 6th, drew the curtain on a weighty acquisition in the New South Wales region of Australia, an acquisition that immediately took on flagship status:
SENTINEL ACQUIRES EIGHT GOLD EXPLORATION CONCESSIONS IN NEW SOUTH WALES, AUSTRALIA
Acquisition highlights:
At least 198 historic gold mines and gold exploration prospects are present across 8 separate projects;
Historic production records indicate that gold grades were often multi-ounce (see News South Wales Department of Planning, Industry and Environment);
The licences are strategically located within the prolifically mineralized Lachlan and New England orogenic terranes;
Sentinel applied to the Manager of Minerals Titles, New South Wales Department of Mining, Exploration and Geosciences for the concessions. The concessions will be 100% owned with no royalties or back-in rights, upon completion of the acquisition process.
Sentinel has engaged a highly experienced exploration team to commence a reconnaissance work program on high-grade historic mines and showings this November 2020. The focus is to identify high-grade drill ready targets.
The vast majority of Sentinel's resources (and exploration spending) will be focused on this newly acquired Australian project portfolio.
This is not an early-stage undertaking. These projects have been de-risked to a large degree owing to the past-producing mines and high-grade showings in the region.
Continuing on the hunt for strategic precious metals project's in the Land Down Under, Sentinel unveiled another weighty acquisition on October 13th:
SENTINEL ACQUIRES SEVEN SILVER EXPLORATION CONCESSIONS IN NEW SOUTH WALES, AUSTRALIA
Acquisition highlights:
At least 23 historic silver and 3 historic gold mines and exploration prospects are present across the project areas;
Historic production records indicate that silver grades were generally high-grade, and in some instances, exceeded 1 kg/t Ag (see News South Wales Department of Planning, Industry and Environment);
Six of the licences are strategically located within the well-mineralized Lachlan orogenic terrane. One licence is located in the world-class Broken Hill region of the Curnamona Province;
Sentinel applied to the Manager of Minerals Titles, New South Wales Department of Mining, Exploration, and Geosciences for the concessions;
The concessions will be 100% owned with no royalties or back-in rights upon completion of acquisition process. Sentinel will be required to post a refundable performance bond of AU$10,000 per concession and spend exploration and associated expenses on each concession of AU$ 25,000 in Year One and AU$50,000 in Year Two;
Sentinel's technical team is currently reviewing historic data in order to fast track reconnaissance follow-up and definition of high-grade drill ready targets.
The Company's exploration team—Dr. Peter Pollard (Chief Geologist of Sentinel), and Dr. Christopher Wilson (Senior Advisor)—was quick to provide a initial review of its recently acquired (gold) ground in New South Wales.
September 26th news: Sentinel Technical Team Provides Initial Review of Eight Gold Exploration Concessions in New South Wales, Australia
A first pass review of available historic data indicates that both Alliance Reef and Wittagoona Reef on the Peel-Manning fault system, and Toolom South in the Mount Carrington gold camp, host a number of high-quality targets.
Highlights from this first pass review:
Alliance Reef (ELA 6057)
Located on the 350 kilometer long Peel-Manning Fault — a crustal-scale fault zone that hosts variably quartz-carbonate altered serpentinites (otherwise known as listwanites);

A 102 km2 licence hosting 28 historic gold mines with reported production grades of up to 15 g/t Au

.


Along strike, and immediately adjacent to the historic Nundle alluvial gold field that produced more than 225,000 ounces of gold

;
Includes the historic Marquis of Lorne gold mine with a cited historic resource estimate of 336,000 tonnes at 4.75 g/t Au for 51,000 ounces of gold. The historical resource estimate was set out in a report on the Marquis of Lorne Nundle Project prepared in November 1990. The historical resource estimate does not use the categories, such as mineral reserves or mineral resources, set forth in CIM.

Although the Company is currently reviewing the reliability of the resource estimate, the Company believes it is relevant as it represents a key exploration target at Alliance Reefs

. To upgrade the historical resource estimate, the Company will be required to carry out drilling on the Marquis of Lorne gold mine. The qualified person has not done sufficient work to classify the historical estimate as a current mineral resource or mineral reserves. The Company is not treating the historical estimate as current mineral resources or mineral reserves;
Analogous deposits include the Californian Motherlode, Bralorne in British Columbia, and large high-grade gold deposits in the shield area of Saudi Arabia;
Unlike quartz-dominant orogenic deposits (such as the Abitibi, those in West Africa and Western Australia) which are characterized by obvious quartz vein targets, listwanite-hosted systems are often subtle and under-explored;
The Peel-Manning system is noted for extensive, historic alluvial deposits, indicating that the listwanites are mineralized with gold.
Toolom South (ELA 6061)
Located within the historic Toolom alluvial goldfield with reported production of more than 1 million ounces of gold

;

Over 60 historic gold mines — some with reported multi-ounce grades

;
The

Phoenix deposit

is situated approximately 5 kilometes NW of the concession, classified as an intrusion related gold rich breccia pipe

(

highlight intercepts from initial drilling include 48 meters @ 2.21 g/t Au).
Golden Bar (ELA 6061)
A 198 km2 licence with at least 50 historic gold mines and showings, most likely of a low-sulphidation type;

Historic mines and showings define two structural corridors with a cumulative strike length of over 20 kilometers. Historic production grades routinely rang in above 50 g/t Au

.
Stanleys (ELA 6062)
A 90 km2 licence located within a prolific gold camp comprising deposits such as

Commonwealth

,

Copper Hill

(1 Moz Au),

Hill End

(0.7 Moz Au),

Cadia

(43 Moz Au), and

McPillamys

(2 Moz Au). Readers should note that mineralization contained on these projects is not necessarily indicative of mineralization contained at

Stanleys

;

At least 17 historic small-scale gold mines and prospects with cited historic production grades of up to 185 g/t Au

.
Alliance Reef, with its historic resource of 336,000 tonnes at 4.75 g/t Au, represents an interesting target for follow-up exploration—exploration of the 'resource-expansion' kind.
Having recently cashed-up to the tune of $1M, the Company is planning an aggressive field campaign initially focused on the projects highlighted above.
Field work will consist of reconnaissance mapping and geochemical sampling in order to ground-truth the tenor and styles of the mineralization present.
According to this press release, a review of regional geophysical and topographic data is ongoing. This data, along with results from this first pass field mapping, will assist in generating high-priority drill targets across the region.
"Review of the remaining gold licences — Wittagoona Reef, Star of Hope, Lady Mary and Waddaderry West — is ongoing. Sentinel will announce results of this study shortly."
The news continues to flow out of Sentinel (this crew refuses to come up for air).
On October 26th, the Company updated progress with its Ag assets:
Sentinel Technical Team Provides Initial Review of Seven Silver Exploration Licenses in New South Wales, Australia
Here, Dr. Peter Pollard (Chief Geologist of Sentinel), and Dr. Christopher Wilson (Senior Advisor) provided an initial review of the silver concessions recently acquired in New South Wales. The exploration licenses are known as Wallah Wallah, Stony Creek, Carrington, Dartmoor, Glens Skarns, Broken Hill West, and Goongong.
Highlights from this first pass review:
Wallah Wallah (ELA 6065)
A 99 km2 licence hosting 6 historic silver mines and showings with reported rock-chip grading over 1,000 g/t Ag;

The historic Wallah Wallah prospect comprises mineralized lodes which crop out as gossans over a strike length of 2 kilometer

s;
Historic records indicate that one lode was exploited to a depth of at least 46 meters on four levels.

Records indicate several thousand tonnes of material was processed at grades of 950 g/t Ag and 30% Pb

;
The system is relatively unexplored, but the presence of minor tin, topaz, and tourmaline with the silver-lead mineralization suggests it forms part of an intrusion-related system possibly related to nearby Devonian granites.
Stoney Creek (ELA 6082)
An 81 km2 licence hosting 7 high-grade, historic silver and gold mines and showings;
Mineralization is likely of a low-sulphidation epithermal type — characterized by vein-hosted high-grade shoots;
The

Stoney Creek

prospect comprises quartz-sulphide veins within an 85 meter wide zone of alteration.

Historic rock-chip grab samples assayed up to 18 g/t Au and 212 g/t Ag

;

Gundillions Reef

is defined by a series of shafts, drives and small open pits that have been worked to a depth of approximately 200 meters.

Rock-chip grab samples returned assays of up to 50 g/t Au

.
Carrington (ELA 6080)
Carrington

contains a number of historic mines and workings within gold-silver mineralized gossanous lodes (gossans form when sulphide mineralization is exposed to surface and "rusts" to an iron oxide residue).

Gossans are important vectors to underlying sulphide mineralization

;
Three historic silver-gold mines targeted silver-gold mineralized gossans. Historic rock chip grab samples of this material assayed up to 85 g/t Au, 6037 g/t Ag, 24.85 Pb and 16.75% Sb (antimony);
Significantly,

the NSW government "minview" website states that over 0.5 Mt of iron gossan is present

. This is significant given silver-gold mineralization is associated with gossans developed above primary sulphide mineralization. The tonnage cited suggests a robust system.
Additional Silver Projects (ELA 6080)
Sentinel's review of

Broken Hill West

(EAL 6078),

Glens Skarns

(ELA 6066),

Goongong

(ELA 6091) and

Dartmoor

(ELA 6084) is ongoing:
Broken Hill West is located 2.5 kilometers to the west of the

Broken Hill mine complex

and shares similar geology and structure. There has been minimal exploration due to an extensive cover of recent alluvium;
Glens Skarns has four mineralized skarns over a strike length of 7.5 kilometers. The Sentinel team believes these are four priority targets;
Historic rock chip sampling at

Glens Skarns

returned results of up to 80 g/t Ag, 5% Cu, 0.28% Pb, 1.26 % Zn, 100 g/t Sn and 1700 g/t W (tungsten);
Dartmoor hosts

Kuroko-style VMS mineralization

which can be traced as gossanous outcrops over a strike length of 1.5 kilometers.

Small scale historic production records cite silver grades of up to 900 g/t

;
Goongong hosts four historic silver mines and prospects of polymetallic skarn style with anomalous silver, copper, lead, zinc, tin and tungsten.
This press release states that in addition to high-grade silver referenced, Stoney Creek and Carrington also report high-grade gold assays.
Assessing this large historic dataset must be a daunting task. Without a doubt, reviewing and modeling this historic data, in order to prioritize these highly prospective assets, will be an ongoing process. But this is a good problem to have (I'm sure there have been a number of 'eureka' type moments at the Co headquarters).
On October 29th, the Company dropped the following headline:
Sentinel Establishes Australian In-Country Administrative Team; Receives Approval For Ten Exploration Concessions
Another key hire for the Company.
"Mr. Rampe (B.Sc (App. Geol.), MAusIMM (CP), MICA, MAIG) is an experienced exploration geologist with 45 years of mineral exploration and project development from grass roots exploration through to pre-mine development."
Boasting a n array of skillsets, Rampe will oversee regulatory filings, land-holder access, and provide additional geological support as required.
A company like Sentinel, with its fat stack of highly prospective assets, can never have too many geos in its lineup.
81.69 million shares outstanding
$17.97M market cap based on its recent $0.22 close
Silver Range employs the prospect generator business model to create shareholder value and to keep a rein on its share count.
The Company calls itself "The HIGH GRADE Precious Metals Prospect Generator'.
Silver Range has a large stable of projects in Nevada, Nunavut, and Canada's North West Territories.
The company features four main projects on its home page:
The past producing Strongbox Property is located along Nevada's Walker Lane.
At Strongbox, grab, float and chip sampling from 2016 to 2018 returned assays up to 37.1 g/t Au with 19 of 58 samples returning assays greater than 5 g/t Au. Best chip sample results include 0.7 m @ 37.1 g/t Au from a vein exposed west of the Dark Secret Mine in a canyon and from a chip 0.3 m @ 5.25 g/t Au sample across the back of a stope in the Eastside Mine. The broad alteration zone containing the vein network at the Dark Secret Mine is also mineralized; chip sampling across this zone returned 40m @ 0.469 g/t Au including 20 m @ 0.923 g/t Au.
The past producing Gold Chief Project is also a Nevada based asset.
The Gold Chief Mine operated from the early 1900's until 1940 with documented run-of-mine production of 5224 tonnes @ 6.18 g/t Au (1913-1914) and 189 tonnes @ 1.1 OPT Au-equivalent (high grading / 1937-1940). Underground development included a 131 meter inclined shaft, 300 meters of drifts and cross-cuts, and near surface stopes. Recent sampling of the back of the remaining glory hole by Silver Range in 2016 returned 14 meters @ 1.93 g/t Au including 4 meters @ 3.86 g/t Au with best results (1 meter chip) of 4.58 g/t Au.
The South Kitikmeot Gold Project is located along the Back River—Contwoyto Gold Belt of Western Nunavut.
This belt is underlain by a 200 kilometer long package of Archean Beechey Lake Group metasedimentary rocks which host the past producing Lupin Mine (production of 3.35 Moz @ 9 g/t gold), as well as Sabina Gold and Silver's George and Goose Lake deposits (5.33 Moz Measured and Indicated @ 5.87 g/t gold).
The project that intrigues me most is Tree River.
The 39,250 hectare Tree River property is located in the Kitikmeot region of Nunavut, at the north end of the Anialik Greenstone Belt.
Tree River is underlain by mafic volcanic rocks overlain by clastic shallow marine sediments, subsequently metamorphosed to greenschist facies.
This is what's known as a conglomerate setting.
The analog at Tree River is the prolific Witwatersrand of South Africa.
"A monomictic, clast-supported quartz pebble conglomerate (QPC) from 15 to 20 metres thick, lies approximately 80 m stratigraphically up-section from the volcanic / sedimentary contact. The QPC has been mapped and intermittently sampled for over 7 km but its full extent is unknown."
Project highlights:
North America's only

Pilbara-style Wits 2.0 targe

t;
Archean conglomerate-hosted gold;
Historic surface samples to 142 g/t Au;
Regional scale trend covered by 392 km2 prospecting permits;
While on the subject of Tree River, on October 7th, the Company dropped the following headline:
Diamonds and Gold Discovered in Tree River Conglomerate in Nunavut, Canada
Diamond highlights:
A University of Alberta research team has recovered three alluvial, kimberlitic diamonds from two small, separate samples of the Tree River Conglomerate following up on a previous discovery.
Gold highlights:
Panel sampling of the Tree River Conglomerate by Silver Range returned up to 36.3 g/t Au from a one-meter by one-meter sample

.
Zircon dating conclusively dated the Tree River Conglomerate at 2.9 Ga, in the "Great Gold Deposition Window" postulated for gold deposition in the Pilbara and Witwatersrand.
These at/near surface conglomerate type settings can be rapidly explored via simple surface sampling.
The Company is currently designing a program to systematically test Tree River's gold and (newly discovered) diamond potential.
In other developments along the Company's extensive project portfolio, the high-grade Legal Tender silver property in Nye County, Nevada generated the following headline:
Silver Range Resources Ltd. Samples 1,130 g/t Silver And 4.94 g/t Gold at Legal Tender, Nevada
59 million shares outstanding
$8.55M market cap based on its recent $0.145 close
I'm including this one, in part, due to its proximity to the (above mentioned) Central-Newfoundland ExplorerCo that recently generated the following share price trajectory (and $640M market cap)…
The 1,550 hectare Mustang property is contiguous to New Found Gold's (NFG.V) Queensway Gold Project and approximately 5 kilometers southeast of the discovery hole that generated all the fuss—92.9 g/t Au over 19.0 meters (including 285.2 g/t Au over 6.0 meters).
Back in 1987, Noranda explored the Outflow Prospect on the property, completing a round of geologic mapping, trenching, and shallow diamond drilling—12 holes totaling 1,007.6 meters.
In late 2001, Altius Minerals (ALS.T) held the claims establishing a major northeast-southwest structural feature of prospective geology.
Altius optioned the property to Barrick (ABX.T), which undertook a reconnaissance exploration campaign in 2002. This lead to the discovery of several gold showings, including Road Breccia, Barite, Jasperoid, and Gervase's Lane.
Highest gold values, up to 28 grams per tonne gold (g/t Au) over 0.8 meter, occur in dark grey hydrobreccia units, associated with higher arsenopyrite concentrations. Selected diamond drill assay results from Noranda's drill program include 1.27 g/t Au over 11.3 meters, 0.67 g/t Au over 18.3 meters and 0.92 g/t Au over 9.0 meters.
According to the Company's project page, two geologic models were proposed for the gold mineralization at the Mustang zone.
A low sulphidation epithermal model is proposed, based on the silicified zones, locally in association with fault zones, and consist of chalcedonic silica in association with comb-textured and crustiformquartz and hydrothermal breccia. However, Altius Mineral Corp. considered the Mustang zone as a possible example of Carlin-style mineralization (Altius Minerals press release dated Aug. 21, 2003), supported by typical enriched trace-element assemblages (As, Sb, Tl, Hg and Ba) of Carlin deposits, and barite veins, breccia matrix and stockwork hosted by calcareous sedimentary rocks.
The Virginia Property
The 100-hectare Virginia property is approximately 5.7 kilometers north-east of New FoundGold's discovery drill hole, and 8.2 kilometers north-east of the Mustang property.
The prospect consists of quartz veining over a 35-meter-wide zone within sheared gabbro and graphitic shale (Main Shear).
A second shear zone is hosted in gabbro and lies 35 meters to the north of the Main Shear.
Grab samples collected from the Main Shear reportedly assayed up to 9.0 g/t Au and up to 109.6 g/t Au from the sheared gabbro (Manor Resources Inc., press release, 1992).
On the newsflow front, Sky Gold produced the following headline on September 3rd:
Sky Gold Reports on Current Field Work on Central Newfoundland Properties Contiguous to New Found Gold's Queensway Gold Project
Virginia Property
A local contractor prospected and sampled the property, locating and mapping the old trenches from the 1990s.
Additional hand stripping and trenching is ongoing to better expose a large (rusty oxidized gabbro shear zone recently observed in the field) mineralized zone or trend observed sporadically where bedrock outcrop for over 80 meters, to obtain samples from outcrop and subcrop in the excavated trenches.

Results to date support the work completed in the early 1990's by Manor Resources Ltd. ("Manor") and documented in Assessment File NFLD_2244, which reports two areas of mineralization ("A2 Zone") that have not been drilled. The areas consist of a first showing comprised of quartz veining developed over a 35 metre wide zone within sheared gabbro and graphitic shale (main shear) returning up to 8.7 g/t Au, and a second showing comprised of a sheared gabbro returning a grab sample up to 109.6 g/t Au*. The Company is focused on confirming and extending these known mineral showings.
Mustang Property
Field crews were mobilized to the property to begin a program consisting of prospecting, geological mapping, rock outcrop/subcrop sampling, soil geochemistry, and hand trenching. This program is designed to prioritize targets for a fall drilling campaign.
On October 15th, the Company secured a contractor to perform a 3,000 meter diamond drilling campaign on both properties—Mustand and Virginia.
Mike England, Sky Gold CEO:
"Newfoundland is currently one of the hottest exploration areas in Canada, led by New Found Gold with an active 100,000-metre diamond drill program at its 100-percent-owned Queensway project. We are very excited to start drilling at targets such as the Outflow prospect where surface samples have been recorded as high as 28 grams per tonne gold (g/t Au) over 0.8 meters."
24.45 million shares outstanding
$9.29M market cap based on its recent $0.38 close
Tocvan's flagship Pilar Gold Project is located along the historic Sonora gold district within the Sierra Madre Occidental geological province. The project is road accessible and is located roughly 140 kilometers south-east of the city of Hermosillo.
Sonora, a mining-friendly jurisdiction steeped in the culture, is currently credited for nearly 37% of Mexico's annual gold production (the country's largest Au contributor).
Pilar has been identified as a structurally controlled low sulfidation epithermal gold-silver setting.
"Hydrothermal fluids carrying gold, silver and other minerals are transported through the pre-existing structures and deposit out of the fluids and become emplaced within the structures and surrounding host rock. Alteration minerals help to identify the location and direction of the structural features containing the gold and silver."
An advanced stage exploration asset, Pilar has seen multiple phases of work over the past few decades, including extensive trenching, soil sampling,  geophysics, and > 17,000 meters of drilling.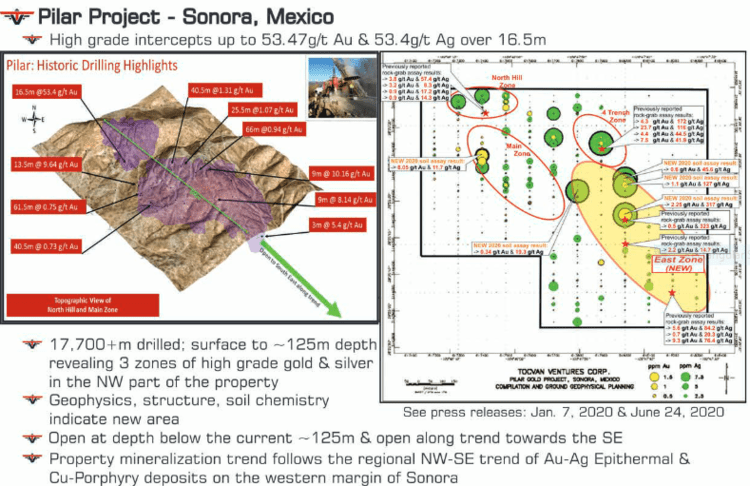 Highlights from these previous drilling campaigns include:
0.73g/t Au over 40 meters
0.75g/t Au over 61 meters
17.3g/t Au over 1.5 meters
5.27g/t Au over 3 meters
53.47g/t Au & 53.4g/t Ag over 16 meters (BOOM, mic drop y'all)
9.64g/t Au over 13 meters
10.6g/t Au & 37.8g/t Ag over 9 meters
Highlights from 2,650 meters of surface and trench/channel sampling include:
55g/t Au over 3 meters
28.6g/t Au over 6 meters
3.39 g/t Au over 50 meters
Tocvan management sees multi-million-ounce potential in this asset.
In a June 24th press release, the Company tabled assays representing the highest soil values encountered on the property to date—8 g/t Au & 317 g/t Ag.
A new zone of high grade Au and Ag mineralization—the East Zone—was also unveiled in this press release.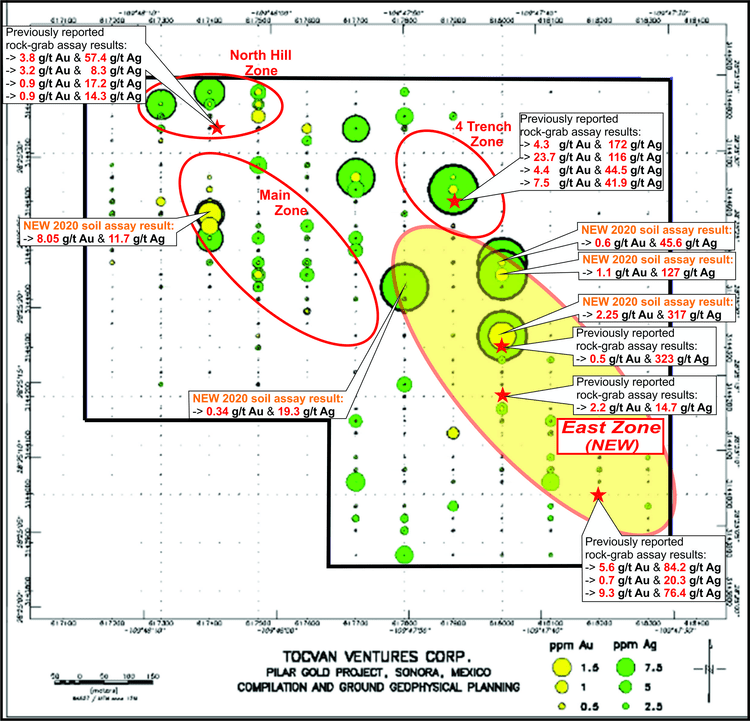 In a press release dated September 28th, the Company reported a sub-vertical 100-meter wide pipe-like feature in the east-central part of the property, a feature that may represent a breccia feeder pipe related to epithermal mineralization.
Tocvan Announces the Identification of Pipe-Like Features at the Pilar Gold-Silver Project in Sonora, Mexico
The pipe is ~100 meters in diameter, oval shaped, steeply plunging, and appears to be controlled by a fold nose based on interpreted basement folding.
These pipe-structures often form in areas of weakness—at the intersection of faults, for example—and have the potential to host high-grade mineralization.
In an October 14th press release—Tocvan Announces the Association of the High-Grade Silver East Zone With a Pipe-Like Feature, at the Pilar Gold-Silver Project in Sonora, Mexico—a second circular pipe-like feature was identified via geochemistry.
Both of these anomalies follow the main northwest to southeast shear structure that runs through the property.
On October 26th, as it inches closer to mobilizing a drill rig to Pilar, the Company dropped the following headline:
Tocvan Announces Drill Targets, at the Pilar Gold-Silver Project in Sonora, Mexico
Successes have been achieved from the Phase 1 target generating program over the past six months to locate targets for drill testing. MPH Consulting Limited, and SRK Consulting (Canada) Inc. have completed the structural analyses on the Pilar Property in Mexico. High grade gold and silver are located within and controlled by structures such as faults, intersecting faults, and dilated structures.

Results from the study show deep penetrating sub-vertical north-trending structures found within the northwest trending structural shear corridor. Gold and silver mineralization correspond with north-trending structures and are bounded within the northwest trending shear zone. The north-trending faults are extensional features that can be interpreted as en-echelon (dilational) structures. These dilational faults have an approximate length of 300m, extend from surface to an approximate depth of 600m, and are repeating structures within the northwest trending large shear corridor across the property for at least 1,000m. Additional drill targets, where gold values are also controlled, are at the intersections of north-trending faults with northwest-trending shear structures. These intersections are often areas of weaknesses, dilated, and present as pockets and chutes.
Regarding timelines… "Drill permitting is underway and is pending."
39.23 million shares outstanding
$10M market cap based on its recent $0.255 close
Viva's 3,545 hectare Tonopah Gold Project, located along the prolific Walker Lane Trend, is the Company's flagship asset.
Tonopah's current resource, updated in April of this year, currently stands at:
326,000 ounces at a grade of 0.79 g/t Au

in the Measured and Indicated category

181,000 oz's at a grade of 0.67 g/t Au

in the Inferred category
A PEA delivered back in May, demonstrates the following values (based on $1,400 gold):
The Base Case generates a pre-tax Internal Rate of Return ("IRR") of 25% (after tax 22%) and a pre-tax net present value ("NPV") at a 5% discount rate of $43.6 million (after tax $36.3 million) with a 2.9 year payback of invested capital using a $1,400 gold price.
Based on price sensitivity analysis at approximately the current price of $1,700 ounce of gold, the project returns an IRR of 47% and a pre-tax NPV 5% of $96.0 million (after tax $72.2 million) with a payback period of 2.0 years.
Base Case mine life of 6 years with total production of 226,000 ounces, averaging 38,000 ounces annually with the second and third years producing approximately 48,000 ounces annually.
With paved road access, nearby power, water, and mining-support infrastructure, capital costs for the project are projected to be low with an estimated initial capital cost of $58 million and sustaining capital cost of $16 million net of capitalized equipment leases, capital additions, reclamation costs and recapture of working capital.
Estimated cash cost of production is $754/ounces with an all-in-sustaining cost of $1,075 per ounce inclusive of sustaining capital and additional overhead support.
Engineering design analysis indicates the potential to substantially increase pit size and contained ounces with increased gold price.
On August 20th, Viva announced the following progress as it continues to push Tonopah further along the development curve:
Viva Gold Initiates Technical Studies in Preparation for Feasibility Study at Its Tonopah Gold Project in Nevada; Provides Drilling Update
James Hesketh, Viva CEO:
"These technical studies are expected to further de-risk and generate data that will be used as the basis for future permitting and feasibility studies for the potential open pit mine, heap leach gold recovery operation at Tonopah. This work will provide greater insight into gold recovery and mine design and assist management in determining the most effective ways to improve upon a strong PEA, it is our intention to unlock the full value of the project for our shareholders."
On September 9th, the Company announced assay results for the initial three drill-holes of a 19 hole RC and core program at Tonopah. The best hit in this batch was Hole TG2002:
8.2 meters at 2.7 g/t from 232.9 to 241.1 meters, including 1.6 meters at 7.0 g/t. The bottom of the northwest pit is supported by high-grade mineralization associated with a number of northwesterly trending structurally related shears in the Palmetto argillite (OPA). This intercept potentially offsets hole MW312 (19.8 meters at 1.8 g/t from 226 to 246 meters including 1.6 meters at 11.6 g/t), drilled by Newmont in 2004. The intercept in hole MW312 is located at approximately the same elevation about 35 meters to the northwest and on structural trend from TG2002. Hole MW312 had previously not contributed to resource estimation due to its location outside the of the current $1,600 resource pit boundary.
On October 14th, the Company released additional drill hole assays from Tonopah. The best hit was Hole TG2004, a 50 meter stepout.
Hole TG2004 was drilled as a ~50-meter step-out at the southeastern extent on the principal northwest-southeast trend of mineralization. This hole intercepted two-mineralized zones including 4.9 meters at 1.0 gram per tonne and 29.5 meters at 0.7 grams per tonne, which included 4.9 meters at 1.22 grams/tonne and 3.3 meters at 2.0 grams per tonne marking a possible extension of known mineralization and remains open along trend. Furthermore, TG2004 infills an area at the southeast end of the North Pit zone that had previously been carried primarily as waste in the resource model.
A total of 11-RC drill holes have now been completed. The Company anticipates mobilizing a core rig to the site later this month. The remaining five-core holes will be drilled utilizing PQ (85mm) core to capture samples for assay, metallurgical, and environmental characterization testwork to used in preparation for a feasibility study and permitting.
71.39 million shares outstanding
$10.71M market cap based on its recent $0.15 close
The company's 280 square kilometer Grog and Northwest projects are located along the McKenzie Gulch Fault in Northeastern New Brunswick.
The target at Grog is a large intrusion-related epithermal system.
An 11-hole drill program conducted earlier this year yielded a new discovery in hole GRG-20-012: 0.41 g/t Au over 36 meters (including 0.46 g/t Au over 31 meters and 7.59 g/t Au over 0.6 meters) at a vertical depth of 81 meters.
On September 21st, the Company established a good correlation between geophysics and geochemistry at Grog.
A total of 128 geochemical samples were collected over 3 parallel lines (with approx 150 meters between lines)—the samples were taken every 25 meters. The objective was not only to confirm the position of the gold-bearing structure at Grog, but to test and confirm the possibility of parallel signatures identified via 3-D magnetic inversion analysis.
The B Horizon samples allowed X-Terra to determine rock types, alteration patterns, and precise levels of pathfinder elements such as Arsenic (As) and Antimony (Sb). The results yielded values up to 36 ppb Au, 291 ppm As, and 25.8 ppm Sb.
Elevated gold anomalies were identified on two of the three lines centered on the Grog target.
The arsenic and antimony elements complement the signature, offering a better read on the identified Grog target (antimony and arsenic are two key pathfinders for gold).
The combined, superimposed Au-As-Sb anomaly now outlines this target to 250 metres in width while also extending it approximately 750 metres. Excitingly enough, the same type of anomaly was able to be identified 700 metres east-south-east of the Grog target on a parallel trend.
Michael Ferreira, X-Terra CEO:
"The correlation obtained during this phase of works between low mag, high resistivity and gold-arsenic-anomaly at the margin can be considered a significant step up in our understanding of the Grog system. Not only was the kilometric strike length of the known gold system reached and confirmed by a common signature, but our hypothesis was validated that two other parallel trends of the same orientation and thickness creating a 5km2 target. This threshold was an important step to reach considering that, this scale is widely accepted as precedent for exploring a deposit of a significant size."
Highlights from this Sep. 21st press release:
X-Terra has increased the size of the original drill program (11 holes) to a total of 20 holes

which include 4 shallow holes (100 meters) at the Rim target, and 16 holes (150 to 300 meters) at the Grog target;
Gold-in-soil anomalies above the Rim vein in addition to 4 other gold occurrences highlight the stacking possibility of additional gold bearing veins.
On October 13th, X-Terra dropped the following headline:
X-TERRA RESOURCES BEGINS DRILLING WITH TWO DRILLS AT THE GROG AND NORTHWEST PROPERTIESINNEW BRUNSWICK
Here, the Company announced that drilling had commenced at Rim and Grog with two rigs.
Recent ground (IP) geophysics and geochemical sampling contributed to the final planning of this drilling campaign in a big way.
The drill section planned over the Rim vein target covers approximately 500 metres following a west north-west orientation cross cutting the main structural orientation. Gold bearing veins are believed to be concordant or parallel to the sedimentary bedding.
CEO Ferreira again:
"X-Terra's exploration team and drilling crews are excited to be drilling the Rim vein target which has never been drill tested, and given the additional gold-in-soil anomalies, it highlights the compelling possibility of a stacking of gold bearing veins below. The Rim vein target has yielded incredible gold grades from 4.5 g/t Au to 1,205 g/t Au with visible gold –(See X-Terra's press release dated December 5, 2018). Its fantastic that we were able to secure a second drill to begin drilling the Grog target at the same time,as this should reduce the wait time for the first batch of results. Furthermore, this will be X-Terra's largest drill program completed on any of its properties to date".
During a recent chat with CEO Ferreira, I learned that drilling at Grog and Rim progressed without a hitch. Having worked as a contractor on highly technical, logistically challenging projects in the resource sector myself, I was impressed with the efficiencies Ferreira was able to deploy during this campaign.
I also learned that at least one hole at Grog tagged multiple zones of mineralization. Of course, hitting the right rock doesn't necessarily guarantee economic values.
X-Terra is also working its wholly-owned 93 square kilometer Troilus East property along the Frotet-Evans Greenstone Belt in northern Québec.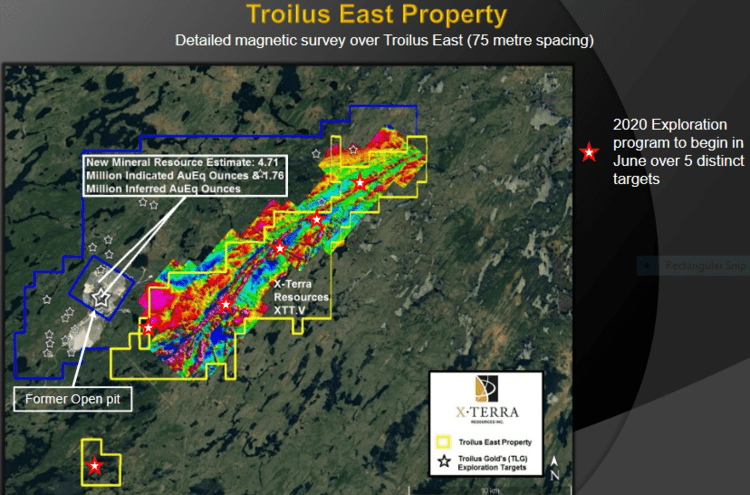 Troilus East shares a common border with Troilus Gold (TLG.T).
Troilus Gold boasts a current resource of 4.96 Moz AuEq Indicated (177 Mt with an average grade of 0.87 g/t AuEq) and 3.15 Moz AuEq Inferred (116.7 Mt with an average grade of 0.84 g/t AuEq).
This is a vastly under-explored region with latent world-class potential.
On October 15th, the Company announced the launch a MMI, humus, and till sampling campaign at Troilus East.
The program will cover (5) unique grids, including the new mineralized system discovered this past summer, (See X-Terra press release dated August 13, 2020), with the goal of identifying drill targets for a program to be launched later this year.

The highest priority target is located about three kilometres east of the Troilus deposit (Troilus Gold, TSX: TLG) following the southwestern side of the property. The 2.2-kilometre-long target is based on the discovery by surface exploration of a polymetallic signature (Cu, Ag, Au, W). The mixed sequence of intermediate volcanic interlayered with dioritic intrusions identified in this area shares many similarities with the Troilus deposit.

The four other sampling grids are distributed over a north-east structural corridor covering a strike length of approximately 13 kilometres. Targets were identified through a previous till survey using recovered gold grains. Despite the historical two kilometres spacing between lines, the systematic location of gold grain counts adjacent to strong magnetic contrasts can be considered as an indicator of a gold bearing structure.
If things play out according to plan, we'll see a drill rig mobilized to Troilus East later this quarter.
A final note on X-Terra…
X-Terra will be hosting a conference call on Monday, November 2, 2020 at 1:00 p.m. (eastern time) with CEO Michael Ferreira.
On the agenda: an update on its mineral properties and ongoing exploration activities.
Conference call information:
Bell Conference:
1-855-453-6961 or 1-514-736-8049
No. 1740032
An audio webcast will be accessible via the investors section of the X-Terra Resources website. The archive will remain available for 30 days after the call.
That's it for part 4 of this roundup.
END
—Greg Nolan
Full disclosure: Of the companies featured above, Sentinel, Tocvan and X-Terra are Equity Guru marketing clients.