Precious metals, like every other U.S. financial market, was given what-for yesterday with the GDX breaking down in a high volume selloff.
Normally viewed as sanctuary during periods of economic upheaval, the metal and related equities got caught up in the across-the-board selling (the Japanese Yen and bonds managed to claim safe-haven standing and bucked the trend).
The longer-term fundamentals underpinning gold are still intact. The FED will keep interest rates near zero and continue expanding the balance sheet, throwing unimaginable wads of stimulus at the problem(s).
Lockdowns in Europe will force the hand of CBs on that side of the pond, creating a processional effect that will bloat their balance sheets even further.
It's a downward spiral. Globally.
There's even talk of a great reset.
The Great Reset… a concept one dared utter only a few months back at the risk of intense ridicule (or blank stares), is now in front of the unwashed masses.
Yesterday's rout in all things precious metals should have been viewed as an opportunity to buy, or add to current positions (author's very humble opinion).
And on that note, well pick up where we left off a few days back, with our sub-$20M ExploreCo coverage…
27.12 million shares outstanding
$17.09M market cap based on its recent $0.63 close
Recently hailed as Canadian Orebodies, this company, as you may have divined from the new name, is prominently positioned in the storied Hemlo Gold Camp. Along with the new handle came a three-old for one-new (share) rollback.
Hemlo is advancing its 4,047-hectare Pic Project (Wire Lake Property) and its 6,800 hectare North Limb property along the northern extension of the Hemlo gold belt.
Since we last checked in, the Company completed a 6.5 line kilometer soil survey over the northern section of its North Limb property.
North Limb is located 15 kilometers north of Barrick's Hemlo Mine Complex, an operation that has produced 21 million ounces of gold over the past 3-plus decades.
The soil survey covered 1.7 kilometers of strike length over a portion of the prospective 10 kilometer long Armand Lake Volcanic Complex, an area interpreted to host macroscopic folding and associated fault and shear zones. These structures represent potential traps for mineralization. Widths sampled ranged from 300 to 400 meters.
"In 1962, surface mapping in this area identified four showings and three zones exhibiting gold, copper, zinc, lead, and silver. Over a 34-year period, four separate drill campaigns dating from 1962 to 1996 completed fifty-eight drill holes representing 6,117 metres of coring. Several highly altered and prospective volcaniclastic and sedimentary assemblages and porphyritic intrusives were identified from drill core descriptions within this folded regime. Occurrences of pyrite, molybdenite, zinc, and copper were noted where considerable. Of the 58 drill holes completed, fifty-one (4,875 metres) drill holes were undertaken in 1962 and 1967 pre-dating modern drilling, were predominantly shallow (<170 metres) and with very few assays reported. Of the seven remaining drill holes completed in 1983 and 1996, only two holes representing 613 metres provided gold assays. Gold and multi-element assay results from the recent soil survey along with recently collated historical information will assist in validating best prospective areas for drill testing. Preliminary soil analyses are expected in upcoming weeks."
33.69 million shares outstanding
$7.41 million market cap based on its recent $0.22 close
Huntsman, formerly Bluebird Battery Metals, shook things up in late August via the following headline:
BlueBird Announces Signing of Option Agreement on the Baxter Spring Gold Project in Nevada, Name Change, Share Consolidation, and $2 Million Financing
Aside from the name change and two-old for one-new rollback, the Company entered into an option agreement with Liberty Gold (LGD.T) to acquire a 100% interest in the Baxter Spring Property in mining-friendly Nevada.
The price of admission (subject to a 2% NSR)? A cash payment of US$500,000, and the issuance of 19.5% of the outstanding (post-consolidation) shares in the Company.
Baxter Spring is an intermediate-stage gold exploration project in Nye County, Nevada. The Property consists of 132 unpatented federal lode claims covering 1,040 hectares.
Project highlights:
Widespread surface gold anomalies in rocks and soils;
Drill tested gold mineralization with 128 historical RC and core holes, and a number of previously identified, untested targets;
Historically, only drill tested with shallow holes, with potential to find additional mineralization at depth;
Located within a regional N-S trending belt of mineralization that includes Northumberland (3.5 Moz Au), Round Mountain (15 Moz Au), Manhattan (1.5 Moz Au), and Goldfield (5 Moz Au);
Low sulphidation epithermal gold veins with bonanza grades (3.1 meters grading 240 g/t Au in drill hole BS-8) and stockwork overprinting calcareous sedimentary rocks that could host a bulk-tonnage gold target (

69.0 meters grading 0.71 g/t Au

in drill hole BSC-1);
The mineralization is oxidized;

Several drill-tested gold mineralized zones are open for expansion and several soil-rock anomalies require a proper probe with the drill bit

;
Located primarily on BLM-https://e4njohordzs.exactdn.com/wp-content/uploads/2021/10/tnw8sVO3j-2.pngistered land – lower priority targets located on US Forest Service (USFS)-https://e4njohordzs.exactdn.com/wp-content/uploads/2021/10/tnw8sVO3j-2.pngistered land;
Excellent road access and nearby power and other amenities.
Historic drill results include:
2.49 g/t Au over 24.4 meters (BS-22);
60.4 g/t Au over 12.2 meters incl 240 g/t Au over 3.1 meters (BS-8).
Peter Dickie, Huntsman CEO:
"We are excited by the prospects of this historically explored property. Baxter Spring in an intermediate-stage exploration project with impressive historic results. It sits in one of the world's most mining-friendly, stable jurisdictions, and is an ideal candidate for modern exploration techniques. The long-term prospects of the gold sector are very strong and, as a result, we could not ignore the possibilities of this project. Entering into this agreement, with the related financing and the inclusion of a significant, highly respected shareholder, will allow us to commence an aggressive, initial exploration program at Baxter Spring."
To get the ball rolling on this new acquisition, the Company closed a PP on October 19th.
Huntsman Closes $5.6 Million Financing, Receives Conditional Approval for Baxter Spring Option Agreement
The oversubscribed PP consisted of 28,195,000 units priced at $0.20 per for total gross proceeds of $5,639,000. Each unit consists of one common share and one 3-year transferable warrant exercisable at $0.35.
Also in the project portfolio, the Canegrass Project—a 4,200-hectare chunk of highly prospective terra firma. Canegrass lies within the Windimurra Complex, Australia's largest, exposed, layered mafic intrusion complex measuring some 85 kilometers x 37 kilometers by some 11 kilometers thick.
I covered the Canegrass Project recently in the following article:
Read: Bluebird Battery Metals (BATT.V) sets its sights on highly prospective Canegrass Nickel Project, Western Australia
Elephant country, this. Canegrass is surrounded by world-class deposits.
20.05 million shares outstanding
$16.44M market cap based on its recent $0.82 close
Melkior is focused on the geologically well-endowed mining camps of Ontario and Quebec.
The company's flagship Carscallen Gold Project, located 25 kilometers west of Timmins, is host to seven gold zones where 98% of the holes drilled to date have hit their mark.
Since we last checked in, the Company tabled a highly anticipated option agreement with Kirkland Lake (KL.T)…
Melkior Announces $110 Million Option/JV Agreement with Kirkland Lake Gold to Earn up to 75% of Carscallen
This is a fat JV.
The price of admission (and agreement terms) speak to the geological prospectivity of this 47 square kilometer swath of Abitibi Greenstone Belt.
The Earn-In and Joint Venture terms:
"Under the terms of the Option Agreement, Kirkland has an option to earn a 50% interest in the Property in consideration for completing $10 million in exploration expenditures over a period of five years (the "Phase 1 Expenditures"). Kirkland has a minimum commitment of $3 million during the first two years of the Option Period, which includes $1.5 million and a minimum of 3000 meters of drilling to be completed in the first year. Kirkland will act as the Operator of the Property during the Option Period. All expenditures beyond the Minimum Commitment are optional. Should Kirkland fail to incur the Phase 1 Expenditures during the Option Period, Kirkland's option to acquire the 50% interest shall expire.
Upon Kirkland completing the Phase 1 Expenditures and earning its 50% interest, the parties shall enter into a joint venture agreement to carry on operations with respect to the Property (the "Joint Venture"). Upon the formation of a Joint Venture, Kirkland will have the right to earn an additional 25% interest in the Property by incurring exploration expenditures of $100 million within the first five years of the formation of the Joint Venture. Any additional funds required beyond the $100 million will be contributed by the joint venture parties based on their proportional joint venture interests (75%/25%).
Once again, the terms of the agreement are aggressive—the $1.5M and (minimum) 3,000-meter drilling commitment pretty much guarantee steady newsflow from here on.
Jonathon Deluce, Melkior CEO:
"We are extremely excited to close this landmark equity investment and option agreement with one of the world's most respected gold mining companies. With Kirkland Lake Gold committing $3 million with the potential of $110 million in work commitments over the next five to ten years to attain a 75% interest in the Carscallen Project, our shareholders now have the upside of discovery with limited further share dilution to advance the project. The Carscallen Project shares a 9km border with the West Timmins Mine which had previously been managed by Tony Makuch during his tenure as President and CEO of Lakeshore Gold, the prior owner.
It will be exciting in the coming months and years to watch the progress of the Carscallen Project, which has proven to be a very high-grade gold system with indications of having VMS discovery potential. Melkior shareholders now have the upside of having a world-class operator take the Carscallen gold project to the next level by committing $3 million with the potential of $110 million in exploration expenditures over the next ten years to earn up to 75% interest in the project.
The deal signifies that there will be limited further equity dilution required to advance the project. Kirkland Lake CEO, Tony Makuch, and Senior Vice President of Exploration, Eric Kallio alongside the rest of the KL's technical team have a comprehensive understanding of the geological setting within the Timmins gold camp, which we felt as a Board made this the perfect fit."
The Company has several additional (highly prospective) properties in its project pipeline:
Ownership: 100 % Melkior;
Location: Hemlo, Ontario;
Surface area: 372 contiguous claim units (14,709 acres);
Gold Surface Grab Results of 1,168g/t, 19.2g/t and 3 g/t (2018 program);
Up to 52 ppb gold-in-soil anomaly.
White Lake, located in the northeastern portion of the Hemlo Greenstone Belt, has seen only sporadic exploration over the past four decades (since the initial Hemlo staking rush).
Ownership: 100% Melkior;
Location: 150 Kilometers NE of Val d'Or, Quebec;
Surface area: 200km2;
15 kilometers along a magnetic trend SE of Osisko's Black Dog Deposit;
121 ppb gold-in-soil within robust multi-element anomalies over co-incident EM and magnetic trends (data stacking at its finest).
Interesting times for Melkior.
Its current sub-$20M valuation looks modest to this humble observer.
86.45 million shares outstanding
$5.19M market cap based on its recent $0.06 close
Metals Creek has its sights set on its flagship Dona Lake Project along the Pickle Lake Greenstone Belt, a property optioned from Newmont-Goldcorp (NGT.T). The region is host to several historic mines including Dona Lake, Central Patricia, and Pickle Crow.
The company is also targeting its Ogden Gold Property, a project with 8 kilometers of strike along the prolific Porcupine-Destor Fault. Metals Creek has earned a 50% interest in the project from Newmont-Goldcorp.
Gold production in the region exceeded 22 million ounces from a number of mines including Goldcorp's Dome Mine, which produced in excess of 17 million ounces.
The company also has ground—Careless Cove/Yellow Fox—in Newfoundland, claims recently optioned out to Quadro Resources (QRO.V).
Since our last roundup, the Company released drill results from Dona Lake.
September 8th news: Metals Creek Drills 8.45 g/t Gold over 3.15 Meters at The Dona Lake Gold Project, Confirms Gold Mineralization Outside of Mined Out Area
A total of 1411 meters were drilled in two shallow holes that tested the Main Zone and B Zone stratigraphy, plus one deep hole that tested the continuation of gold mineralization below the lowermost level of the Dona lake Mine (455 level).
Drill hole intercepts:
One week later, on September 15th, the Company released additional Dona Lake drill hole assays from this phase 1 campaign.
Metals Creek Confirms Gold Mineralization Continues at Depth at The Dona Lake Gold Mine, Drills 8.07 g/t Gold Over 7 Meters Including 17.6 g/t Gold Over 1 Meter
Drill hole DL20-003 was the deep hole referenced above. It was designed to test for mineralization below the lowermost level of Dona lake—the 455 level.
Regarding these phase 1 results, Alexander (Sandy) Stares, Metals Creek's CEO :
"Management is highly encouraged with the drill results from this initial drill program on the Dona lake Gold project. A substantial amount of time has gone into generating the current Dona Lake geological model from data that was in non-digital form. Hole DL20-003 authenticates the current model and demonstrates the continuation of gold mineralization at depth, below the lowermost level."
On October 2nd, the Company announced plans for a phase 2 drilling campaign at Dona Lake.
Metals Creek Signs Drilling Contract For Minimum 2500 Meters Drilling At Dona Lake Gold Project
This upcoming campaign, which should be underway now, will further test for gold mineralization immediately south of the Dona Lake mine, including both the Main and B-Zone mineralized horizons.
Deeper drilling will also take place, further evaluating the continuation of gold mineralization below the 455 Level. This deeper drilling will test the potential below hole DL20-03 (highlighted above) which intercepted mineralization at 500 meters below surface.
Investor presentation (June 2020)
37.08 million shares outstanding
$12.24M market cap based on its recent $0.33 close
Minnova (MCI.V) is a company offering the potential for (near term) production and significant (high-grade) exploration upside at its past-producing PL Gold Mine in the prolific Flin Flon—Snow Lake Greenstone Belt of Central Manitoba.
On October 15th, the Company released stepout drill hole assays from its flagship project:
Minnova Corp. Step-Out Drilling Expands High Grade at PL Mine
Highlighted intercepts include:
11.7 g/t over 1.00 meters;
7.55 g/t over 1.00 meters;
6.99 g/t over 1.50 meters;
6.92 g/t over 1.20 meters;
10.7 g/t over 1.00 meter;
11.4 g/t over 1.00 meter.
"The purpose of the drilling program was to demonstrate the exploration and resource expansion potential of the PL Mine property. Holes M-20-01 through M-20-11 are all located outside the November 2017 mineral resource and reserve estimate resource wireframes (see news release dated November 1, 2017) and were designed to test the PL North target area to potentially expand the current PL Mine resource whereas holes M-20-12 and 13 were located within the current resource area to potentially expand and upgrade the current resource."
This press release went on to add that drilling is scheduled to restart in mid to late November and will target further resource expansion with significant stepouts along strike. This campaign will also target new mineralized structures in the Footwall Tonalite.
The following vid is an August 28th interview with Gorden Glenn, Minnova's CEO (good info here)…
At the top of Minnova's (MCI.V) website, it states the following: "We're updating our website… in the meantime check out what we're working on."
That message has been there since I launched my coverage back in early August. A website is normally the first place a prospective investor goes to conduct their due diligence. It would be good to see an update, soon.
53.75 million shares outstanding
$6.18M market cap based on its recent $0.115 close
Norra Metals' 6,000-hectare flagship Bleikvassli property is located in the Hemnes Municipality of the Nordland Fylke Province of Norway.
The property hosts a past-producing SEDEX-style sediment-hosted massive sulphide Pb-Zn deposit with minor Cu, Au, and Ag credits. The mine began operations in 1957 producing 5.0 million tonnes of material grading 4.0% Zn, 2% Pb, 0.15% Cu, and 25g/t Ag. The mine closed in 1997 due to low metal prices, ditching a (historic) resource of 720,000 tonnes grading 5.17% Zn, 2.72% Pb, 0.27% Cu, 45g/t Ag, 0.2g/t Au (according to the Norwegian Geological Survey).

The Company's 20,300-hectare Meråker property is located in the Meråker municipality of Trøndelag County, Norway.
Meråker has a long history of VMS copper production dating back to the 1700s and continuing until the early 1900s.
The lions share of production originated from the Lillefjell deposit, which historic records suggest production totaling 110,000 tonnes of material grading 5% copper and 4.5% zinc.
"The Norwegian Geological Survey (NGU)'s databases of surface rock samples and mineral occurrences both record an abundance of mineralized locations scattered throughout the property, with economically significant values of copper, zinc, gold, and silver at multiple locales."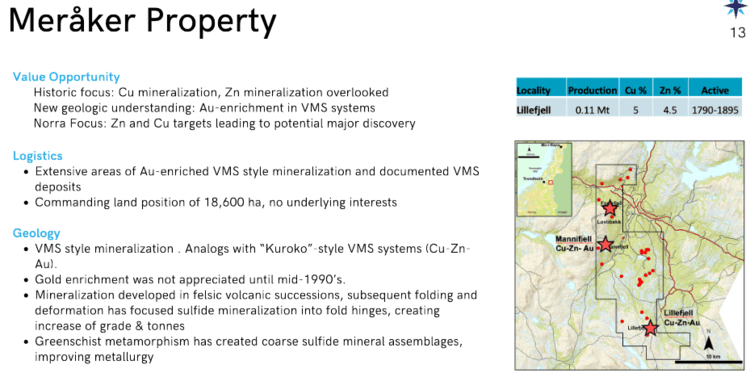 Norra's Pyramid project (currently available for joint venture) is a greenfield copper-gold porphyry project located along the Quesnel Terrane of British Columbia.
"Also known as the Quesnel Trough, the Quesnel Terrane is a Triassic‐Jurassic age arc of volcanic sedimentary rocks that hosts a number of large copper and gold porphyry deposits, several of which are currently in production. These include Mt. Milligan, Mt. Polley, and Gibraltar."
With its sights trained on Norway, the Company dropped the following headline on October 19th:
Norra Metals Prepares for Inaugural Phase I Exploration Programs on Portfolio of Highly Prospective VMS Projects in Norway
To date, the Company has conducted a comprehensive review of (historic) data from the Bleikvassli mine and created a 3D (Leapfrog) geological model. This model merged historic assay data (from over 650 drill holes) with the lay of the underground workings and previously mined areas of the deposit. These efforts allowed the Company to gain a better understanding of the structural controls influencing mineralization in and around the Bleikvassli mine area.
According to this press release, the Company has identified three high-priority drill targets at the north and south ends of the historic mine, as well as at depth, below the area of historic mining.
The Company is currently finalizing plans for a diamond drilling campaign—up to 1,500-meters in 5 to 10 holes—to test these high-priority targets.
At Meråker the Company is planning a multi-phase exploration program that will include reconnaissance sampling and geological mapping. This field program will be followed up by drilling.
64.76 million shares outstanding
$18.78M market cap based on its recent $0.29 close
To create shareholder value with its extensive project portfolio, NV Gold employs the prospect generator business model.
In-house technical knowledge and a decades-in-the-making geological database of research and exploration serve as a foundation to create opportunities for lease or joint venture.
The Company's focus over the past two months has been its Exodus, Slumber, and Sandy projects.
On September 2nd, the Company updated progress at its high-grade Exodus Project in the Cariboo Mining Division of British Columbia.
Highlights from recent activity at Exodus:
A soil geochemistry program is now complete over an area of 2 km x 2 km, where samples were taken across the central portion of the property (Central Zone) on a 100 x 50-meter grid. The density was increased within the immediate discovery area to a 50 x 25-meter grid. All 817 samples are currently being analyzed for gold and multi-element geochemistry.
The Company currently has multiple geologists in the field, mapping and sampling both the newly identified veins (from trenching), and newly established road networks with identified mineralized outcrops. Assays for this work are pending.
Our technical team at site has identified new outcrop exposures and vein systems from mapping and trenching activity. Prospecting for new outcrops across the favourable Central Zone is ongoing.
Positive discussions were held on August 28th, 2020 with Lheidli T'enneh First Nation with the goal of establishing a Mineral Exploration Agreement.
An exploration drill permit has been submitted and is now in the review process. This initial permit is intended for the drilling of up to 5,000 meters, utilizing up to 15 drill pads within a 1km x 1km (central) area over the next two years.

Interpretation of the geophysical survey data has defined a number of linear breaks which may represent key faults and/or structures that are important controls for mineralization

(map below).
The NVX-Exodus aeromagnetic survey data was integrated with the public QUEST datasets to provide a regional perspective for the geologic interpretation.
Interpretation of the QUEST VTEM data has been used to define the depths to bedrock across the property, which will be a useful tool as we continue to explore the property for additional targets.
As noted on July 29th, the land position was increased by 8.1% to 121.51 sq. km or 12,151 hectares.

The 2020 exploration plan encompasses detailed mapping, trenching, soil sampling, project-wide geophysics, and structural modeling with the aim of developing a fall drilling campaign to test priority targets in the Central Zone

.
On October 19th, the Company announced the mobilization of an RC drill rig to its Sandy Gold Project, located within the Walker Lane, Lyon County, Nevada. This is NV Gold's first drill program at Sandy and will include up to 1,500 meters in 10 drill holes.
Sandy Project details:
20 unpatented lode claims encompassing approximately 400 acres acquired for minimal staking costs in 2019 utilizing NV Gold's internal geological database.
Strategically located within a highly prospective low sulfidation epithermal gold district.
Staked prior to and now surrounded by the Hercules Gold Project claim block controlled by Eclipse Gold Mining (EGLD.V). Eclipse Gold has raised approximately $20 million to explore and advance its Hercules Project, where drilling is ongoing.
Exploration in 1993-1994 included geologic mapping, rock-chip / soil sampling, and drilling. Refer to the Company's press release September 5, 2019, for additional information on historical data.
Just yesterday, on October 27th, the Company dropped the following headline re its Slumber Gold Project in Humboldt County, Nevada:
NV Gold Receives Permits for Its Phase II Drill Program at Its Slumber Gold Project in Nevada
"Interpretation of the recent CSAMT data highlighted several high-angle high-resistivity zones within a north-northeast-oriented focus area generally coincident with the area of reduced magnetic response. Such high-resistivity zones, surrounded by zones of greater conductivity, are a key feature characteristic of epithermal veins."
A 10 hole, 2,500 meter RC drilling campaign is slated to commence in early November.
Peter A. Ball,  NV Gold CEO:
"Targets generated at Slumber by recent CSAMT geophysical surveys are exceptional. Our technical team, which includes Dr. Quinton Hennigh and Dr. Odin Christensen, believes the Slumber Gold Project may potentially host a buried high-grade gold system at depth beneath shallowly drilled areas tested last year. In addition to planned drilling at Slumber, NV Gold's Sandy Gold Project drill campaign is now underway in western Nevada, and work at the Exodus Gold Project in British Columbia continues to advance the project to drill readiness. This fall season is quickly shaping up to be NV Gold's busiest and most exciting exploration period in many years."
53.58 million shares outstanding
$8.04M market cap based on its recent $0.15 close
Pelangio controls a number of early-stage properties in areas with active and historic mining activities. The Company's Dome West Project is located in the prolific Timmins camp of Ontario.
The Company's 6.7 square kilometer Grenfell Property is located 10 kilometers northwest of Kirkland Lake's Macassa Mine.
Another prospective property—Birch Lake—is located in the Red Lake Mining District, adjacent to First Mining's (FF.T) Springpole Gold Project. A notable (historic) high-grade drill hole from Birch Lake tagged an impressive 34.54 g/t Au over 9.85 meters (including 113.94 g/t Au over 2.95 meters).
The Company also controls 100 square kilometers of Ghana's prodigious Sefwi Greenstone Belt at its Manfo property (Manfo has a current resource of 195,000 oz (at 1.5 g/t Au) Indicated, 298,000 oz (at 1.0 g/t Au) Inferred).
Since we last checked in, the Company optioned its Birch Lake project.
Pelangio Exploration Options Birch Lake Property to Jubilee Minerals Inc. – $2,000,000 In Exploration Expenditures and 15% Equity Interest
Ingrid Hibbard, Pelangio CEO:
"We are excited to have Jubilee Minerals Inc. agree to spend $2,000,000 in exploration expenditures as part of the earn-in requirements on our Birch Lake Property while we retain a 100% interest on our adjoining Birch Lake West Property. The Birch Lake Property is an extremely prospective and under-explored gold property within the Red Lake Mining District which hosts multiple historical high-grade drill intercepts and numerous surface gold occurrences in both shear zones and banded iron formation. Drilling results from Hole TWD-096, the best hole to date on the property, returned 34.54 g/t gold over 9.85 meters from work completed by previous operators at High Grade Island. This exceptional hole demonstrates the high-grade potential of this project."
On September 22nd, the Company announced a phase 2 drilling campaign at Grenfell.
Pelangio Commences Drilling at Grenfell Project to Follow Up on Previous High-Grade Results
HIGHLIGHTS
The phase 1 drill program returned

314 g/t gold over 1.74 meters

(uncut) including a higher grade section which assayed

1,810 g/t gold over 0.3 meters

in hole JS2004; as well as a broader gold intercept of

2.5 g/t gold over 26 meters

(including 9.39 g/t gold over 3 meters) in hole JS2005 (Press Release March 1, 2020).
The phase 2 drill program is designed to follow-up on these results as well as test additional high-priority targets.
High-priority phase 2 targets include:
Further evaluate the strike extensions of the northwesterly trending No.6 Vein system;
Drill testing of the intersection of the No.6 Vein and No.1 Vein for a potential mineralized chute. Historical drifting and sampling on the 250 level of the former mine demonstrated that the No.1 Vein averaged 0.2 oz/ton gold over a width of 3 feet for a strike length of 180 feet. A surface bulk sample of 21.7 tons grading 0.456 oz/ton gold was extracted from a trench on the No.1 Vein.
Very limited drilling is known to have been conducted on the No.1 Vein despite extremely encouraging sampling results as documented above. A hole is planned to confirm values on the higher-grade portion of the No.1 Vein documented in the historical mine level plans.
Historical mine plans on the 250 level have shown two other northwesterly trending structures in a very similar orientation to the No.6 Vein (map below). These structures have been designated as the Central Target and the Shea Vein. Mine plans and historical reports have documented significant gold mineralization associated with these structures. A historical hole on the Shea Vein returned 0.41 oz/ton gold over 3 feet. Drilling will be conducted on these two targets to test for both high-grade mineralization, as well as broad mineralized intercepts similar to that found on the No. 6 Vein (2.5 g/t gold over 26 meters).
Investor presentation (none)
8.06 million shares outstanding
$4.91M market cap based on its recent $0.61 close
Prosper Gold appears to have reinvented itself with a 10-old for 1-new (share) roll back and a significant acquisition in the Red Lake Mining Camp of Ontario.
It's tough getting info on this one. Their website is pretty lean as far as useful data is concerned (there's no corporate presentation for i.e.). About all one can find is news releases and a few outdated maps.
August 10th news: Prosper Gold Corp. Acquires Red Lake Projects
Directly from the press release:
Golden Sidewalk (12 mineral leases & patents)

Gold was first discovered on this property in 1926. The discovery was called the "Golden Sidewalk" on the early maps, where it was described as a white granular quartz vein 11 feet (3.35m) wide where exposed and was observed to contain an abundance of coarse gold. The Bathurst Mine was developed in 1929 with a 61 m shaft and two levels with about 900 m of drifting and cross cuts. A total of 149 oz of gold and 50 oz of silver were produced in 1929 and the Bathurst Mine saw intermittent production until 1937.

High-grade gold samples have been collected in a northeast trending area about 1500 m long near the Bathurst Mine. In September of 2004, Sabina prospected the property and discovered two new gold zones. Grab sampling returned extremely high gold grades, approximately 800 m southwest of the Bathurst Mine, from what has been called the "Joe Vein". The Joe Vein was traced for about 30 meters before disappearing under overburden and swamp. The Joe Vein channel sampling returned assay intercepts of up to 73.09 g/t gold (2.35 oz/t gold) over 2.4m on surface and remains open at both ends. Assays returned from grab samples ran as high as 3,742.55 g/t gold (109.17 oz/t gold).

Twenty-three holes totaling 2,472 meters were drilled in March 2008. Drilling intersected gold mineralization in the primary target "Bathurst Mine Horizon" and discovered a second horizon with high-grade gold mineralization, including 45.96 g/t gold (1.34 oz/t gold) over 1.70 meters 420m west of the Bathurst Mine. The diamond drilling of the "Bathurst Mine Horizon" and the new "Upper Bathurst Mine Horizon" confirmed the presence of multiple gold bearing structures with further potential along strike and at depth.

Skinner Project (146 Mineral Claims)

The Skinner project is adjacent to and south of the Golden Sidewalk. Gold was discovered there by Thomas Dunkin in 1926. Dunkin Gold Mines was incorporated in 1928 and a 271-foot (83m) shaft was sunk to follow-up on the high-grade gold veining observed on surface. No production was reported. Other high-grade gold occurrences on the claims include the Dunkin II (grab samples up to 73 g/t gold) and Vihonen (grab samples up to 182 g/t gold).

In 1993, the Geological Survey of Canada released results from a basal till sampling program performed in the Red Lake area (Open File 2583, 1993 by D.R. Sharpe). Follow-up work traced the survey findings up ice towards magnetic anomalies located at or near the Balmer/Confederation Assemblage contact. The gold grains are less rounded and mechanically worn (more pristine), which can reflect a local source. In summer and fall 2003, Teck carried out extensive exploration including a detailed airborne magnetometer survey, aerial photography, geological mapping and rock sampling, rock geochemical survey, and till sampling. (refer to Figure 1.)

Teck's till sampling identified many samples with pristine gold grains in a down-ice dispersal zone measuring 5km wide 3 km long area concentrated along a regional unconformity. More detailed till sampling and a reconnaissance induced polarization ("IP") survey were recommended to define follow-up drill targets.
It would appear that most of the focus will be on the Golden Sidewalk claims.
The Company put boots on the ground immediately after announcing this acquisition.
Peter Bernier, Prosper's CEO:
"We are excited to begin work in Red Lake district. The Golden Sidewalk and Skinner gold properties offer a favorable geological setting, with anomalous gold mineralization being encountered in till samples, outcrops, trenches and historic drill holes. The area contains all the correct attributes for economic gold deposits in the Red Lake District. Our exploration teams will be on the ground immediately and we will provide an exploration update in the coming weeks."
Over subsequent weeks, the Company added ground to its Golden Sidewalk land position—4,576 hectares on September 8th, and then 7,400 hectares on September 15th.
In that September 8th press release, the Company also announced details from a regional till sampling campaign at Golden Sidewalk:
The till survey expands southeastward from earlier till sampling by Teck and Fronteer. Teck's survey identified many samples with pristine gold grains in a down-ice dispersal zone measuring 5 km wide by 3 km long which was concentrated along the regional unconformity.

Glacial dispersion gold targets are found near the regional unconformity between the Balmer Assemblage and the Narrow Lake Assemblage. Several northeast to north-northeast trending structures intersect this near the gold-in-till anomalies. The unconformity is thought to be important as a possible gold bearing hydrothermal fluid conduit similar to Balmer/Confederation assemblage boundary and the unconformity near the Red Lake gold deposits.

Dispersion gold anomalies extend along the unconformity to the east and south onto the newly acquired claims (See Figure 1). 112 samples were collected on a 250m x 1000m grid and were hand dug by Prosper Gold exploration personnel. Samples were put through a 4-mesh classifier into a 5-gallon pail and shipped to Overburden Drilling Management Limited ("ODM") for gold grain analysis and sieving. After the gold grain analysis, the fine fraction samples will be sent for multi-element analysis. ODM, based in Ottawa, are recognized specialists in sampling and analyzing glacial till material for gold. Prosper will provide results from the till survey after they are received and interpreted.
On October 19th, the Company commenced property-wide geophysics.
Prosper Gold Corp. Commences Property-Wide Helicopter-borne Geophysical Survey – Golden Sidewalk – Red Lake, ON
Survey Highlights
Prosper Gold has contracted Terraquest Ltd. to complete the survey;

The survey consists of 2,300-line kilometers at 50m line spacings with the goal of identifying structurally-related exploration targets with high resolution magnetic and electromagnetic data

;
The survey will be flown at 20-25 meters above ground level;
A helicopter-borne acquisition system will collect horizontal magnetic gradient data and very-low-frequency electromagnetic (VLF-EM).
Ceo Bernier again:
"The initiation of a high resolution magnetic and VFL-EM survey is an important step towards identifying regional targets beyond the historically drilled high-grade gold at the Bathurst Mine and surrounding prospects. The data will serve to bolster existing geochemical and ground geophysical targets, while outlining new exploration targets for follow-up and the first diamond drill program on the project since 2009. This will be the largest high-resolution airborne survey flown over this area of the Birch-Uchi belt to date."
That's it for Part 3 of this sub-$20M roundup.
Part 4 is on deck.
END
—Greg Nolan
Full disclosure: None of the companies featured above have a marketing relationship with Equity Guru. The author owns shares in Minnova Corp.