Recently, we have seen a lot of the big pharma/biotech covid plays take a hit. From Astrazeneca (AZN), to Gilead (GILD) which has broken below my support now, and has nullified the potential reversal set up, to even Johnson & Johnson (JNJ). A lot of this occurred due to vaccine and Covid treatment related news. The Covid play I am watching, which seems to be under the radar, is Vapotherm (VAPO).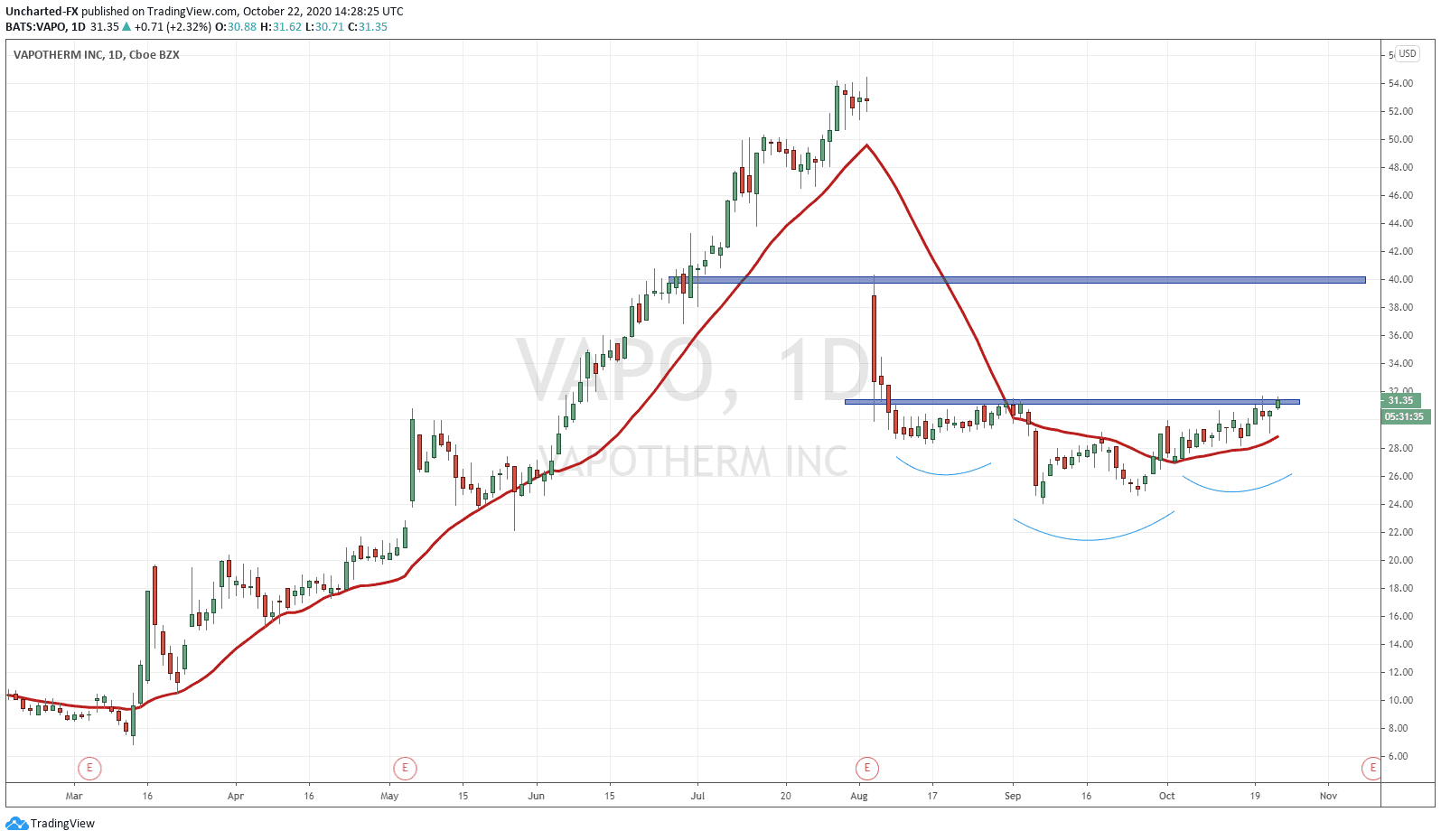 Right off the bat, Vapotherm is one of the slower moving ones. At time of writing, we are 1 hour into the trading hours and the stock has traded 39,000 shares with an average of 681,000 shares traded daily. But I think this has to do with the pattern. A break of this pattern would set the alerts off on plenty of traders platforms and watchlists.
I am of course talking about my favourite reversal pattern: the head and shoulders pattern, well in this case, an inverse head and shoulders pattern.
The pattern is well defined and we are just awaiting for a daily candle close above the 31.50 zone. As mentioned previously, I think the market is waiting for this confirmation close, which would then see a surge of volume come in to play the breakout. Why? Because there is a lot of room to the upside.
Our first target zone comes in at 40. With a confirmed daily close giving us our trigger for entry, we would place our stop loss just below this breakout candle, and ride the wave up to 40. We would easily get a risk vs reward ratio close to 1:3.
After that, it gets a bit tricky. As you have probably already noticed, there was a large gap in price which came due to Vapotherm's earnings report. Gaps are powerful support (price floor) and resistance (price ceiling) levels. In the case of Vapotherm, the gap will act as resistance…which is exactly why 40 is our first target. If we close above 40, it gets very exciting because price can then fill the gap. This would mean price would move up to the highs of 53.75. A recovery like this is referred to as a gap fill. This would be an uber bullish development which would propel the stock price even higher. It will attract much more bulls and breakout traders.
The set up looks great, and all we have to do is await for the breakout confirmed close, which could occur by today. How about the fundamentals of the company? Well Vapotherm will be releasing earnings on November 10th, so keep that in mind given how price reacted before.
The company is known for its Hi-VNI technology which is the only mask free respiratory tool that is an alternative to NiPPV for treating undifferentiated respiratory distress. You can see why Vapotherm is seen as a Covid play due to the ventilator news and shortages which occurred in the early days of the pandemic.
In fact, Vapotherm has developed a frontline respiratory tool for Covid-19 patients:
High flow nasal cannula is an internationally recommended respiratory tool for COVID-19 patients, with recommendations and guidance from healthcare organizations around the world, including:

World Health Organization

Centers for Disease Control

Society for Critical Care Management

American College of Emergency Physicians

Associazione Italiana Pneumologi Ospedalieri
Putting all this information together, VAPO seems like an under the radar Covid-19 play. The technicals are very enticing, and we await the breakout trigger.