Globex Mining Enterprises Inc. (GMX.T) is a rare bird in the junior exploration arena—rare in the sense that it's been around longer than most. It's been around for decades (more on this rare theme further down the page).
The company is a project bank and incubator.
Management's specialty is acquiring high-quality assets in well established mining-friendly jurisdictions, upgrading the asset by way of exploration and intellectual input, and monetizing said asset via options, outright sales, and royalties.
With a total of 188 properties in the company's project portfolio, 95 are prospective for precious metals, 60 for base metals, and 33 for specialty metal metals (lithium, manganese, scandium, and the like).
Breaking things down further, sixty-eight of these properties have an underlying royalty controlled by Globex, two have been optioned to partner Cos, and this is where it gets interesting…  fifty-four (54) have either a historical or 43-101 compliant resource.
It's a tad overwhelming diving into a project base this extensive. I could spend days, if not weeks, attempting to get acquainted.
To get a better handle on all of these moving parts, I set up a call with Globex CEO Jack Stoch.
Interestingly, Jack—a registered Professional Geologist in the province of Quebec and major Globex shareholder—was once reported to be the largest private mineral rights holder in the Province of Quebec.
I asked Jack if he could narrow the field and shed some light on some of the projects he considers most prospective. His response, without skipping a beat: "You want me to tell you which of my children I love the most?"
Fair enough.
Getting back to the "rare" theme…
A lot of CEOs in this arena claim to have aligned their values alongside those of their shareholders. Talk is cheap in this Wild West of a sector. The proof is in the share structure.
Get this: there are currently 54.63 million Globex shares outstanding (57.5 fully diluted). Since Stoch took over the company in 1983, he has kept the dilutive financings to an absolute minimum and he has never engineered a share rollback.
If you've been following the junior exploration sector for as long as I have, you know how remarkable a feat this is. I know of companies who are rolling back their shares within their first year of operation.
The projects
The following project summary includes notes I took while quizzing CEO Stoch over the phone earlier this week.
The Francoeur/Arntfield/Lac Fortune Gold Mines Property
Globex acquired this geologically prospective chunk of terra firma from Richmont Mines back in the spring of 2016.
The property is located just west of Rouyn-Noranda in northwestern Quebec.
Geologically…
The Francoeur and Arntfield gold property is situated in the Abitibi Sub-Province in the southern part of the Superior Structural Province. The underlying rocks are part of the Blake River volcanic group consisting of numerous interlayered mafic and felsic volcanic sequences. The volcanic rocks are intruded by diorite and gabbro intrusive masses. Syenite, feldspar porphyry and lamprophyre intrusions and dykes are common, particularly near important faults. Most faults or fractures on the property including the Wasa shear trend roughly east-west and eventually merge with the Cadillac Larder Lake Break to the east of the property.
Globex has performed multiple rounds of exploration on the property since 2017, first focusing its efforts in the Francoeur/Arntfield area where channel samples returned 9.52 g/t Au over 7.1 meters, including 15.4 g/t Au over 4.1 meters, and 4.25 g/t Au over 3.75 meters (South Shear).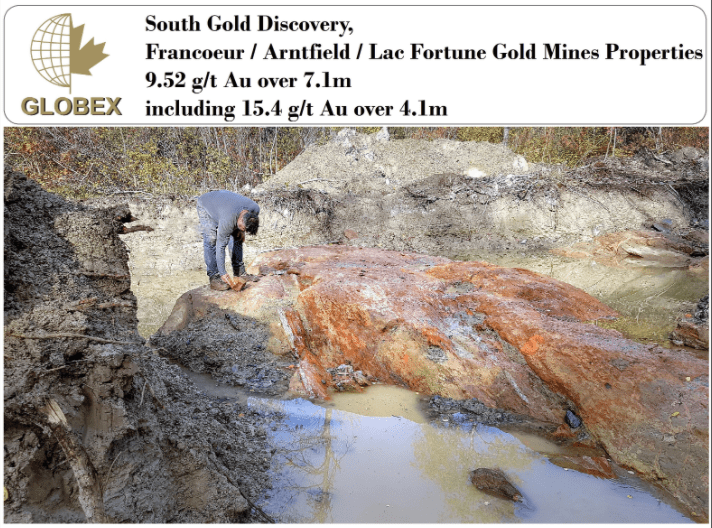 A drill program designed to follow-up on the above channel samples tagged the following highlight intervals:
6.25 g/t Au over 3.25 meters (South Shear)
4.04 g/t Au over 7.34 meters (South Shear)
11.57 g/t Au over 2.16 meters (Main Shear)
More recently, the company flew a detailed 2,000-kilometer aeromag survey, at 25-meter spacings, over the property.
"The initial mag maps are of excellent quality and more than meet our expectations that the detail provided by the survey will allow Globex to trace gold-bearing horizons and structures in areas of overburden cover and predict displacement caused by faulting."
A ground crew is currently on the property, mapping, sampling, and prospecting as a follow-up to the aeromag survey.
The company will be drilling the Lac Fortune part of the property once a drill permit is in hand.
There is a far more detailed map that speaks to the pervasive nature of the mineralization on this property, one that summarizes historic production, resources, and significant assays (grabs, channel samples, and drill holes).
Said map can be accessed here.
The LaGuerre-Knutson Gold property
This 64-hectare property is located just to the east of Larder Lake, Ontario.
A historic non-NI 43-101 gold resource of 56,680 tons grading 3.63 g/t Au is contained within a structure called the Laguerre syenite dyke.
The adjoining Raven River Gold Mine Property, a previous producer (1936 to 1939) has a historic, non-NI 43-101 mineral resource of 11 million tons grading 1.41 g/t Au in an altered syenite plug.
Previous work on the property has focused on the north-south gold bearing syenite dyke on which the Laguerre shaft was sunk and where Sudbury Contact drilled from surface and underground to a depth of approximately 300 m. The syenite dyke is open to depth below the last gold bearing intersections and Globex considers this area a significant target area given the vertical nature of other local gold deposits.

Of particular interest to Globex are a NW-SE linear magnetic low and coincident VLF anomaly which corresponds with a zone of heavy carbonate alteration and gold mineralization at the southeast corner of the property. These corresponding features traverse along a possible intersection between the known north-south gold bearing structures with a NW-SE trending felsic intrusive contact to the north of the Laguerre shaft. This area has never been explored.
The company has mobilized a drill rig to the property for a five-hole drilling campaign.
Three of the holes will target the Knutson zone (above map). The remaining two holes will target the LaGuerre zone.
This 1389-hectare property is located 32 kilometers northwest of Rouyn-Noranda in northwestern Quebec.
The Property is held 100% by Duparquet Assets Ltd., a company owned 50% by Globex and 50% by Jack Stoch Geoconsultant Services Limited (CEO Stoch's company).
The property is located four kilometers east and along strike from the past-producing Beattie and Dorchester mines which respectively produced 8.4Mt @ 3.5 g/t Au and 1.2Mt @ 9.3 g/t Au.
3.5 kilometers to the west is the past-producing high-grade Duquesne Mine which produced 199,912 tonnes @ 10.3 g/t Au.
When Globex first acquired its 50% interest in the property decades back from a prospector partner of Jack Stoch, there was a resource of roughly 100k ounces (Note: both the prospector and Jack acquired the property before Jack became involved with Globex).
Exploration campaigns carried out over the years by a number of JV partners pushed that resource to 853,000 ounces of Au uncut (727,000 oz Au cut). Curiously, none of the JV partners, of which there were at least a half dozen, were able to stick with the terms of the option agreement and were forced to relinquish their hold on the property. Their loss was Globex's gain.
The property's resource and multiple zones of mineralization continue to draw interest from potential JV partners. One such company is currently kicking the tires, but CEO Stoch won't be letting this one go cheap.
Kewagama, one of the company's many royalty assets, produced the following headline in recent sessions:
High Gold Assays on Globex's Kewagama Royalty Asset
On September 3rd, Radisson Mining Resources (RDS-TSXV) announced recent drill hole assays from their O'Brien Project located near Cadillac, Quebec.
The zones Radisson are drilling plunge right on to the property Globex holds a 2% NSR on.
The following is a verbatim extract from Radisson's press release dealing with the gold intercepts on the Kewagama Gold Mine portion of the O'Brien Project property on which Globex has the 2% NSR.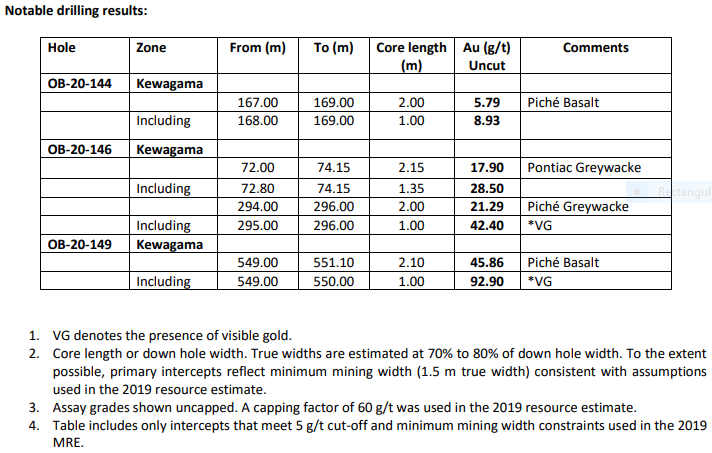 This area represents a potential third high-grade mineralized trend, 900 meters east of the O'Brien Mine.
As the following longitudinal section clearly demonstrates, there is plenty of exploration upside on this 2% NSR ground (to the right on the following map).
Tying in just to the east of this property is Globex's Pandora Wood & Central Cadillac Mines, a 50/50 joint venture with gold mining behemoth Agnico Eagle (AEM.T), a property we will look at another day.
This Kewagama Gold Mine royalty is turning into a significant asset for the company. Better yet, CEO Stoch purchased this royalty for a mere $50k roughly five years back.
Final thoughts
There are a lot of moving parts to this company. The following slide highlights it's current revenue (a sliding scale GMR on a multiple mine scenario in Tennessee), plus a number of advanced-stage development projects with near term production potential.
The company has no debt. Zip. Zero. Nada.
Most companies chose to lease or rent their office buildings, their core facilities, their trucks, etc. Globex owns EVERYTHING… right down to their paperclips and pencils.
Globex has a current market cap of $37.7M based on its 54.63 million shares outstanding and recent close at $0.69.
Between cash and cash equivalents (shares in partner Cos like Troilus Gold, Starr Peak, Excellon, Renforth, Galway, etc), the company has over $10M in its coffers. Management also has skin in the game.
This is a unique company run by a genuine straight shooter. It's also an extremely undervalued company by my reckoning, based on its current assets, resources, exploration upside, and revenue stream.
Globex also trades on the OTC market in the US under the symbol GLBXF and on the Frankfurt Exchange under the symbol GIMN.
END
—Greg Nolan
Full disclosure: Globex is an Equity Guru marketing client.