Tocvan Ventures (TOC.C) has released initial results from the structural analysis at the Pilar gold-silver project in Sonora, Mexico.
The goal of this exploration phase is to establish drill targets to intercept grades similar to the high grades found in the historic monster hole S-10 which reported over 1.7 ounces per ton gold and silver over an intercept of 16.5 metres located in the North Hill zone.
Gold and silver are located within and about structures. Structures act as conduits or plumbing for metal-mineral-rich fluids to flow through and deposit.
"A tight cap structure is a core value with this crew," wrote Equity Guru's Greg Nolan on May 14, 2020, "The company currently has 17.7 million shares outstanding".
"Maintaining a tight share structure exposes early shareholders to significantly greater price trajectory if (when) exploration success is realized," continued Nolan.
"Tocvan's flagship Pilar Gold Project is located along the historic Sonora gold district within the Sierra Madre Occidental geological province. The project is road accessible and is located roughly 140 kilometers south-east of the city of Hermosillo.
Sonora is a friendly jurisdiction steeped in the mining culture. It's currently credited for nearly 37% of Mexico's annual gold production (the country's largest Au contributor).
Tocvan is earning an initial 51% in Pilar from Colibri Resource Corp (CBI.V) via a series of staged payments—cash and Tocvan common shares—over the course of five years with escalating work commitments as the earn-in period matures ($2M in total)" – End of Nolan.
"Major structures (plumbing) with significant depth extents containing additional structures favourable for gold-silver mineralization have been recognized on the property," states Tocvan, "These standout features cover a large area extending across the property from the northwest to the southeast".
Structural analyses have begun on the Pilar project incorporating all the data that have been collected to date.
The initial overview of the 3-D inversion of magnetic susceptibility data has revealed standout significant major structures that are universally associated with plumbing systems for gold-silver fluid flow and deposition
Epithermal-style mineralization relies on structure (plumbing) in order to form a gold and silver deposit.
Typical Structures:
Shear zones
Faults
Brecciated rock
Rotational gashes within shear zones
Other such dilation structures.
Where there are structures of expansion and other openings then heated gold-silver-bearing fluids can deposit.
Dr. Marion Iseppi, PhD, structural geologist with SRK Consulting and Jeremy S. Brett, MSc, PGeo, senior geophysical consultant with MPH Consulting are now conducting a joint analysis of these gold-silver plumbing systems.
"A preliminary structural analysis of recently acquired ground magnetic and induced polarization (IP) data revealed several areas of structural complexity," stated SRK, "that usually represent high permeability zones."
Initial findings include a structure trending northwest-southeast with approximate dimensions of 250 meters by 1,000 meters with multiple wide vertical extents starting at surface.
"Bounded within this main structure corridor are additional structures trending north-south with approximate lengths of 300 meters", stated Tocvan.
These structural features could be the plumbing for metal-mineral-rich fluids to flow through and deposit.
Images on the company's website show a plan view of a 3-D inversion magnetic susceptibility slice at about 350 m depth and the full voxel of the magnetic inversion.
Most of the historic drilling has been at shallow depths extending to about 125 meters in the Main zone and the North Hill zone (with the monster 1.7 ounces per ton gold and silver over 16.5 meters' hole).
The Tocvan geos believe there is an opportunity to intercept mineralized targets extending to depth.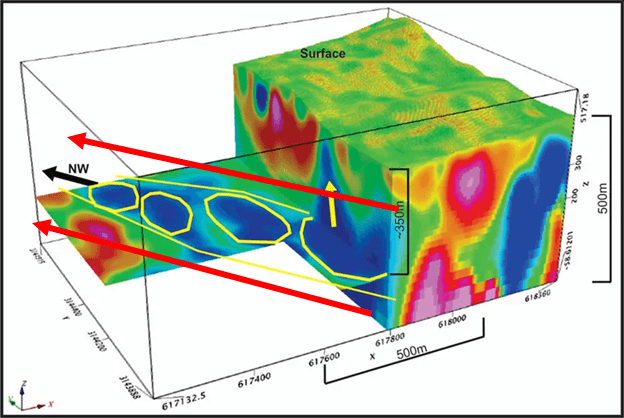 On November 26, 2019, Tocvan re-jigged its deal with Colibri, giving TOC the option to acquire the additional 49% interest by making a further $2 million payment to Colibri within in 6 months of fulfilling a variety of contractual obligations.
At that time, gold was trading at USD $1,600\ounce.
Today, gold is trading at USD $1,925/ounce – so the timing of that re-jig was good.
"We are extremely enthusiastic about the work done at every stage of exploration since negotiating the option to acquire up to 100-per-cent interest in the Pilar," stated Tocvan's CEO Derek Wood.
Upcoming drilling will be focused on expanding areas of known high-grade gold and silver mineralization at surface within areas of previous drilling success and also will now test newly discovered at surface zones and will include deeper drilling to test the mineralization within the newly identified IP.
Wood and his geos believe the Pilar property has "near-term production capability and now and the potential to host a world-class discovery".
By mid-morning trading, TOC is up 4% to .22 on 420,00 shares traded.
– Lukas Kane
Full Disclosure: Tocvan in an Equity Guru marketing client.